An unintended consequence of the long-overdue reform of the Yangon bus system earlier this year has been a shortage of small notes needed by commuters to pay fares.
By HTUN KHAING | FRONTIER
THE REFORM and upgrade of the bus system in Yangon earlier this year has led to such a serious shortage of small notes that it has created inconvenience for many shopkeepers and their customers.
For years, Yangon's decrepit bus system was plagued by complaints about poor service, where drivers would often race each other to increase their fares, leading to a number of deadly accidents, and conductors were renowned for their rude behaviour towards commuters.
In January, Yangon Region's National League for Democracy government reformed the commercial capital's bus network, a move that saw more than 300 lines reduced to about 70, the introduction of monthly salaries for drivers, the elimination of conductors and a mandated upgrade of old vehicles to improve safety and passenger comfort. It also included the introduction of a flat K200 fare placed in a box beside the driver.
The 2014 census showing that about two million commuters were using the bus service each day in Yangon – out of a population of more than seven million – so it's not surprising that the increased demand for K50, K100 and K200 notes to pay fares has created some headaches.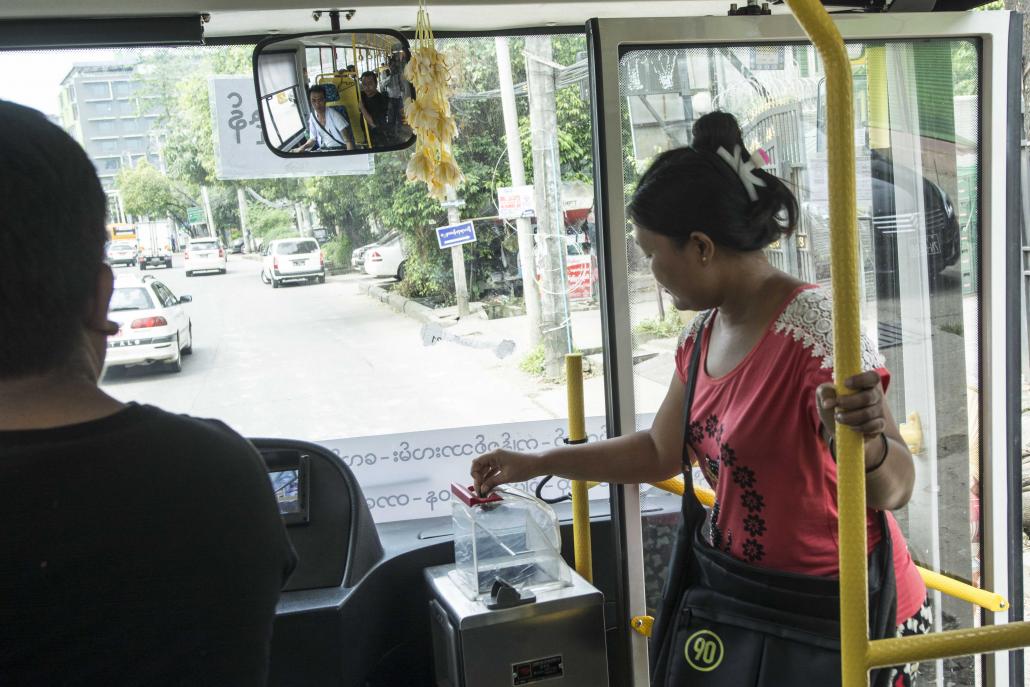 For example, a retailer selling a product for K600 will expect a customer to tender a K1,000 and a K100 note, and receive a K500 in change, because there are more higher value notes in circulation. Shopkeepers sometimes use coffee mix sachets, sweets or packs of face tissues as a substitute for small amounts of change.
Shopkeepers have even been known to decline transactions if a customer does not have the correct change.
As most transactions in Myanmar are made in cash, the shortage of small change has had major consequences for retailers and the service industry.
The change to cash boxes has also produced problems for bus lines.
In early August, a woman commuter on a No. 39 bus mistakenly put a K5,000 note in the cash box. Fortunately for the woman, the bus line was able to recover and return the note.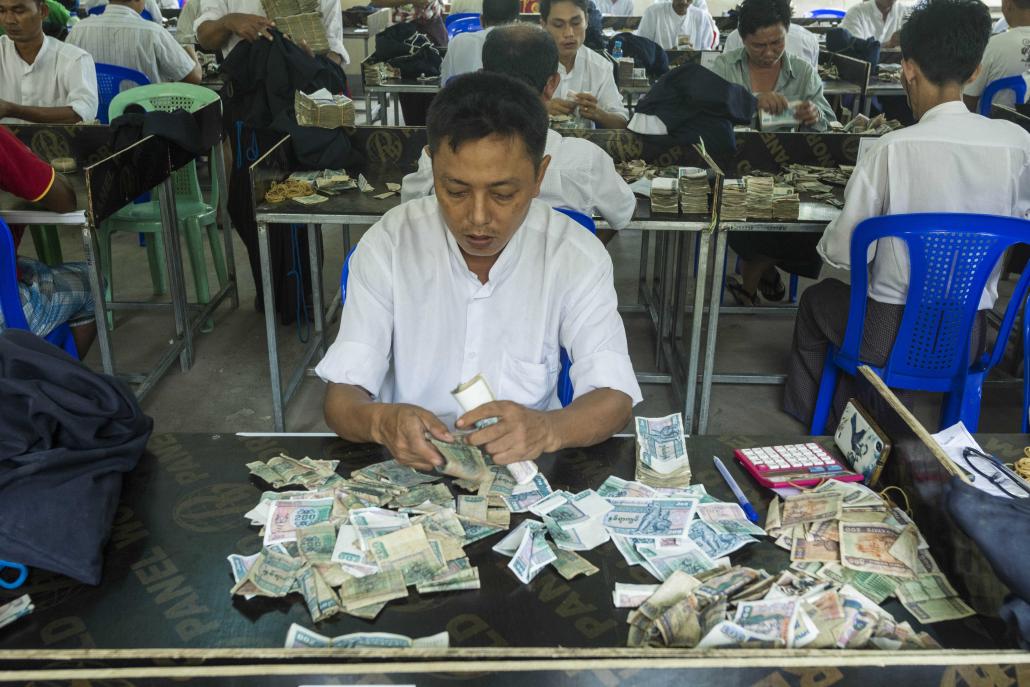 A more serious problem is unscrupulous passengers who exploit the honesty system on which the cash boxes are based, and who either pay less than the full fare or use fake notes or old lottery tickets.
To help ease the shortage, the regional government paid its employees in small change last month.
A primary school teacher told Frontier public servants were allowed to take up to K50,000 of their salary in small change.
However, the move has only partially alleviated the situation.
"Civil servants can pay but other commuters still have difficulty," said Yangon Region MP U Kyaw Zaya (NLD, Dagon-2).
The bus companies are also trying to help where they can, including providing change to commuters.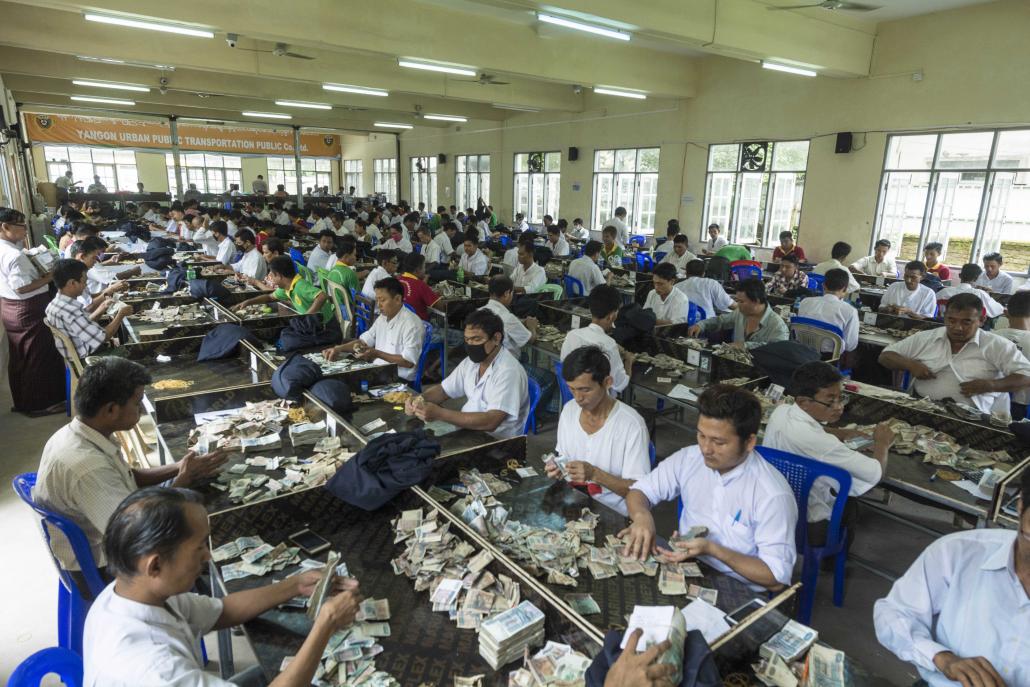 "We exchange as many small notes as we can provide for commuters at busy spots; anyone can come to us for small change," said U Phyo Hay Munn, spokesperson for Aero Star Bus Public Company, which operates five lines.
One way the regional government is planning to address the issue is to enable commuters to use pre-paid cards to pay fares.
Since April 2016, customers on bus lines owned by the military conglomerate Myanmar Economic Holdings Limited have been able to pay for their fare using a mobile phone app by local fintech firm OK Dollar.
In August, the Yangon Region Transport Authority invited companies to apply for a tender to install a pre-paid card system on Yangon's buses. The tender, which was published in state media, invited companies to apply to implement "Yangon Payment Services", which includes card issuing, card acquiring and a card top up agency.
Yangon Region lawmaker Daw Sandar Min (NLD, Seikgyikanaungto-1) said she planned to raise a question about the tender in parliament.
"We are not clear about the government's decision," she told Frontier. "I think they already have a plan to change the card system, but I am waiting because it is an ongoing case."
Dr Maung Aung, spokesperson for YRTA, could not be reached for comment at the time of publication.
"When the card payment is operated, it will eliminate the small change problem," said Naw Pan Thinzar Myo, regional minister for Kayin ethnic affairs.