Close to 200,000 acres of flood-damaged paddy fields in Bago Region need replanting, but the government has been slow to provide farmers with the necessary seed.
By HEIN KO SOE | FRONTIER
STATE AND REGION chief ministers are not known for getting their hands dirty; umbrella receptions, official motorcades and teak-heavy audience rooms are more their style.
But on August 10, Bago Region Chief Minister U Win Thein and his cabinet donned rubber boots, hiked up their longyis and waded into water-logged paddy fields near the city.
The ministers were replanting paddy seedlings after torrential rain had wrecked the previous crop planted by local farmers. Though most farmers depend on monsoon rains, which fall from May to October, for their paddy crop, it's a delicate balance; too much rain and the fragile stalks can rot away.
Many complained that the Bago cabinet's paddy farming excursion was little more than a publicity stunt, or even propaganda. But others said they welcomed it, as it showed that the ministers understood the importance of the issue.
What few are arguing about is that Bago Region has been heavily hit by seasonal flooding that has affected nearly every state and region. While the displacement of households in Kayin and Mon states has attracted significant media attention, more than 60 percent of all flooded farmland is in Bago Region.
On August 13, Bago's agriculture and livestock ministry announced that 500,000 acres (202,343 hectares) of farmland had been inundated, out of approximately 800,000 nationwide.
Bago Region authorities are bullish that the region's agricultural output won't be significantly affected, because flooding has afflicted "only" 14 percent of the region's farmland, and it is not too late to replant damaged crops.
But the flooding in Bago this year is significantly worse than after Cyclone Komen in 2015, when about 374,000 acres (151,350 hectares) of farmland was inundated. That year, only 28 percent was replanted – leaving 270,000 acres (109,000 hectares) damaged or destroyed.
As of August 17 this year, floodwaters had receded across 190,000 acres in Bago Region, meaning that the land could be replanted.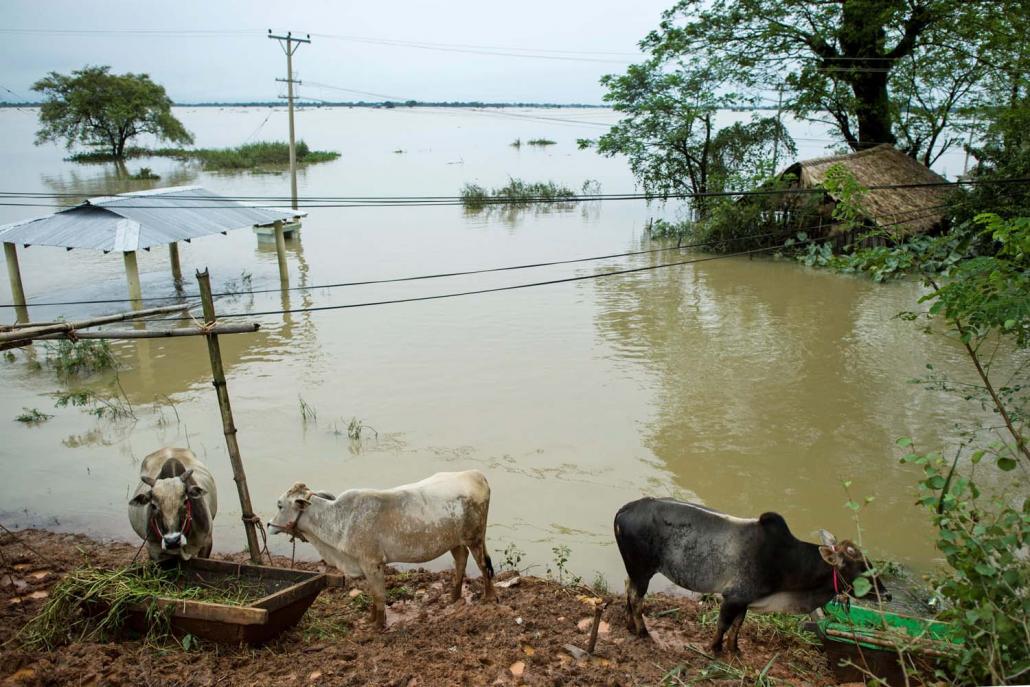 But Bago Region farmers say that – notwithstanding the chief minister getting his boots muddy – there has been little government assistance towards replanting this year, and many have been left to fend for themselves. Moreover, Bago and other affected regions have been slow to provide the union government with data on the exact extent of crop damage, which is required for a larger response.
The Bago Region government has provided 15,000 baskets of rice seed to farmers in Kawa, Nyaunglebin, Waw, Shwegyin, Thanatpin and Bago townships, which have been the most affected.
The majority has come directly from regional government stocks, but the union agriculture ministry and Myanmar Rice Federation have provided 1,000 baskets each.
U Aung Naing Zaw, the region's agriculture minister, said officials were still compiling data on crop damage to send to their union-level counterparts along with a request for more seed. Only about a third of the need for seed is being met at present, he said.
Daw Htay Po, who chairs the Farmers' Union in Bago Township, said she lost two acres of paddy to the flooding. "We never got seeds or any other assistance from the regional government, so we replanted ourselves," she said.
U Myo Tint Tun, deputy permanent secretary at the Ministry of Agriculture, Livestock and Irrigation in Nay Pyi Taw, said his ministry has the budget to buy more seeds "but we need more exact data on how much we have to provide".
He said the seeds could grow to maturity within 90 days – fast enough to replace damaged crops – and 1,000 baskets had been sent to Kayin and Mon states, as well as Bago Region, to supplement that provided by regional authorities out of their own budgets.
Myanmar Rice Federation executive member U Myint Lwin said the federation, which has sent 1,000 baskets each to Bago Region and Mon State, is willing to provide more but is also waiting for direction and more information from the government.
Frontier phoned several farmers across the six townships included in the Bago Region government's seed disbursal programme, but all said they had yet to receive any seeds or other forms of government assistance.
U Kyaw Khin of Oakpoe village in Yedashe Township said flooding had damaged five acres of his farmland. Though the water level had receded he had not been able to replant. "No help has come from the government, no seeds or anything," he said.
This year's monsoon floods have displaced tens of thousands of people and killed 22. Though Bago has been the worst affected region, tens of thousands of acres of flooded farmland is also in need of replanting in Sagaing and Ayeyarwady regions and Kayin and Mon states, according to the agriculture ministry.
TOP PHOTO: The Bago Region government plants paddy on August 10.