The former junta heavyweight and ally of Daw Aung San Suu Kyi suffered a humiliating defeat in the 2015 election, but has high hopes for his new party in this year's poll.
By NANDA | FRONTIER
"Doing politics is not as dangerous as fighting a war," said U Shwe Mann.
The chairman of the Union Betterment Party was speaking to Frontier in January in the living room of his Yangon home, where a painting of a marching column of soldiers adorned one wall.
In the last decade, the 72-year-old has gone from battle-hardened Tatmadaw general, to Daw Aung San Suu Kyi ally, to the leader of one of Myanmar's youngest political parties, which was registered with the Union Election Commission in February last year.
For some, he will forever be remembered as the No.3 in a military junta that locked up thousands of pro-democracy activists and waged brutal campaigns in the ethnic borderlands. For many in the military, he is the turncoat who allied with their long-time foe, Aung San Suu Kyi, for the sake of his political career. For the Lady herself, he offered a way into Nay Pyi Taw power politics, whose hidden rules she had to learn quickly after 15 years of house arrest.
Despite his attempt to downplay the dangers of politics, Shwe Mann admitted in his 2018 book, The Lady, I and Affairs of State, to sleeping with a gun under his pillow. Asked why he did so, he told Frontier simply, "safety first".
But there is reason for the man to be wary. After Aung San Suu Kyi, Shwe Mann is said to be the person most hated by hardliners in the Tatmadaw and his old party, the Union Solidarity and Development Party, because of his decision as speaker of the Union Parliament, the Pyidaungsu Hluttaw, to support and allow the Hluttaw to vote on constitutional amendments sought by the NLD in June 2015, and for working closely with the party's leader after she made her parliamentary debut following a by-election win in 2012.
One of the proposed amendments would have lowered the 75 percent voting threshold in parliament for reforming the military-drafted charter, which gives unelected Tatmadaw MPs an effective veto over change because they hold 25pc of the seats. The vote in the 664-member Pyidaungsu Hluttaw to lower the threshold to 70pc was defeated, despite being supported by 388 MPs, or 66.55 pc of the 583 lawmakers at the joint sitting.
After the vote, Shwe Mann's opponents in the USDP arranged for voters in his Zayarthiri Township constituency to petition the Union Election Commission to impeach him as their representative. However, the effort failed when parliament deferred debate on the enabling legislation for recalling MPs. The proposed right-to-recall law has languished ever since.
Now, a fresh push for constitutional change is taking place, with a proposal for lowering the 75pc threshold packaged with other amendments, including one mandating a phased reduction in the military's share of parliament over the next three elections. Only this time, it is taking place in a Hluttaw dominated by the NLD, and without Shwe Mann, who suffered a humiliating defeat to the NLD candidate in his native constituency of Phyu in Bago Region in the 2015 election.
Shwe Mann told Frontier the 2008 Constitution should be amended to conform with the principles of federal democracy. He said the constitution was now 12 years old, and it had been 17 years since the drafting of it began under the junta, so it was appropriate to update it according to the wishes of the people. He said that amending section 436, which establishes the 75pc voting threshold for all amendments to the charter, was the most important task.
NLD patron U Win Htein wrote in his book of essays, General Thura Shwe Mann, General Tin Aye and Me, that he had heard a military MP with the rank of lieutenant-colonel describe Shwe Mann as a "traitor". Shwe Mann says he knows who called him a traitor, though he would not reveal who it was. "What I want to ask him is what did I betray? I am loyal to my country," he told Frontier.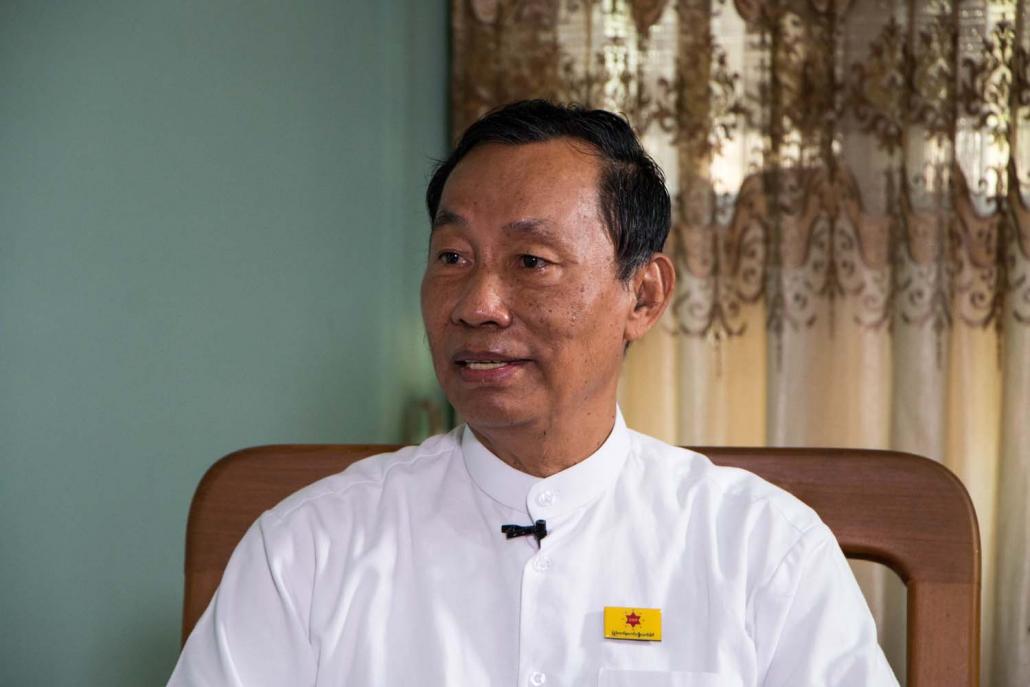 Born just prior to independence from British rule in Kanyutkwin town, in what was then Pegu Division, on July 11, 1947, Shwe Mann has a house in Yangon near the Lotte Hotel on Pyay Road, alongside a grander residence in the capital Nay Pyi Taw. The national flag flies from a pole in front of the Yangon house, which is in a large, guarded compound. He also owns property opposite his residential compound, which critics say he acquired cheaply during the time of the military junta and is now worth billions of kyat.
Shwe Mann's wife and close confidante, Daw Khin Lay Thet, joined him in the living room during the interview with Frontier. She is quoted in her husband's book as saying there was no need for him to sleep with a gun under his pillow after he lost the election in 2015. "Those who wanted you to lose the election are happy; you are safe now," she said.
Asked if he still had the gun, Shwe Mann said he kept it in a safe place. Since the 1960s, gun licences have only been issued to a privileged few with high-level military connections, as described in an August 2018 Frontier article, "Firearms and the law in Myanmar".
Shwe Mann is softly-spoken. He does not smoke or drink, he walks every day for his health and enjoys playing golf. He has watched his two sons, U Aung Thet Mann and U Toe Naing Mann, become big business players in tandem with his political rise. The younger son, Toe Naing Mann, is one of his closest advisors.
In 2011, Shwe Mann included him among the hand-picked members of the Legal Affairs and Special Cases Assessment Commission. The commission, which Shwe Mann went on to chair himself from 2016, had a shadowy gate-keeping role in drafting and proposing bills before they entered parliament. However, parliament voted to disband it in February last year, three weeks after Shwe Mann announced his new party.
U Ye Htut, an information minister and presidential spokesperson in the USDP government, wrote in his 2019 book, Myanmar's Political Transition and Lost Opportunities (2010-2016), that when Shwe Mann was the Ayeyarwady regional commander, Aung Thet Mann's Ayer Shwe Wah Company "received lucrative government contracts to supply fertiliser to farmers throughout the delta region". Ye Htut wrote that, by 2001, "Ayer Shwe Wah had more than 30,000 acres of wetlands and rice paddy in the delta region", and that the company was later involved in building Nay Pyi Taw, which replaced Yangon as the capital in 2006.
Though only a year old, branch offices of Shwe Mann's new party, whose logo of a red six-pointed star on a yellow background bears an uncanny resemblance to the label of Thai energy drink M-150, are now visible across Myanmar. He told Frontier the UBP had offices in 250 of Myanmar's 330 townships, and he had so far visited more than 200 of them. Below these were more than 5,000 offices at the ward and village level, he said.
This rapid rollout of party machinery had been funded by his own savings and contributions from members and well-wishers, he said. However, he added that spending beyond core infrastructure would be kept within modest limits, because his party was "not like one established by a government" – a likely reference to the USDP, which was created in 2010 out of the junta's mass organisation, the Union Solidarity and Development Association, and inherited the USDA's substantial assets. He said one of the biggest costs so far had been incurred by the distribution of branded hats and balloons at the opening ceremonies of branch offices.
Shwe Mann did not elaborate on the party's political platform, which has yet to be spelt out in detail to the public, but said improving the business environment and achieving peace in the country would be priorities.
However, despite the UBP's reach, Shwe Mann's role as chairman of an upstart party falls well short of the ambitions that he had for himself, and even represents a climbdown from the prominence he enjoyed over the last several decades.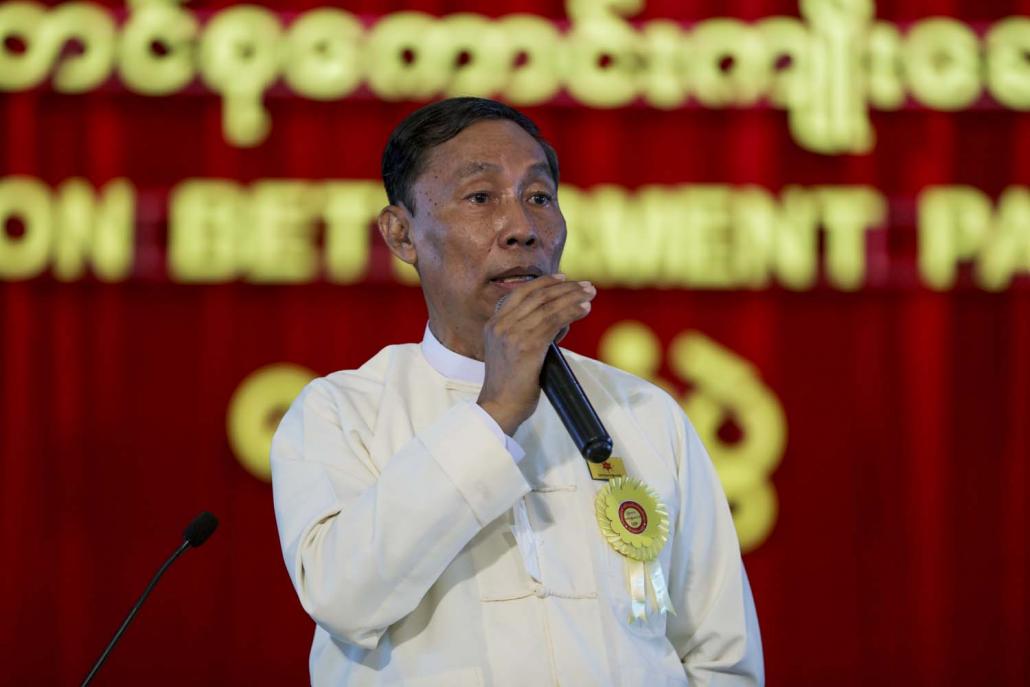 The 'brave' one
Shwe Mann was given the title "thura", denoting bravery, for leading campaigns against the Karen National Union in the late 1980s as a regimental commander. Such campaigns also earnt him notoriety; a leaked United States diplomatic cable said, "Shwe Mann utilized forced civilian porters, including women and children, on a massive scale during operations against Karen insurgents." Thereafter, he enjoyed a smooth rise through the ranks of the military junta that ruled from 1988.
Shwe Mann played a prominent role when the Tatmadaw leadership moved against the Military Intelligence chief and prime minister, former general Khin Nyunt, in 2004.
Shwe Mann and another senior member of the junta, the now deceased General Soe Win, gave a news conference a few days after junta chief Senior General Than Shwe issued a statement saying Khin Nyunt had been "permitted to retire for health grounds". This presaged a sweeping purge of MI officers from the ranks of the Tatmadaw and resulted in many years of house arrest on corruption charges for Khin Nyunt, who was freed in a 2012 presidential pardon.
A protégé of Than Shwe, Shwe Mann became the third-ranked member of the junta after the MI purge. Than Shwe appointed him chairman of the powerful National Security Council, where he oversaw the violent crackdown on the monk-led protests in September 2007 that became known as the Saffron Revolution. Another leaked US diplomatic cable from 2007 read, "by all accounts he willingly participated in the brutal repression of September's pro-democracy protests".
"I had to present cases to the senior general when I could not make a decision," he told Frontier of his time at the helm of the council and as joint chief-of-staff of the armed forces, implying that Than Shwe, who tended to keep a tight grip on government, allowed him a rare degree of discretion in deciding on security matters.
Shwe Mann held this commanding position till power was transferred to a nominally civilian government after the 2010 election. The contest was boycotted by the National League for Democracy and dismissed internationally as rigged. In that poll, Shwe Mann and other senior junta members were told to hang up their military uniforms and contest as civilian candidates under the newly minted Union Solidarity and Development Party. Shwe Mann duly won the Lower House, or Pyithu Hluttaw, seat for Zayarthiri Township in Nay Pyi Taw and reportedly expected to be given the top job under the new constitution.
But when Than Shwe retired from politics after the election, alongside his deputy Vice Senior General Maung Aye, the junta supremo handpicked the quiet, seemingly less ambitious U Thein Sein as president when the new government was formed in early 2011.
In the junta, Shwe Mann held a position higher than Thein Sein, who served as prime minister from October 2007 to November 2010, and who graduated from the 9th intake of the Defence Services Academy. Shwe Mann graduated from the 11th intake, in which a classmate was Amyotha Hluttaw MP U Soe Thane (Independent, Kayah-9), who went on to become an influential minister of the President's Office in the USDP government.
Because he had become a civilian MP, Shwe Mann was also barred from becoming the head of the Tatmadaw. The job of commander-in-chief instead went to General Min Aung Hlaing, who was junior to Shwe Mann in age and military experience. According to some members of the military government, Than Shwe had on several occasions described Shwe Mann as the future commander-in-chief when introducing him to foreign visitors before 2011.
Ye Htut told Frontier that, after ruling him out for the presidency, Than Shwe had not chosen the highly ambitious Shwe Mann as commander-in-chief because he was worried that he would undermine the authority of the president.
"He was given the position of the speaker of parliament as a precaution, but you all see the result," Ye Htut said.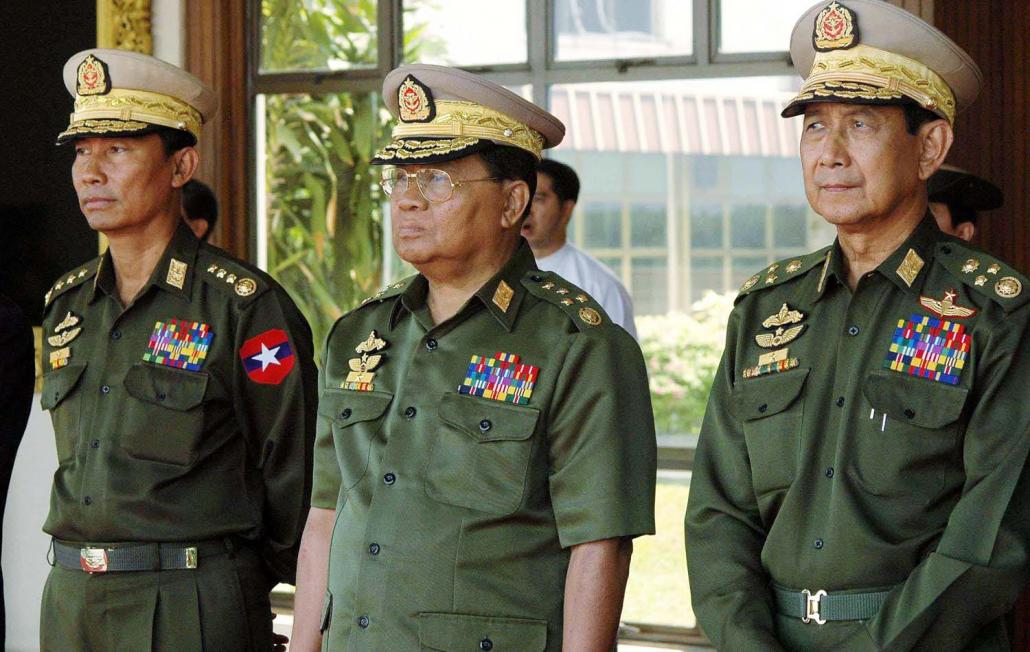 Ups and downs
"Senior General Than Shwe decided who should be president or vice-president. The parliament had to approve his decisions," Shwe Mann told Frontier, adding that he accepted Than Shwe's decisions and focused on dutifully performing his assigned role of Pyithu Hluttaw speaker.
However, if Than Shwe had intended to contain Shwe Mann's ambition, this failed. Shwe Mann, who inherited the rotating position of Pyidaungsu Hluttaw speaker from the Amyotha Hluttaw (Upper House) speaker in July 2013, used his political muscle to turn what many observers had written off as a rubber-stamp parliament into a thorn in the side of the Thein Sein presidency.
Tensions between the legislature and the executive, perceived by many as a proxy power struggle between Shwe Mann and Thein Sein, climaxed in August 2015, three months before the general election, when Shwe Mann was dramatically ousted as acting chair of the USDP in a "midnight coup" in which security forces surrounded the party's headquarters in Nay Pyi Taw. His defenestration was accompanied by a purge of his factional allies from the party leadership, but did not cost him his parliamentary seat or position as speaker.
Shwe Mann's 2018 book quotes Aung San Suu Kyi saying to him in the aftermath of the purge, "Be patient. Don't make an impulsive decision." At that point, it looked as if his political future lay across the parliamentary floor in an alliance with the NLD leader.
The two had already formed a close partnership at that point. Ye Htut wrote in his 2019 book that Shwe Mann had 36 closed-door meetings with Aung San Suu Kyi between August 2012 and August 2015 but refused to disclose what was discussed to his fellow USDP members. Ye Htut also quotes Shwe Mann as making a boastful remark at a party summit held shortly after the 2012 by-election that saw Aung San Suu Kyi and several dozen other NLD members enter parliament. A USDP leader said allowing Aung San Suu Kyi into politics was like resurrecting a dead tiger, to which Shwe Mann allegedly responded, "Don't worry about giving life to a dead tiger. Tigers are controlled by the whip in a circus. I can control her."
Shwe Mann contradicted this account. He told Frontier, "As far as I can remember, I did not say it."
His rival Thein Sein did not stand in the 2015 election, won by the NLD in a landslide victory, and retired to his Nay Pyi Taw farm. Though Thein Sein said in January that he would campaign for the USDP in this year's election, he has largely faded into the political background.
After Shwe Mann failed to win a seat in 2015, State Counsellor Aung San Suu Kyi offered him the chairmanship of the highly influential Legal Affairs and Special Cases Assessment Commission. However, in a surprise move, the NLD-dominated parliament voted in February last year not to renew the commission's yearly mandate. Just three weeks before, Shwe Mann had announced that he was forming the Union Betterment Party. Many observers saw these events as linked, signalling a breakup of the alliance between Shwe Mann and Aung San Suu Kyi, which had outlived its use for the NLD leader.
Shwe Mann told Frontier that, though his relations with her had not broken down completely, he had little reason to meet with Aung San Suu Kyi anymore, because he no longer had a parliamentary role. He added that the UBP was not allied with the NLD.
Asked what relationship he still had with Than Shwe, his former benefactor, Shwe Mann told Frontier they now rarely met because he was wary of inviting accusations that he had established his own political party on the instructions of Than Shwe.
Asked about the civil-military divide in Myanmar politics – a divide he has straddled like few others – Shwe Mann criticised the popular notion that there are "two governments" in Myanmar. He said the idea was harmful to civil-military relations and the relationship between the Tatmadaw and the people.
"There is only one government headed by the president," he told Frontier, adding that the ministers for home affairs, defence and border affairs, who are nominated by the Tatmadaw chief, were nonetheless constitutionally under the president. "If they don't obey the president, any union minister, in uniform or in civilian clothes, would face legal action," he said.
Now seemingly out in the cold, reviled by the Tatmadaw and out of Aung San Suu Kyi's orbit, Shwe Mann seems to be pinning his hopes of a political comeback on his new party. It will face an uphill battle to win seats from the better-recognised NLD and USDP under Myanmar's unforgiving first-past-the-post electoral system. Nonetheless, he told Frontier the party was hoping to win between 40 percent and 50 percent of seats in this year's election.
What makes the general-turned-politician so confident?
"People are not as naïve as before," he said. He believed the election could deprive the NLD of its parliamentary majority and result in an alliance between parties, including his, to elect the next president and form the new government. Under this scenario, he said it was conceivable he could be chosen for the top job. Whatever the odds, Shwe Mann has never surrendered his hope of becoming president.
In the meantime, he said he would take the usual precautions. "My gun cannot give me 100 percent security," he said, "but I will use it to defend myself if my life is threatened."
TOP PHOTO: U Shwe Mann greets attendees in traditional ethnic dress at a meeting of his party in Yangon on June 29, 2019. (Thuya Zaw | Frontier)