Thailand is issuing an increasing number of ID cards to stateless children in border camps displaced by decades of conflict in Myanmar, while the older generations remain in limbo.
By FRONTIER
Early every weekday morning around 70 children gather in the Koung Jor Shan refugee camp, just inside the border with Myanmar in the town of Piang Luang in northern Thailand's Chiang Mai province. From there, two school buses – a pick-up and a light truck – arrive at 7:30 and shuttle the students across the town to Lak Taeng and Ban Piang Luang schools.
One of them is 17-year-old Dowraung, who lives in an orphanage under the care of the camp's officials along with 12 other girls and seven boys.
Like some of the others, Dowraung is not actually an orphan. Her parents are both farmers in Shan State's Mong Hsat Township, but they sent her to the camp seven years ago to live with her grandmother. Her grandmother, who had fled 13 years earlier amidst conflict between the Myanmar military and the Restoration Council of Shan State, struggled to take care of Dowraung, instead sending her to the orphanage.
Unlike her grandmother, who has been unable to receive documentation despite living in Thailand for 20 years, Dowraung's dream came true in June. That month, after seven years of waiting, the Grade 7 student was issued a "person with no registration status" ID. Known colloquially as a "hilltribe card", the 10-year white card is issued specifically to stateless people and confers various benefits, like greater freedom to travel domestically in Thailand, more access to public services and a pathway to eventually achieving full citizenship.
"I am so happy to receive this card because I can go wherever I want to go, and I will be able to attend university. After that, I'll easily find a job," she told Frontier during a visit to the camp on November 25.
Dowraung said this brings her one step closer to fulfilling her ambition of becoming a doctor helping poor families like her own.
Organisations affiliated with Shan refugee camps confirmed to Frontier that the number of 10-year Thai ID cards issued to stateless ethnic Shan children who are studying in Thai schools along the Myanmar-Thai border this year is significantly higher than previous years.
"This will make the children's future better," Sai Laeng, a spokesperson of the Shan State Refugee Committee-Thai Border, told Frontier on December 5.
"Thai officers mainly focus on the children in the Thai education system. This year Thai policy seemed to change and Thai authorities are giving IDs to all the kids in Thai schools," said Sai Wijit, president of the administrative committee in Koung Jor refugee camp.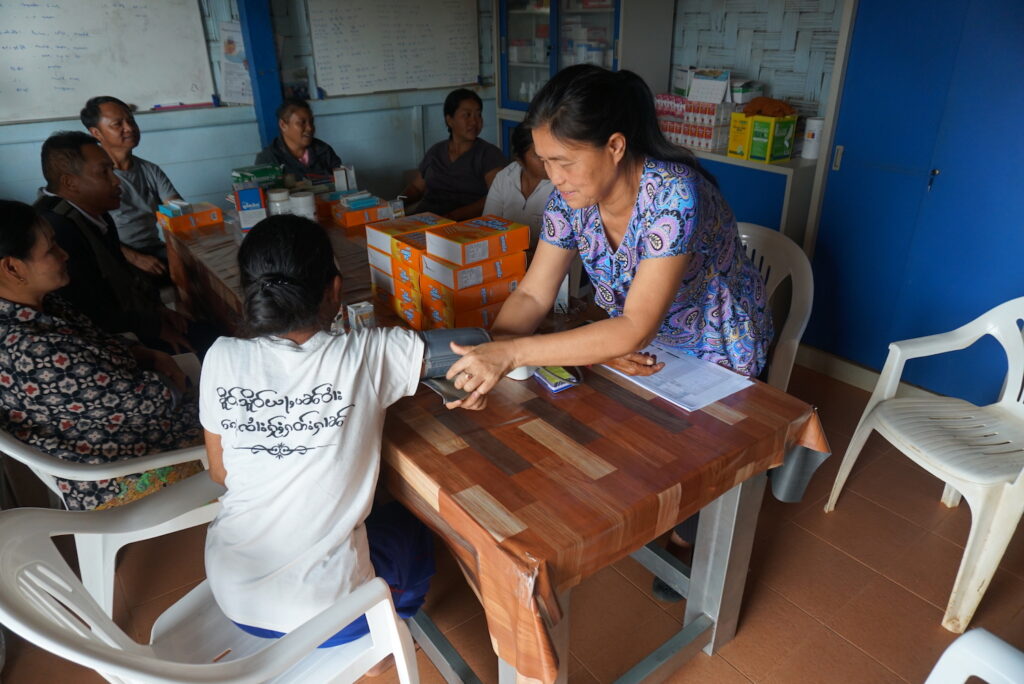 The 'happy hill'
The Shan State Refugee Committee-Thai Border works with six camps hosting over 6,200 people – Kong Moong Murng, Loi Tai Laeng, Loi Lam, Koung Jor, Loi Sam Sip and Loi Kaw Wan. Unlike other parts of Myanmar which have been ravaged by war since the February 2021 military coup, eastern Shan State has seen little fighting. Most of the recent clashes in Shan State have been concentrated in the north, between different ethnic armed groups. The committee said only around 100 new refugees have joined those camps since the coup.
Koung Jor, which means "happy hill" in the Shan language, is the only one of the six located inside Thailand. It was established in northern Chiang Mai province in 2002 when fighting surged between the Myanmar military and the RCSS. 
Although Thai authorities had intended to send the refugees back to Myanmar once the fighting subsided, Myanmar authorities refused to accept them because they didn't speak Burmese, according to former camp leader Sai Tun*.
The camp initially hosted 636 refugees in 80 houses, which has gradually dwindled to around 300 people in 74 households. Sai Wijit said this decrease is mainly thanks to some refugees getting married to Thai citizens or moving in with relatives who have Thai citizenship or residency.
"When the sons and daughters of refugees go to work outside the camp, they get married and have children. Sometimes they send their children back to their parents here to further their education," Sai Wijit said.
In 2005, the refugee camp opened a medical clinic, which is supported by the Burma Relief Center, a civil society organisation based in Chiang Mai.
"We give medicines to patients free of charge. And we manage to send pregnant women who are close to birth and patients who need surgery to the clinic in Piang Luang and the Wiang Haeng district hospital. The Thai government does not allow us to conduct surgery or give injections at this clinic," said Nang Shwe Zin, the sole medical worker at the camp clinic.
Qualified in medical training courses arranged by the Shan Women's Action Network, she says she treats patients for cold, fever, coughs, knee pain, backache, and gastrointestinal issues caused by alcohol abuse.
"Some of the villagers suffer from dizziness because they spray pesticides in the farms every day," she said.
When the clinic was first established, there were around seven births per year in the camp. Now numbers are down to about three as parents try to make sure their children are born in government hospitals.
"If they give birth to their children at Thai government hospitals, they are sure to get a birth certificate," said Sai Tun. "If so, the children will have better chances of gaining 10-year ID cards."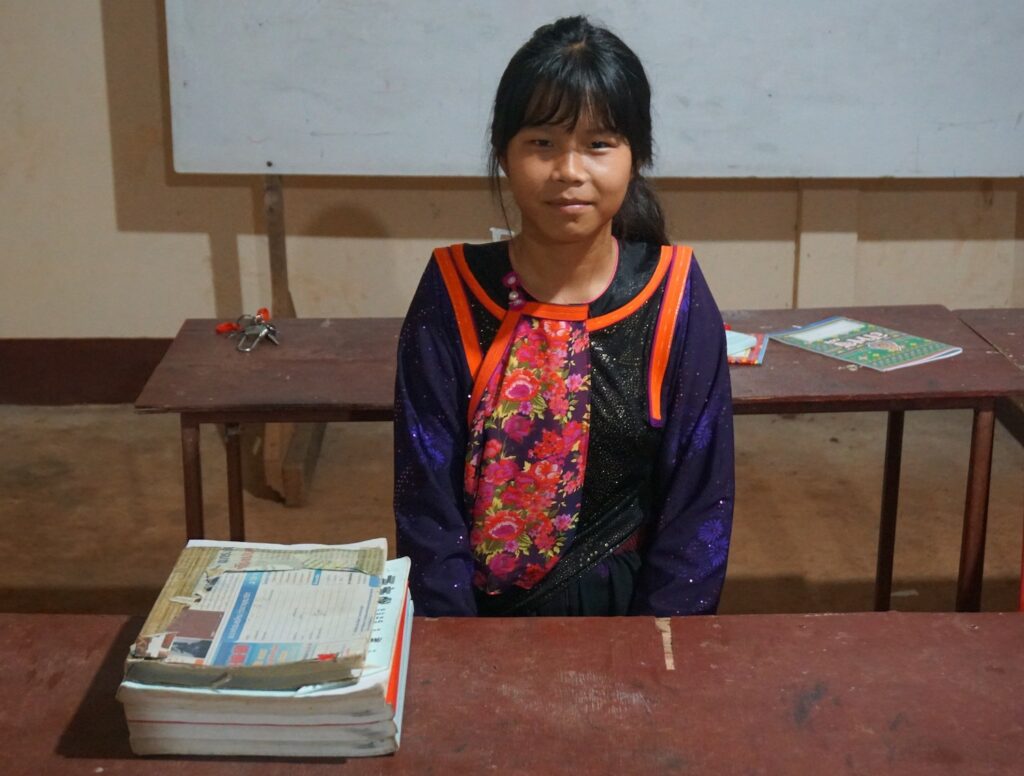 'Children are the future'
The UN refugee agency (UNCHR) estimates that 10 million people are stateless worldwide, with Thailand hosting one of the largest stateless populations, mostly from Myanmar. In 2020, the interior ministry said there were over 539,000 stateless people living in Thailand, including nearly 300,000 children, the majority of which are in Chiang Mai and Chiang Rai provinces.
UNHCR said from 2011 to 2019, around 23,000 registered stateless people acquired Thai citizenship – an important step forward, but only around 4 percent of the total recognised stateless population. In 2018, the ministries of education and the interior said they aimed to grant citizenship to over 90,000 stateless school children in order to give them access to education and "other social services". 
But Sai Wijit told Frontier that he has only recently seen this plan being set in motion.
"For the last five years, they refused to give it to the kids," he said. However, this year Thai officials informed him that over 200 stateless students in Wiang Haeng district would be given 10-year ID cards, including around 15 from Koung Jor.
"This year the Thai officials said children are the future. It's really important. If they give it to them today, tomorrow their situation will already be better. Almost all the children in the camp now have 10-year ID cards," he said.
Of the 300 refugees in Koung Jor, around 80 are aged 18 or under, with roughly 60 in primary school and another 20 in high school.
"I want to have Thai citizenship," said Kong Pop, an 18-year-old student at Piang Luang. "We all need it because it will be easier for us to get a job or start a business."
Like Dowraung, he received his ID card three months ago, after waiting five years.
Four boys and one girl in Koung Jor were also awarded Thai national ID cards in honour of the 60th birthday of Princess Maha Chakri Sirindhorn in 2015. Sai Tun said the children, then aged about 10, were chosen by district officials and schoolteachers.
"Most of the kids get IDs more easily from schools. The students who can join school are given a 10-year ID as arranged by the teachers from schools. But some of the kids and refugees got 10-year IDs because their families have connections with people who live in Thailand. So they are on their [Thai] relatives' family lists," Sai Tun explained.
Sai Laeng said he believes many stateless children in Mae Hong Son, on the border with Kayah State, and Fang are also getting ID cards this year.
"It's hard to say the exact numbers because most of the Shan people do not come to the refugee camps like us, but they live mixed with Thai people in the villages where their close relatives stay. Especially in Fang, there are Shan villages on both the Myanmar and Thai side," he said. 
Older refugees pin their hopes on the young
Despite existing for 20 years, the Koung Jor refugee camp is not registered with UNHCR, and residents say representatives only visited once in 2003. Sai Laeng explained to Frontier that they did not want to be recognised by UNHCR, for fear it would be separated administratively from the five associated IDP camps inside Myanmar, making travel between the camps more difficult.
Unlike their Karen and Karenni counterparts, Shan refugees are not recognised asylum seekers in Thailand, which is also not a signatory to the 1951 Refugee Convention.
Sai Laeng said international organisations had supported the Shan refugee camps with monthly donations of food for a while, but aid dried up in 2017, due to the mistaken assessment that Myanmar was on a path to peace and democracy.
"Since the food aid has stopped, the refugees struggle more and more to get by," he said.
While the situation is improving for young people in the camps, there is no sign that this goodwill will be extended to older refugees.
Nang Jing Nu, a 57-year-old undocumented refugee who has lived in the camp for 21 years, said she would like Thai citizenship, but she has no hope of obtaining it.
"It's too hard to earn money here. I've struggled more and more since I first moved here, nothing is different," she said. "The only hope we have is waiting for donors or outside help."
Sai Wijit also said refugees in the camp who lack identification sometimes have to pay a lot of money to access hospitals or medical clinics. They are unable to receive universal healthcare insurance cards, which people with the 10-year stateless ID cards can apply for.
The adults in Koung Jor refugee camp typically seek seasonal employment in the surrounding agricultural area, harvesting crops like garlic and chilli, but this farm work only lasts around 100 days per year. Some also work on construction sites in the surrounding villages.
"A refugee can earn at least 250 baht (about US$7.2) for his family per day during these days, but they are jobless on most days of the year," Sai Tun said.
Other job opportunities also disappeared due to COVID-19, he said. Female refugees used to earn around 2,000-3,000 baht per month sewing Shan traditional clothing for various ceremonies, which have been suspended since 2020.
Sai Na Ling, a 59-year-old refugee in Koung Jor told Frontier he is putting all his energy into supporting his 16-year-old's education, as he has no hope for his own future.
"I send my daughter to school because I want her future to be brighter and brighter. If she were an educated person, she could support the whole family," he said.
*denotes the use of pseudonym for safety reasons