Police have fired live rounds as well as tear gas, stun grenades and rubber bullets in response to large demonstrations across the country in the bloodiest day yet since the February 1 coup.
By FRONTIER
At least 16 people have been killed across Myanmar today as security forces launched their bloodiest crackdown on peaceful protesters since the February 1 coup, drawing more international condemnation for Senior General Min Aung Hlaing's regime.
Police fired live rounds, tear gas, stun grenades and rubber bullets as hundreds of thousands protested nationally against the February 1 military coup – the largest day of demonstrations since Monday's 22222 uprising.
Protests took place right across the country, from northern Kachin State to southern Tanintharyi Region, Chin State in the west and Shan in the east. Yangon, Mandalay and Bago also saw large demonstrations.
But it was clear early on that today was likely to be the most violent yet, with police shooting dead a young man sheltering in a bus station near Yangon's Hledan junction at around 8:45am.
Frontier has confirmed that at least four people were killed in Yangon and two in Mandalay, while Dawei Watch reported that three died in the Tanintharyi Region capital Dawei. Myanmar state media tonight announced that four had been killed in Myeik in Tanintharyi Region, two in Bago and one each in Yangon and Pakokku in Magway Region.
The authorities also said they made 460 arrests in total, including 224 in Yangon, according to state media. As of yesterday at least 854 people had been detained since the February 1 coup, according to the Assistance Association for Political Prisoners, so today's arrests put the total well over 1,300.
The United Nations meanwhile said it had received "credible information" that at least 18 people had been killed and over 30 wounded by security forces. Unconfirmed reports have put the death toll even higher.
UN Office for the High Commissioner for Human Rights spokesperson Ms Ravina Shamdasani "strongly condemn[ed]" the violence and called on the military to "immediately halt the use of force against peaceful protestors".
"The people of Myanmar have the right to assemble peacefully and demand the restoration of democracy. These fundamental rights must be respected by the military and police, not met with violent and bloody repression," she said. "Use of lethal force against non-violent demonstrators is never justifiable under international human rights norms."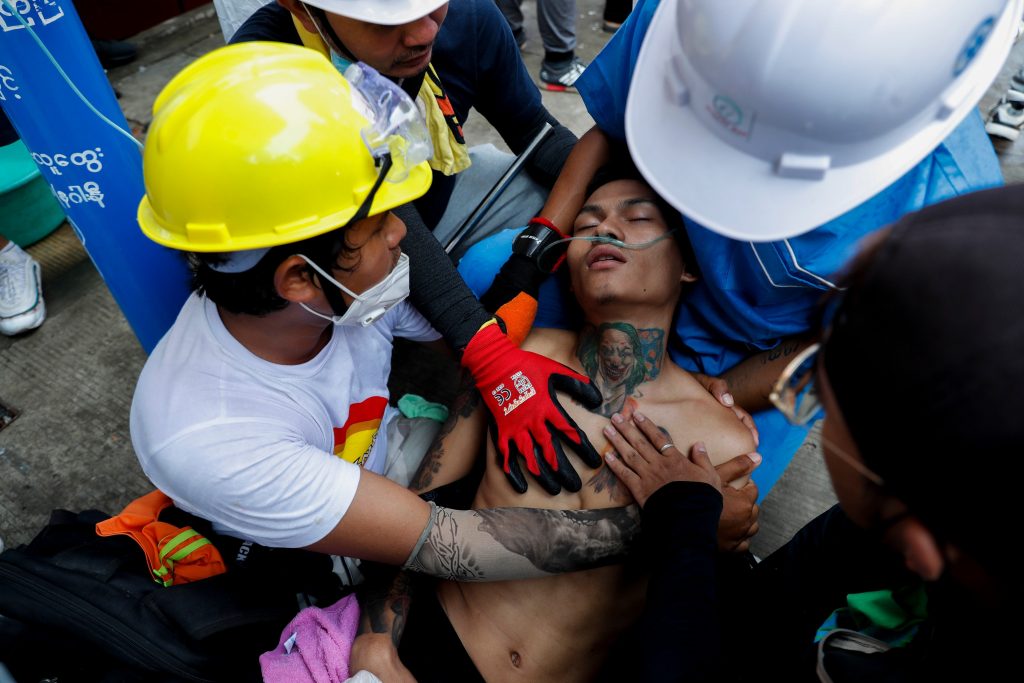 'Everyone who is outside now will be killed'
Although police ratcheted up the violence, protesters in Yangon seemed undeterred and regrouped regularly throughout the day at new locations.
Parts of Yangon looked like a war zone, with thousands of protesters gathering behind makeshift barricades and metal or wooden shields. Police threw regular volleys of stun grenades and tear gas, sending protesters running into nearby laneways and buildings.
In Sanchaung, which saw the heaviest clashes, a Frontier reporter heard a police officer yelling, "We crack down not only because it's our duty, but also because we love to do it. Everyone who is outside now will be killed," as he fired at protesters.
In downtown Yangon, protesters erected makeshift barricades along Anawrahta Road and had regular confrontations with police throughout the day.
North of Hledan junction, protesters shut down Insein Road by blocking major junctions with barricades and staging sit-ins at major junctions. This brought traffic to a standstill, and prompted police to try and clear the area with tear gas and stun grenades.
There were also clashes between police and protesters in Tarmwe and Thaketa, where police blocked a column of demonstrators who were marching to Sule Pagoda. At around 9am, police began firing tear gas and two hours later military personnel arrived and began firing rubber bullets at protesters.
From around 5pm the protesters began to voluntarily disperse, in some cases vowing to continue demonstrating tomorrow.
Protesters near the Butar Yone bus stop on Insein Road had fled into side streets and local houses when police attacked them with stun grenades. Police then dismantled their barricades, and ordered local residents not to take photos or videos.
The protesters briefly reassembled on Insein road after the police left, before protest leaders declared the demonstration over for the day and advised everyone to go home.
Before protesters further south in Hledan junction dispersed, they created a makeshift shrine to the man who was shot by police in the area this morning and was later confirmed dead by rescue workers.
"We will go back home but will fight again tomorrow," a protest leader at Hledan said to the group, many of whom were holding homemade shields.
In Sanchaung Township, where confrontations with police were particularly tense and several streets were barricaded by demonstrators, the protests also wound down in the evening.
A public hospital official in Yangon, who could not be named due to security concerns, confirmed to Frontier the hospital had received three bodies, all of which had been hit by live rounds fired by police. Frontier also confirmed another death in Yangon, while local media reports said a fifth person had been killed in the country's commercial capital.
The official said the hospital had also treated a range of injuries, including people who had been beaten with sticks by police or inhaled tear gas.
Two patients remain in a critical condition after suffering gunshot wounds to the stomach and neck, respectively, the official said.
Of the four who died in Yangon today, one man was fatally shot in the eye and another in the chest near Hledan junction, as was a teacher at a demonstration in Kyimyindaing Township and a 23-year-old at a protest in Thingangyun Township.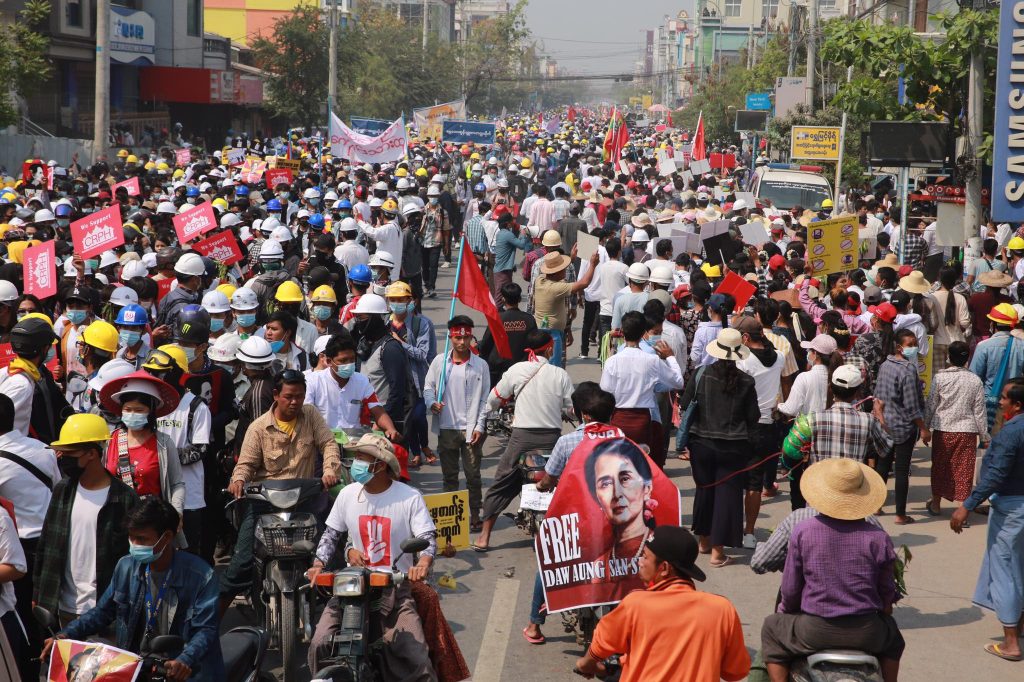 Indiscriminate shooting
Police and soldiers also opened fire on protesters in Mandalay, Myanmar's second largest city, leaving at least two people dead and five injured, including one person critically.
Frontier watched as health teams tried desperately to save several people who had suffered serious gunshot wounds, including one man who was later pronounced dead after being shot in the head.
Health workers said he was alone when he was shot and they were still trying to identify him and notify his family.
Live rounds appear to have been fired at protesters at several sites in the city, including on 62nd and 66th streets.
An eyewitness said police picked off anyone who was on 66th Street in Maha Aung Myay Township.
"Police shot not only at protestors; they shot people who were just out on the street. I saw a police officer on a truck shoot a man on a motorcycle in the head," the person said.
Other eyewitnesses described police and military vehicles patrolling the city, firing indiscriminately.
At 5:30pm, police shot and killed a woman at the corner of 35th and 76th streets. The woman was shot in the head and died at the scene.
In the morning, security forces blocked protesting medical students and doctors from leaving the 300-bed teaching hospital on 62nd Street. A large crowd gathered calling on the security forces to let them out of the hospital. In the confrontation, police fired live rounds, rubber bullets and teargas at demonstrators, and police are still stationed in front of the hospital with the medical students and doctors trapped inside.
In the afternoon, thousands of protesters then staged a sit-in protest at the corner of 62nd and Manawhari Street but dispersed when police advanced on them.