By JARED DOWNING | FRONTIER
One night earlier this month, the Myanmar Mobile Education Project (myME) held its first class of the new term on the side of a street in downtown Yangon – or rather, in the street itself. 
The mobile classroom was once a small truck, but has been fitted with lights, fans, wooden desks and a whiteboard at the far end, where teacher U Thaw Lwin Htoo instructed twenty or so squirming pupils as nighttime traffic roared around them and lights from the nearby Thamada Cinema shone through the windows. 
MyME chose the location mainly because it is one of the few places where the classroom won't get towed away, and also because it is near the tea houses, sundry shops and food stalls that employ myME's students: tweens, teens or even younger children who spend 11 hours a day serving tables and sweeping floors. They have elected to spend their breaks from work learning basic English, mathematics, personal hygiene and other skills that will help them to eventually leave the shop behind. 
"By the time they finish Level 2, these students will be one step ahead of others. They'll already be competent in English, computers," said Tim Aye-Hardy, who helped launch myME in January last year.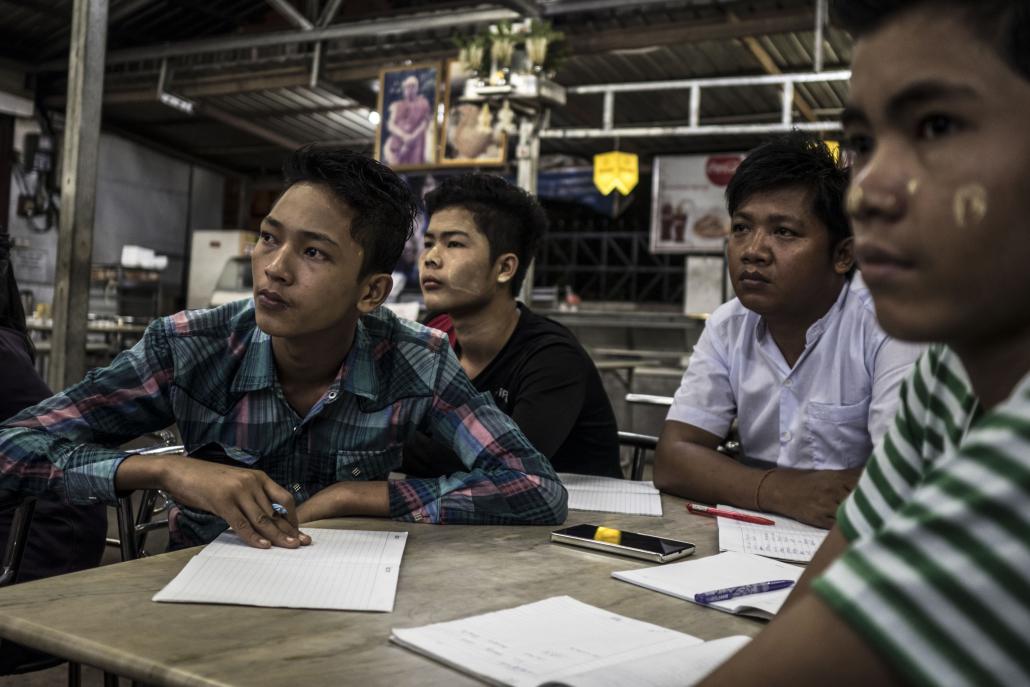 Mr Aye-Hardy is a veteran of Myanmar's troubled education system. A fervent student activist in Myanmar's 1988 national uprising, he fled to the United States to escape arrest, where he finished his education and spent 25 years in New York working in the financial sector. When he returned, he said, daily life in Myanmar was a lot like he remembered — only with a younger workforce. 
"When I left in 1989, there were not that many young people working [in restaurants]. I started to wonder, 'How did they get here, what's going on?' Then I started to think, 'What can we do?'" 
He and some other friends from New York began raising money on crowdfunding website Indiegogo to aid and educate child workers, but the issue wasn't as straightforward as it first seemed, he said. 
More than one-third of children between the ages of 10 to 15 are not in school, according to 2014 census data. Myanmar's legal framework on child labour is based on the 1951 Factories Act, which bans workers aged under 13 and limits the hours of workers aged up to 15, but enforcement is virtually non-existent. Labour brokers bring tens of thousands of children from rural areas to towns and cities to earn meagre sums serving tables, cleaning dishes and working as domestic helpers.
Morning Star beer station, which hosts myME classes three nights a week after closing time, employs about 70 underage workers, mostly from rural areas of Kayin and Rakhine states and Magwe Region. Restaurant manager U Naing Lin is not shy about discussing his young workforce. He relies on word-of-mouth networking, not traffickers, to find his workers, he said, and claimed that the children's parents, many of whom never attended school, welcome the extra income from their sons and daughters. Yes, the shops often pay less than K1000 a day, but the public schools pay nothing and likely lead to the same place in the end.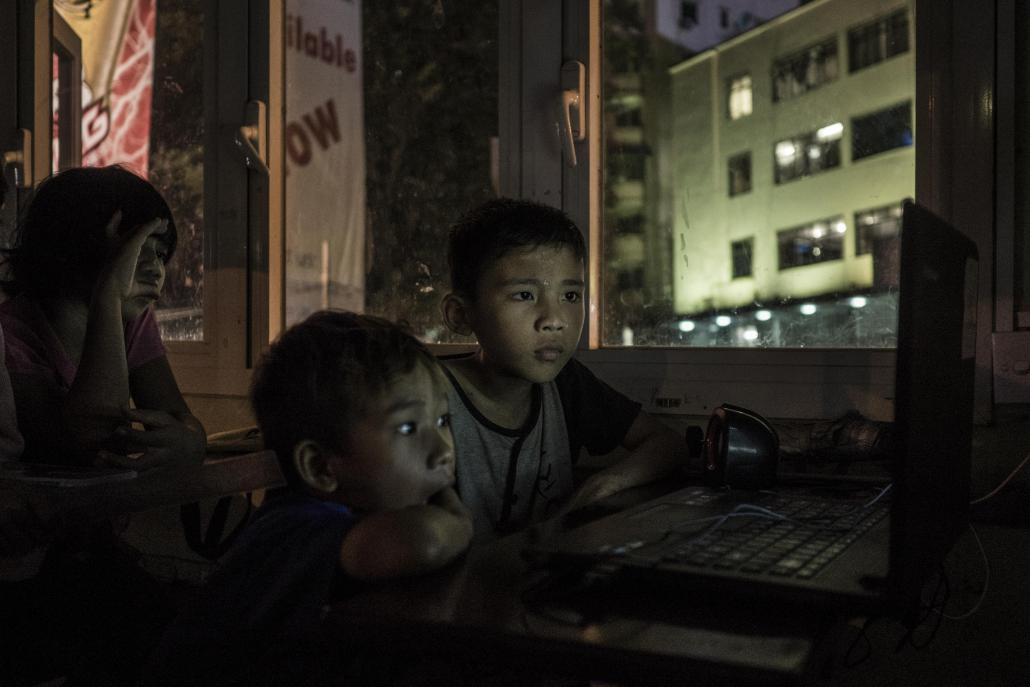 "The kids are happy here," U Naing Lin said. "With this classroom, they're learning something, they're earning something, and they don't want to go back." 
Mr Aye-Hardy experienced this mentality first hand when he tried and largely failed to convince parents to allow their children to attend school. "The ones who go through school end up working in the same tea shop as other workers who only complete first or second grade. So it's a no-brainer for the parents." 
MyME doesn't condone underage labour, but Mr Aye-Hardy sees it as a reality within which it has to work. It was with this pragmatism that the myME team converted old buses or trucks into mobile classrooms — three in Yangon and one in Mandalay — to take education to the students. MyME has 13 paid teachers who conduct up to 12 classes a day at six diploma levels between Pre-Level 1 to Level 3. It has plans to reach child workers in more cities and sectors, including housekeeping, construction and textiles. 
More than one-third of children between the ages of 10 to 15 are not in school, according to Myanmar's 2014 census. Labour brokers bring tens of thousands of children from rural areas to towns and cities to earn meagre sums serving tables, cleaning dishes and working as domestic helpers.
But so far the project's only graduates have been in the Level 1 program, who were honoured at a ceremony earlier this month. The teenagers attending classes at Morning Star will become myME's first Level 2 graduates. They won't receive an official educational credential, but they will have a foundation in subjects such as English, computers, mathematics, hygiene and etiquette: knowledge that will benefit their lives in a practical way.
"We want to rebuild their self-esteem, self-confidence, using a student-centred approach. A lot of games, a lot of activities, making them learn how to solve problems properly, work with others who have the same background," Mr Aye-Hardy said.
Providing education for the children is also good for business, said U Naing Lin. The students become better at solving problems, interacting with customers and learning from their mistakes. "I like it better than the regular classrooms, because in those they tell you, 'Read this. Memorise this.' Then they have an exam. But here it's the real world, they're learning useful things."
Still, justified or not, even U Naing Lin admits that the service industry can be a dangerous environment for children. Few employers are benign, he said, adding that he keeps a watchful eye for customers who become familiar with his young workers because they might be brokers trying to lure them away. Mr Aye-Hardy said he knows of a business owner who locks up his young workers at night — not to keep them prisoner, but to prevent them from being kidnapped and sold to trafficking gangs.
In some cases, children working in the service industry are more vulnerable than those in the factories or sweatshops of the industrial sector. "They don't have unions or other organisations looking out for them," Mr Aye-Hardy said. "Sometimes parents pretty much drop them off and only come to collect the salary."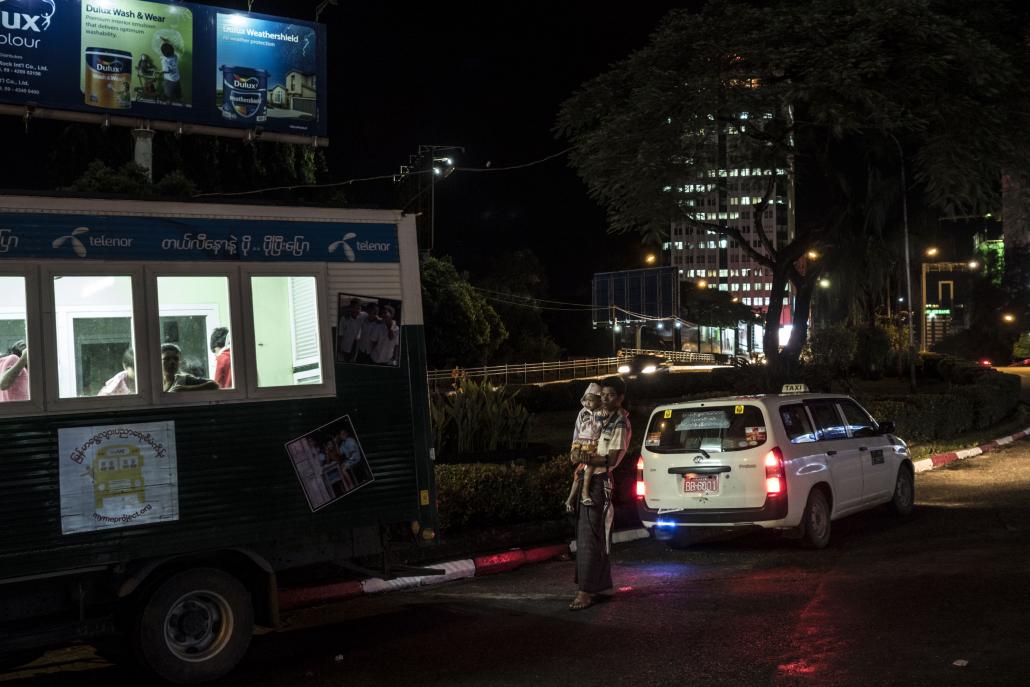 In addition to vocational skills, myME trains their students to be perceptive, to ask questions and to be cautious, especially around strangers, which helps them protect themselves from exploitation.
Yet bringing so many different backgrounds together has created a new set of challenges. MyME has spent its first year struggling to find a rhythm, and so far it has only seen graduates in the first of its theoretical three-level program. 
U Thaw Lwin Htoo spent the first sessions of the term getting the students comfortable with each other. "It's really difficult to make a lesson plan because they are different ages, some are from tea shops, some are from small stalls beside the road," he said. 
Perhaps the biggest challenge has been simply convincing the students, who work 11 or 12-hour shifts with little down time, to attend classes in the first place. 
"I just tell them the reality," Mr Aye-Hardy said. "'Look where you are. Look how much money you're making. Your parents are poor. You have no education. You're making a dollar a day, and all the money goes to your parents. Where are you going to be in three years? You might go to another tea shop. That's it.'" 
The message hit home with Maung Htet Naing, one of the Pre-Level 2 group. Although he occasionally dodges class to play football, passing up an opportunity to learn English for free would be unthinkable for the 15-year-old. "Where I came from I had no chance to learn or go to school," he said. 
His proud family attended his Level 1 graduation ceremony, where former political prisoner and founder of the Sky Age School, U Saw Thet Tu, gave a keynote address about the importance of learning, even through adversity. 
"My father was there, too," said Maung Htet Naing. "He didn't cry, but he was very proud of me. He told me never to give up or quit."
Title photo: Andre Malerba / Frontier