An ambitious plan has been drafted to restore the Waziya cinema, the grandest of the seven movie houses that once lined Yangon's Bogyoke Aung San Road.
By FELIZ SOLOMON | FRONTIER
The Waziya Cinema in downtown Yangon is now sealed shut with padlocked gates; past front steps packed with vendors who were quick to claim the unused space, passersby can barely steal a look inside. It's at least the fourth time the venue, a small but striking building in the shadow of one of the city's few skyscrapers, has been shut down and reinvented. If it reopens, at best within two years, it will seem both very new and very familiar.
Rumours of an ambitious restoration project, initially dismissed as a pipe-dream, appear to be coming true. Plans have been drafted to keep the structure intact while transforming it into a world-class cinema and performance venue, complete with classrooms and exhibition space. Depending on the scope of technical upgrades and a few other factors, the project will cost between US$3.5 million (about K4.13 billion) and $7 million, and some stakeholders think that's within reach.
"Everyone wants to see it happen," said Peter Fasnacht, a cultural affairs officer at the US embassy, which has been a key catalyst of the project. The costs will be high, but so is support. Jointly initiated by the Yangon Heritage Trust, the US embassy and the Myanmar Motion Picture Association, the project has also secured the blessing of the Ministry of Information, the site's proprietor.
The Waziya, formerly called the Excelsior, is regarded as the crown jewel of Yangon's "cinema row", a stretch of Bogyoke Road once lined with at least seven cinemas. Only the Waziya remains today. The Beaux-Arts style building has had about half a dozen lives since it was erected in the 1920s, and has hosted Myanmar and international stars including American actor Douglas Fairbanks – one of Hollywood's first superstars – who in 1931 delighted a crowd with his ebullient praise for Burmese women.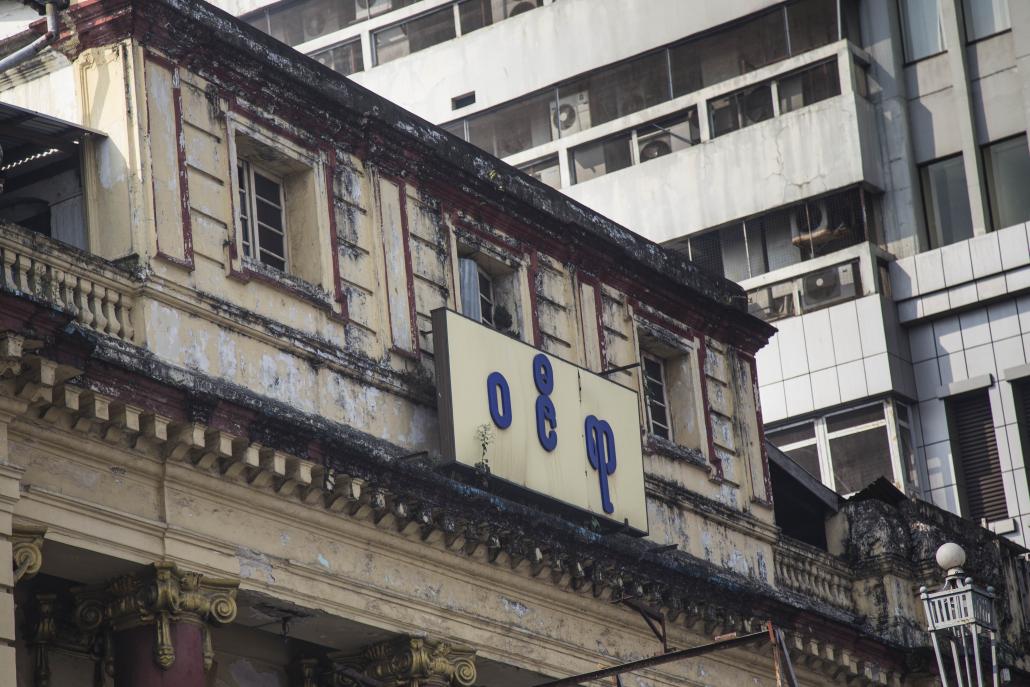 If all goes according to plan, the new Waziya will be retrofitted with modern projection equipment, and some of its most charming features – wooden banisters, decorative flooring and a steel staircase spiralling up to the projection booth – will be restored to their original splendour. The centre will be managed by an independent board of directors that will be legally formalised before the new government takes office in April.
"I personally believe that it will happen," outgoing Minister of Information U Ye Htut, a self-described classic film fan, told Frontier. The agreement will be transferred to his successor, but he was hopeful that the next administration would secure the property and not give way to other developments. The biggest issue, as always, is the money, but with a set of feasible architectural plans in hand, stakeholders are "confident it can be found" given the local and international interest in the project.
Although the US government had not committed to direct financial support, Mr Fasnacht said the State Department was exploring avenues for funding. US ambassador Derek Mitchell has shown a keen interest in restoration of Waziya, and was instrumental in bringing in an urban planner and an architect to assess the project's feasibility. In collaboration with the YHT and other stakeholders, they produced a thorough and efficient blueprint which is estimated to take about a year and a half to complete once initiated.
"All of this, our support for it, our interest in it kind of honours the fact that Waziya – and the Myanmar film industry in general – was the best in the region, from the early days in the 1920s up until the 40s and 50s," Fasnacht said. "There are definitely interested people here."
Myanmar cinema's golden age
From the silent era to the 1960s, Myanmar had one of Asia's most dynamic film industries, at its height producing domestic films to rival world cinema and displayed on more than 300 screens nationwide. The pre-war "golden-age" generated a wealth of homegrown talent, such as Nyi Pu, an early star of the silent screen who later chaired the Myanmar Motion Picture Organization.
After the Socialist government of General Ne Win seized power in a 1962 military coup, the authorities began to harness entertainment as a conduit for propaganda, piling on restrictions and eventually nationalising the film industry in 1968. The media was under tight censorship and movie reels were loaded up with state-sponsored messages. Many directors eventually turned to adapting foreign films instead of creating original content. People enjoyed them nonetheless; one of the more popular films of the 1960s was a Burmese remake of Walt Disney's "The Parent Trap".
A downturn in production of original domestic films did little to alienate viewers and ultimately may have had the inadvertent effect of instilling a sense of nostalgia among movie fans. The dearth of content left broadcasters with little choice but to re-run old movies on TV, over and over and over. Even today, the classics are replayed regularly, immediately recognisable to viewers of all ages. Nearly everyone remembers "Bo Aung Din", and nearly everyone knows the face of Win Oo.
With film production waning, Waziya in 1985 became a live theatre, its original incarnation. It did not screen another film until 1999, when the MMPA wrested it back into its former identity. The building was leased to the association, which hoped to create much-needed revenue through ticket sales. When the lease expired in late 2014, the theatre's fate seemed to hang in the balance.
A stroll down "cinema row" attests to the panic that struck the city's cinephiles. The neighbouring King Cinema on 34th Street, which some urban historians believe was older than Waziya, was demolished in 2014, and a fenced-off trash pit now sits in its place. That you can actually see it from the steps of Waziya serves as a haunting reminder that no site is sacred in rapidly developing Yangon.
"It's quite important to protect these heritage buildings," said U Kyan Taing Aung, a senior program officer at the YHT working to revive the cinema. "It is one of our missions here to restore, and also promote the livability of the city."
The Beaux-Arts style building has had about half a dozen lives since it was erected in the 1920s, and has hosted Myanmar and international stars including American actor Douglas Fairbanks, who in 1931 delighted a crowd with his ebullient praise for Burmese women.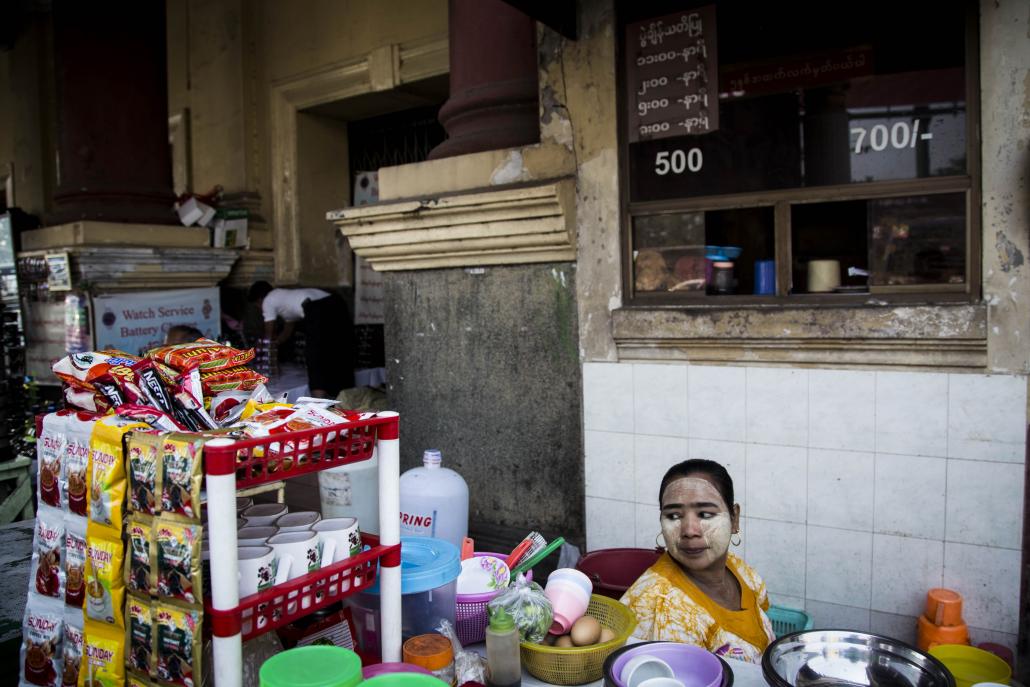 If completed, the theatre restoration would be the first of its kind in Myanmar, and a good omen for that sliver of society with a shared love of both cinema and architecture. Photographer Philip Jablon, an American who has spent the past seven years documenting such theatres throughout Southeast Asia, said the appetite for preservation in Myanmar may well inspire its ASEAN neighbours to commit to similar developments, which could entice tourists and enrich communities through culture.
"I see it happening all over Southeast Asia, a general trend towards preserving old markets, old districts, old towns and old buildings," said Mr Jablon, who runs a digital archive of the region's cinemas called the Southeast Asia Movie Theater Project. "As more young Southeast Asians visit Burma, I think the old-world charms of Burmese towns will further impact how people from those neighbouring countries view their own towns and cities."
Fluent in Thai, he has undertaken the most thorough survey so far of Thailand's theatres, and intends to do the same in other ASEAN countries. Through field visits and interviews, he digs up a bit of history at each site and photographs every detail; from ticket stubs to design quirks to sometimes lewd, hand-painted advertisements.
Mr Jablon has made three survey trips to Myanmar, and has returned this month to display his photographs at an exhibition in downtown Yangon. Myanmar's Vanishing Movie Theaters, on view at Myanmar Deitta Gallery from February 20 to March 5, focuses on the architecture and movie culture unique to this country, where a particularly rich cinematic tradition survived a tumultuous twentieth century and continues to this day.
Waziya is among the last of Yangon's old cinemas, but Mr Jablon has documented about 45 others scattered throughout the country. Some have already disappeared, though he believes there could be dozens more that he is yet to discover. You can't save them all, but while Yangon's most stunning cinema is closed for surgery you can still catch a glimpse of what's left and may yet be salvaged.
Myanmar's Vanishing Movie Theaters will be on view until March 5 at Myanmar Deitta Gallery, 3rd floor, Number 49, 44th Street, Yangon. The gallery is open from 10am to 5pm daily, closed on Mondays. Photographer Philip Jablon and US ambassador Derek Mitchell will be present for a round-table discussion about urban heritage on February 27th at 2pm. Title photo: Philip Jablon