By HEIN KO SOE | FRONTIER
YANGON — The Bahan Township court has again rejected a bail application for The Voice chief editor U Kyaw Min Swe, while dropping charges against a staff writer from the paper accused of defaming the military.
Presiding judge Daw Thara Phi Aung denied Kyaw Min Swe's application for bail on medical grounds for procedural reasons, as the health report filed in support of his release was not authored by the duty doctor at Insein Prison.
During the same hearing, the satirist 'British' Ko Ko Maung was informed that charges against him had been dropped, after a representative from the Communications Ministry testified that there was no evidence he had shared the article at the centre of the case over the internet.
Ministry spokesman U Myo Swe said that Ko Ko Maung was thus unable to be charged under Section 66(d) of the Telecommunications Law, which mandates a prison sentence of up to three years for online defamation.
Both men had been arrested earlier this month under the controversial clause after The Voice published an article satirising 'Pyidaungsu Thitsar' (Faithful to the Union), a film glorifying military exploits in domestic conflicts with ethnic armed groups.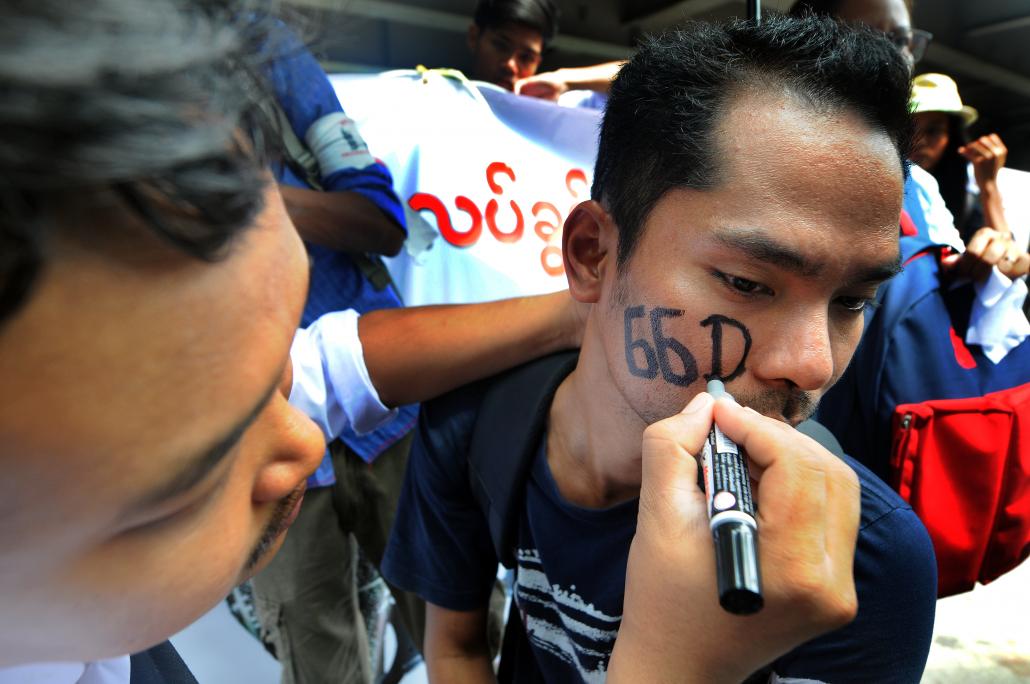 The Voice had on May 14 run an apology for the March article, after the military made its displeasure with the article known to the newspaper's management. The dispute was also being adjudicated by the News Media Council at the time both men were arrested.
Tensions at the court briefly flared between journalists and police officers stationed outside the trial.
For the second hearing in a row, a group of media workers had assembled outside the Bahan court to support the journalists and call on the government to repeal the defamation provisions of the Telecommunications Law.
The next hearing in Kyaw Min Swe's case will be held on June 23, defence lawyer U Khin Maung Myint said.