A boycott campaign that has sent sales of military-owned beers plummeting has created shortages of rival products, with breweries unable to meet demand and facing a shortage of cans.
By FRONTIER
For beer brand Chang, the February 1 coup presented a golden opportunity to rapidly gain market share.
As a recent entrant to Myanmar's beer market, it was facing a tough battle with established brands for a slice of a pie that was growing only modestly due to the COVID-19 pandemic.
Then came the military's power grab, which prompted activists to launch a boycott campaign targeting military-owned products. This has dramatically shaken up the beer market, causing sales of military-owned brands like Myanmar Beer, Andaman Gold and Black Shield to crater, and wiping as much as $1 billion off the value of Myanmar Brewery Limited, a joint venture between Myanma Economic Holdings and Japan's Kirin.
The military's market share, estimated at around 70 percent prior to the coup, now stands at less than 30pc, some industry sources say. Others estimate sales of Myanmar Beer, the most popular product prior to the coup, have fallen 80-90pc.
That should be good news for the three non-military breweries – Emerald Brewery (which produces Chang), Heineken Myanmar and Myanmar Carlsberg – but lack of production capacity and trade disruptions related to the coup have left them struggling to meet the sudden spike in demand.
"Myanmar Beer and Andaman Gold had a very large market share so when people boycotted them, we simply couldn't meet demand," said a Chang distribution manager, who asked not to be named. "Demand was so high that I met my annual sales target in just six months."
Heineken Myanmar and Emerald Brewery declined requests for comment, while a Carlsberg representative did not respond to a request.
But sources from all three companies said they quickly ran out of cans due to problems importing through Yangon port.
"We ran out of 500ml cans at the end of April, so we could only distribute 330ml cans and 700ml bottles. The price of 500ml cans rose a lot," said the Chang manager.
As the shortages began to bite in May, wholesalers hiked prices by up to 20pc – a 500ml Chang cans that was selling for K1,200 now retails for around K1,500.
Prices of other non-military brands – including Heineken, Tiger and Regal Seven, all produced by Heineken Myanmar, and Carlsberg, Tuborg and Yoma, which are made by Myanmar Carlsberg – have risen by around K200 a can, or 10pc to 20pc.
A sales manager from Myanmar Carlsberg said that, like Chang, demand roughly doubled overnight. It soon ran out of cans for its popular entry-level beer Yoma, and started producing a bottled version instead. "We're producing both Yoma red and yellow in bottles because of the lack of cans," he said. "Because Myanmar Brewery's market share is really big, the other brands couldn't meet demand when consumers started to switch."
Similarly, Heineken Myanmar ran out of cans in April, resulting in production delays and stock shortages, said a sales manager at the company, who asked not to be named.
"Beer was in short supply because we just couldn't produce enough to meet demand from wholesalers and venues. We didn't have enough tanks to increase production and in the last few months we also faced a shortage of cans," he said.
The problems at the port have been resolved to some extent. Most striking container truck drivers and customs clearance agents returned to work in May, said one customs clearance agent with three decades of experience, and the difficulties traders faced transferring payments as a result of the banking crisis have also eased.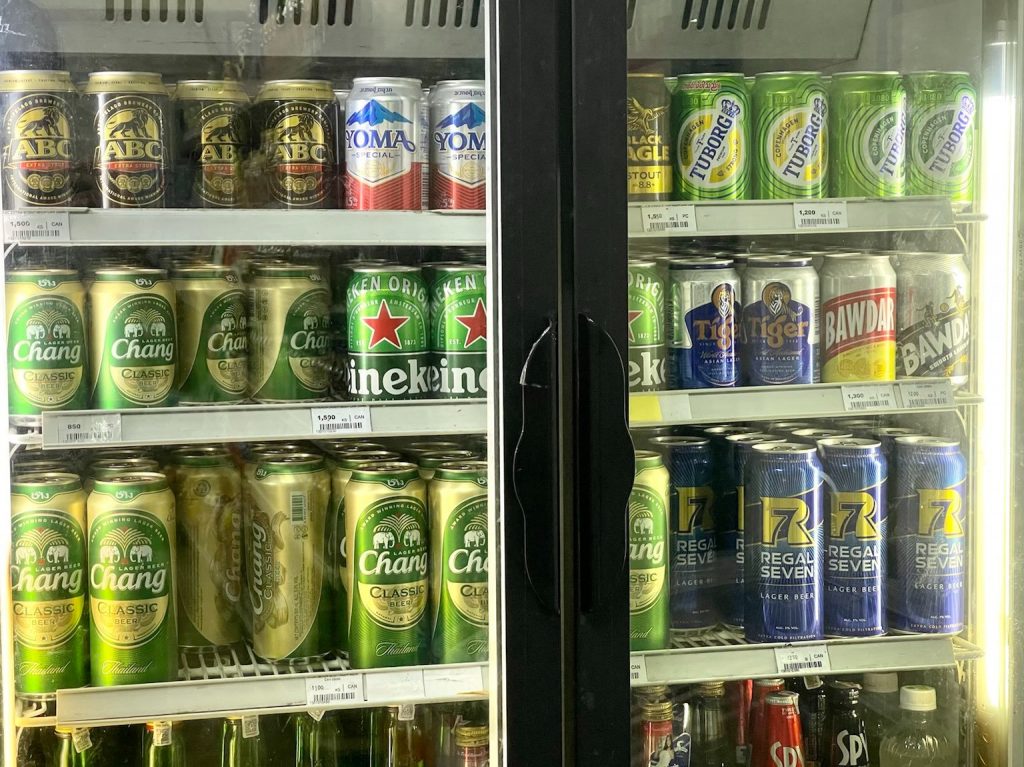 But the beer shortages have continued, wholesalers and retailers told Frontier. 
"Right now, we have only two or three items to sell – everything else is out of stock," one wholesaler based in Thanlyin Township told Frontier at the end of June. "Retailers are sending their orders but we've got nothing to give them, because the breweries aren't sending anything to us."
Another wholesaler from Thaketa Township said the only non-military brands he could source were Chang, and 330ml cans of Yoma and Tiger.
"ABC, Heineken, Tiger, Regal Seven… everything is out of stock. Because we can't order from the breweries, wholesalers are buying from each other to supply to our retailers and this is causing prices to rise," he said.
Market sources predicted that there could be further shortages and prices rises due to the COVID-19 outbreak, which has caused some wholesalers to halt deliveries to retail outlets. Retailers will have to go to the wholesalers if they want to collect goods, which will add to their costs.
Unlike smaller wholesalers and retailers, the larger retail outlets like City Mart and convenience store chains 1-Stop Mart and G&G have been less affected. Sources said this was because their parent companies are treated like wholesalers. "They can also negotiate directly with the beer companies to get more stock," said one sales manager.
In an attempt to retain customers, Myanmar Brewery has launched a lucky draw campaign for Myanmar Beer cans and extended an existing competition for bottles, said one of the company's township-level distributors in Yangon.
"Normally, the lucky draw period for bottles ends in May but since there's a lot of old stock remaining it has been extended," he said. "Sales of Myanmar Beer have dropped terribly so we are concentrating on trying to get them back up and will have a lucky draw for cans in July."
But the Thaketa wholesaler said that the lucky draw had done little to help sell bottles of Myanmar Beer, which were previously the most popular item. "Sales are so bad – you can't even sell them with the lucky draw," he said.
With no sign that beer drinkers are softening on the boycott, the Heineken sales manager said the company was preparing to increase production. "We're restructuring so we can raise production," he said.
While the boycott has benefited other brands, liquor store owners said the supply shortages and price rises had depressed sales and made it hard for them to turn a profit. Some shop owners are considering reselling their highly prized excise licences and closing up for good.
"Now nobody drinks Myanmar Beer and Andaman Gold and we've been left with a lot of stock that we can't move. The beers that are actually selling well are out of stock. When we can get our hands on them the prices are high, and people have no cash to buy them," said one store owner.
The gap has been partly filled by illegally imported foreign beers, such as Leo, Singha, Corona, Diablo, Hemper and Maximum, which have been coming into Myanmar in larger quantities since mid-May, beer distribution managers said.
"Nowadays, there are plenty of black-market beers. When the country is in crisis, the authorities don't have time to focus on a problem like illegal imports so those black-marketeers can do whatever they want," said the Chang sales manager. "Just when we are trying to build up our market share, black market beers are snatching it from us."