With a mass boycott of public schools entering its third year, the parallel government is scrambling to fine-tune alternatives to junta-run education, while lower-income families find it increasingly difficult to stay away.
By FRONTIER
Maung Han Thar* has watched with increasing anxiety as many of his friends prepare to take their year-end exams.
"While my education stopped at Grade 6, my friends are about to finish Grade 7 and are ready to jump up to another higher grade. It makes me feel sad and feel like I'm losing my goals and my future," he said.
The 14-year-old hasn't received a regular education since March 2020, when schools in Myanmar were shut down to prevent the spread of COVID-19. Following the February 2021 military coup, he followed millions of other students in joining the Civil Disobedience Movement, a mass strike of civil servants and boycott of public services.
Now entering the third year of the uprising against military rule, many students remain on strike, but others have slowly returned to the fold.
The junta claims that this year more than 7.23 million students took basic education year-end exams in the second week of February, while nearly 180,000 are registered for matriculation exams in March. These figures are disputed by student unions and the parallel National Unity Government, appointed by elected lawmakers deposed by the coup.
Figures from the 2019-2020 academic year, the year before the coup, showed Myanmar had roughly 9 million students. According to the Basic Education Student Unions Network, only around 900,000 or 10 percent, of students opted to enroll in 2021-2022, immediately following the coup. The following year, teachers from Ayeyarwady and Yangon regions, both junta strongholds, told Frontier around one third of students were back in school.
BESUN spokesperson Sai Sar Sam told Frontier in February that there are actually 11 million students in Myanmar, and said 5 million are still actively boycotting the junta's education system, while others are not attending for more practical reasons.
"It doesn't mean 6 million are learning in the junta's education system, because this number includes internally displaced people who can't attend classes and those who left school permanently to work for a living," he said.
The military regime's brutal crackdown on peaceful protesters sparked an increasingly bitter civil war, displacing more than 400,000 children, while its disastrous economic policies have pushed many children to leave school and enter the work force.
For Han Thar, the decision to continue boycotting classes, even as many of his friends return, was made by his parents, who are die-hard supporters of the National League for Democracy, the elected party overthrown by the coup.
"After the coup, my parents led the protests in our village and refused to cooperate with the junta's administration. While many students returned to school last year, they refused to let me. But now, they are reconsidering this decision," he said.
Han Thar's parents initially hoped he could receive an adequate education through the NUG, which has rolled out online programmes and even holds in-person classes taught by CDM teachers in some resistance strongholds. The family lives in Danubyu Township in Ayeyarwady Region, an area where armed resistance failed to take root, so they enrolled Han Thar in an online learning programme in June, but things didn't go to plan.
The dangers of online learning
In a terrifying turn of events, Han Thar's personal data was leaked and the family soon received threats and blackmail demands. The military regime has declared the NUG a terrorist organisation, claiming that any affiliation with the parallel government, including education, is equivalent to supporting terrorism.
"I had to close my phone SIM and my son's education was suspended for three months," said U Tin Nyunt*, Han Thar's father, a broker of agricultural goods. "After the situation stabilised, I tried to enrol him in another federal school, but most schools with good security were full and hard to join."
For now, Han Thar is studying with a private tutor, but this isn't sustainable for the family due to the high costs.
"Now, he isn't receiving education from either the junta or the NUG. Although he continues learning with private teachers, we aren't sure if he's getting a proper education because there's no one to evaluate him. Besides, we can't afford his tuition fees much longer. We're thinking to send him back to the junta school this year, even though we hate it," Tin Nyunt said.
Han Thar's unfortunate experience is not an isolated incident, as multiple online education programmes have suffered from scams or data breaches.
Ma Mee Mee Ko*, 17, had been attending Grade 9 classes with the Free Online Education Institution Myanmar since November last year, but the programme abruptly stopped last month when the school's founder was exposed for financial misconduct.
"Now I am leaving the FOEIM because the disputes between the higher ups are ongoing and classes can't continue. I'll join classes that will be taught by teachers who left FOEIM," she said.
Although the online school initially declared its services would be free, students were asked to pay an annual fee of THB3,000 (US$87) after signing up. But teachers claimed they never received any financial support, raising questions about where this money was going.
"The school asked for money from the students, claiming it would support internet data for the teachers, but we never received it," said Daw Khin Mya Win*, an FOEIM teacher who quit the school. "After the crisis, the teachers split into two groups. Some will remain there, but most, including me, formed another school under a different name."
According to the FOEIM, it had more than 30,000 students, and about 600 teachers before the crisis.
Ma Thin Thiri Thu, chairwoman of Basic Education Students' Union, told Frontier that many unscrupulous people are taking advantage of parents' desperation for their own benefit.
"It shouldn't be that way, but they are doing it. The parents are already anxious about their children's education, financially and mentally," she said, calling for the NUG to better manage the education system and punish those who abuse it.
The NUG's deputy education minister Dr Sai Khaing Myo Tun told Frontier the parallel government issued an 11-point policy in May last year, including forbidding schools from taking tuition fees. He said the FOEIM school wasn't registered with the NUG, but has been investigated and will be punished.
"We conducted a financial inspection of FOEIM because the teachers filed a complaint to us. Yes, we found there was fraud, and we will take action against the school founders. But we cannot say how we will punish them," he said.
According to the NUG's Ministry of Education, there are more than 70 recognised online federal schools, although the parallel government broadly pledged to accept other education methods by CDM teachers as well.
Sai Khaing Myo Tun admitted that it's been a challenge for the ministry to manage the proliferation of online schools and said the NUG must tread very carefully due to security concerns.
"We have to consider the impact of punishing those schools, because we are concerned about the possibility of them leaking the personal data of students and parents who had enrolled there," he said. "Therefore, we have to speak to them carefully during the trials."
However, Sai Khaing Myo Tun believes that many parents will tolerate these difficulties as a price to pay for supporting the revolution.
"Most parents have decided that they will fight to the end to make this revolution succeed. There will be some parents and students who have different views, but I believe it's very few."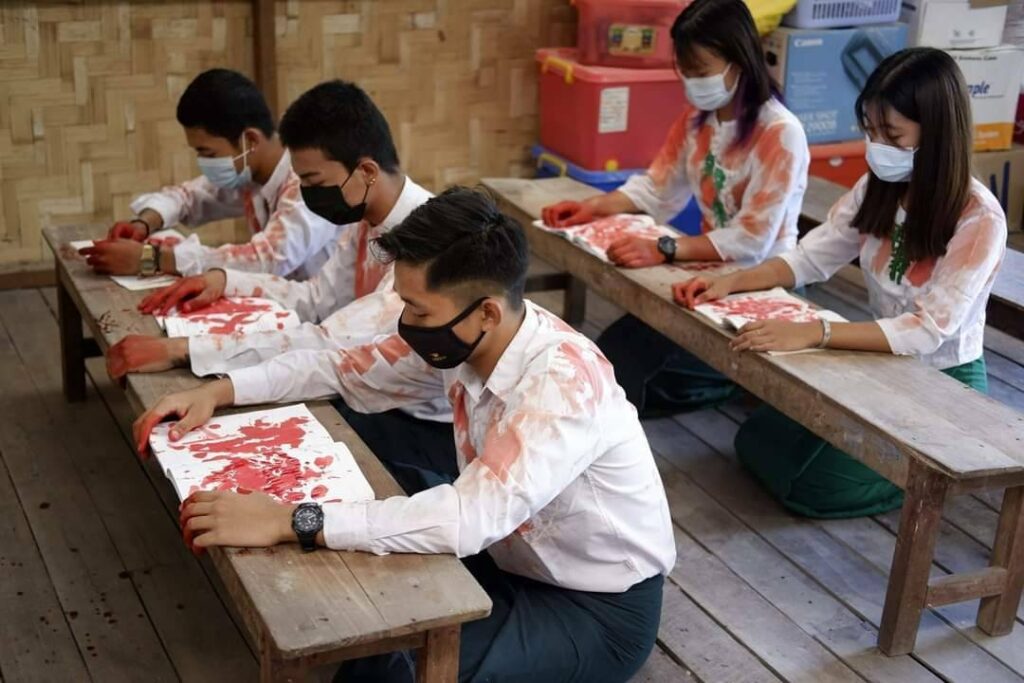 Testing, testing
The NUG says there are around 100,000 students registered for this year's Basic Education Complement Assessment tests, an alternative to the junta's matriculation exam, which the regime says has around 180,000 registrants. The NUG was unable to give a figure for year-end exams for lower grades.
"For the BECA, more than 100,000 students have registered to participate. The interest of students is higher now. For the lower grades, we allow the schools to make their own year-end exams by themselves," the deputy education minister said.
The NUG matriculation exams opened online starting February 2, with students given two hours to complete each subject, but the process has hit some snags. Ko Leo, a founder of Nway Oo federal school, told Frontier that 80 students from his school registered to take the BECA, but encountered numerous system errors while trying to take the exam.
"It's the very first time for the MOE, so we can understand their weakness. I hope it will be improved very soon. Now, my students are taking sample tests. When the website improves, they will take real tests," he said.
Some other students are unable to access the online test because they live in areas where the internet has been restricted or have been displaced by fighting.
The NUG MOE says it will roll out in-person exams for students in areas where the junta has little control, like resistance strongholds in Sagaing and Magway regions.
The leader of the Myaung Education Network in Sagaing Region told Frontier in February that 14 examination departments will be formed across the township to serve the 382 students who registered for the BECA exams. The network says it has 31 schools in Myaung Township, with 521 teachers educating 5,192 students.
"We can't say when we will hold the exams because we always have to listen for when the military is planning an offensive. We rely on local PDFs. If they inform us that the military's forces are coming to us, we have to close the schools and go hide in a safe place," she said.
Despite the hiccups, both online and on the ground, some students say they have no regrets joining the NUG's education system.
Ma Kay Khaing* from Yangon, who is planning to take the BECA this year, told Frontier that the education she's received from online schools is far superior from that on offer in the junta's schools. She said she attends a full schedule of classes online from 9am to 4pm, and the teachers take the programme very seriously.
"I used to just learn information by heart in my old school. We had to memorise all the lessons that the teachers taught us and then write down all the things we memorised during the exam," she said.
Kay Khaing says in her current classes, there is much more discussion amongst students, and exam answers are expected to be creative and individual, rather than just regurgitating paragraphs from a textbook. She intends to attend one of the NUG-affiliated universities after taking her matriculation exam in August.
"My family doesn't force me regarding my education. They allow me to do what I want," she said.
An uneven playing field
But Kay Khaing has one advantage over some of the other students – she comes from a wealthy family. Increasingly, observers are noting a two-tiered system developing in Myanmar, where it's easier for wealthier students to snub the junta's education, because they can pay for high-quality private education or are simply less worried about future employment opportunities.
Ma Thun Shwe Yee*, a student who joined the CDM after the coup, is taking online Grade 9 classes with an online NUG school but is also studying with private tutors in preparation for taking the General Education Development test.
Even if the NUG were to successfully pull off online exams, some students are worried about whether international education institutions would recognise the results. Thun Shwe Yee said she has no plans to continue her NUG education after passing the GED test, which confers students with the equivalent of a United States high school degree.
"I'm attending classes in the online school just for the sake of continuous learning. At the same time, I'm preparing for the GED tests with my home tutors. After I pass, I will go to university in Bangkok or South Korea," she said, adding that her tuition fees are K600,000 per month, around $285.
The World Bank's 2021 figures put Myanmar's per capita annual GDP at around $1,200, or $300 per month. In 2018 the Asia Development Bank estimated average household income was around K80,000-K100,000. This figure has almost certainly dropped since the coup, as the World Bank said in January that current household incomes remain "well below 2019 levels".
The former deputy rector of a teaching college, who asked to remain anonymous, said poorer students are being forced to make more difficult decisions than their wealthier counterparts, who can boycott the junta's education system while still receiving an internationally recognised education.
"The education system isn't fair for all during this period. The poor parents have to send their children to junta schools while the rich parents are planning to send theirs to foreign schools, even though they all hate the military dictatorship the same," he said.
Deputy education minister Sai Khaing Myo Tun acknowledged that there are many students planning to take GEDs or other international exams but said this "new trend" isn't because of concerns about the NUG's education quality.
"There are 246 universities registered under us. Students can join them after finishing basic education. There are also mobile vocational courses in NUG territory. They can apply to them," he said. But he also acknowledged that in areas where the junta is in firm control, it can be difficult for any NUG graduates to get a job, because the military regularly punishes institutions that hire CDM participants.
Han Thar's father, Tin Nyunt, is increasingly worried that his son won't be able to pursue his dream of studying engineering if he continues boycotting the junta education system.
"I was a huge supporter of the NLD, and I'm still against the military dictatorship. But my son's future comes first. I don't want to watch him lose his way. If he rejoins the junta's schools, at least he can become the engineer that he wants to be," he said.