The fifth Human Rights Human Dignity International Film Festival was an insight into how far the country has progressed in its political transition.
By SING LEE | FRONTIER
Photos THEINT MON SOE aka J
FOUR YEARS can seem a long time. In 2013, the Human Rights Human Dignity International Film Festival was launched amid an uncertain political transition. The term "human rights" had until very recently been taboo; the country's prisons still housed scores, if not hundreds, of political inmates.
For organisers and participants, the fifth incarnation of the festival, held from June 14 to 19 at Waziya Cinema and Junction City JCGV Cinema, was an indication of how far the country has come, and how far it still has to go.
88 Generation leader Ko Jimmy said at the opening that the organising team faced tremendous difficulties when they began preparing to hold the first festival.
Not only was it hard to get approval to show films that touched on sensitive topics, organisers struggled to get permission to hold it at all, he said.
Today the event is the largest human rights film festival in Southeast Asia, he said, and a fixture of the local creative industries calendar.
Jimmy also recalled the days when he was in prison together with Maung Aung Pwint, a poet featured in the opening film, Burma Storybook.
Produced in the Netherlands, Burma Storybook tells the stories of well-known, politically active Myanmar poets, including Aung Cheimt and Thukhamein Hlaing, who both attended the opening screening and recited their poems from the stage.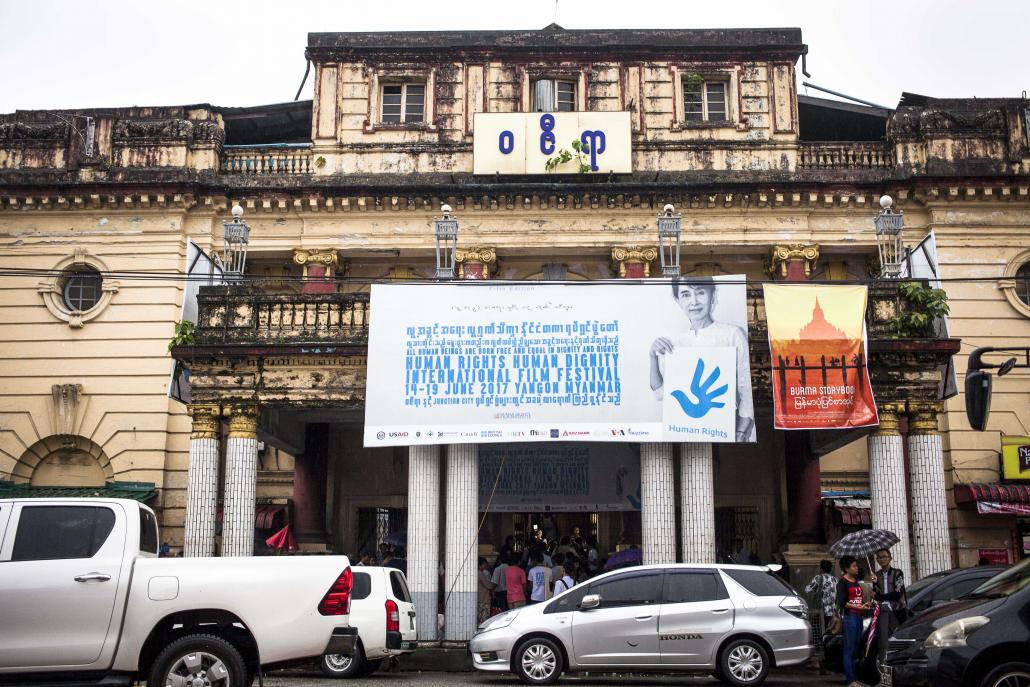 Directors Peter Lom and Corinne Van Egeraat said the Yangon screening was the most important for Burma Storybook, and represented a homecoming for the movie.
Lom told Frontier that it was a "wonderful" feeling to show the documentary and he hopes to arrange screenings in Myanmar at large outdoor venues and schools so that it reaches a wider audience.
Lom has made a career out of documentaries with human rights themes. He said that in his experience being able to show such a film in its home proved that the country in question was improving.
"We made a film in Egypt during the Arab Spring, but we were not able to show the film in its home, as the revolution developed into violence and the people of Egypt failed [to get] what they were fighting for and even lost what they used to have," he said.
Burma Storybook is one of 12 films out of the 64 in the festival that were made abroad.
While its presence was seen as a positive, the absence of another film highlighted one of the elements of Myanmar's transition that is still difficult to publicly discuss.
Sittwe, a documentary by American director Jeanne Hallacy about communal conflict in Rakhine State, could not be shown at the event on the orders of the authorities.
Dutch ambassador to Myanmar Mr Wouter Jurgens said the banning of the film was a reminder for Myanmar that democracy should not be taken for granted and still needed to be strengthen and defended.
The producer of Sittwe, U Myo Win, who is also executive director of Smile Education and Development Foundation, was present on the festival's opening night.
He said that there could not be true democracy while the rights of minorities, such as Muslims and Christians, were ignored by the government and not protected by law, adding that education was the key to resolving the conflict.
But Lom said he noticed some relaxation of censorship over the years, citing the decision to allow the documentary She, a film by local director Kyal Yi Linn Sitt on female rights and religion, to be shown. A film with similar themes and by the same director was barred from screening at the 2014 festival, he noted.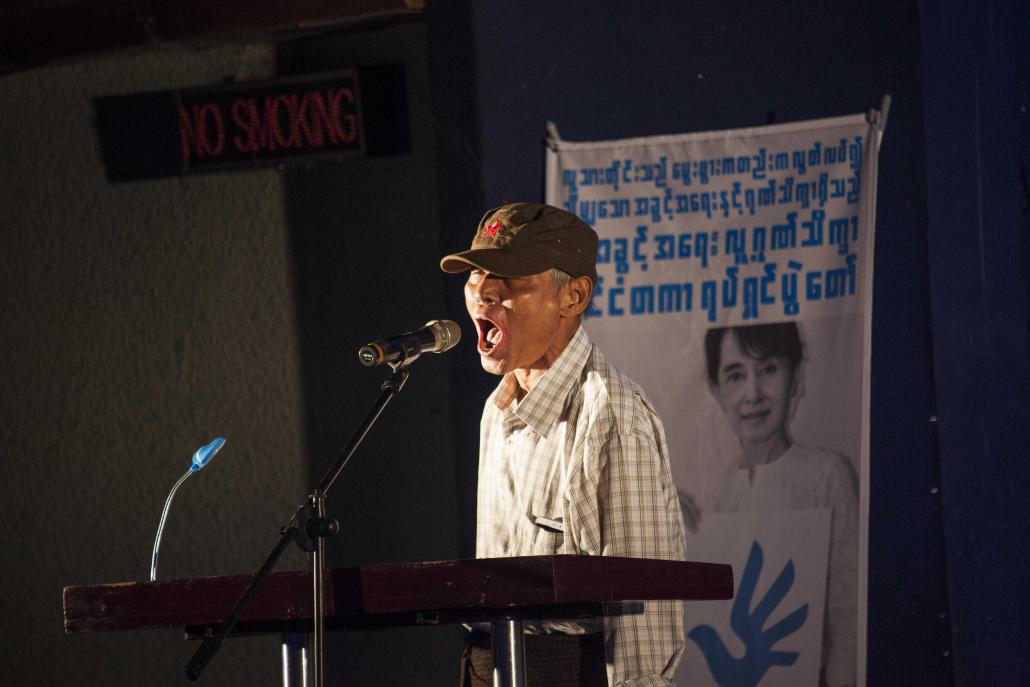 She records the lives of and the challenges faced by a Buddhist nun, a Christian nun and a Muslim woman. It took the Gender Equality Award at this year's festival, when the awards were announced on June 19.
This year's Aung San Suu Kyi Award for best international documentary went to Jonas Scheu's Ma Yan Chan – Waves of Transition, which tells the story of dock workers on the Ayeyarwady River who are forced to move from where they have lived for generations.
Psycho Zero, which features works from 14 local directors about psychological conditions, was selected as the best national film, winning the Hantharwady U Win Tin Award.
Moses Marks, one of the directors who contributed to Psycho Zero, said the festival was a great opportunity for local independent filmmakers to show their work in Yangon's larger cinemas, which they typically do not have access to.
Reaction from the audience was mostly positive. Mr Yuki Kitazumi, a Japanese freelance journalist who attended the opening, said he was especially interested in the documentary Listen. A film by Min Min Hein, it focuses on artist Chaw Ei Thein, who expresses her political views through performance art and other art forms.
Attendee Naw Thazin Toke, who watched a screening at Junction City, said she hopes the festival can be held in other cities across the country in future. "I believe these films can help transform people's mindset for the improvement of the nation," she said.