An enterprising woman turns a life-long passion for horses into an award-winning business on the shore of Inle Lake.
By SHA MIAO | FRONTIER
DAW SWE SWE LWIN, 32, has always been passionate about horses; when she was growing up in Zigon in Bago Region, her father was a horse-cart driver and the family had three ponies.
Her passion, dedication and hard work in establishing Inle Horse Club was rewarded last December when it took the prize for Best Tourism Business Innovation at the annual Myanmar Responsible Tourism Awards, initiated and organised by the Myanmar Responsible Tourism Institute.
Inle Horse Club, which enables domestic and foreign travellers to enjoy horse rides at Inle Lake, one of Myanmar's most scenic locations, is one of the few equestrian-based tourism businesses in the country.
The club, based at Myin Sar Khun village, about 10 minutes' drive southeast of Nyaung Shwe, is an eco-tourism social enterprise and its objectives include giving local horse owners opportunities to earn extra income by hiring out their steeds.
It's not the kind of business Swe Swe Lwin, who is also known as Kuku, expected to be running when she graduated from Japan's Kenritsu University with a major in international relations and dreamed of becoming a diplomat. Her journey to Nyaung Shwe began in Singapore, where she worked in customer service at a golf club after leaving Japan. She fell in love with a compatriot, Ko Yea Aye, whose hometown was Nyaung Shwe. She returned there with him and they married in 2014.
Swe Swe Lwin had ample free time after she married and longed for the chance to ride horses like she did as a girl. She realised that, like her, many of the visitors who came to Nyaung Shwe might want to experience the beautiful landscapes of southern Shan State on horseback.
"I could see in the town there was lots of tourists, so I was confident we had a market," Swe Swe Lwin told Frontier.
There were plenty of horses already in the area, too, because horse carts had until recently been widely used for transport. Now though motorcycles and cars had become more common, so she thought a tourism business based around horse-riding could also create income for local horse owners.
At first some of the owners were reluctant, she said, but gradually Swe Swe Lwin developed friendships with them. She launched the business in December 2014, and got a major boost when she was selected to participate in a training programme on inclusive tourism through which she developed a proper business plan to support the growth of her enterprise.
She won a tourism product competition and received matched funding from the Business Innovation Facility, which is supported by British aid body the Department for International Development.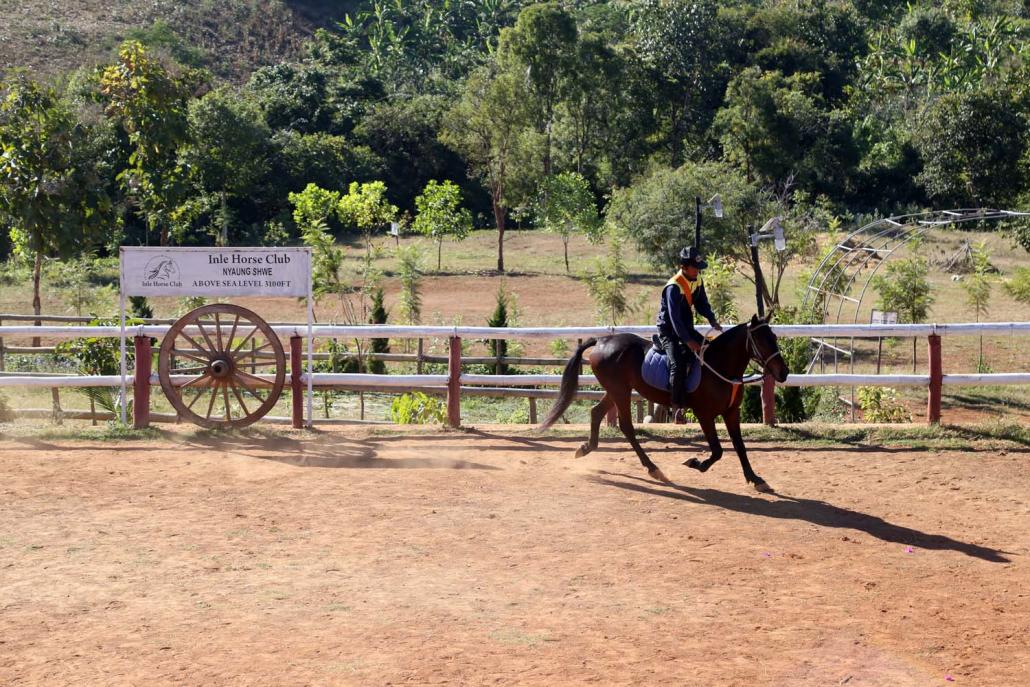 Swe Swe Lwin said some have advised her that the business could not be successful because of the high cost of maintaining the horses, but her husband always encouraged her to stick with it. There were few resources available on setting up a horseriding business, though, so she often had to rely on the internet and even customers for advice.
"We have grown our business with help from our customers. They can ride well, so I asked them about training horses and what to feed them," Swe Swe Lwin said. "We are still learning from our customers."
In 2017, Inle Horse Club, which uses solar energy for lighting, cooking and other purposes, won a prize for energy efficiency and recycling in a competition for small and medium enterprises sponsored by the Danish government-backed Responsible Business Fund.
Horse manure has also been used as a fertiliser on the club's land, and some has been sold to local farmers.
Swe Swe Lwin is trying to import equipment from India that can convert horse manure into organic fertiliser for sale to local farmers who supply fruit and vegetables to hotels in Nyaung Shwe and around Inle Lake.
"We need to change our generation to be more educated and more responsible. We are a business role model in Shan State," said Swe Swe Lwin, who is also proud of the club's "one customer, one horse, one tree" plan.
Customers during the monsoon are invited to plant a tree during their ride. More than 3,000 trees have already been planted on the club's 16-acre (6.5 hectare) plot – testament to the growing popularity of Inle Horse Club.
About this series
This is the second in a series of reports about winning entries in the Myanmar Responsible Tourism Awards, of which Frontier Myanmar was a sponsor. In each issue for the next three months, we will profile the founders of award-winning tourism enterprises to learn about their approach to responsible tourism and what inspires them to help the communities in which they work. The awards were announced on December 11, 2018. More information is available at: www.myanmartourismawards.wordpress.com/
TOP PHOTO: Daw Swe Swe Lwin launched her horseriding social enterprise near Nyaung Shwe in December 2014. (Sha Miao | Frontier)