There's fierce competition in the ride-hailing market, with two local start-ups contending against a prominent global player and a rapidly growing regional company.
By SING LEE | FRONTIER
COMPETITION FOR ride-hailing customers in Yangon has intensified following the entry into the market earlier this year of two prominent foreign companies.
Southeast Asian ride-hailing giant, Grab, officially launched in Yangon on July 26 after a four-month trial, and huge global player Uber began operations in the commercial capital on April 26.
The foreign firms are competing against local start-ups HelloCabs and Oway Ride, which launched their services more than a year ago. The battle for market share has been a boon for drivers and customers, who are – for the time being, at least – enjoying discounts and promotions.
Both Myanmar companies say they are upgrading their systems to accept more orders and improve customer service. Oway Ride said in mid-August it was preparing to launch a new app that would enable its taxis to be booked immediately, matching the service provided by Grab and Uber.
Despite strong competition, all of the ride-hailing services share a common goal of providing a safe travel experience in vehicles with metered fares and well-trained drivers, who the companies say can expect higher incomes than their counterparts in standard taxis.
For the time being, the services are only available in Yangon through partnerships with licensed taxi drivers, an arrangement that differs from cities overseas where passengers can hail private vehicles.
Grab: An emphasis on innovation
Ms Tan Hooi Ling is a co-founder of Singapore-based Grab, which began a trial service in Yangon in March ahead of its official launch in July. The trial brought the number of cities in which Grab operates to 65, in seven countries throughout the region, and it has more than 1.1 million drivers.
During the four-month trial, more than 5,000 taxi drivers registered with Grab and a survey showed their average incomes rose 30 percent, said Tan, who declined to reveal customer numbers.
She said feedback during the trial revealed three main issues: users' unfamiliarity with the app, significantly lower usage after 8pm due to safety concerns, and drivers having difficulty finding pick-up locations.
Tan said Grab, which boasts more than 50 million downloads, is focusing on feedback-based "technological investments" to ensure a better experience for both riders and drivers. Grab has partnered with Here WeGo, a map app owned by a consortium of German automotive companies, to minimise waiting times at pick-up locations.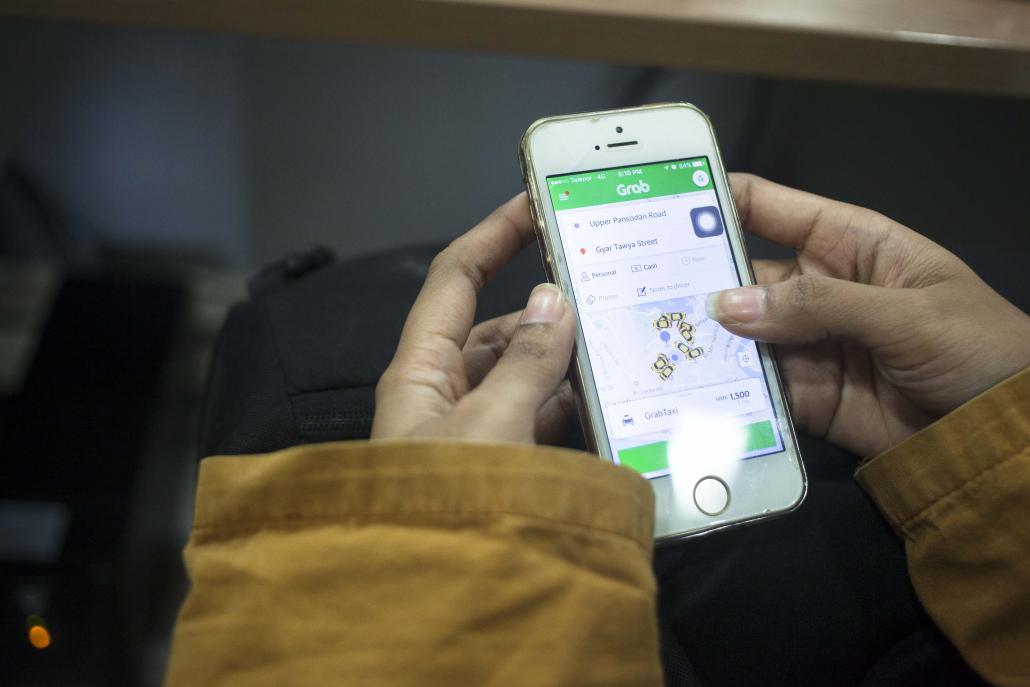 Grab's language translation system, GrabChat, allows English-speaking riders to communicate with their Myanmar drivers. Another innovation, aimed at addressing safety concerns, enables riders to share trips with friends through live tracking.
Asked about pricing, Tan said it was based on customer and driver demand-and-supply.
"Pricing is only a part of everything. What Grab offers is end-to-end service. Ultimately what matters to us most is the feedback from our customers, and if they are coming back and using our app over and over again, I think we have found the right operational structure," she told Frontier.
Tan said the keys to Grab's growth in Southeast Asia were investing in local talent and localised solutions, always striving to solve problems and choosing partners with both operational experience and technological knowledge.
In late August, Grab announced it would invest US$100 million over the next three years to expand its presence in Myanmar, including rolling out its ride-hailing service to more cities, launching a digital payments system named GrabPay, and building a team of up to 200 staff.
In a press release, it said it was already registering 25,000 unique bookings a day and had 6,000 drivers.
Uber: the industry pioneer
Global giant Uber, the ride-hailing pioneer, launched in San Francisco in 2010 and now operates in more than 450 cities throughout the world. Myanmar is the 76th country or territory in which it provides its service.
Uber, which says it has more than 40 million monthly riders and 1.5 million drivers, told Frontier in an email that it sees "real demand for reliable transport" in Yangon.
The company declined to provide usage figures, but said it was "excited" by the response from riders and drivers.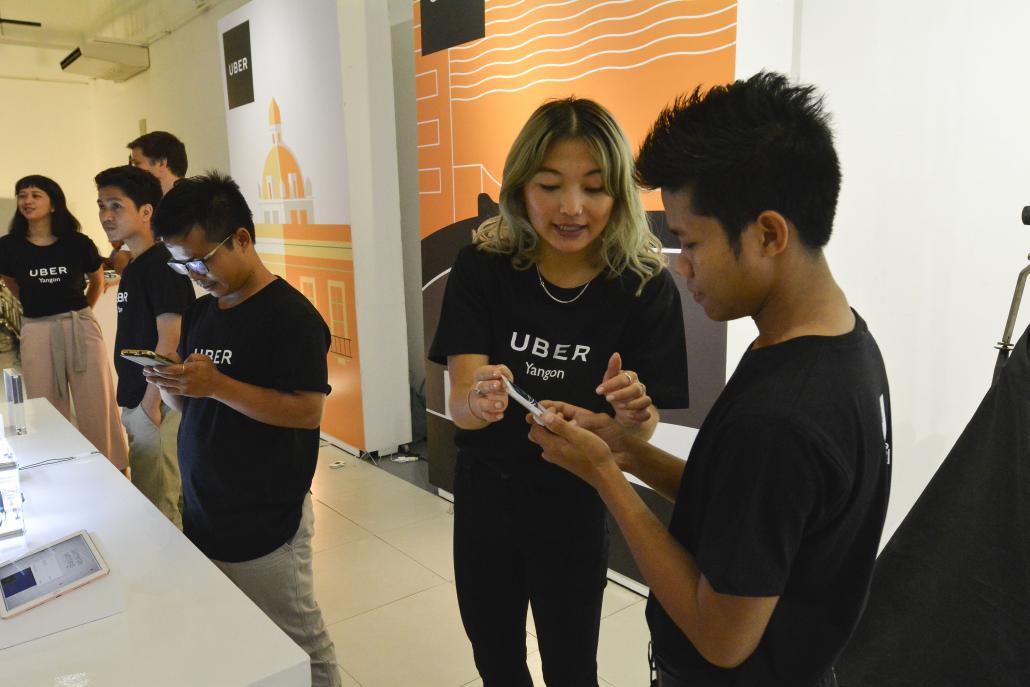 "Yangon is special in some ways because we partnered with taxis," said Daw Ei Phyu Lwin, general manager of Uber Myanmar. In most other cities, Uber has partnered with private vehicles.
"Taxis in Yangon are plentiful; this approach will help us serve riders and the city of Yangon from day one," she said in the email.
Uber focuses on providing a seamless app, fast pick-up times, accurate estimated arrival times and the best customer service. It says it regards private vehicles as its competition.
Ei Phyu Lwin said she was confident Uber's service would replace private cars.
"When people get used to being able to get a ride at the push of a button, then it becomes easy to give up your personal car all together," she told Frontier.
The company says it screens its drivers carefully and also uses third party mechanics to check every vehicle on its platform.
HelloCabs: The first in Yangon
HelloCabs became the first ride-hailing service in Yangon when it began operations in the commercial capital in 2014 ahead of an official launch in August 2015.
HelloCabs managing director U Aung Win said advances in software applications had paved the way for the introduction of ride-hailing services.
Aung Win began a taxi company in 2012 when he said there were no map apps available.
"We wanted to do it for so long, and when the tech was ready, we started," he said, referring to the launch of HelloCabs.
Mr Anirban Chakraborti, the chief executive officer of HelloCabs, said in a recent interview the platform had 1,200 drivers and was handling 2,000 orders a day.
HelloCabs had proved that ride-hailing services could be successful in Myanmar, he said.
"Grab and Uber came into the market because we were successful," Chakraborti told Frontier, adding that HelloCabs was confident about its performance in a more competitive market.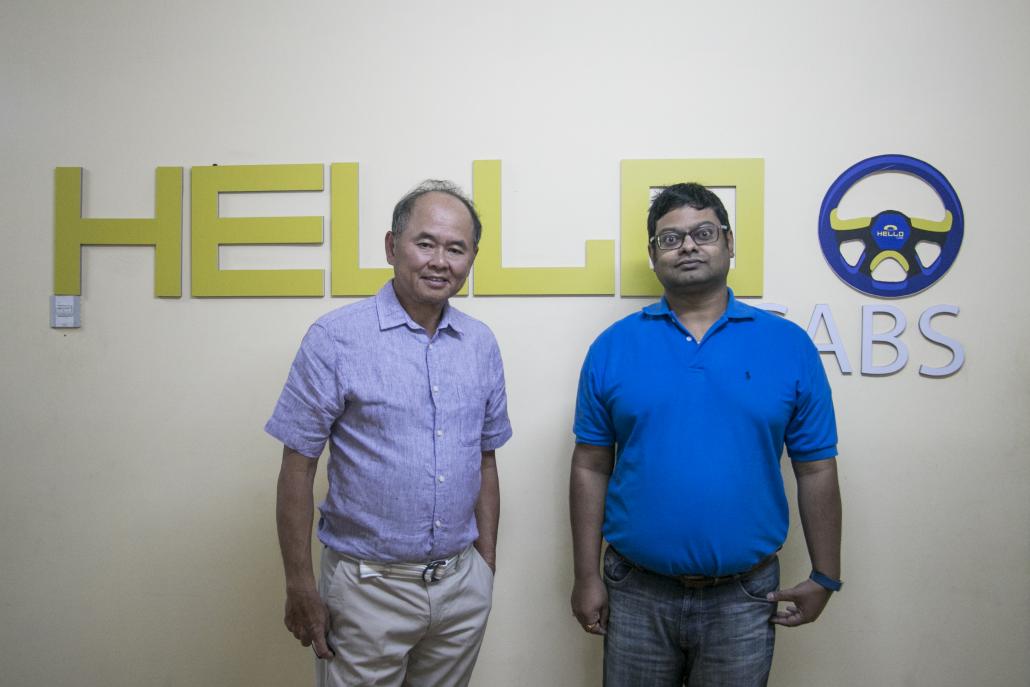 Referring to marketing campaigns by new players, he said HelloCabs was focused on achieving sustainable profits and would "never" offer discounted fares.
"I admit there is a storm out there, but every big company will face a problem if they go on burning money. It is easy to do business when you have millions to spend. We are much more profitable," Chakraborti said.
He said the company wanted its drivers, who must have at least five years' experience and a recommendation from their local police station, to earn more than those with other ride-hailing companies. The five-percent commission paid by HelloCabs drivers was the lowest in the market, Chakraborti said, a claim that could not be verified because the other players do not reveal their rates.
He is expecting other drivers to join HelloCabs after its competitors end incentives for their drivers and their earnings decline.
Chakaraborti said that as the first player in the market, HelloCabs has an advantage in predicting rider behaviour.
"You need at least one or one-and-a-half years of data to know at which hour the demand will be, and to tell the drivers where to go. Six months is not long enough," he said.
"Data collection is an expensive business, but we have a lot of our own data and we can help our customers from our experience."
Aung Win said a company vision was to transform the taxi industry in Yangon.
"We need a lot of reform in the taxi industry and because of that we have a lot of opportunities," he said, though he acknowledged that there would be strong competition.
Oway Ride: Local market focus
Oway Ride began services in April 2016 and is part of the Oway Group, which also provides an online travel booking service that launched five years ago.
Oway Co Ltd chief executive and founder U Nay Aung said Oway Ride was focusing on Myanmar customers because they offered much better growth potential than tourists or expatriates.
"We are here to stay and grow together with the Myanmar mass market," he told Frontier. "The local customers' needs are very broad; they need services for work, business or social reasons, day to day and everywhere throughout the city."
Although he declined to provide figures, Nay Aung said Oway Ride was achieving rapid monthly growth in rides, drivers and registered users.
Oway Ride was planning to unveil improvements aimed at creating a "more unique experience", he said.
The upgrade would bring improvements to customer service and Hello Cabs computer system.
There were also tentative plans to expand operations to Mandalay, said Nay Aung.
In the face of strong competition, he said Oway Ride was focusing on users and sustainability. "When you ask for a car you should get it as soon as possible."
The drivers
As well as competition among themselves, the ride-hailing services are sharing the roads in Yangon Region with more than 60,000 taxis, many of whose drivers have a big base of loyal, regular customers.
They include U Thet Naing, 54, who told Frontier that he was unfazed by competition from ride-hailing services because regular customers in his neighbourhood were keeping him busy.
"Everyone in the neighbourhood knows me. They call me because I am trusted, because taxis sometimes are not safe. We know each other," said Thet Naing, who was confident of earning more from his customers than any driver with a ride-hailing business.
He predicted that ride-hailing services would appeal mainly to customers who could afford to pay more for a safer ride.
Taxi driver U Aung Lwin, 65, said he was not interested in driving for a ride-hailing company because he did not want to pay a percentage of his earnings as commission.
However, U Aung Htwe, 49, said he was considering signing up with a ride-hailing service once he had more information on the commission paid by friends who were driving for the companies.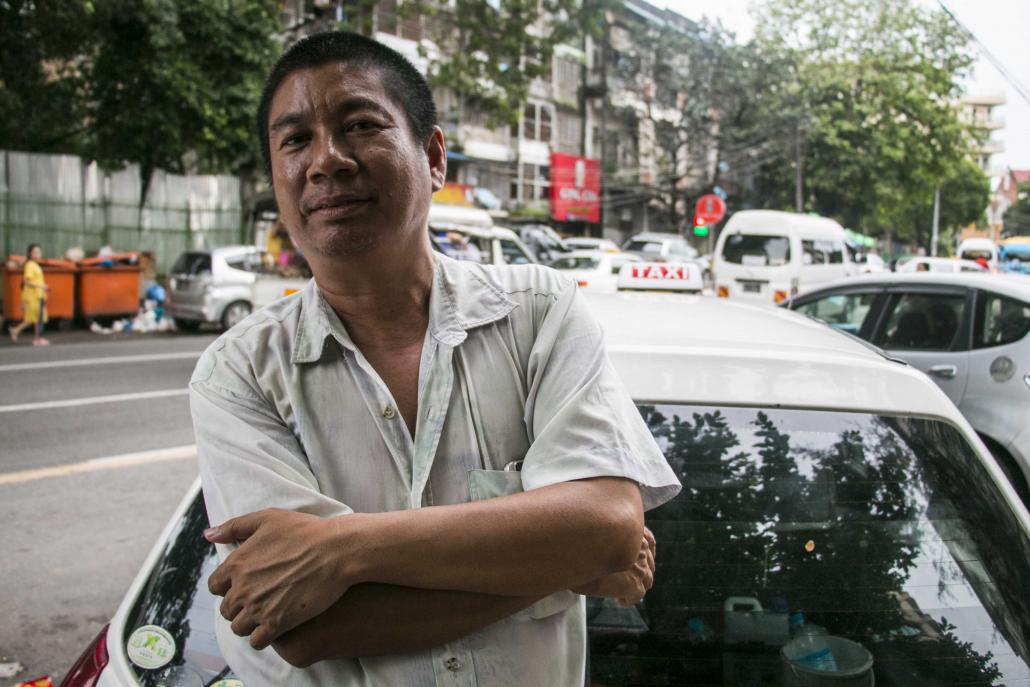 Aung Htwe said he was aware that the ride-hailing services had attracted many customers by offering sharply discounted promotional fares.
Another cabbie, U Thein Shwe, 56, said he doubted whether he could earn more by signing-on to a ride-hailing company. He added that he might change his mind if he ever tires of driving the streets in search of fares.