By SU MYAT MON | FRONTIER
YANGON — A Yangon court has charged Reuters journalists Ko Wa Lone and Ko Kyaw Soe Oo under the colonial-era Official Secrets Act, a decision that could see them jailed for up to 14 years, in a landmark press freedom case that is being watched around the world.
Judge U Ye Lwin said at Yangon's Insein Township court today that the trial would proceed and he set the first hearing for July 16, when the journalists are expected to testify. The court has been holding pre-trial hearings since January to decide whether the journalists should face charges.
They have been charged under section 3.1(c) of the colonial-era law, which punishes anyone who "obtains, collects, records or publishes or communicates" state secrets that might be useful to an enemy and carries a maximum sentence of 14 years' imprisonment.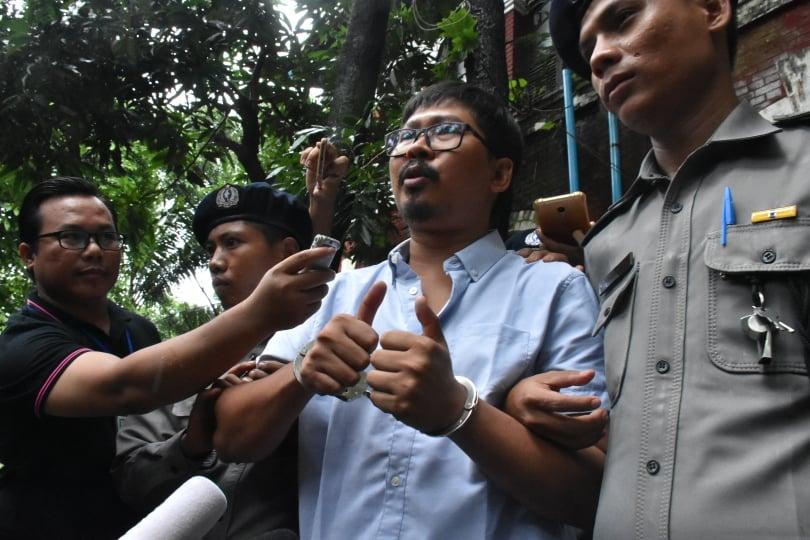 Following the decision, Wa Lone and Kyaw Soe Oo separately told the court they did not obtain the documents in order to give them to an enemy or endanger national security. Both said they had been doing their jobs in line with media guidelines and were therefore innocent.
Four witnesses for the defence are expected to testify next week, in addition to the Reuters pair.
Wa Lone said outside the courtroom today: "We are innocent, because we were doing our job reporting on human rights abuses in Rakhine State, in line with media guidelines."
They were arrested in Yangon on December 12 shortly after receiving documents from two police officers. At the time they were investigating the massacre of 10 Muslim men in Inn Din village, during a military crackdown in northern Rakhine State that saw almost 700,000 people flee to Bangladesh. The Tatmadaw has since admitted its involvement in the killings.
One of the two officers, Police Captain Moe Yan Naing said while testifying for the prosecution that the police had "set up" Wa Lone, though the prosecution maintains that they found secret documents on the reporters during a routine check.
"The lack of justice cannot shock or intimidate us during this trial," Wa Lone said today. "We will try our best to ensure a verdict based on the truth."
Journalists have a responsibility to investigate police injustices, he added.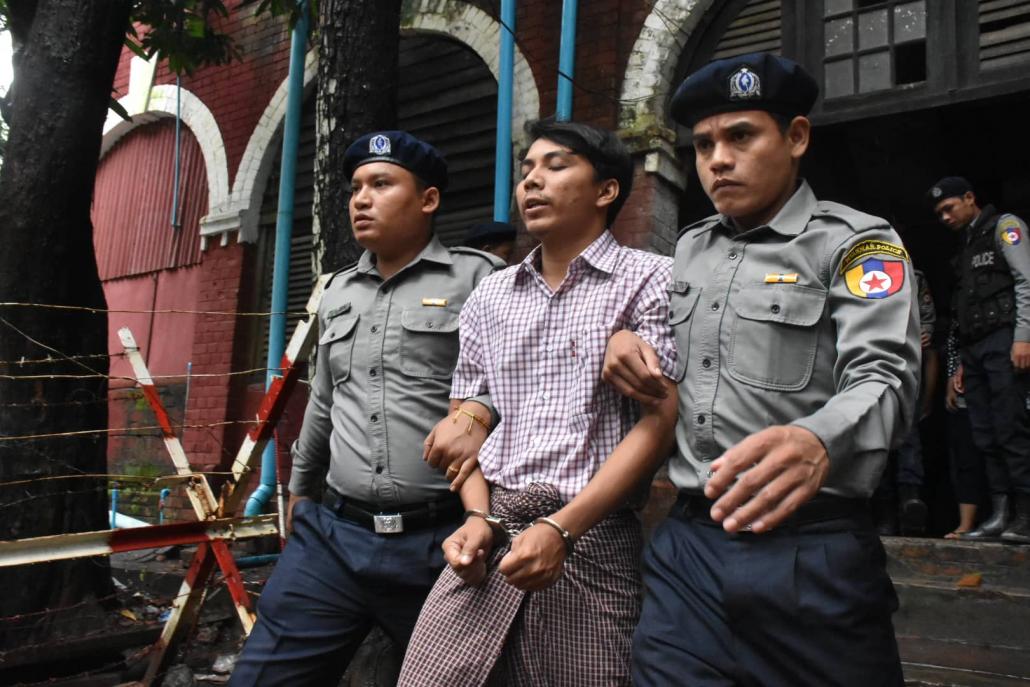 Defence lawyer U Than Zaw Aung said that although the journalists' case is legally sound, there are other forces at work that could have influenced today's verdict.
The Media Law is incapable of protecting journalists when there are other laws that can drag them down, he said. "So the journalists are getting stuck in those laws, one way or another."
The case has attracted global attention, in particular from Western countries, where diplomats and advocacy groups have portrayed it as a test of the government's commitment to press freedom.
Than Zaw Aung said today that media freedom in Myanmar has been "going backwards" over the past few years and the verdict demonstrated that the government did not take the role of media seriously.
"If the media was considered necessary to the development of other sectors, it wouldn't happen like this," he said.