By SU MYAT MON | FRONTIER
PANTANAW, Ayeyarwady Region — Relatives of Padoh Mahn Sha Lah Phan were prevented from attending the unveiling of a statue in his likeness Tuesday, in a ceremony held on the ninth anniversary of the Karen leader's murder.
A former secretary-general of the Karen National Union, Padoh Mahn Sha was shot to death by gunmen at his home in the Thai border town of Mae Sot in 2008.
Mahn Tin Shwe, 79, the late brother of the assassinated leader, told Frontier at Tuesday's ceremony that Padoh Mahn Sha's two daughters in the UK, son in Canada and adopted son had been barred from coming to Myanmar to attend.
Nant Zoya Phan, his daughter and campaign manager for the London-based Burma Campaign UK advocacy group, spoke to Mahn Tin Shwe on Tuesday to express her sadness over being unable to return for the unveiling.
"She cried and I could hear her voice trembling," he said. "I really feel quite sorry about it."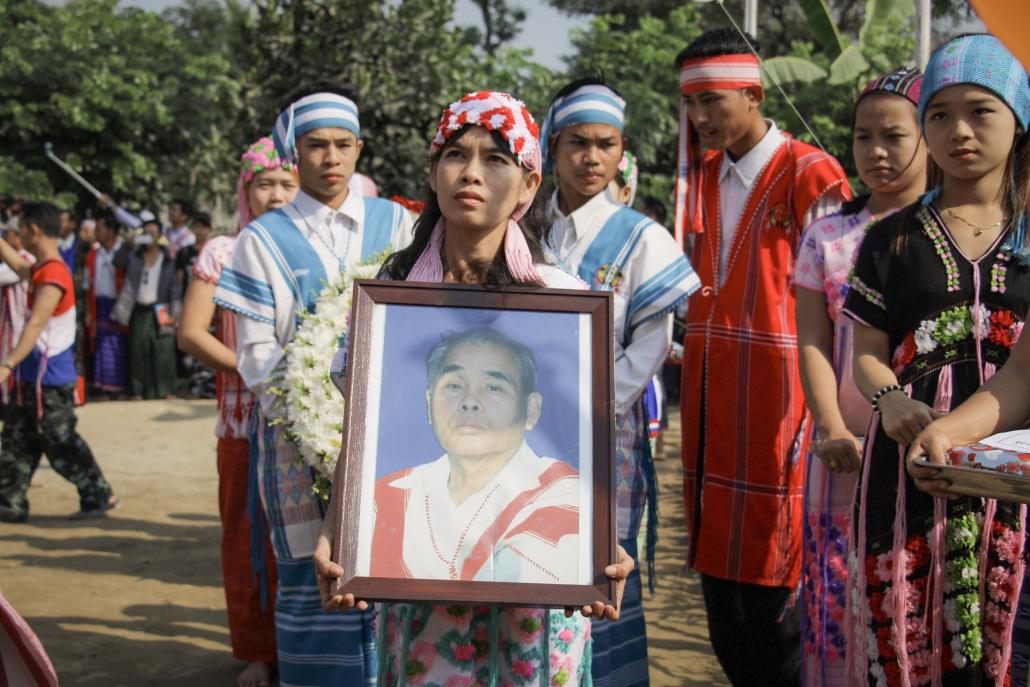 He added that Amyotha Hluttaw MP U Sa Khin Zaw Lin (NLD, Ayeyarwady-2)had unsuccessfully sought to persuade the Union government to grant Padoh Mahn Sha's children permission to attend.
Around 200 people attended the three-hour ceremony, held in Padoh Mahn Sha's hometown of Tawkyaung village, around 100 kilometres west of Yangon.
Among those who spoke in his memory was U Than Khe, a leader of the All Burma Students Democratic Front.
"I came here on behalf of ABSDF to pay respect to a most worthy person," he told Frontier. "Padoh Mahn Sha was brave like a lion… even though he died his thoughts will live forever."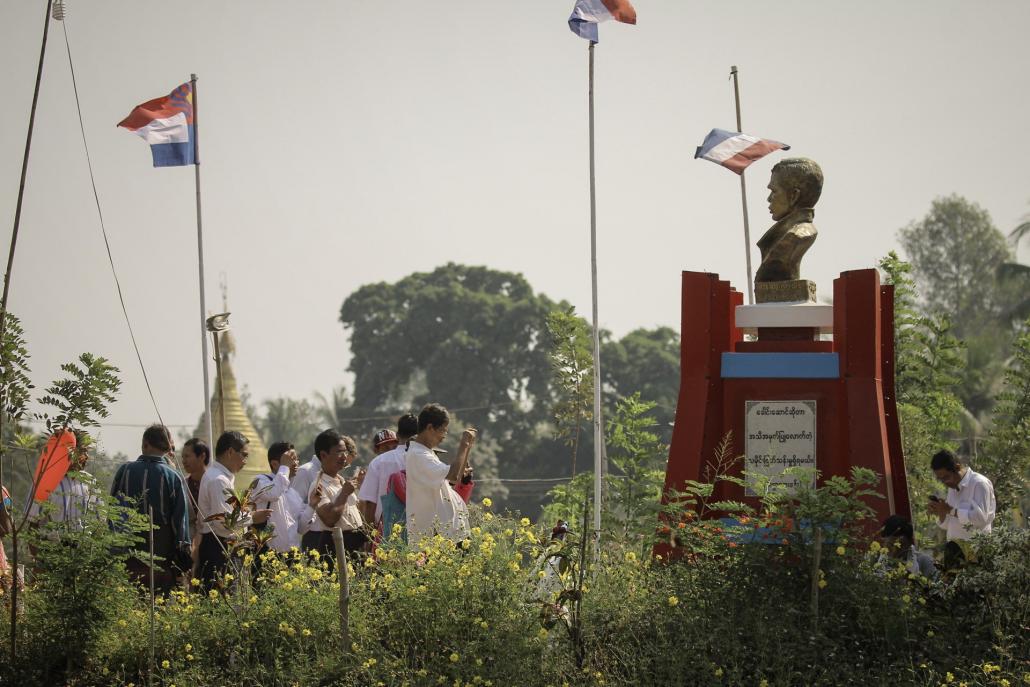 He condemned the government's decision to block relatives from attending the event, saying that Myanmar people should be allowed to come back and work for Myanmar's future.
"To say about remembrance of his time, I find it so pitiful of him because he is not like other and I admire him pretty much because his is very humble man and did not even own anything except from bamboo-house," he added.
Organisers said local officials had asked any public ceremony be kept brief, a request that irked Mah Nyein Maung, a KNU leader present on Tuesday.
"This is the time of trust building between the government and KNU," he said. "We should not be told these things, because we are working together on the peace process."
The late leader's statue was funded by donations from monks and local villagers.
"Everyone in the village wanted to have the statue since the eighth anniversary of his death last year," said Mahn Tin Shwe.