A new art gallery in the Tanintharyi capital of Dawei aims to showcase the natural beauty and cultural heritage of a region on the brink of large-scale development.
Words & Photos BEN DUNANT | FRONTIER
"DAWEI is not like the rest of Myanmar. We have our own language, our own culture and literature. Our way of thinking is different," explained Ma Mya Ei Thwe, a volunteer at the Dawei Art Space in the Tanintharyi Region capital.
Given Myanmar's diversity, such statements are regularly heard in other parts of the country. However, because Tanintharyi is a nominally Bamar-majority administrative region, as opposed to an ethnic nationality state, its cultural distinctiveness is often overlooked.
Mya Ei Thwe, who is known to friends as Nge Nge, said locals were also prone to devalue their heritage in the desire for modernity and economic development. In an isolated region where many households are only kept afloat by remittances from relatives working in exploitative conditions in Thailand, there is straightforward desire for a better life.
Mya Ei Thwe said a better life needn't come at the expense of identity. She believes that the gallery and the art it displays, with its focus on local subjects, could play a role in rekindling pride in the region's natural and cultural inheritance.
"People want to copy more developed countries, but we'll lose our culture and our values that way," she said. "Through art, we can recall our childhood memories and our happiness."
When the gallery opened in June, Dawei was being pummelled by monsoon rains that hit this lush coastal corner of southeastern Myanmar with particular ferocity. Close to the municipal market and just a couple of minutes' walk from Strand Road along the river, the Dawei Art Space is one of the few contemporary cultural offerings in a small, low-rise city characterised by peeling colonial villas and family-run businesses.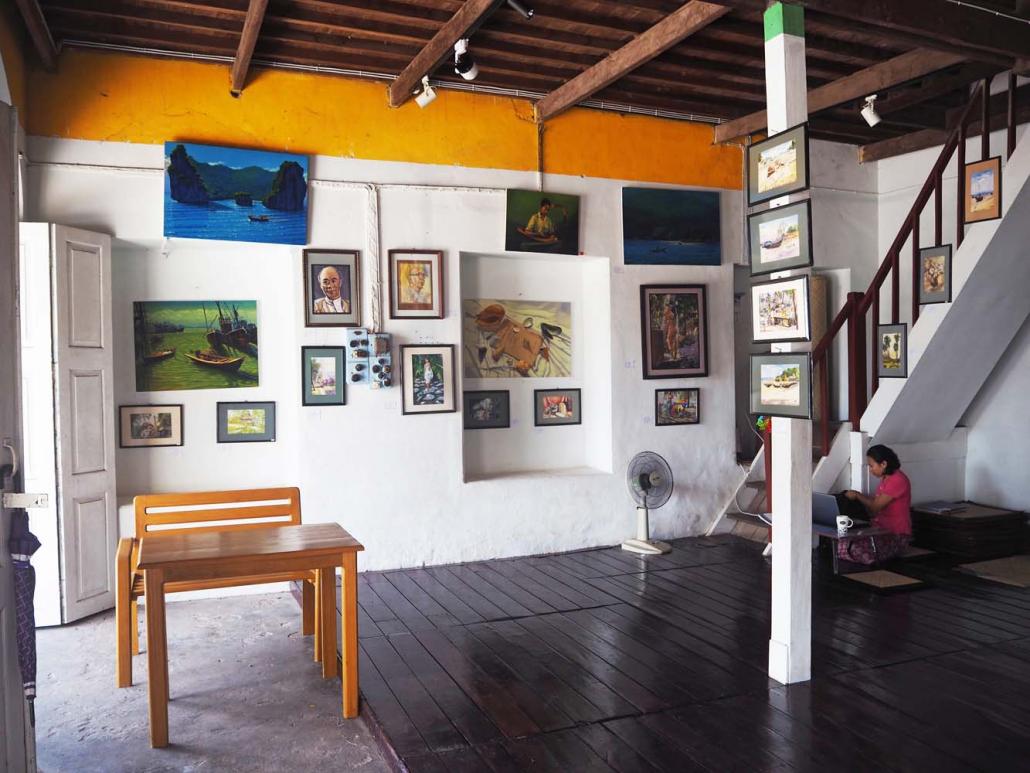 Frontier visited the gallery in mid October, when the rain clouds had given way to fierce sunshine, and found a thick-walled, two-storey building resembling a godown, or warehouse. Its cheerful yellow façade, with three large doorways opening onto a covered stretch of pavement, invited anyone to walk in from the street.
Inside, the gallery's dark wooden floor, recessed windows and white walls created a cool, quiet mood, undisturbed by the whirring of a ceiling fan and the puttering of scooters from the street outside. It was the perfect atmosphere for looking at art and considering Dawei's heritage, and discussing both subjects with Mya Ei Thwe.
As Mya Ei Thwe told it, the building has a largely commercial history that reflects the changes in trade and consumer habits in the small city. It had served a dealer in Capstan cigarettes, a British brand popular in the early 20th century but rarely sold today, as well as a trader in areca nut, which grows in dense palm groves across the region. It had later been a video hall where pirated Myanmar and Hollywood films were shown, and for a brief time a motorcycle showroom. But with holes in the roof to fix and a rotting floor that needed replacing, it had not been well maintained.
She said that the gallery runs on contributions from local organisations and individuals, including artists who previously had to submit their work to cafés, restaurants and hotels if they wanted the public to see or buy them. Renting out the space for workshops and small conferences, and the sale of handmade products from local enterprises, also helps them to meet the K600,000-a-month rent.
Besides exhibitions, talks, film screenings and traditional music nights (recently, a Tavoyan mandolin concert) that are organised directly by the gallery, the space also provides a free venue for discussions by students from high schools in the city, along with other groups in the community who cannot afford to pay, Mya Ei Thwe said
The exhibition showing at the gallery when Frontier visited was devoted to depictions of the region's coastline and the communities whose lives depend on the sea. "Sea Lovers" runs to the end of November and features paintings by the Dawei-based artists Karaweik, Hla Shwe, Saw Eh, Soe Naing and Aung Kyaw Myo. Little red circular stickers, denoting a sale, were affixed to the frames of a few of the works.
Mya Ei Thwe said the idea for the exhibition came from the artists themselves. "They wanted to rent a space to put on an art show during the Thadingyut festival [in mid October] but didn't have the budget for it, so they approached us, and we were so happy to host them here," she said.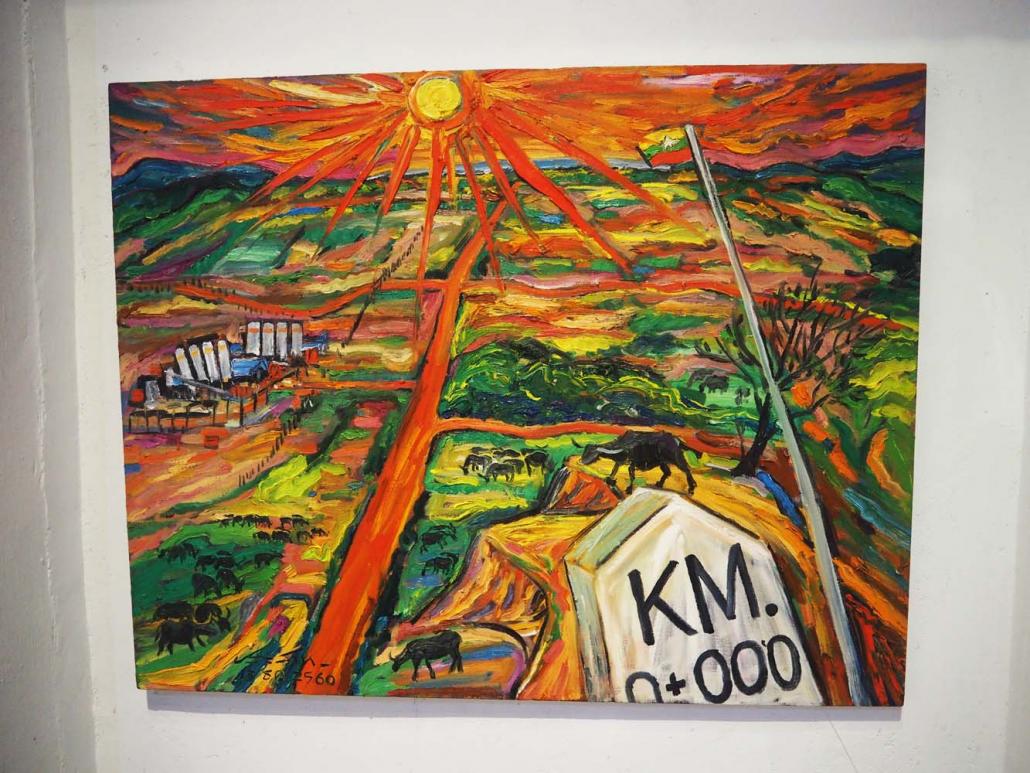 The exhibition took up the front room of the gallery, while a rear room bore a rotating display of paintings by artists who were based in, or had visited, Dawei. One canvas, by Thai painter Prasart Nirandornprasert, depicted the site of the Dawei Special Economic Zone, 30 kilometres northwest from the town.
An angry red sky loomed over an otherwise bucolic scene, the sun's rays jabbing violently downwards onto green-and-yellow fields populated by water buffalo. A milestone loomed in the foreground, showing 0 kilometres – the starting point of a planned highway that, like the mega-project it was intended to serve, has gone nowhere for years.
This acrylic work jarred with the other paintings on display, which showed a region of undisturbed rural livelihoods and the largely unblemished beauty of its beaches, mountains and forests. Prasart's unsettling panorama seemed to portend an apocalyptic transformation of the coastal area of 20,000 hectares that was earmarked for what would be one of the largest industrial zones in the world.
Though construction of the SEZ has been stalled since 2013, and residents in villages slated for demolition have even built new houses, work on the 130km road that would connect it with the Thai border at Htee Khee is expected to begin soon with Thai government financing. A deep-sea port will follow. Though many remain sceptical about the prospects of the accompanying SEZ, the spectre of big development still lingers over this stretch of picturesque coastline.
"We are rich in natural assets, but many people aren't conscious of this," Mya Ei Thwe said. "Through art, we can show our resources and regenerate feelings of pride."