Eight years after the junta's power minister declared that Rakhine State would be home to several major hydropower projects, residents still dream of a steady electricity supply.
By MRATT KYAW THU | FRONTIER
THE INAPPROPRIATE comments or ambitious predictions of government ministers and senior officials have long been the butt of humour and derision in Myanmar.
Some of their most inept statements have been compared to a (possibly apocryphal) comment attributed to the ill-fated last queen of France, Marie-Antoinette. Told in the months before the French Revolution in 1789 that her starving peasant subjects had no bread, she is said to have replied, "Then let them eat cake".
When U Thein Sein was president, one of his political advisers, U Ko Ko Hlaing, said publicly that citizens without electricity could "light your candles". Former chief minister of Ayeyarwady Region, U Thein Aung, dispensing advice about how to get rich, said, "You can start by becoming a trishaw driver".
In Rakhine State, residents still scoff at a bold prediction made in 2009 by the junta's Minister for Electric Power-1, Colonel Zaw Min, who shed his uniform to serve in the same portfolio in the Thein Sein government until he resigned in September 2012.
"More than 690 megawatts will be produced by four hydropower projects in Rakhine State," he said.
It was one of many predictions made under the junta about electricity production that never became a reality. Eight years later the residents of Rakhine are still waiting for the hydropower plants – or any form of electricity generation, really – to light up their lives. 
The 2014 census found that just 12.8 percent use electricity for lighting, although another 8.9 percent rely on a generator and 3.2 percent on solar. Nearly 60 percent rely on candles.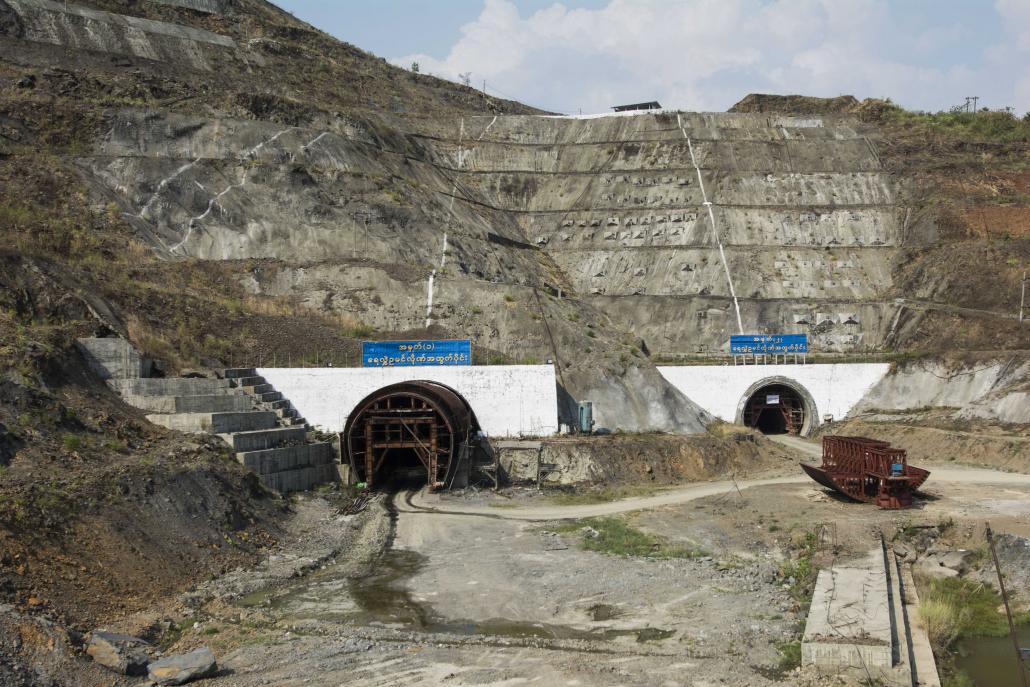 This is because the vast majority of Rakhine State residents are not connected to the national grid. For many, the only electricity available is provided by diesel generators run by private companies, which charge 10 times – or more – than the national tariff of K35-50 a kilowatt hour.
Businessman U Lon Aung, from Thandwe Township, said he believed the state needed 24-hour electricity to develop. "By that I mean government electricity. Now we have to pay private companies and this is a big expense for businesses," he said.
But Daw Mya Shwe, 59, from Gwa Township, said the four hours she receives each day was "enough".
"Most of us are used to not having electricity," she said. "But I don't know about other people, maybe they need more."
Disappearing projects
So what happened to the four projects that were supposed to bring power to Rakhine State?
Zaw Min said hydropower would be generated in Rakhine by projects at Ann, Thahtay, Laymro and Sai Din. Under his watch as minister, memoranda of understanding for the projects were signed by the Hydropower Administration Department of the Ministry of Electric Power-1 and private companies such as Future Power Co Ltd and Anawrahta Group Co Ltd.
Work had begun on the Ann project – the smallest of the four projects in Rakhine, with a generating capacity of 11MW – before Zaw Min was first appointed minister in 2006. About 40 acres (16.2 hectares) of farmland was confiscated for the project but in those years no one dared to speak out about hardship caused by the junta.
Frontier met three of the farmers whose land was confiscated. They are still waiting to be compensated.
"Some of us could not survive after that and some of us moved to another township to make a living," said a farmer, 56, who spoke on the condition that Frontier did not reveal his identity.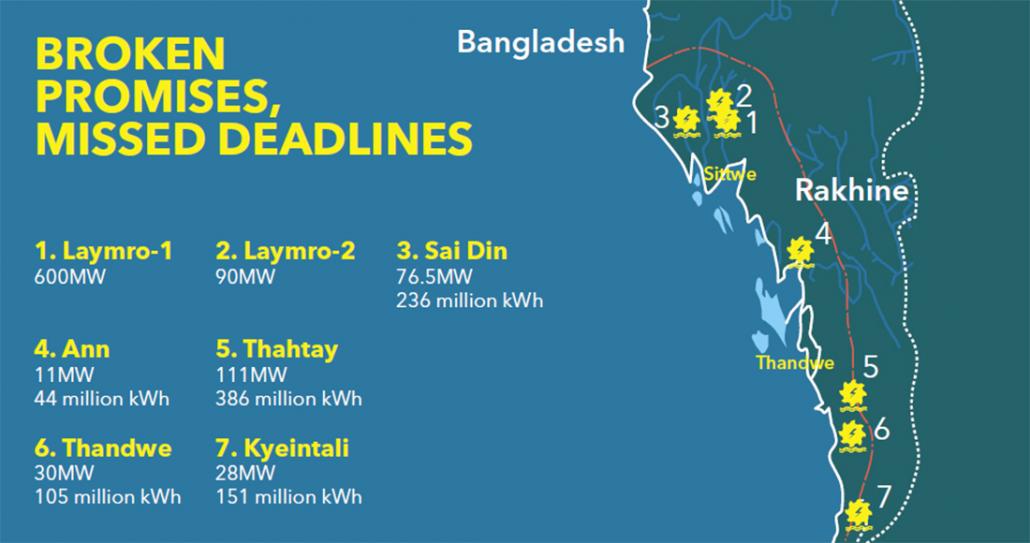 Some work on the Ann project began in about 2014. A few buildings were erected at the site and six project staff still live in the area, but there's been no progress on a hydropower plant.
Frontier even had difficulty finding the project site. The road was overgrown with bushes and there were no signs to indicate the location. Most of the buildings have been washed away by flooding; only those housing the staff remain. There was no sign of any construction equipment.
The project to build a hydropower station at the Sai Din waterfall in Rakhine's northwestern Buthidaung Township has a complicated history dating to the early years of independence. The 76.5MW facility was first proposed by Prime Minister U Nu's government in about 1950 but work was halted in 1952 after a foreign engineer was killed by Communist Party of Burma insurgents.
In 1988, the State Law and Order Restoration Council junta announced a resumption of work on the project but it was postponed three years later for unknown reasons.
In April 2009, when the junta was known as the State Peace and Development Council, it said the project would go ahead and a resumption of work was announced by the Ministry of Electric Power-1 in 2010.
In a statement released on March 18, 2010, the ministry boasted that the project would generate an average of 220 million kilowatts a year and provide extra power to all Rakhine towns on the grid as well as supplying electricity for the first time to 10 towns in Buthidaung.
Little has been heard about the Sai Din project since then. Attempts by Frontier to contact anyone involved in the project have been fruitless.
The independent Rakhine news agency, Narinjara, speculated in April 2009 after the junta announced a resumption of work at Sai Din that it was a ploy to attract votes for the military-backed Union Solidarity and Development Party in the 2010 general election. Whether there was ever a genuine intention to proceed with the project is unclear.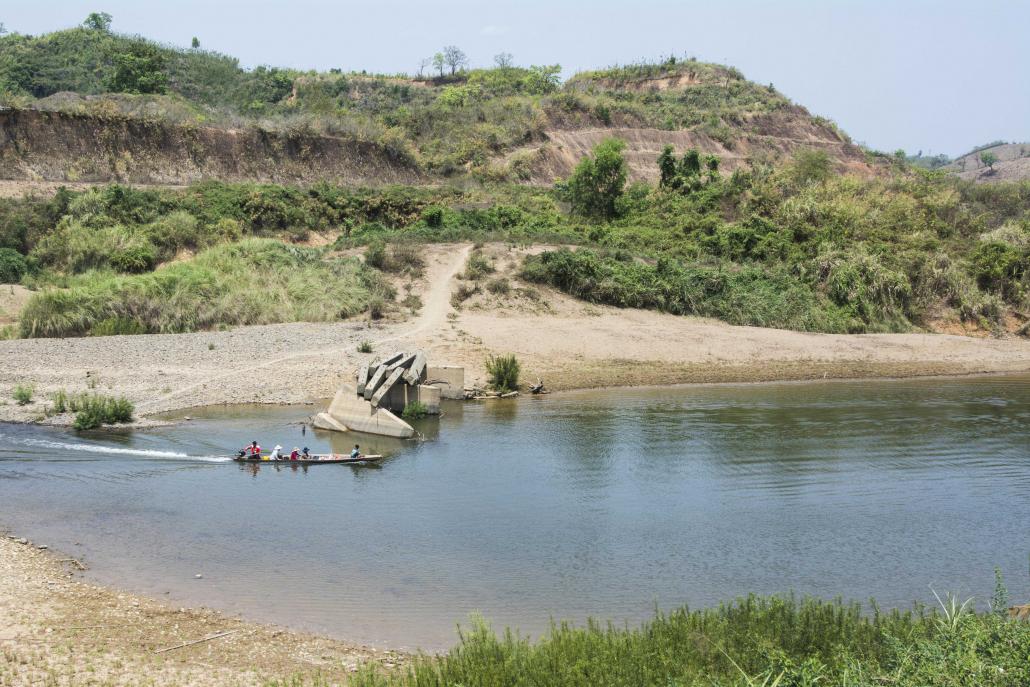 The biggest proposed hydropower development in Rakhine is the Laymro project in Mrauk-U Township. It is a cascade of two dams, Laymro-1 and Laymro-2, which are planned to generate 600MW and 90MW, respectively.
An online industry newsletter, HydroWorld.com, reported in July last year that France had agreed to provide US$1 million to the government for a feasibility study on the project, which has been opposed by environmental groups because of the forested areas it will inundate.
The project was first proposed in 2006 and the Thein Sein government planned to start work in May 2012. Construction equipment and machinery was transported to Mrauk-U before the project was suspended for unknown reasons.
Plans are progressing for two other hydro projects, Thandwe and Kyeintali, that were not mentioned by Zaw Min. Both in southern Rakhine State, they will have a capacity of 30 and 28 megawatts, respectively.
'We don't want to talk about the government'
The only project making concrete progress is Thahtay, but it has been painfully slow due to budget shortfalls and technical challenges.
The projected output of the Thahtay project is 111MW, making it the biggest after Laymro. It will be built on the Thahtay Creek, about 19 kilometres (12 miles) northeast of Thandwe.
Myanmar conglomerate, the IGE Group of Companies owned by the sons of the late U Aung Thaung, the junta's Minister for Industry-1 from 1997 to the change of government in 2011, has been working on the project since 2009.
The project got underway in 2004 but remains less than 50 percent complete, and the anticipated cost has blown out significantly.
Under the former government, the project attracted attention from parliamentarians keen to understand why it has faced so many delays.
In January 2013, Deputy Minister for Electric Power U Myint Zaw was called on by Pyithu Hluttaw lawmakers to justify the ministry's request for K45.62 billion (US$53.4 million at the time) in that year's budget for the project. By that time, Thahtay had been underway for nine years, yet was just 23 percent complete.
Myint Zaw said it had faced delays "because of difficulties digging tunnels for the dam due to the 'geological complexity' of the area" but insisted it would be complete by 2018-19.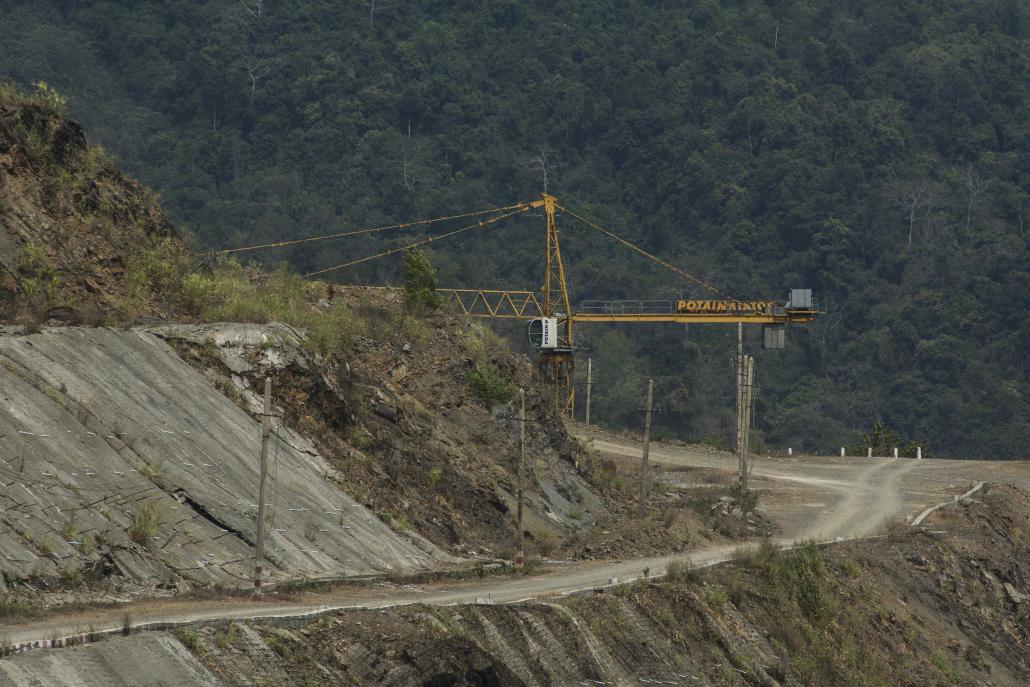 In May 2015, another deputy minister, U Aung Than Oo, told lawmakers that the project would need another K230 billion to be completed. By then it was just 28 percent complete.
The Myanmar Times reported at the time that the Department of Hydropower Implementation and China's Gezhouba Group have signed an agreement to import equipment for the hydropower plant using a loan from the state-owned Export-Import Bank of China.
When Frontier visited the Thahtay project site in April, though, there were few signs of progress. Although about 800 workers were present, only a handful appeared to be doing anything productive.
A bypass tunnel had finally been built – several earlier efforts to build the tunnel failed, according to site staff – but foundations were yet to be laid for the embankment. Plans for the turbine building and switchyard existed only on paper. And, 13 years after work got underway, environmental and social impact assessments were being prepared by Norway-based NGOs, according to officials, who spoke on condition of anonymity.
Project engineers said that the anticipated cost had also risen and they would now need K348 billion to complete it.
A senior engineer at the dam site blamed the slow progress on lack of an adequate budget from Nay Pyi Taw, which he said had worsened under the National League for Democracy government.
"We're waiting for the budget," the engineer said. "We don't want to talk about the government anymore."
But there still appears to be some political support for the project, too. In late April, Rakhine State Chief Minister U Nyi Pu, an NLD lawmaker in the state hluttaw, conducted an inspection of the site.
For the long-suffering residents of Rakhine, progress at Thahtay and the state's other stalled projects can't come soon enough.
But U Soe Win, the NLD region hluttaw MP for Gwa-1, is not holding his breath.
"Lampposts  ave already been built in our township. The government said the grid is coming, but we are still waiting," he said. "We don't expect too much from these hydro projects."
This article originally appeared in Frontier's special report on Myanmar's energy sector. TOP PHOTO: A diorama of the completed Thahtay hydropower project in Thandwe Township, which has been under construction since 2004 but remains less than 50 percent complete. (Teza Hlaing | Frontier)