Animals provide a vital transport service in Kyaukphyu, where rural isolation and waterways prevent more modern alternatives. 
By SU MYAT MON | FRONTIER
DRAUGHT CATTLE still do much of the hard labour in the country's rural areas, where they are a common sight ploughing fields or pulling carts loaded with farm produce or passengers.
Traditional farming methods prevail but the modernisation of agriculture is slowly bringing change to rural areas, and the replacement of animals by machines.
In some situations bullock carts provide an ideal but unexpected transport solution, as can be seen at Kyaukphyu, the busy port town on Ramree Island in Rakhine State. There you can find the rare sight of the animals working up to their necks in water for long hours.
The carts are used to carry cargo and passengers loaded from boats moored in the shallows of the Kyaukphyu River. Most of the boats arrive from villages on the opposite side of the river.
Although Kyaukphyu has two ports, neither are near the town's main market. To get around this problem boats moor about 25 metres from the shore to load bullock carts with passengers and goods such as fish, prawns and salt.
Most of the bullock cart drivers moved to Kyaukphyu from villages across the township, where life was hard and job opportunities were limited. They live in poor areas on the town's outskirts.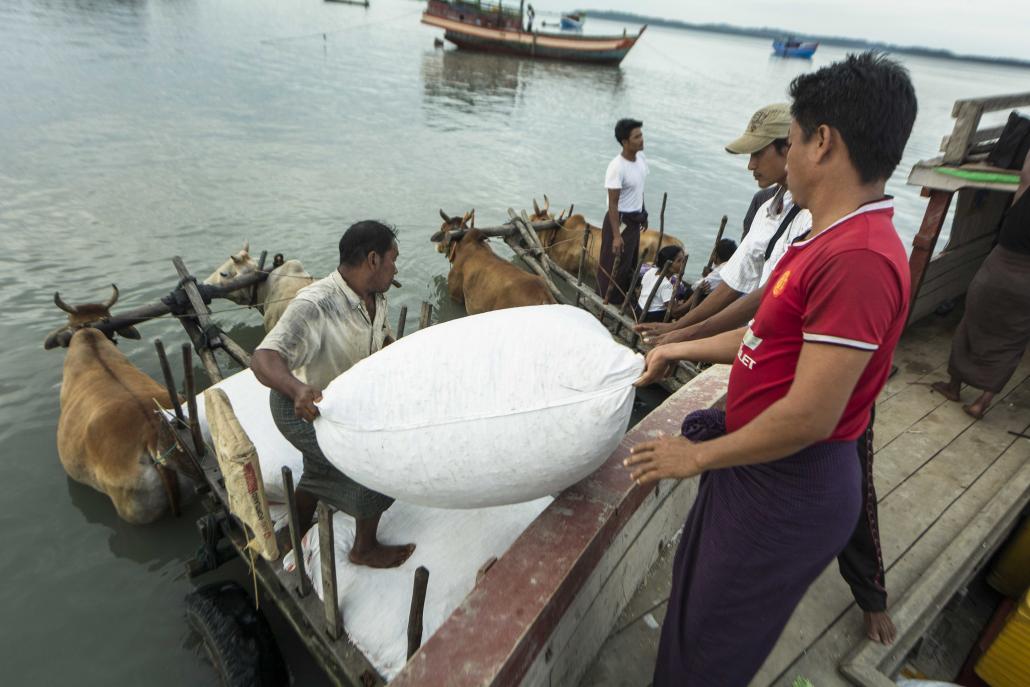 Their working day begins about 5am and ends about 7pm. Daily earnings average about K10,000.
"Our day starts when the rooster crows and finishes only after they go to sleep," said U Kyaw Aye, who has been driving a bullock cart for six years. He is from U Gan village, about 15 kilometres southeast of Kyaukphyu, but now lives in Kanyin Taw quarter with his wife and three children.
"I came here to work because I am poor, but I do not make enough from driving the cart so I do farm work when I can to supplement my income," he told Frontier just after 5pm after loading cargo and passengers from the last boat of the day.
U Maung Kyaw Thein has been driving bullock carts for a living since he moved to Kanyin Taw quarter about 15 years ago from a village in Kyaukphyu Township where he had struggled to make a living as a farmer.
Maung Kyaw Thein, who said he can earn up to K3,000 from one load of cargo, also averages about K10,000 on a good day, though earnings fluctuate and can range from less than K5,000 up to K20,000.
"Driving a cart is a better life than ploughing fields in the village," he said, adding that his wife contributes to the family income by raising chickens for eggs and making and selling Rakhine mont ti, a fish broth with vermicelli noodles.
Maung Kyaw Thein said the rainy season was the most difficult time of the year because the bullocks are reluctant to enter the water and have to be forced to work.
Unexpected showers can also cause delays in transferring goods from boats to carts.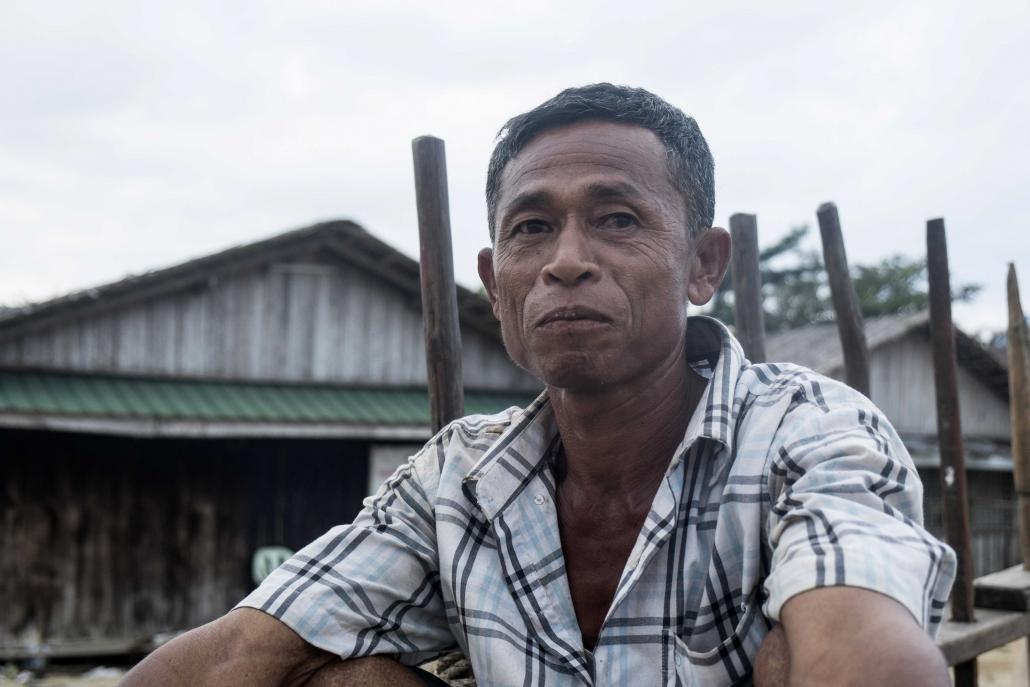 U Htun Htun Win, who has driven bullocks in Kyaukphyu for nearly 10 years, said he invested K2 million in a pair of cows and a cart but sometimes does not make any money.
"On some days my earnings do not cover the cost of cattle food," he said, adding that a sack of rice bran costs K3,500.
In common with many areas of Rakhine, the communal violence in 2012 brought changes to Kyaukphyu, where a large Muslim community had worked mainly in a thriving fishery sector. The fishing sector was affected by the violence and that meant fewer work opportunities for bullock cart drivers.
Many of the Muslims who previously used the bullock carts to bring cargo to the market have left the area.
"Before Muslim people used to bring in quite a lot of goods, but now there are very few of them around," said Htun Htun Win.
There are about 43 bullock carts that unload cargo in Kyaukphyu  and their owners are liable to pay a K9,200 annual licence, though not all can afford the fee.
Most of the animals are bought as four or five-year-old calves in neighbouring Ramree Township at prices ranging from K1.5 million to K3 million depending on quality.
The calves undergo a week's training on land and water before they are put to work. When they are aged about 10 they are retired and replaced.