The suspension of mobile internet in parts of Rakhine State has not stopped local reporting on the conflict, but the toll taken on the welfare of ordinary people is considerable.
Words & Photos by KYAW LIN HTOON | FRONTIER
WHEN THE government imposed an unprecedented mobile internet blackout without prior warning on eight Rakhine State townships and another in Chin State more than four months ago, it caused serious disruption for residents, businesses and organisations.
The internet blackout, which has applied to the data services (but not phone calls or SMS text messages) of all four mobile network operators since June 21, has also hobbled news organisations. One that has had to fall back on old-school methods to break news from the affected townships is the independent and highly-regarded Development Media Group, which runs a website, and formerly a print journal, that focuses on developments in Rakhine and is based in the state capital, Sittwe.
The blackout was the first to be ordered by the Ministry of Transport and Communications under section 77 of the 2013 Telecommunications Law, which allows for services to be suspended in an "emergency situation", and was applied to Buthidaung, Maungdaw, Rathedaung, Kyauktaw, Mrauk-U, Minbya, Myebon and Ponnagyun townships in Rakhine and Paletwa Township in Chin State. It was eased on August 31, but remains in force in Kyauktaw, Mrauk-U, Minbya and Ponnagyun.
U Myo Swe, chief engineer at Myanma Posts and Telecommunications under the communications ministry, told Frontier in July that it "might be restored after the area is stable and peaceful".
The blackout has robbed DMG of the ability to provide fast news about fighting that is occurring throughout much of the state between the Arakan Army, drawn from the state's majority Rakhine Buddhist population, and the Tatmadaw, and which prompted the decision to plunge the nine townships into data darkness.
DMG's resourceful journalists in the blacked-out townships have had to put their day's stories and photos on CDs and send them early the next morning by bus to the newsroom in Sittwe, where internet services aren't restricted, for editing and uploading.
For the reporters at DMG, who are mostly in their early 20s and have been able to broadcast news in real time over the internet for all of their young careers, this pivot towards a slower, more analogue form of news gathering has been hard to adapt to.
But for 46-year-old U San Myat Shwe, who edits and writes for the weekly journal published by the Rakhine State parliament, these methods are very familiar. He had used them while working as a freelance journalist before 2014, when the liberalisation of the telecommunications sector brought the price of SIM cards down from the equivalent of several hundred US dollars to little more than a dollar and prompted a dramatic rollout of network infrastructure, bringing internet access to the masses for the first time.
"At that time, we didn't have today's affordable mobile SIMs and internet access, so we had to file in the same way that journalists [reporting from certain townships] in Rakhine State have to now," he said.
Because bus travel in a militarised, conflict-wracked state is often delayed for hours by checkpoints and inspections – and sometimes for entire days by armed clashes – news from blacked-out townships is often far from fresh by the time it reaches Sittwe, and also risks being intercepted.
"The result is that our ability to report the news is hurt by delays, especially our coverage of the fighting," said Ko Tun Aung, an editor at DMG.
While many of DMG's stories are written from the Sittwe newsroom, getting information – in particular, photographic and video evidence – from their network of sources has also become much harder. Since the blackout began, DMG's online stories about conflict and human rights abuses, which previously featured photos and videos sourced directly from conflict areas, have mostly been accompanied only by stock photos of town or village signboards and police stations.
Reporter Ko Thein Zaw, who works at rival organisation Narinjara News, formerly run by Rakhine exiles in Bangladesh but now based in Sittwe, described a similar frustration at his own newsroom, which also only publishes online.
"It's very hard to contact sources in rural and remote areas without internet," he said, adding that, while it didn't stop them reporting on events in townships being denied internet access, it reduced their options for confirming details and gaining multiple perspectives. "Now, we often have to rely on only one source in a specific place."
The need to report stories based on solid evidence and multiple sources is especially critical for a media organisation like DMG, which has caught the ire of the authorities for its conflict reporting. Editor-in-chief Ko Aung Marm Oo has been on the run since Special Branch police filed a complaint against him under Article 17(2) of the Unlawful Associations Act, which criminalises assisting or promoting non-state armed groups like the AA and carries a prison sentence of up to five years.
Myanmar Press Council member U Myint Kyaw said the effect of the blackout on news media should also be viewed from the other end of the exchange – the reading public, who now find it much harder to track events that, because of the raging conflict and a deterioration in law and order, could have life-or-death consequences for them.
With only a very limited circulation of print media and a decline in the number of publications – both DMG and Narinjara suspended their print journals this year – "the people living in the internet blackout areas cannot read news stories as they did in the past, through social media and on websites," Myint Kyaw said. "They miss news that connects with their daily lives, that affects their businesses, their education and their security."
"Even if the officials responsible need to cut off the internet, they should have solid reasons for doing so and should set a specific limit on the duration of the blackout," he said.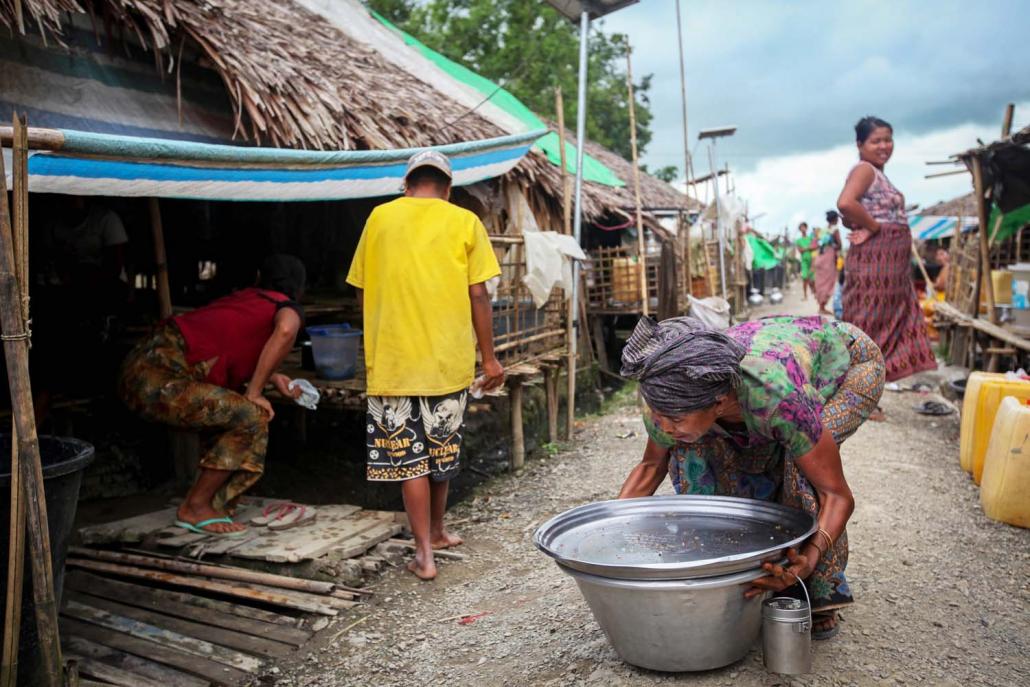 Hobbling aid efforts
The armed conflict has taken a considerable toll in a state that was also hit by Buddhist-Muslim riots in 2012 and 2013 and a scorched-earth Tatmadaw campaign against Rohingya militants in 2017 that drove more than 700,000 Rohingya Muslims into Bangladesh. Data compiled by DMG and Rakhine political parties and civil society groups like the Rakhine Ethnic Congress and Wan Lark Foundation, which provide humanitarian aid, shows that more than 65,000 people have been displaced since late last year.
Over the same period, more than 80 civilians have been killed in conflict-related incidents and more than 200 people alleged to have been associated with the AA in some way have been detained by the Tatmadaw.
The internet shutdown has exacerbated the plight of civilians forced to seek refuge in camps for internally displaced people, or IDPs, because it has hampered the ability of aid and relief groups to respond quickly to their needs.
"It's so hard for us to get timely information from the IDP camps," said U Khaing Kaung San, founder of the Sittwe-based Wan Lark Foundation. "Before the internet shutdown in June, the committees at the camps could constantly update us about their needs, whether for medicine or food."
Though crucial information can still be exchanged over phone calls, these are easily intercepted by the government, which has restricted aid groups on suspicion that they are supplying the AA. Moreover, aid workers living in the affected townships are now blocked from uploading images and videos of camp conditions and the suffering of civilians, which was a powerful tool for raising funds from the public.
The Taing Nyo IDP camp, established in April in the village of the same name in Mrauk-U Township, houses about 3,000 people displaced by the recent fighting and is currently the largest camp for Rakhine Buddhists. U Soe Naing, who heads the camp management committee, estimates that a third of camp residents are children. He said there had been a sharp decline in the amount of aid the camp had received since the internet blackout began.
"When we had the internet, we could arrange aid easily," Soe Naing told Frontier on September 29. "Before the blackout, donors from community groups and NGOs could know at short notice what was needed in the camp … Also, if they wanted to travel to the camp, they could easily know if the road was safe, but now they don't dare to make the trip and they don't know what the situation here is."
The Upper Myat Hlae IDP camp in Ponnagyun Township is housing more than 700 people, all of whom are Mro, an ethnic minority in Rakhine State who, unlike the Rohingya, the government recognises as a native group with automatic citizenship rights. About a dozen children have been born in the camp since it was established early this year.
"We feel like we've been excluded since the internet was shut down," U Maung Hla Phyu, 50, a member of the camp's committee, told Frontier. "Before we could get the attention of anyone, including government officials and broadcasters like the BBC, DVB and RFA."
He explained that, while news agencies and officials could be phoned individually, the internet and the potentially viral nature of social media posts had allowed news of their conditions to reach large numbers of people at speed.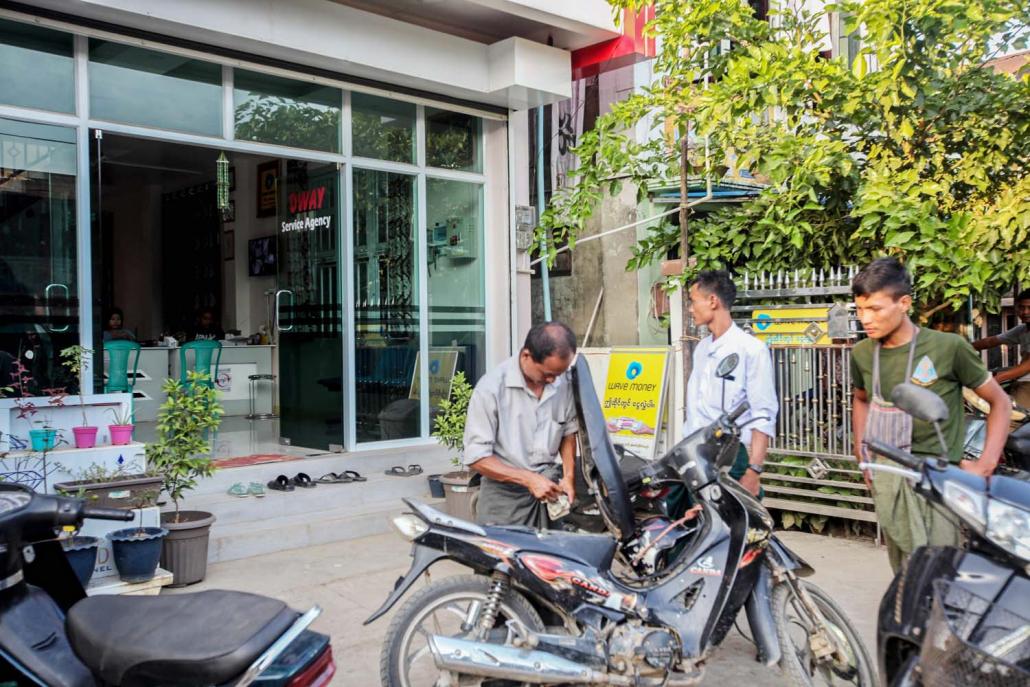 Rare connections
The blackout has also greatly inconvenienced the ordinary residents of the affected townships, many of whom had started using mobile money. According to market research firm Kantar, the proportion of money transfers that are made from mobile money accounts in Myanmar had leapt from 1 percent in 2016 to 80pc by March this year. Rakhine has not been exempted from this payments revolution: the state's poverty has prompted its people to migrate in large numbers to elsewhere in Myanmar, and to countries such as Thailand and Myanmar, in search of work, and life-sustaining remittances to families left behind in Rakhine are now largely sent via mobile money platforms.
In Mrauk-U, the former capital of an independent Rakhine kingdom whose tourist industry has been decimated by the recent fighting, there is only one shop where residents can receive or send money using platforms such as Wave Money and KBZPay. The shop's owner told Frontier he was able to facilitate transactions because he had a broadband connection linked to a landline phone. Such connections are rare outside of hotels.
The town's streets are virtually deserted after sunset, except for young people who sit or stand by hotels with Wi-Fi connections and while away the hours on social media or video game sites. They told Frontier they use subterfuge to access the connection on their phones. A few of them go to a hotel restaurant for a drink, which will be served by waiters who also provide the Wi-Fi password. They then share the password with friends gathered nearby.
Connections are also available in elevated areas of Mrauk-U, Kyauktaw and Ponnagyun townships. A 21-year-old man took Frontier to a hill on the eastern side of Mrauk-U and showed how he was able to connect to the internet.
This young man, and everyone else Frontier spoke to in Rakhine, from political parties to civil society, denounced the blackout and called for it to be lifted as soon as possible.
Khaing Kaung San of the Wan Lark Foundation said, "The government has not allowed any international organisations, except the International Committee of the Red Cross and the World Food Programme, to provide [direct] support to the IDPs, which means that we local [civil society organisations] have an even greater responsibility to provide assistance. But without the internet, we cannot get the important information we need [to provide assistance]. Shutting down the internet is a human rights violation."
U Thar Tun Hla, chairman of the Arakan National Party, the largest party in the state parliament, said, "The people in Rakhine have already suffered from the conflict and the government shutdown of the internet has made the situation worse."
"The only solution is for dialogue between the Tatmadaw and the AA to end this stupid warfare," he said.
TOP PHOTO: A Development Media Group editor in the Sittwe newsroom posts stories onto the news outlet's Facebook page. (Kyaw Lin Htoon | Frontier)