Two years ago the government sought an economic fix for Rakhine by luring private investment to the conflict-wracked state, but big-dollar pledges have failed to materialise.
By KYAW LIN HTOON | FRONTIER
TWO years ago, while outrage over alleged atrocities against the Rohingya was rippling across the world, Myanmar's top tycoons took to the stage in a grand donation ceremony in Nay Pyi Taw overseen by State Counsellor Daw Aung San Suu Kyi. The businessmen, who included U Aung Ko Win of KBZ Group, Mr Steven Law of Asia World, U Zaw Zaw of Max Myanmar, U Khin Shwe of Zaykabar and U Chit Khine of Eden, together pledged K16.7 billion at the event on October 20, 2017.
The money was to go towards the newly minted Union Enterprise for Humanitarian Assistance, Resettlement and Development in Rakhine, a public-private venture with the objectives of providing humanitarian aid, resettling refugees and spurring economic development in Rakhine State. But Aung San Suu Kyi, who chairs UEHRD, wasn't just asking for charity. At the Nay Pyi Taw event, she asked the tycoons, whom she had collectively lambasted as military "cronies" when she was a dissident, to invest in the state.
The business community seemed receptive at first. The Union of Myanmar Federation of Chambers of Commerce and Industry convened nine sectoral task forces to assist UEHRD in areas ranging from micro loans to tourism to the development of economic zones, and several privately funded, Rakhine-focused initiatives were floated. One was the Rakhine Agribusiness Public Co Ltd., brainchild of the Myanmar Rice Federation and the Myanmar Agribusiness Public Corporation, or MAPCO.
MRF secretary-general and UMFCCI vice chair U Ye Min Aung told Voice of America in January 2018 that the new company would promote "agribusiness for peace", concluding that "the root of all the problems in Rakhine is the desperate economic situation".
The government has based its approach to Rakhine on a similar diagnosis, believing that a rising economic tide will lift all boats, and has since made several efforts to drum up investment in the impoverished, conflict-prone state.
The Invest Myanmar Summit 2019 in Nay Pyi Taw in January included a Rakhine booth, but the government made a more focused attempt to highlight the state's investment potential at the Rakhine State Investment Fair, which was held in February at one of Rakhine's premiere tourist destinations, Ngapali Beach in southern Rakhine's Thandwe Township.
The tagline of the investment fair, which was supported by the government of Japan, was "Rakhine is open for business to the world". The event included a speech by Aung San Suu Kyi, who said "the international community's attention has been focused narrowly on negative aspects" of Rakhine while ignoring "the immense potential of this state [for] peace and development".
At the close of the investment fair, the government trumpeted 28 expressions of interest for projects worth a combined US$5 billion. Dr Htoo Min Thein, director of the Directorate of Investment and Company Administration in Rakhine, said 15 of the expressions of interest were from foreign companies.
To date, only three of these projects have progressed to the approval stage. They are a project by a foreign company to build a cold storage facility worth about $2 million, and projects by domestic companies involving investment worth a total K3 billion ($2 million) in tourism and rice production, said DICA's Rakhine office.
The remaining 25 projects are stalled.
The Rakhine State government was reported to have touted six priority projects at the investment fair. They were the Kyaetaw-Mingan project in the state capital, Sittwe, involving a port, trade and SME zones, apartments and a supermarket, building a new airport at Mrauk-U, upgrading the airport at Thandwe, gateway to Ngapali beach, an eco-tourism project on Man Aung Island, an industrial estate project at Ponnagyun, and a new city at Mrauk-U.
Htoo Min Thein said none of the 28 EOIs at the fair were related to the six priority projects.
"Our government wanted to implement the six projects through public private partnerships, and we have repeatedly promoted investment in them, but up until now there have been no proposals from the private sector for these projects," he told Frontier.
Htoo Min Thein said the proposed special economic zone in Maungdaw, to facilitate border trade with Bangladesh, also remained in the planning stage.  
Apart from these projects, Dr Soe Tun, an executive committee member of the UMFCCI, told Frontier that the plan to establish the Rakhine Agribusiness Public Co Ltd had been quietly shelved because the investors backed out.
"We were not able to implement it," said Soe Tun, who also formerly chaired the Myanmar Rice Federation. "The main problem was that the people involved changed their minds when it came to making the investment and they began to assess the possible results."
Soe Tun said it was not unusual for those in the business community to reconsider a planned investment, even when the state counsellor had reminded them of their promise to provide financial support to UEHRD and Rakhine reconstruction. That's what happened at an event in Nay Pyi Taw on October 18 to mark the second anniversary of the establishment of UEHRD.
"If you promised to donate, you have to donate," Aung San Suu Kyi said, in comments directed at the same wealthy businesspeople who had made a big show of support at the ceremony two years earlier. "If you have broken your promise to donate, you will not earn merit from it," the state counsellor said, with what seemed like impatience.
Pyithu Hluttaw MP Daw Pyone Kay Thi Naing (National League for Democracy, Kalaw), who heads the UEHRD's International Relations Task Force, said Aung San Suu Kyi's comments were not related to the pledges in 2017 to donate K16.7 billion, but to additional support that was expected of Myanmar's top businesspeople.
Meanwhile, for many people in Rakhine, both inside and outside of the business community, the failure of UEHRD to lure Yangon-based tycoons and new foreign investors to Rakhine feels like another broken promise from an ethnic Bamar-dominated government that has ignored the state's development needs for decades.
U Thar Tun Hla, who chairs the state's politically dominant Arakan National Party and runs a trucking business, told Frontier that, despite the grand announcements made since 2017, "Rakhine remains the poorest state in the country; and our resourceful young people have to leave to chase opportunities in other parts of the country, or overseas."
His ANP colleague, U Oo Htun Hlaing, who chairs the party's Mrauk-U Township branch, also expressed frustration. "UEHRD is only two years old but nothing has been implemented that has benefitted us," he told Frontier. "The government said they were implementing projects including industrial zones in Ponnagyun and Sittwe, but nothing has been developed."
Pyone Kay Thi Naing acknowledged that there were "lots of gaps" between expectations about what the UEHRD could do and what it had achieved. "We are handling a huge and complicated crisis," she said. "All the conflict and the crisis occurred because of a lack of development and at the same time, what development was occurring slowed because of the conflict and the crisis. It is like a chicken and egg situation."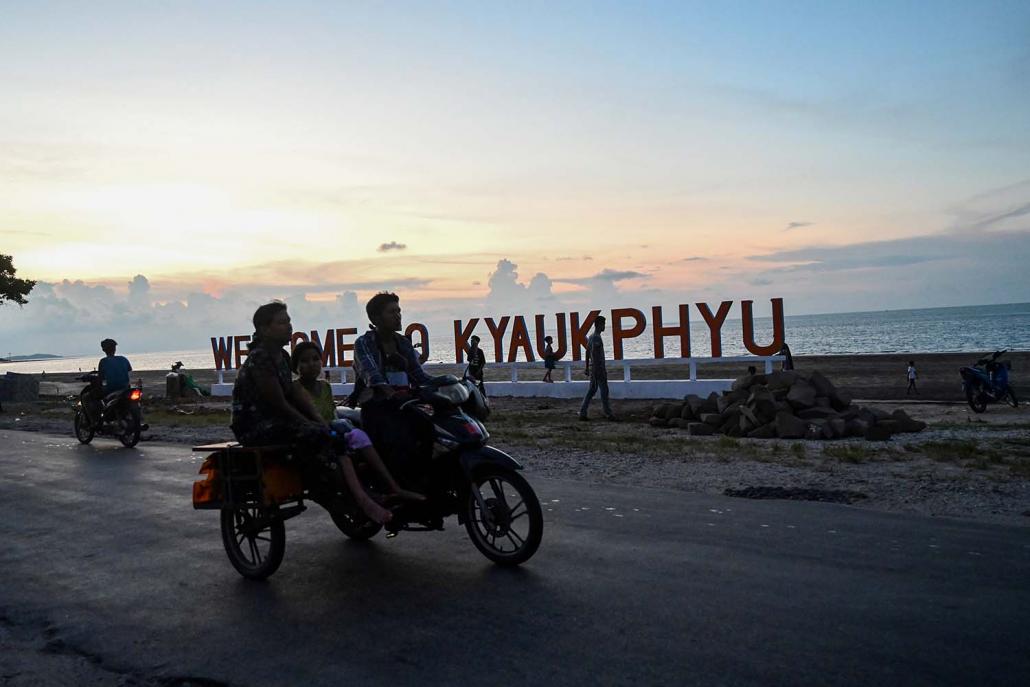 A conflict zone
Thar Tun Hla's observation that Rakhine is the poorest state or region in Myanmar is not quite accurate but is close. The World Bank-supported Myanmar Living Conditions Survey for 2017 ranked Rakhine as the second poorest, after Chin State, with 41.6 percent of the state's 3.1 million people subsisting on less than K1,590 (just over US$1) a day.
Businesspeople in Rakhine told Frontier they believe that the Chinese-backed Kyaukphyu special economic zone and port and the Indian-backed Kaladan Multi-Modal Transit Transport project will benefit the state's economy when they are eventually completed.
However, Htoo Min Thein said that that remains a long way off for both projects.
Civil society activists are more sceptical of the benefits these projects would provide to local people. Ko Zaw Zaw Tun, secretary of the Rakhine Ethnics Congress, told Frontier, "The profits from these projects would go directly to the budget of the central government and not the Rakhine State government. That's why we need a federal system first."
In its drive for investment, the NLD government is partly backed by the conclusions of the Advisory Commission on Rakhine State, which was chaired by former United Nations secretary-general Mr Kofi Annan and mandated to identify the root causes of conflict in Rakhine. In its final report in August 2017, the commission said Rakhine on one level represents a  "development crisis" and recommended that the government "invest heavily in infrastructure", "expand extension services to farmers", "reduce red tape in order to promote business," and "ensure that the planned airport in Mrauk-U is constructed" in order to "boost tourism", among other measures that could lift Rakhine's economy.
However, the government has not yet addressed the Advisory Commission's recommendations in favour of lifting movement restrictions on Rohingya Muslims and reviewing the 1982 Citizenship Law that renders most of them stateless.
Rakhine businesspeople who spoke to Frontier in Rakhine agree with the NLD government that a stable economy built on investment is essential for the state's development and to help it recover from years of unrest. They say developing the economy is a more urgent need than addressing the citizenship claims of the state's Muslims, which international human rights groups say is integral to conflict and poverty in Rakhine.
However, the businesspeople lamented that the conflict between the Tatmadaw and the Arakan Army, which is fighting for more autonomy for the state's ethnic Rakhine majority, continued to be a huge deterrent to investment and a healthy economy. The conflict escalated when the ethnic armed group launched a brazen series of attacks on security posts in northern Rakhine on January 4 this year, when the nation was celebrating Union Day. As the fighting has spread and intensified, investors of all types have taken a back seat.
"The fighting in Rakhine is like the Vietnam War, with a powerful guerrilla force," said Soe Tun. "The Rakhine friend with whom I drink beer in downtown Sittwe might also be an officer in the AA."
Soe Tun wondered how an investor could take the risk of investing in Rakhine. "Even if the security forces promise that they can guarantee our safety, in a situation where they cannot even protect themselves, how can we dare believe that they will be able to keep us safe?"
"What's most important is to end the conflict in Rakhine," he said. "We can't do anything without stability."
Several of the businesspeople said they sympathised with prospective domestic or foreign investors who are deterred by the uncertain security situation.
"We understand why they don't want to invest at the moment, and for me as well, if I had the choice of investing in a high-risk location or a place with less risk, I would surely choose the place with less risk," said U Aung Aung, secretary of the Rakhine State Chamber of Commerce and Industry.
"People have to be cautious when they move around their own state, and we dare not go near the conflict areas," Aung Aung told Frontier. "In such a situation, it's not strange that foreigners don't dare to come; indeed, even a businessman from Yangon would surely hesitate about whether to invest in Maungdaw or Mrauk-U."
Transport and communications disruptions caused by fighting between the AA and the Tatmadaw are taking a particular toll on trade and business. Aung Aung, who is heavily involved in the rice trade, is among those affected by the fighting. He said he had to stop bringing corn and onions from Magway and Ayeyarwady regions for export to Bangladesh because of the fighting between the AA and the Tatmadaw.
"The first problem I encountered was a labour shortage, and then exports or imports through the border with Bangladesh were affected by disruptions to road transport, including drivers having to avoid driving at night," he told Frontier.
A labour shortage created by young Rakhine leaving the state in search of job opportunities elsewhere in Myanmar or overseas has been exacerbated by movement restrictions on Rohingya and since late 2017 by the exodus of hundreds of thousands of Muslims to Bangladesh.
Despite these steep impediments to economic growth Htoo Min Thein insisted that the time to invest in Rakhine is now. "There are many opportunities to invest in our Rakhine State," he said. "Of course, the state has a few risks, but those who invest early will have more chances than those who come later."
TOP PHOTO: A Rakhine State government-supervised development in Sittwe Township. (Kyaw Lin Htoon | Frontier)