The heavy storm that hit the Bay of Bengal late last month affected large parts of Rakhine State, with camps for internally displaced persons among the hardest hit.
By OLIVER SLOW & SU MYAT MON | FRONTIER
CYCLONE MORA has caused extensive destruction to shelters in Rakhine State, with internally displaced persons camps particularly affected, according to a senior UN official.
Mora formed in the Bay of Bengal on May 28 and was upgraded to a Category 1 cyclone on May 30, with wind speeds reaching 120 kilometres (75 miles) an hour. Although there were no reported deaths from the storm in Myanmar, in Sri Lanka it is reported to have killed about 200 people. 
Mr Mark Cutts, head of office in Myanmar for the United Nations Office for the Coordination of Humanitarian Affairs, said that his organisation had not yet been able to conduct a full assessment into the impact of the cyclone in Rakhine.
However, early observations suggested it had affected the state's many IDP camps, which house around 120,000 people displaced by communal conflict since 2012.
"The [IDP] camps have been very badly affected," Cutts said in an exclusive interview in Sittwe. "These structures were designed to last a few years. They're already dilapidated and in a bad state of repair, and these strong winds and heavy rains are doing more damage to structures that were not intended to last for five years in the first place."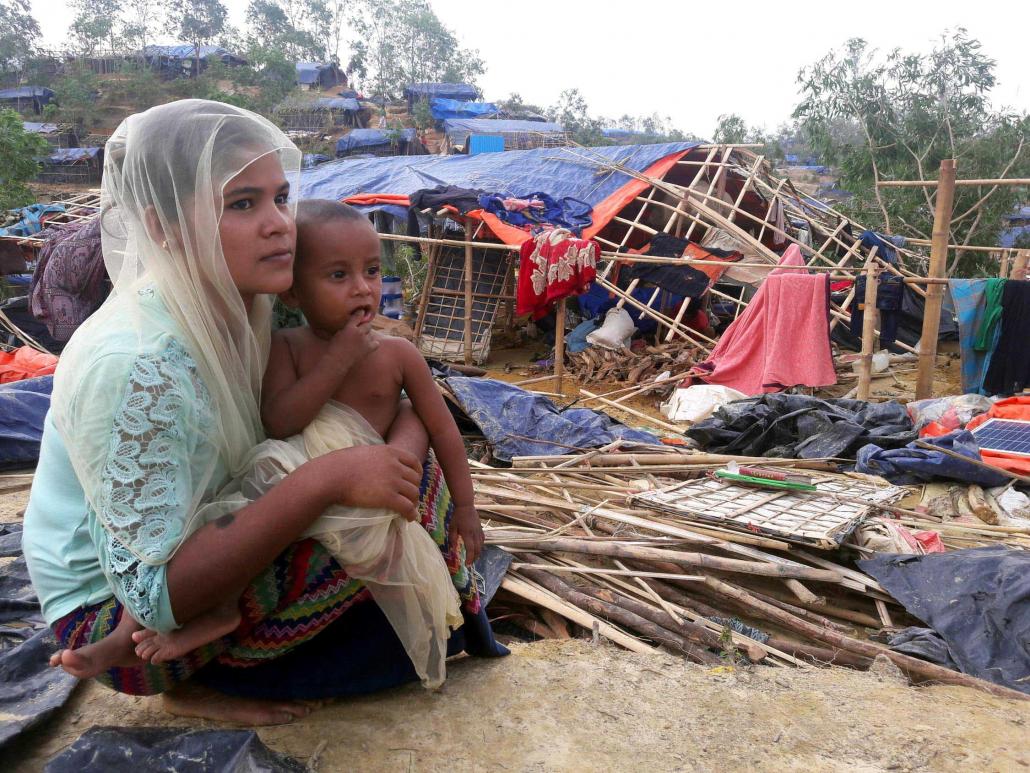 Cutts said that the immediate priority in the IDP camps in Rakhine State is to ensure that people are guaranteed shelter, especially with more heavy rains expected. During the monsoon, average rainfall tends to peak around June and July in Rakhine State.
"These buildings are sub-standard and they weren't built for long-term accommodation," Cutts said. "They've been there for five years, and the government said to us recently that they hope to have solutions for these people within five years," he said, adding that he doubted the structures could survive many more rainy seasons.
Cutts added that the impact of the cyclone on water and sanitation was also a concern.
"It's a broad process of improving living conditions in these camps," he said. "They're over-crowded and there's a lot more that needs to be done."
Denied media access
Frontier spoke to Cutts in Sittwe, as he was returning from a trip to Muslim IDP camps on the outskirts of the Rakhine State capital. Frontier had travelled to Sittwe to visit the camps in order to assess the impact of Mora around the fifth anniversary of their establishment. The government says that IDPs, mainly Muslims who self-identify as Rohingya, are being kept in the camps for their own safety because of tensions with the Rakhine population.
Journalists have regularly visited the camps since 2012, but when we applied for access from June 6 to 11 our request was denied, with no reason given. We were told by the Rakhine State government that we would need to apply again after June 14.
The employee working in the government office told Frontier that the decision had been made by the Union government in Nay Pyi Taw, that he did not know the reason for it, and that it was the first time he had heard of a media team being denied access to the camps.
TOP PHOTO: A NASA Earth Observatory image taken by the Moderate Resolution Imaging Spectroradiometer shows Cyclone Mora on May 30. (AFP)