Kite Tales Myanmar aims to document many of the country's personal accounts that might otherwise have been lost to history.
By JARED DOWNING | FRONTIER
WHAT do we lose to time?
For journalist Ma Thin Lei Win, it was her grandfather, "Myintzuthaka" U Than Maung. She knew his story well: he was a contemporary of independence hero Bogyoke Aung San and fled Mandalay during the Japanese occupation in the Second World War, spending months hiding in a temple at Bagan.
After the war ended, he relocated to Rangoon where he established a textile factory and movie houses, many of which were nationalised during the Ne Win era.
But she had not heard any of this first hand when he passed away in 2000. She never heard in his own words how he felt the day the Japanese marched into Mandalay, or what movie was played on the opening night at the first cinema he opened.
"I never got the chance to interview my own grandfather, and I regret it to this day," said Thin Lei Win, who left Myanmar as a teenager and returned in early 2015. "I was too young to understand the significance of how time flies."
The Kite Tales project, which Thin Lei Win has established with fellow journalist Ms Kelly Macnamara, records personal and first-accounts of the lives and struggles of ordinary Myanmar people.
Those stories range from personal tales, to a treasure heirloom, to a recipe for a good curry – the narratives that are rarely recorded in the history books.
"The stories are a window into the history of the country over people's lifespans, but there's so much that we can learn," said Macnamara, who took an unpaid sabbatical from her role as AFP's Myanmar bureau chief to set up the project with Thin Lei Win. The pair have spent almost a year traveling the country to hear people's stories.
"As journalists, we would travel and meet some really interesting people with interesting stories, but unless what they were saying fitted into our story, we would give them two or three sentences," said Thin Lei Win, who launched Kite Tales after eight years working as a journalist with the Thomson Reuters Foundation.
The pair's journey took them from a book shop in downtown Yangon, to a hunter's cabin in the Naga hills, to the British Library in London. They heard the memories of an 80-year-old nanny in Yangon, spoke to renowned author Pascal Khoo Thwe about his grandfather's musket, and followed horse cart drivers around the picturesque town of Pyin Oo Lwin.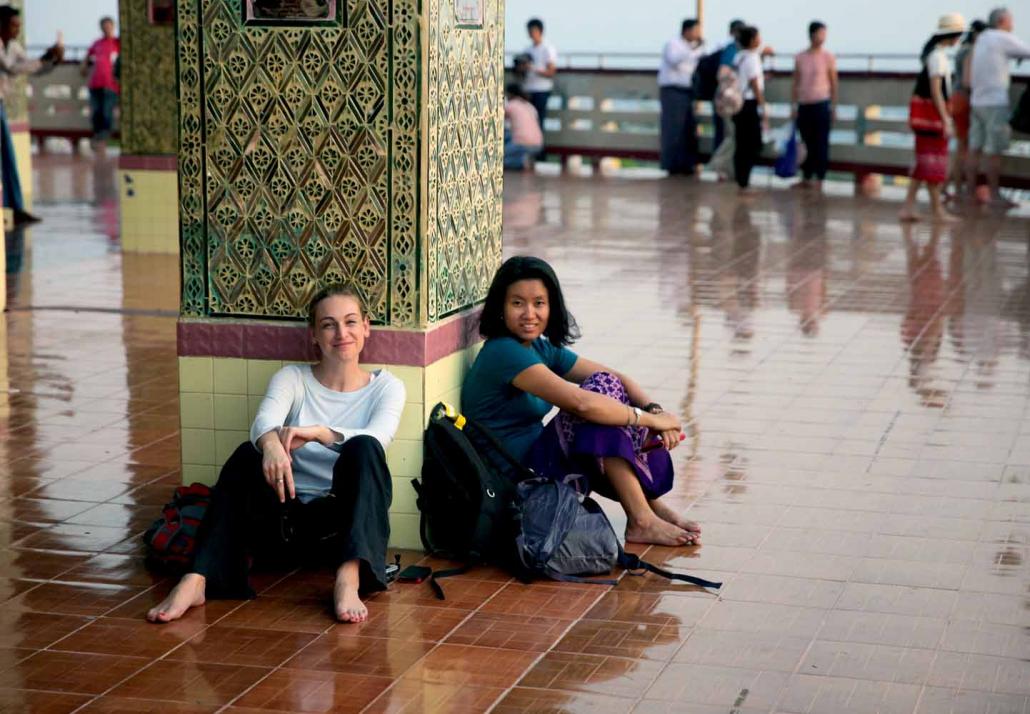 The stories are told first-hand by their subjects and form part of the country's historical and political context. Thin Lei Win and Macnamara are careful to avoid political agendas or heavy editorialising, and try and ensure each tale is anchored in the larger narrative of Myanmar.
"It's up a notch from this Humans of New York-type thing where you're only getting a snapshot, your life on a postcard," said Macnamara. "We wanted to make it a little bit deeper that."
As an example, she spoke of a story about the Kayan people (also known as Padaung, a Shan term) in Kayah State. The material is nothing new; the traditional brass neck rings worn by Kayan women are one of Myanmar's most recognisable sights. But the story told by Kite Tales is one about identity and how to preserve traditions without reducing the people to living museum pieces.
In July, Kite Tales partnered with Yangon's Pansodan Art Gallery for an exhibition exploring the history of Kyauktada Township. The area, which is located east of Sule Pagoda, has seen significant change in recent years, with many of its local shops and once-glittering movie houses gradually making way for hotels and apartment complexes.
"I think the work [of Kite Tales] is important because they are bringing common people to the scene. We see very raw feelings and emotions," said U Aung Soe Min, owner of Pansodan Gallery.
Aung Soe Min said the country's history has for years been written and re-written based on the dominant political narrative. As Myanmar reshapes itself once again with the current transition, even traditional history is struggling to find its footing. This year no students enrolled in the history department at Yangon University, according to a report in News Watch Journal.
Like Kite Tales, Aung Soe Min is making his own attempts to record stories. He has started the Open History Project, which tells local stories through people, or "public memory" as he calls it. "We need more alternative history," he said.
For Thin Lei Win, now is the perfect time to document stories that are on the brink of being lost.
"We've met so many older generations who have lived through the Second World War, foreign occupations, and those types of memories are disappearing," she said.
In their interviews, one of the first questions Thin Lei Win and Macnamara ask is what people find most precious in their lives, and what they want to be preserved.
For U Sein Maung, a night watchman and maintenance man living under a staircase at an apartment building in Yangon, it was something as simple as his government-issued National Registration Card. The Kite Tales article tells of his longing for a family, but now destitute and growing old, he can only pray for one in his next life.
"During the snatched moment when he had no work to do, he would rest his bony, weather-beaten frame on a tattered bamboo mat and watch the world go by from under the staircase," the story says.
Sein Maung has moved on since he spoke to the Kite Tales team. He left the place he had been living with no forwarding address, and vanished into the tangled streets of Yangon. But his story has not been forgotten.