Print media reforms introduced after 2011 raised hopes high for a revival of the golden age of Myanmar journalism, but an uneven playing field, a saturated market and the country's internet boom are making it hard for publishers. 
By HEIN KO SOE | FRONTIER
THE MOBILE phone revolution that began in Myanmar in 2013 has achieved impressive expansion and changed for the better the lives of millions of citizens, but the explosion of internet use has also left the independent print media sector in the doldrums.
The struggle against digital competition has consumed newspaper owners throughout the world, but the situation in Myanmar was especially discouraging because the opening of telecommunications market coincided with high hopes for a revival of the print media after decades of suffocating junta control.
Recent surveys show that Myanmar has about 33 million mobile phone users, of which about 80 percent are using smart phones, in a population of 53,624,649 based on United Nations estimates for January 9.
An informal survey conducted by Frontier on Facebook found that three quarters of 80 respondents depended on the internet, including news websites and Facebook, as a primary news source, and the rest relied on daily newspapers and weekly journals.
Ease of access is the main reason that people said they turn to websites and social media for their news. Daily and weekly newspapers owned by the private sector also face challenges competing against state-run publications because they have a better distribution network.
"Most villagers are not reached by newspapers and journals but social media is everywhere and sees everything, so villagers are getting news from Facebook," said Ko Kyat Htet who lives in Latt Pan village, in Pathein Township, Ayeyarwady Region. "But we don't know what is true, or we can truly trust that it is factual."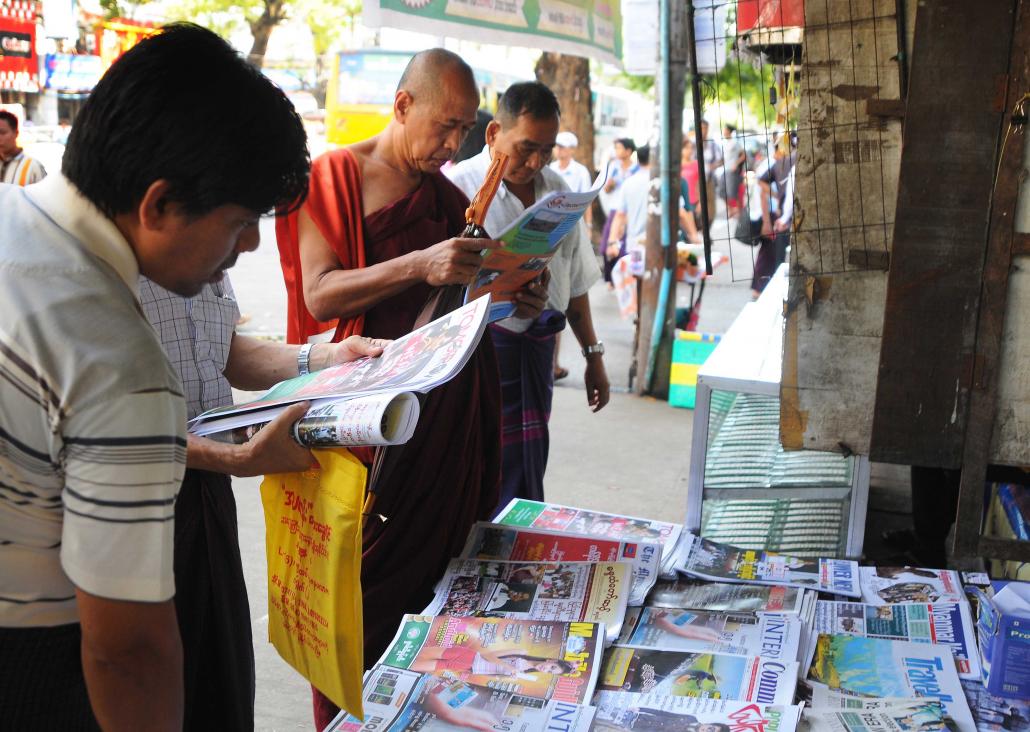 Print media freedom made significant strides under the Union Solidarity and Development Party government, which abolished pre-publication censorship in August 2012, dissolved the censorship authority – the Press Scrutiny and Registration Division – the following January and in April 2013 permitted the first independent daily newspapers since 1964.
There was optimism among journalists that these reforms would lead to a new golden age for the print media, rivaling that of the situation before press freedom was crushed after General Ne Win seized power in 1962. In 2013, the media scene in Myanmar was regarded as one of the most vibrant in Southeast Asia.
But in a cruel twist for journalists and publishers, their hopes for a flourishing, independent print media have been tempered as a result of another of the most significant reforms of the USDP government; its decision to open the telecommunications sector to competition. The rise of social media that came after Ooredoo and Telenor entered the market to compete against MPT in 2013 has created huge challenges for the print media in both attracting and retaining readers, as well as generating revenue.
The print media industry also had to grapple with a saturated market. Figures from the Ministry of Information's Copyrights and Registration Division said that 44 daily newspapers were licensed as of the end of 2017, 26 of which were publishing, and 520 licenses for journals had been issued, 268 of which were publishing.
Mr Kavi Chongkittavorn, former editor of the Myanmar Times and a columnist for the Bangkok Post, said that the decision by the U Thein Sein-administration to end pre-publication censorship in 2012 helped the government to boost its image domestically and internationally.
"It was amazing that within three short years, Myanmar's international image improved dramatically thanks to reports by local and foreign media," Kavi told Frontier by email. "Of course not all the media reports were friendly to Myanmar as they reported what they saw and experienced first-hand."
Ko Ahr Mahn, chief editor of 7Day daily and weekly newspapers, agreed that the "golden time" of Myanmar journalism in recent history was 2011 and 2012.
"Then, we printed very many numbers of copies; we never got back to those circulation levels," he said.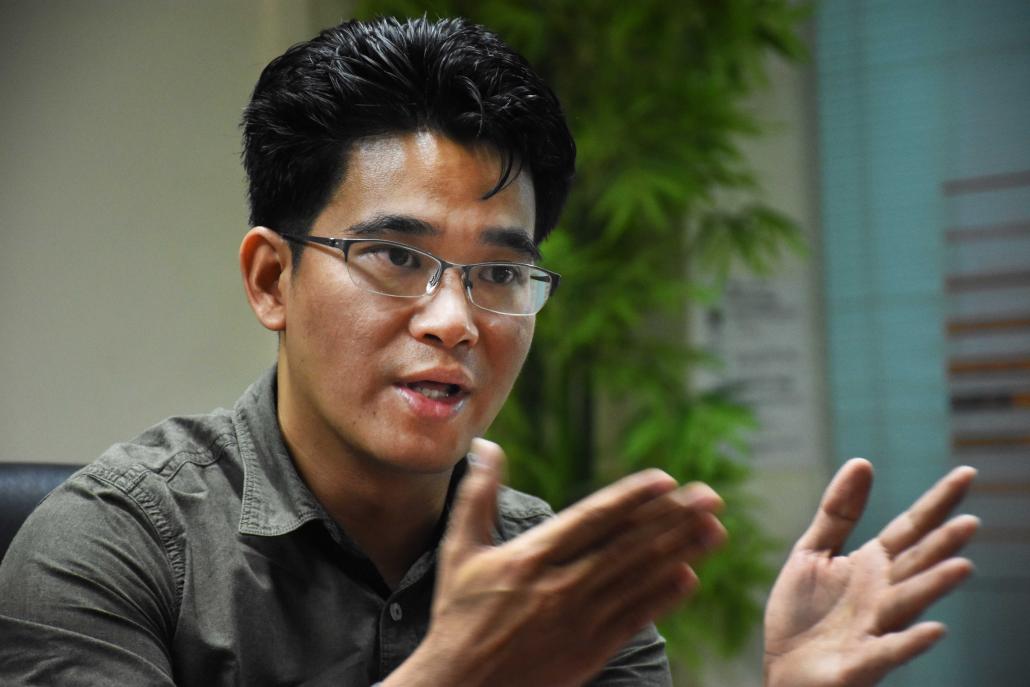 The print media has been facing difficulties to survive because readers were reducing spending on independent journals and newspapers due to the state of the economy, Ahr Man told Frontier on January 4.  
Another challenge for the print media industry, Ahr Man said, was rising production costs caused by an increase of paper prices and taxes, adding that advertisement-generating revenue was decreasing because of the move towards social media.
"Business people are more interested in social media streaming than the print media and it is one of the main factors affecting the survival of the print media," said U Kyaw Min Swe, chief editor at The Voice Weekly.
"Right now, no one will be able to start a new newspaper or weekly journal independently; they need money from grants, from civil society or international organisations," he said. "If they do that then propaganda can occur and they will no longer be independent."
U Thet Swe, general manager of the Ministry of Information's News and Periodicals Enterprise, said the circulation of state-run newspapers totalled about 380,000, including 200,000 copies of Kyemon (Mirror), 150,000 copies of Myanma Ahlin (New Light of Myanmar), and 30,000 copies of the Global New Light of Myanmar.
Executives in the independent media sector estimate that the number of state-run publications in circulation equals that of all private sector newspapers and journals combined.  As well as dominating the market in circulation, state-run publications are also able to attract more advertising because a privileged distribution system enables them to reach more readers.
The difficult climate has not deterred U Myo Nyunt Maung though, who launched two new publications, Thantawsit Daily and Thantawsint Weekly, on January 1.
"We already prepared for the current difficulties, but we don't know what the new challenges will be for the daily newspaper," said Myo Nyunt Maung, who is the chief editor of both publications.
When the National League for Democracy government took office in late March 2016, many private sector journalists hoped it would abolish state-run papers, but they continue to operate and often used to publish government propaganda, just as they were when the country was under direct military rule.
"We don't need state-run newspapers, or even a Ministry of Information, under a democratic government. Their existence is directly impacting the survival of private journals and newspapers," said Ahr Mahn.
Kavi says the print media faces an uncertain future, due to fierce competition in a small market dominated by state-owned publications. It was a struggle for independent media to survive under the prevailing situation, he said, adding that the government must help to increase pluralism and diversity in the media.
"The NLD government should provide more support to independent media because it is pivotal to creating better awareness of important developments," said Kavi.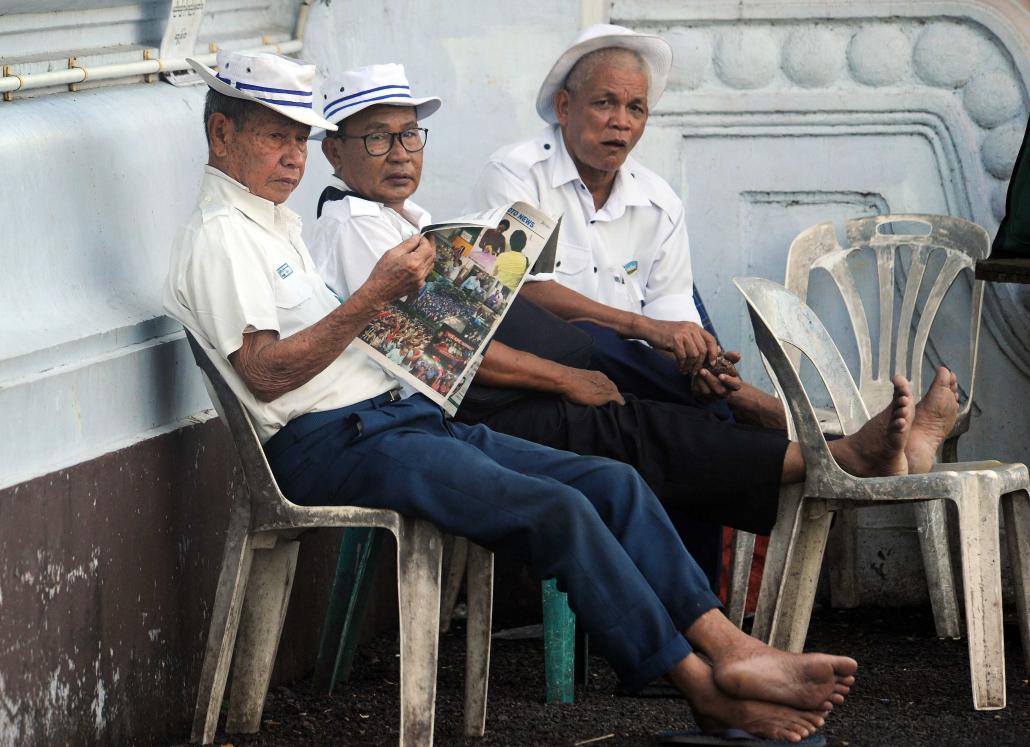 As well as a limited advertising spend market for the print media as more companies opt for online media, newspapers have also been affected by an increase in the import tax on newsprint, further adding to costs.
Veteran journalist U Thiha Saw, vice chairman of the News Media Council, previously known as the Myanmar Press Council, said the government should do more to support independent print media. "The government doesn't do anything for the private print media and it is very difficult to compete against state-run publications," he told Frontier.
Thiha Saw said there was still a need for in-depth news and investigative journalism but many consumers preferred social media sites with brief, easy-to-read stories, and news that was often fake or propaganda.
"The print media will not be dead in future but it needs to change to focus more on accurate, in-depth features and investigative journalism," he said, adding that the council was planning to collaborate with the education and information ministries to begin a news literacy programme.
Mr Bertil Lintner, a Swedish journalist based in Thailand who has written extensively on Myanmar, said the print media can only compete against social media sites in news quality. The news on social media networks is often unreliable because it can be posted by anyone, he said. Print media should strive to provide only reliable information and also more background and analysis to keep readers better informed, Lintner said.
Kyaw Min Swe said he wished time could go backwards to when newspapers faced no competition from smartphones and the internet. The newspaper industry in Myanmar had been deeply affected by the change to smartphones and the amount of time people were spending on social media, he said.
"But it may change that they don't want to spend a lot of time on their smartphones and the internet, and when that happens I think the print media will rise again."
TOP PHOTO: A printing press in Yangon's northern suburbs. (Steve Tickner | Frontier)