The Central Bank of Myanmar has started issuing weekly fines ranging from K2 million to K30 million to local private banks that continue to keep branches shut, as reopening slowly gathers pace.
By FRONTIER
Myanmar's local private banks face fines of up to K30 million a week if they do not reopen their branches, nearly all of which have been shut for more than a month and a half due to a staff strike that has brought the sector to its knees.
The fines are levied according to the size of the bank, with small banks – those with fewer than 40 branches – facing the smallest fines, and large banks – those with more than 100 branches – set to be hit with substantially larger penalties.
Banks are required to report their branch opening rates daily, while the Central Bank and Ministry of Home Affairs are conducting unannounced checks to confirm whether the information provided is correct, according to both bankers and letters from the regulator.
The introduction of the fine system follows weeks of intense pressure from the military regime and the Central Bank of Myanmar for banks to reopen their branches, the closure of which has crippled the economy and undermined confidence in the regime. 
Bankers and industry sources have told Frontier they have been facing threats of nationalisation or forced reopening if they fail to comply. On March 12, KBZ Bank, the country's largest bank by market share, wrote to staff warning that the regulator had threatened to run the bank itself if it did not reopen.
"We understand that many of you would prefer if we don't reopen. However, the reality is that your interests and our customers' interests are best served if we take the route of opening the bank ourselves, not by an external party, and remain as a private bank," the bank wrote.
Nearly all private bank branches have been closed since February 8, when rank-and-file workers joined the Civil Disobedience Movement en masse calling for an end to military rule.
'They can do whatever they want'
For now, the Central Bank has instead opted for modest fines rather than more extreme measures, such as forcing private banks to transfer accounts to state or military-run institutions.
The first penalty notices were sent to banks earlier this week, for the period March 15 to 19. One letter seen by Frontier says the bank in question had an open rate of 40.82 percent among its 49 branches, and as a result K5 million would be deducted from its account at the Central Bank.
One senior banker expressed concern at both the manner in which the fines were implemented and the prospect that they could increase in the future.
"They only informed banks about the fines last Thursday [March 18] and then penalised them for the whole of last week," the source said. "Essentially, they are sending a message that they can do whatever they want."
"Although the fines are very manageable for now, there is a risk they could be increased at any time, and we have been told that explicitly."
However, the source also said the fines would "push the banks to reopen" and take a tougher line with staff who refuse to return to work, such as by deducting a portion of their salary or putting them on unpaid leave.
"The banks have been paying salaries to staff for almost two months of non-work. This is unsustainable, so the branch closures weren't going to last much longer anyway," he said.
In a separate letter dated March 24, the Central Bank's Financial Institutions Supervision Department wrote to all banks, financial service providers and mobile money operators warning them to "take necessary measures" to ensure staff return to work as soon as possible.
It demanded that financial institutions "take action in accordance with the labour law against those who fail to come to work" – an apparent suggestion that they fire those who remain on strike. It also instructed them to "share the personal information of those employees with other financial institutions", presumably so they are not rehired elsewhere.
The Central Bank of Myanmar could not be reached for comment.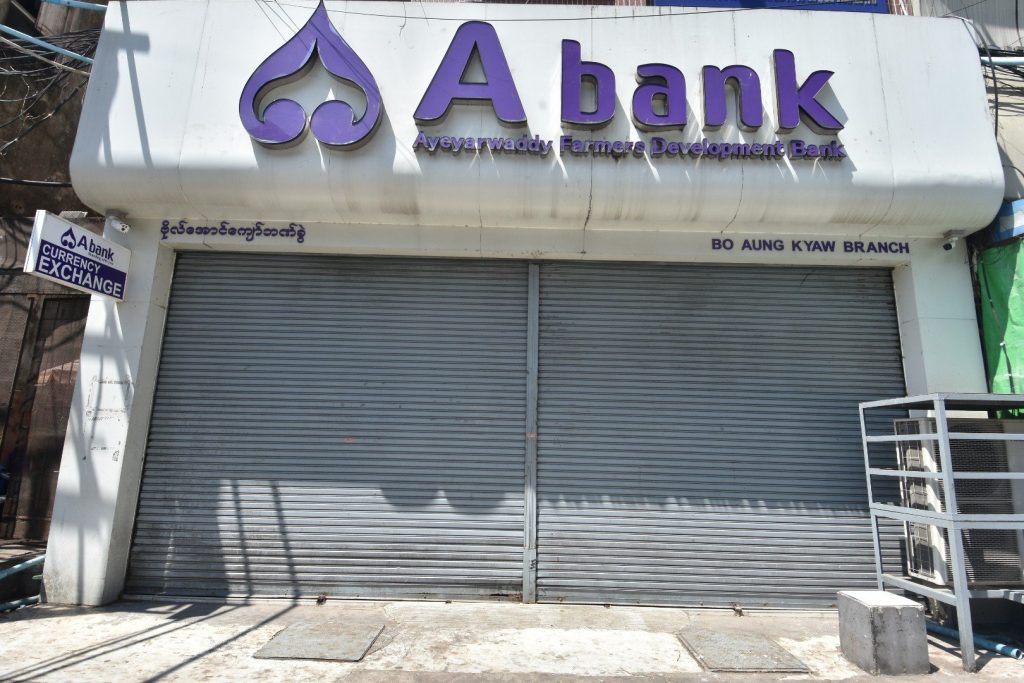 A gradual reopening
Even before the fines were introduced, banks were taking steps to get their staff back to work and reopen branches
Both KBZ and AYA, the two largest private banks by market share, have put staff who refuse to work on unpaid leave, with AYA warning that after 30 days of unpaid leave they "will be dealt with according to the labour law" – suggesting their employment may be terminated.
However, most staff Frontier has interviewed remain committed to CDM, and one bank executive said that "mass layoffs" were likely.
As a result, most of the large banks have reopened just a handful of branches to date, and have put caps – either formally or informally – on the number of customers they serve a day.
KBZ, which has been the most transparent about these limits, says it has six branches open in Yangon serving 50 customers each, and three in Mandalay serving up to 70 customers.
The other major private banks, such as AYA, CB Bank, Myanma Apex Bank and Yoma Bank, do not appear to be publishing information on branch openings, but have all reopened several branches in Yangon this week. Most seem to be operating with a cap on customers.
The Central Bank has also put in place withdrawal limits, so that individual customers can take out a maximum of K2 million a week and businesses up to K20 million.