A large engineering firm is proposing a deep-sea port and industrial zone in a hard-to-reach part of Ayeyarwady Region's western coast, bringing with it road and rail connections to Yangon.
By KYAW YE LYNN | FRONTIER
Photos NYEIN SU WAI KYAW SOE
ONE NEEDS to travel just a few miles north of Chaung Tha, one of Myanmar's most popular beach destinations, off the west coast of Ayeyarwady Region, to find a cleaner, quieter and more secluded spot.
There are only 11 kilometres (6.8 miles) between Chaung Tha and Shwe Thaung Yan but the road is unpaved, and can only be travelled by motorbike. Shwe Thaung Yan, and the surrounding Wetthay-Metta bay area, is isolated from Chaung Tha by the Magyee Creek, which can only be crossed by a small boat. At the end of the last rainy season, work began on a bridge over the creek, with completion expected by the end of March.
The lack of almost any other customers at the Shwe Thaung Yan Hotel during a visit in November was evidence that few of the thousands of travellers who visit Chaung Tha each year are willing to make the short journey north.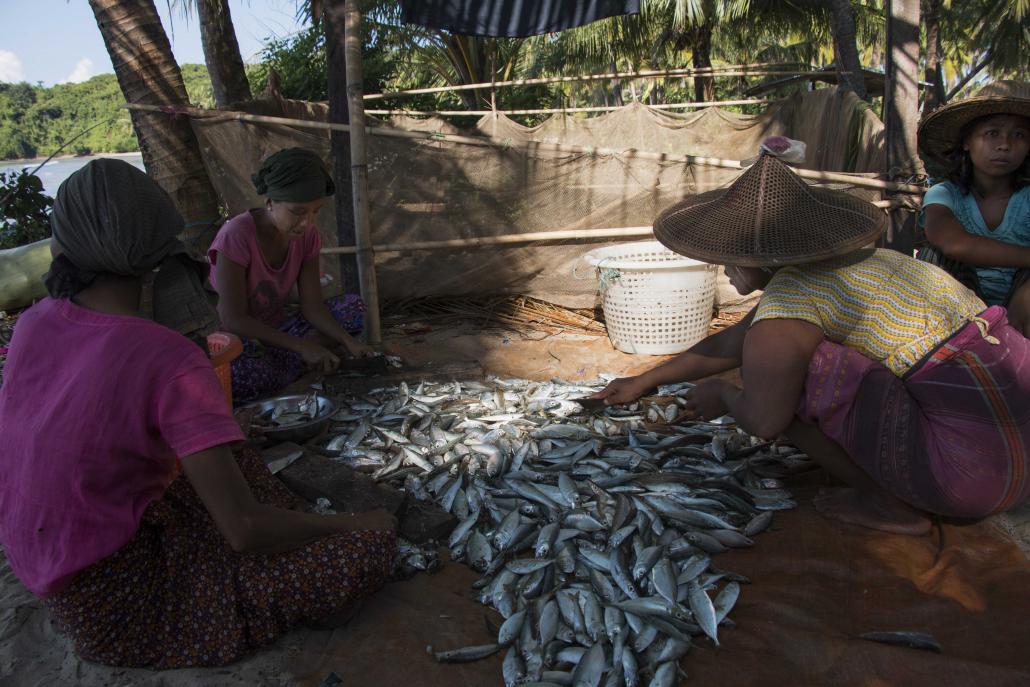 A walk along the quiet, clean sands at Shwe Thaung Yan, and a swim in the crystal clear sea, make it easy to see why residents proudly proclaim their beach as better than Chaung Tha's.
"Look how difficult it is to reach these places beyond Chaung Tha," Ko Chit San, a local resident who works as a motorbike driver.
"We have been asking authorities to upgrade the road and build a bridge for decades, so that our area can benefit from more visitors, but they ignored our request," Chit San said. "Our area has the potential to be a tourist destination, but they don't want [to take away] visitors from Chaung Tha," he said, referring to local authorities and businesspeople.
A 30-minute motorbike drive north of Shwe Thaung Yan is Wetthay, a Karen-majority village that sits on a peninsula. The area is almost totally undeveloped, but already speculators have moved in.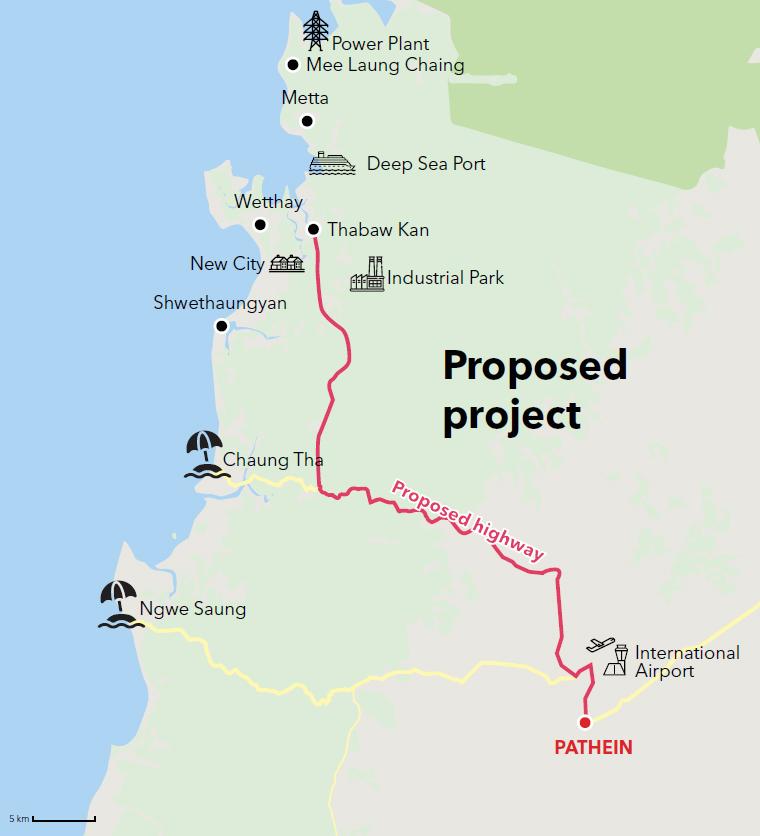 Saw Hal Htoo, an administrator at Wetthay, said outsiders began buying beachfront land in the area after it was hit by Cyclone Mala in May 2006.
"Almost all the land along the beach is in the hands of strangers," he said.
"Some villagers were paid as much as K250 million an acre," he added – about US$183,000 at current exchange rates.
"U Moe Myint and the Myanmar Yachting Federation also bought five or seven acres here," Hal Htoo said, adding that beachfront plots continue to be in high demand. Other large companies are believed to own plots of land in the area.
Naw Blue Love, 73, said she is considering selling three acres of beachfront coconut plantation for K200 million an acre.
"We were lucky when we decided not to sell our land soon after Cyclone Mala because we were offered only K50 million an acre," Blue Love said.
"We are thinking of moving to Chaung Tha or Pathein because we heard some big companies want to do business here," she said.
Blue Love is anxious about the possibility of becoming a land grab victim.
"I don't want to have my land confiscated with little or no compensation," she said.
Indeed, drastic changes could soon be on their way to this quiet corner of the country if plans to build a deep-sea port, industrial zone and new city in the area go ahead.
The regional Minister for Electricity, Energy, Industry and Transportation, U Win Htay, said Myanmar Construction and Development Public Co Ltd had proposed the integrated project on about 10,000 acres (4,046 hectares) in the Wetthay-Metta area, on a bay north of Chaung Tha.
MCD was one of several companies invited by the regional government to submit proposals for projects along Ayayarwady Region's 514-kilometre (332-mile) coast, Win Htay told Frontier in late November. According to a plan published by MCD about the project, overall investment could reach more than US$11 billion.
Win Htay said the Wetthay-Metta area was the most suitable location for development projects along the coast.
"We can develop [Ayeyarwady] region in a decade if we use the coastline correctly and wisely," he said.
Win Htay said the development of a deep-sea port in the delta region, with a special economic zone and road networks, was among the trade and investment policy recommendations made in the White Book published by the European Chamber of Commerce in Myanmar in June.
The White Book said restrictions on the size of vessels that can use Yangon's river ports and a lack of infrastructure were a "significant constraint" on the country's maritime trade.
It said Yangon's river ports and the terminal at Thilawa could handle vessels of up to 167 metres and 200m in length, respectively, but docks in Thailand and Vietnam could accommodate ships of up to 320m.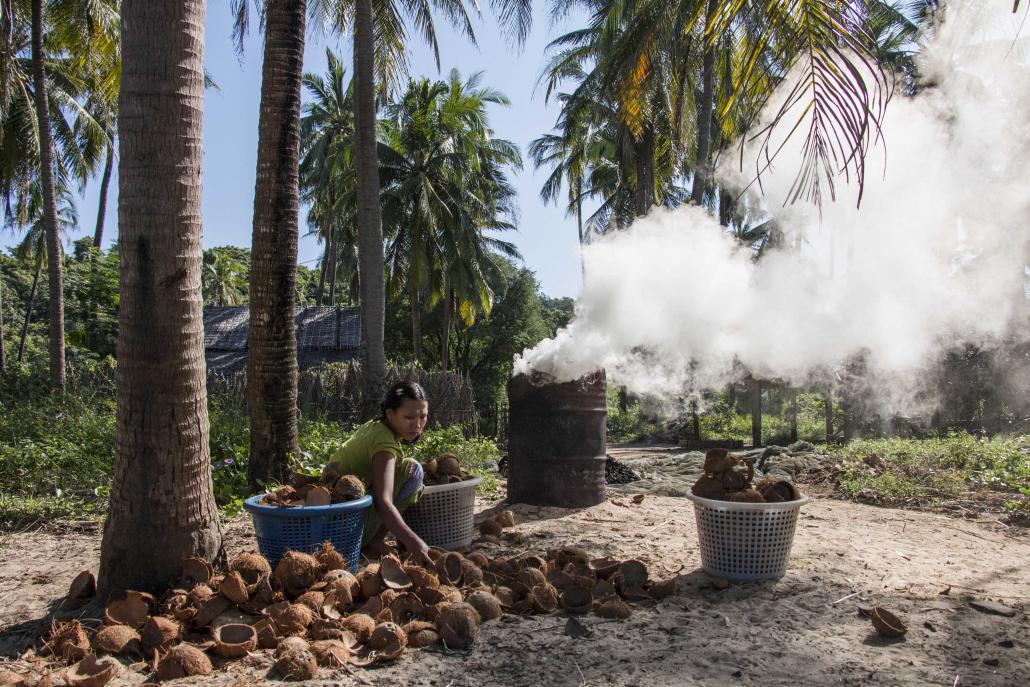 U Kyaw Paing, chief executive officer of MCD, established by the Myanmar Construction Entrepreneurs' Association, said the company intended to submit the development proposal to the government, parliament and Myanmar Investment Commission next April.
"If they agree we will sign an MoU with the government and conduct a feasibility study for the project," he told Frontier.
He said MCD had been discussing the project with foreign partners and relevant ministries for five years.
Kyaw Paing said MCD had heard that another company was planning to build a power plant in the area. "So we don't need to build our own power plant," he said. (See sidebar).
The ambitious MCD proposal also involves building a highway linking Metta – a small village of 48 houses that can only be reached by boat across the bay from Wetthay village – with Yangon via Pathein, the regional capital.
Win Htay said MCD had agreed with his suggestion to use the 158km (98-mile) Yangon-Pathein railway, which was completed in 2015 but never opened, as Frontier reported in its November 30 issue.
Kyaw Paing said putting the Yangon-Pathein railway into service to transport freight between the site of the proposed project and the commercial capital would "kill two birds with one stone".
"We can upgrade the railway and build a new highway on each side," he said, adding that this would enable land confiscations to be avoided because the government owns the land beside the line.
Kyaw Paing said Yangon's river ports could only accommodate vessels up to 20,000 tonnes, but a deep-sea port in the bay in the Wetthay-Metta area could handle ships of 40,000 tonnes.
"It would take only two-and-a-half hours from the deep-sea port to Yangon if we build a new highway," he said.
However, a potential setback to the ambitious project emerged after an engineer told Frontier that the bay is not deep enough for a deep-sea port to be built.
"We tested the water depth in the bay with a sonar device two years ago and found that it was only eight metres," said the engineer, who has nearly 15 years' overseas experience and who spoke on condition of anonymity.
He said the test was conducted when he was working for a company on a feasibility study for a project that was abandoned because it was not commercially viable.
"I have no idea why they said the bay is good for large vessels," he said.
Villagers also appeared to lack knowledge about their rights, as well as the process for environmental and social impact assessments.
"The issue must be handled by the authorities as we don't have much knowledge," said U Chit San, administrator of the Thabaw Kan village tract near Wetthay. "Speaking honestly, we are a bit worried about the potential arrival of big business projects in our area."
Saw Kay Ray Show, a pastor at a Baptist church in Wetthay village, said residents welcomed the project, despite knowing they would be relocated if it was granted approval.
"But it will be a sad story for us if they relocate the church," he said.
Power plant proposal
The Supreme Group of Companies says a gas-fired power plant it wants to build in a remote area of the Bay of Bengal coast in Ayeyarwady Region will be the largest project of its kind in Southeast Asia.
"This will be the biggest investment in the country's electric production and the largest combined-cycle power project in Southeast Asia," said U Aung Myo Khaing, the project's manager.
The Supreme Group had been in talks with the government on the US$2.5 billion plant since December 2015, Aung Myo Khaing told Frontier.
The site for the proposed project, at Mee Luang Chaing Village, had been chosen for three main reasons, Aung Myo Khaing said.
The first was that the sea was 20 metres deep 1.6km from the shore, which would enable LNG tankers of up to 80,000 tonnes to use a dock serving the power plant.
The second reason, Aung Myo Khaing said, was that Mee Luang Chaing had "just" about 200 residents, which would make it easier for the company to relocate and resettle them.
The third was an ample supply of land.
"The plant needs only 80 acres, but we need 200 acres for the restricted zone around the plant," he said.
The land has already been set aside for the project, said Aung Myo Khaing, adding that the company plans to complete the project within two and a half years once it is approved.
Ayeyarwady Region Minister for Electricity, Energy, Industry and Transportation U Win Htay said the Supreme Group has submitted a feasibility study on the project to the union government and was holding public consultations with villagers.
"We want this project to contribute to the development of the region and we will make sure that local people benefit," the minister said.
However, it's possible that differences might emerge over compensation for appropriated land.
Aung Myo Khaing said land owners would be compensated in line with national land use policy.
"If needed, we will give additional compensation to them," he said.
Mee Luang Chaing residents told Frontier in December they had been promised prevailing market prices for their land.
"The company officials said they will buy our land at market prices and they also said they would build a new village for us. So we think we will be okay," said U Htein Win, 52, who owns 50 acres.
He said the market price for his beachfront land was K70 million an acre and land far from the shore was worth K15 million an acre.
The company had also told residents who rely on fishing for a living that the project would not affect their business, Htein Win said.
"They said the vessels would only arrive three or four times a year," he said, in an apparent reference to LNG carriers.
Ko Lin Soe, 35, said he would only accept the market price for his 20 acres, which was not on the coast and worth about K15 million an acre.
Win Htay said that because of its huge size, the project would require approval from the union government and parliament.
"To get approval, they must first conduct a feasibility study and environmental and social impact assessments so we know what affect the project will have on residents," he said.
Aung Myo Khaing said the gas-fired power plant would have little impact on the environment.
"The new village we will build for villagers is separated from the plant by a creek, so they will be safe even if there is an accident at the plant," he said.