By JOSHUA CARROLL & SEAN GLEESON | FRONTIER
Life is grim for prisoners in Myanmar, and the food is no exception. With the transfer of power to a National League for Democracy government imminent, many are hopeful that Myanmar's remaining political prisoners will soon be free. Based on the fare served on the inside, one of the first things they'll do when they get out is eat a decent meal.
"They give you enough to survive but that's it," said Ko Aung Hmaing San, who has been detained at Thayawady prison since the crackdown on student protestors and their supporters at Letpadan last March. "The food is so bad, it's cooked badly… we need more nutrients and vitamins if we're going to be healthy."
Breakfast at Thayawady prison is plain congee, a flavourless gruel made from rice and water. Ko Aung Hmaing San called it "rice juice" and said the rice was of poor quality.
"At lunchtime we are treated to rice with bean soup and fish paste. The rice and the fish paste are really bad," he added.
Meat or fish is available for non-vegetarians on Wednesdays and Sundays but dinner on other days is a watery vegetable soup containing "unidentified leaves", he said.
This is a not-so-appetising version of a Karen dish called Ta La Baw, said U Saw Maung Gyi, a Karen 88 Generation activist who was freed from the prison in the Kayin State capital, Hpa-an, in President U Thein Sein's latest amnesty. "They only add salt, there's no other seasoning," he said.
U Saw Maung Gyi opted for boiled eggs instead of meat or fish when he was inside. "I ate the meat curry the very first time, but it tasted horrible," he said.
As a high profile prisoner, U Saw Maung Gyi said he received better treatment than other detainees, though that did not amount to much. He was allowed to have extra serves of congee for breakfast, he said.
Despite this dubious privilege, the veteran activist lost a lot of weight during his five-month stint. "Before I went to jail I weighed over 150 pounds, now I weigh 130," he said at his home in Hpa-an on the evening of his release in late January.
There was one culinary saving grace at the jail, he added: a sickly-sweet blend of instant coffee and sugar. "Almost all the prisoners drink Super Coffee Mix, they don't use other brands," U Saw Maung Gyi said.
So, how did U Saw Maung Gyi revitalise his tastebuds after his release? "I had a mutton curry in the village teashop near the jail," he said. "It was good."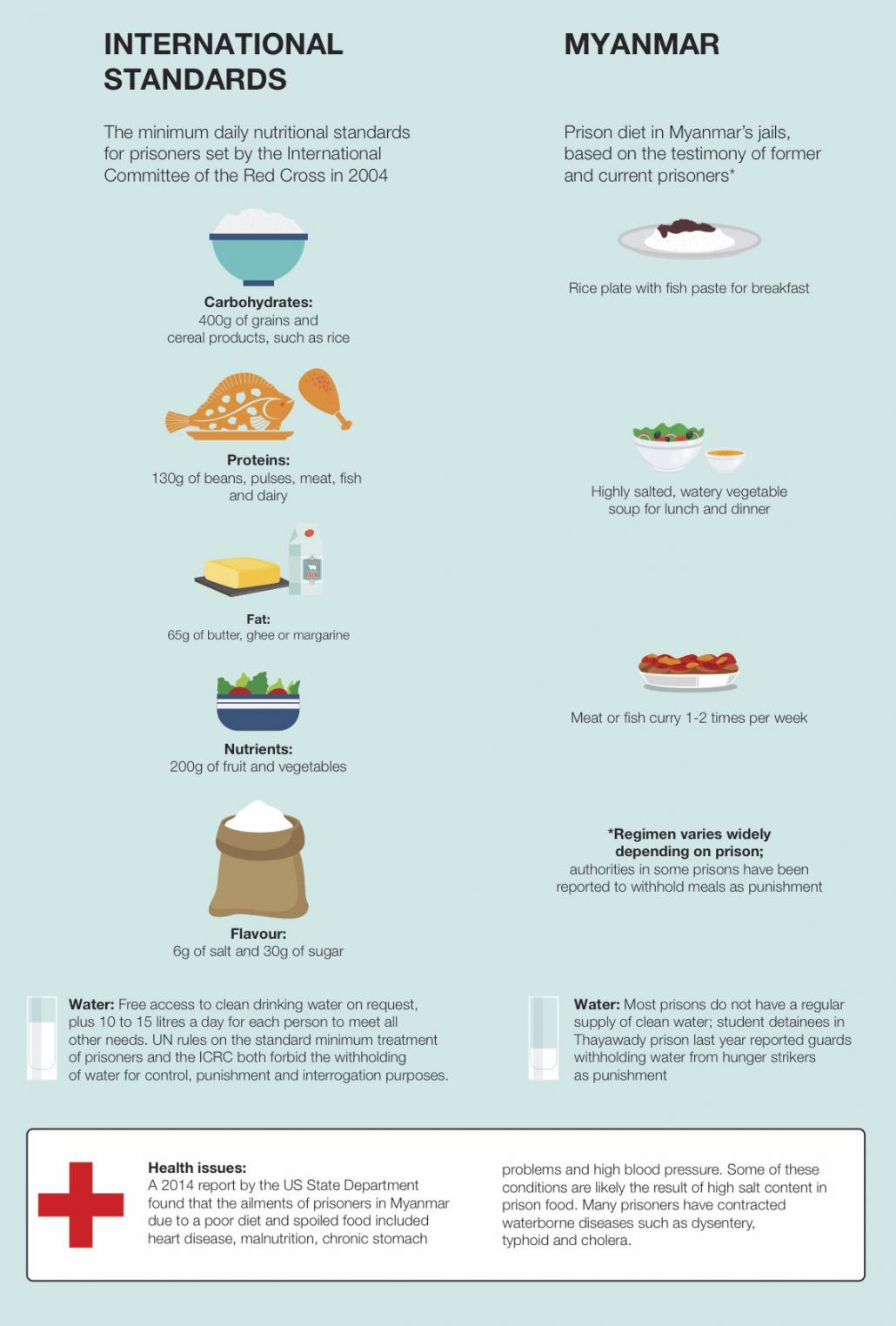 In recent years, prisoners have reported an improvement in general conditions at Insein prison, including the food. One recently amnestied political prisoner told the Burma Campaign UK that food in the prison was now "generally OK", a change attributed to more regular inspections by the ICRC.
It is debatable whether this reported improvement has occurred at prisons elsewhere in Myanmar. A November 2015 report by the UK Home Office found that although more prisoners' food and clothing needs were being met, a lack of clean drinking water remained a problem at many prisons, and many inmates were forced to pay bribes to guards to secure basic necessities. Amnesty International reported last July that prisoners in Myanmar were still being deprived of nutritional food.
Many prisoners remain reliant on family members to provide extra food to supplement their basic nutritional needs. These care packages can be withheld at the discretion of prison authorities.
Parliament flagged its intention to update the 1894 Prison Act in 2011, but lawmakers had not enacted the new bill when the term of the hluttaw expired at the end of January. The draft law did not set out minimum standards of food, water or healthcare for prisoners.