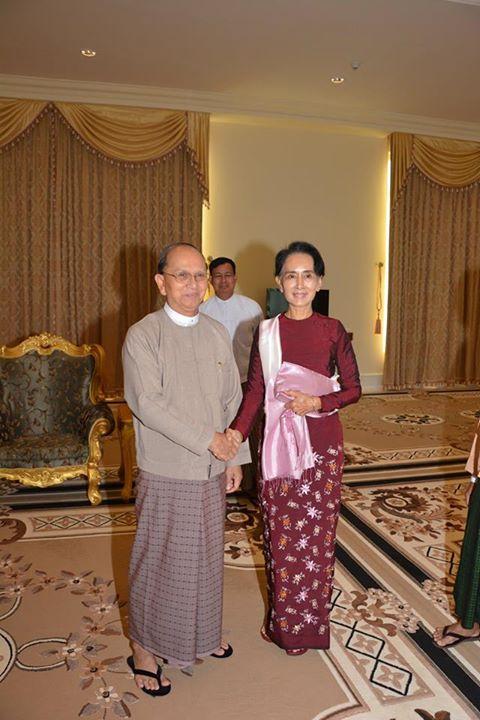 NAY PYI TAW — President U Thein Sein on Wednesday assured opposition leader Daw Aung San Suu Kyi that power would be "peacefully" handed over to her National League for Democracy, which won the November 8 polls in a landslide, a government spokesman said.
"There has not been a transfer of power to the winner's party in Myanmar since independence in 1948, so U Thein Sein would like to start a new tradition in this regard," said Minister of Information U Ye Htut, who is also spokesman for the President.
Daw Aung San Suu Kyi and U Thein Sein met for 45 minutes at the President's Office in Nay Pyi Taw, fulfilling the opposition leader's request to hold talks with the ruling regime following the NLD's victory at the November polls in which they won about 80 per cent of the contested seats compared with the Union Solidarity and Development Party's less than 10 per cent showing.
National reconciliation and the peace process with ethnic minority groups were not discussed, U Ye Htut said.
"The two leaders focused on a peaceful handover of power," he told a press conference following the meeting.
At the meeting, U Thein Sein congratulated Daw Aung San Suu Kyi on the NLD's victory at the polls, and the Nobel laureate expressed her appreciation to the president for holding a peaceful by-election in 2012, in which she won an MP seat, and a similarly peaceful election in November.
The pro-military USDP won the 2010 election, which the NLD had boycotted.
"The president guaranteed that he would transfer power to the NLD systematically," U Ye Htut said.  
The Nobel peace laureate also met later Wednesday afternoon with Commander-in-Chief Senior General Min Aung Hlaing.
"We got good results for the country," said Senior General Min Aung Hlaing after the talks, that lasted one hour. "For the sake of the people, solidarity, rule of law, reconciliation and development we agreed to cooperate," he added in a statement issued following the talks.   
Shortly after her National League for Democracy party clinched their landslide victory in the November 8 polls, Daw Aung San Suu Kyi proposed to meet with President U Thein Sein, Commander-in-Chief Senior General Min Aung Hlaing and Thura U Shwe Mann to discuss national reconciliation and implementation of the election results.
Last month she met with Thura U Shwe Mann in talks that covered building up trust between the two sides and working towards a peaceful transition to NLD rule.
Myanmar was under military rule from 1962 to 2010. A quasi-civilian government came to power following the 2010 polls, led by the pro-military USDP and President U Thein, who launched a series of economic and political reforms including his pivotal decision to allow Daw Aung San Suu Kyi to enter national politics.