A music festival launched in 2014 is providing welcome opportunities for classical musicians in Myanmar to refine their techniques and for their talent to flourish.
By GRIFFIN HOTCHKISS | FRONTIER
IN the living room of apartment 6D, 32 West 86th Street, New York City, there was until recently a piano that had belonged to Mr Joseph Smith, a musician and writer who died unexpectedly in March 2015. The Baldwin Concert Grand had been used by Smith and his students since 1973. It was a piano of high quality, but not remarkable in any way.
The faded finish was not the obsidian black common on concert grands, the wood above the keys was chipped from years of spirited use, and its bench seat squeaked.
In early December, the piano was packed, vacuum sealed, loaded on a truck and put on a ship bound for Asia. After two months at sea and a frustratingly slow customs inspection in Yangon, Smith's piano was unpacked and delivered to the Khayay School, in the city's Mayangone Township, where it was tuned.
The piano's late owner never visited Myanmar and had no special connection with the country. Why is it now in such a dramatically different environment to that where it sat for the past 43 years?
"To be a firm grounding point for what we are trying to build here," said internationally-renowned concert pianist Mr Kimball Gallagher, a former student of Smith's and the inheritor of the piano. Gallagher is artistic director of the Myanmar Music Festival, an annual event that brings musicians from around the world to perform and teach aspiring Myanmar students the violin, piano, music theory and composition.
The festival is hosted by the Khayay School, an early childhood and primary level international institution in Yangon that emphasises a well-rounded and multidisciplinary approach to learning. The festival is limited to a few weeks a year, but Gallagher, along with Ms Kai-yin Huang, the event's executive director, and Ms Erina Iwasaki, the school's lead curriculum developer, want to promote classical music in Myanmar.
The piano will be the centrepiece of the Joseph Smith Music Centre, due to open this year to encourage greater interest in classical music and a well-rounded education in Myanmar.
A real piano
If you are wondering how a single instrument can be the anchor point for a lifelong passion, you need only ask Ko Kevin Aung Moe Kyaw, whose first encounter with a grand piano changed the course of his life.
In November 2013, he sat in on a master class by Italian pianist Ms Gloria Campaner at Yangon's Legacy Music Academy. Kevin Aung Moe Kyaw was mostly self-taught on electronic keyboards and had never heard or played a mechanical grand piano. After the class finished and the hall emptied, he ignored protests from his friend and climbed on the stage, where for the first time he felt the weight of a real piano's keys under his fingers. He played the only classical work he knew, a waltz by Polish composer Frédéric Chopin.
While he was playing, Campaner entered the hall unnoticed and listened to him play. When Kevin Aung Moe Kyaw became aware of her presence he was startled and thought he might be reprimanded, but Campaner commended his playing.
"She asked me who my teacher was, but I didn't really have a teacher at the time," Kevin Aung Moe Kyaw told Frontier. "I had been mainly learning from YouTube, downloading videos and scores and playing what I liked. Then I told her that I had come from Mandalay [to hear her concert]." He had attended the master class because he could not afford the US$80 concert tickets.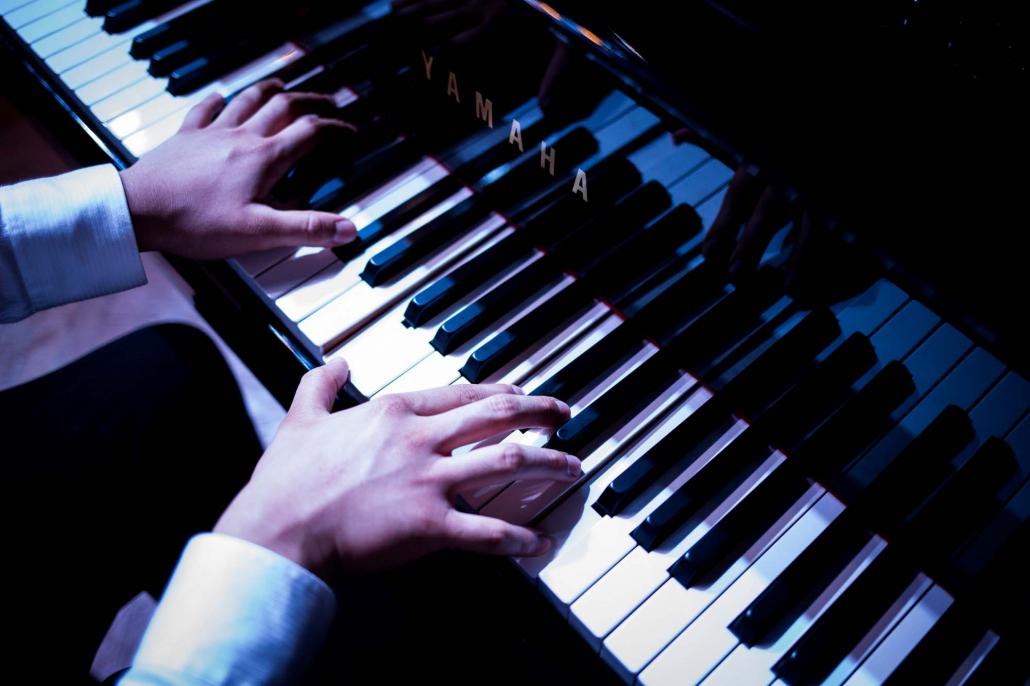 Campaner gave him a free ticket for the concert. After it ended he met Campaner again and told her his story.
"I told her about the situation in Myanmar and how it was difficult to find a teacher, and things like that. And then suddenly she said, 'Kevin, would you like to study in Italy? I can find you a scholarship'. I was so shocked … it's difficult to describe the feeling that night; it was … happy and awkward."
Kevin Aung Moe Kyaw's talent had been noticed before, by Gallagher and Huang during a three-day master class they gave in Mandalay ahead of the first Myanmar Music Festival, hosted in Yangon in 2014. He attended because he noticed the word "Juilliard" in a promotional poster and knew the New York institution was one of the best music schools in the world. He wanted to hear a classical musician play in person.
"We knew that with his talent and background, there must be a place for him [with the festival]," said Huang. With the limited time they had, she taught Kevin Aung Moe Kyaw the waltz he would play for Campaner later that year.
After helping with the first Myanmar Music Festival in 2014, Kevin Aung Moe Kyaw travelled to Italy to study with Campaner and then joined Gallagher on one of his philanthropic endeavours, teaching piano at a music camp in a mountain village in Tunisia.
Kevin Aung Moe Kyaw took a year off from engineering school to avoid being expelled for poor grades. He knew his passion was music and not engineering, but he did not think it was possible to be a musician full-time.
Gallagher, Huang and Iwasaki encouraged Kevin Aung Moe Kyaw to begin teaching the piano to new students and to help organise the coming year's MMF. They also helped him to apply for music scholarships as he continued to teach the piano and volunteer with the festival.
"People around me didn't know what I was doing; I didn't, really, either," he said.
His talent, devotion and determination to take a chance eventually paid off. Kevin Aung Moe Kyaw is the only student from Myanmar known to be studying music in the United States on a full scholarship. He just completed his first, or freshman, year at Missouri Western State University.
"Everything just happened," he said, with a grin.
Music and education
In many ways, Kevin Aung Moe Kyaw embodies the dream of aspiring classical musicians in Myanmar: The reality is that only a few gifted individuals reach the level of skill necessary to pursue a career as a musician. However, Iwasaki believes that music has intrinsic benefits for all who study it and that is why it is a core component of the Khayay School's curriculum.
"Why music? Because I see the impact with kids: when they do music and when they don't. The level of expression and the body language is so different," she said.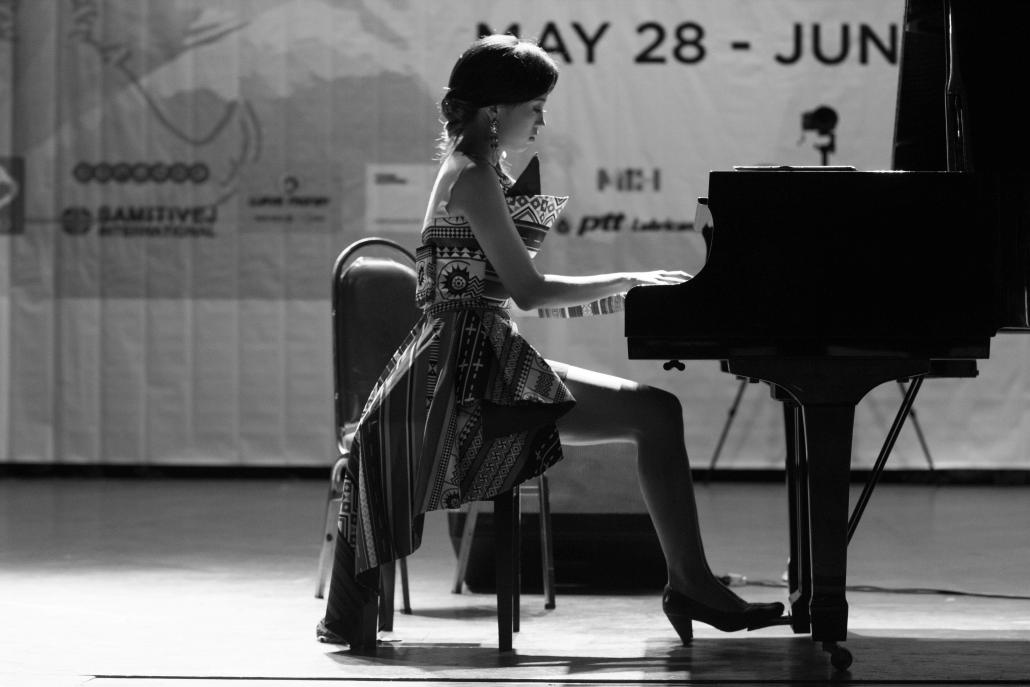 The Khayay School says it has a unique philosophy among private schools in Myanmar. Its teachers focus on providing a learning environment that capitalises on a child's developing mind. For example, students are taught in four languages to maximise their receptivity to the widest possible variations in the sounds of the spoken word.
Iwasaki believes that music, visual arts and sport all play a strong role in early children development and that competence in each is essential for a child – and by extension, a society – to flourish.
"People say that music can come only when people reach a certain standard of economic growth," Iwasaki told Frontier. "But I think that's a very simplistic way of seeing it. Because if you do go deep with music, there are so many opportunities … not just because you're a musician, but because you have related creative skills. During economic growth, people want to market things, and if you have that creative or artistic sensibility, you could easily work in that field. It's about creating these opportunities."
Embracing the world
Few Myanmar had the opportunity to learn from professionally and classically trained musicians until the Myanmar Music Festival was inaugurated.
Lamai Lawt Aung and Dashi Aung San, violinists from the Kachin State capital, Myitkyina, have travelled to Yangon for the festival since it was launched in 2014. Dashi Aung San, who gives lessons at his church, says the festival provides opportunities to acquire the proper techniques he missed when he began learning the violin in 1996.
"My mother asked me, 'Do you want to play the violin?', but I had never seen one. Then she showed me … and I wanted to play," he recalled. "In Kachin there are not any teachers who teach systematically, though. I tried to study by myself, but I only had hymns. So I didn't really improve."
It might be too late for Dashi Aung San to study abroad, but he believes he can contribute to his community by learning new techniques and teaching them on his return to Kachin. A violin teacher in Yangon can earn up to K30,000 a month from tuition fees but Dashi Aung San is only able to charge his students in Myitkyina K3,000.
For Lamai Lawt Aung, music is an end in itself.
"It gives me a lot of satisfaction and pleasure to play the violin," said Lamai. "When I play, I forget about all the trouble. In Kachin there are just ordinary people; not rich and not very poor. But you know we have [had] a long civil war between the Burmese Army and the Kachin. And we always think about that; [we think] 'it's not safe for me'. But when I play the violin, it saves me; I forget about all the trouble, all the things. Music has saved me.
"The Myanmar Music Festival is the best chance to find the foreign teachers to teach us. In my opinion, it's a great chance to overcome our problems and to look to the world. I think the world has a place for us. To stand with our music, with our violins."
The Myanmar Music Festival's final concert on June 14 featured musicians from Singapore, Malaysia, Thailand, and Taiwan who performed, taught and collaborated with Myanmar musicians on original works and arrangements. The Joseph Smith music centre is due to open this year as the permanent home of the Myanmar Music Festival and other musical events.