Myanmar benefits from a vast and surprisingly efficient free-market recycling system and those who support it at the grassroots deserve more credit for their work.
By JARED DOWNING | FRONTIER
PHOTOS THEINT MON SOE (aka J)
German researcher Friedor Jeske often hears other foreigners complain about the lack of recycling options in Yangon, and he scoffs.
"Just ask your cleaner, your cook, your driver," he said.
To an outsider, Yangon's recycling industry can be hidden among the trash that pools in alleyways and gutters like snow. Know what to look for, and you'll spot carefully stacked sacks of bottles and cans and hole-in-the-wall recycling shops on every street.
Although material is typically sold as-is and is rarely processed beyond a rudimentary crushing or grinding down, private recycling could account for between 30 and 50 percent of the waste in Yangon, said Jeske, who leads waste management projects for Italian NGO Cesvi.
"The recycling sector in Yangon, it is working really well," he said.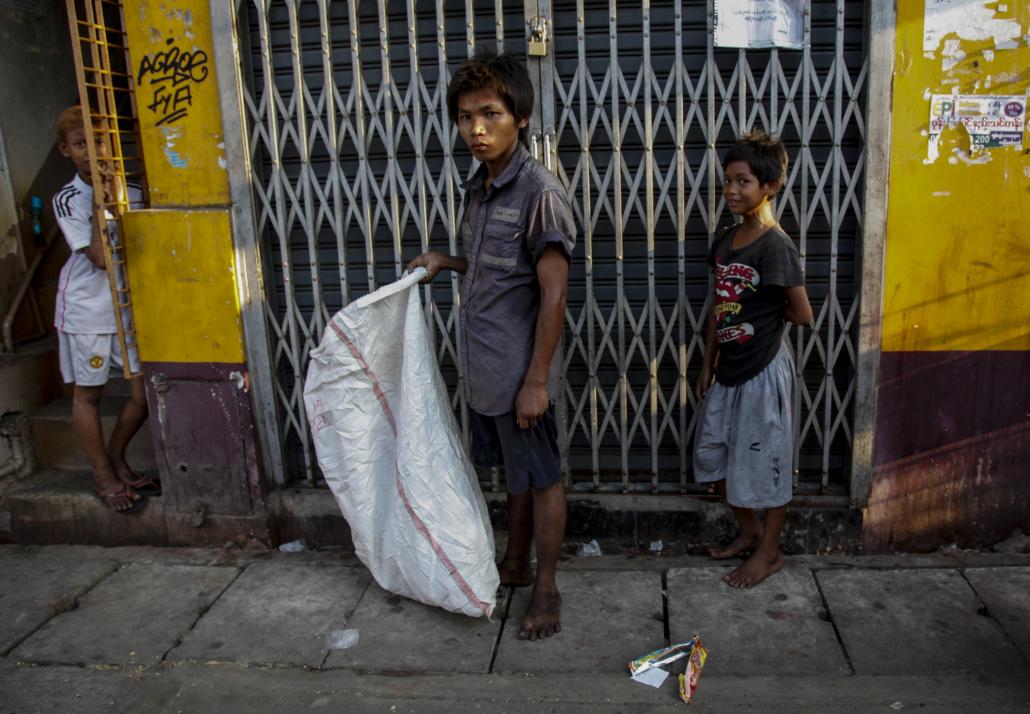 Where residents drop trash in communal dumps or out their back windows, they carefully set aside recyclables and charge money for the privilege of carting it off. Where trash clogs Yangon's gutters and alleyways, recyclables flow like water to factories in the industrial zones, or are exported to China and Thailand.
The industry is as ubiquitous as it is subtle, like a colony of ants in the walls of a house, and it makes recycling in Yangon as easy as dropping a bag of bottles on the footpath.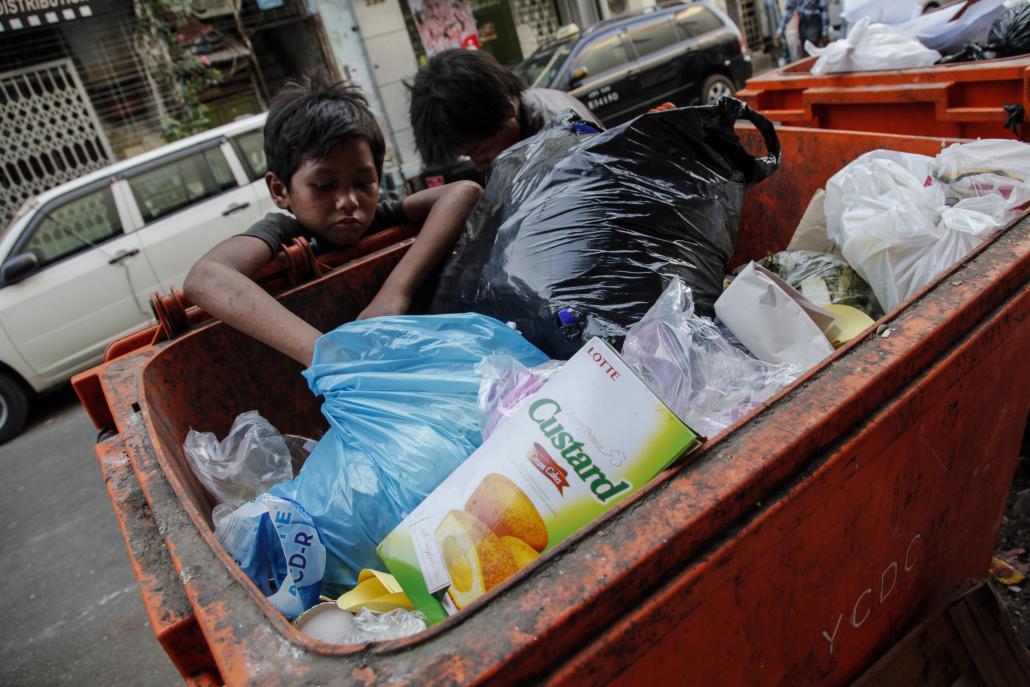 The journey of a thousand bottles
By early evening, it is almost hard to tell where Mr Sarmi's recycling shop ends and his merchandise begins. During the day, his freelance collectors comb Yangon's inner Pazundaung Township for paper, bottles, cans and scrap metal. By evening, the sagging wooden house seems to melt into the stacks and sacks of urban detritus.
Sarmi, a greying Indian man, sat at an ancient set of balance scales, diligently organising and appraising the day's haul, as he had done for 20 years, like his father before him. "We have to do our work, so we do our work," he said.
The industry was built on this attitude: not lofty ideals, but mere necessity, said Jeske. "Because they were so closed to the outside, everything was used. Every piece of scrap. When a fan was broken, they would open the motor and rewind the copper wire. They would wind it a thousand times by hand, but it was what they had to do."
Today, that legacy persists in a massive free-market system that begins at street level with people such as U Ah Thay Lay, who patrols 34th, 35th and 36th streets with two baskets suspended on a bamboo pole, calling for residents to bring out their goods. He resells plastic bottles for K5 each and glass beer bottles for K30, earning around K7,000 kyat a day.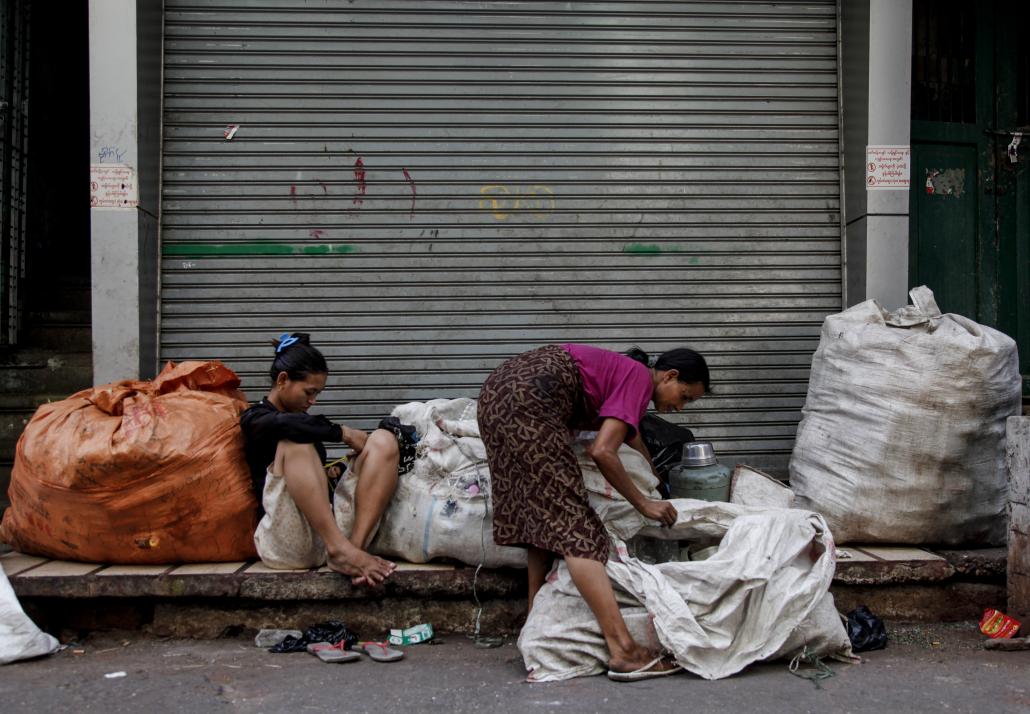 The neighbourhood recycling shops that buy his goods might be a big standalone enterprise like Sarmi's or just a convenient space behind a building. There could be dozens in a given township, each sending their material to distant paper mills, scrappers, or, most likely, the massive wholesale recycle market in the Saw Bwar Gyi Kone industrial zone in Insein Township to be sold to recycling factories and exporters. 
There is a similar system in Mandalay, although the industry isn't limited to the cities. Goods in most rural areas generally aren't worth the effort of recycling and are dumped or burned with other rubbish. However, smaller cities send truckloads of bottles, cans, bags and paper to wholesalers and factories in Yangon and Mandalay, which serve as two great deltas for rivers of material that flow throughout the country.
Glass bottles account for more than half of the industry; the rest is mostly divided between cardboard and paper, aluminium and tin cans, and plastic bottles and bags, wrote Jeske in a report titled Potential development of the recycling sector in Yangon. Recycled materials can pass through four or five hands and profit margins are razor thin.
One paper seller, who requested anonymity, said he pays K20 a viss (about 1.6 kilograms, or 3.6 pounds) for notebook paper, and less for cardboard. One of the most lucrative products is beer bottles, that Sarmi buys from his pickers for K30 and sells for K35.
But at least, said Sarmi, it is always a seller's market.
"Some people are bad, they try to cheat me," he said. "But then I can always just sell to another person."
Sarmi inherited the business from his father, and his children help him run their three downtown recycle shops. Nobody seems to be getting rich, but as he said, recycling has always been constant because of a seemingly bottomless demand for anything remotely reusable.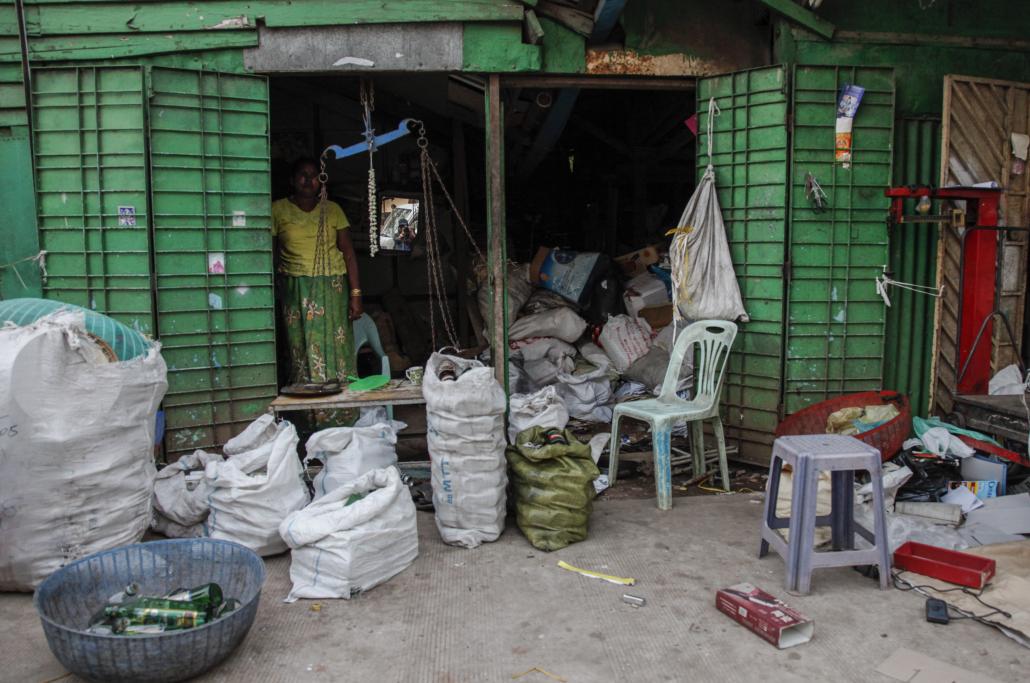 Dirty jobs
Yet to a large degree, the recycling trade is not driven by desire, or even greed, but necessity.
"The major challenge for the recycling collectors is the contempt they are facing in their work," Jeske wrote in his report. "[T]he whole sector would collapse if there would be not enough poor people who see this as their last option and face rather shame than hunger."
Daw Thein Gyi Win is among those who would rather face shame than hunger. She spends her days collecting plastic bottles to repay debts to loan sharks. Another is a 12-year-old boy who forages to support himself and his parents, who are both disabled and alcoholic. The boy said he has been arrested three times for foraging after midnight and was put in juvenile detention until the morning.
These workers are desperate enough to rummage through gutters, dumpsters and even the city dump itself, gleaning the last few reusable items that slipped through the cracks.
Even Sarmi, who runs one of the more successful recycling businesses, says his trade gets little respect. Most neighbourhood recycling shops are run by Hindus, a community that already faces discrimination.
"We have had to face a lot of disrespect. People say we are dirty," he said. "I just pretend I don't hear because talking back to people will not change anything." 
Despite his recycling business being in the family for three generations, Sarmi has no plans to leave it to his grandchildren. "I hope they will do better; better education, better job," he said.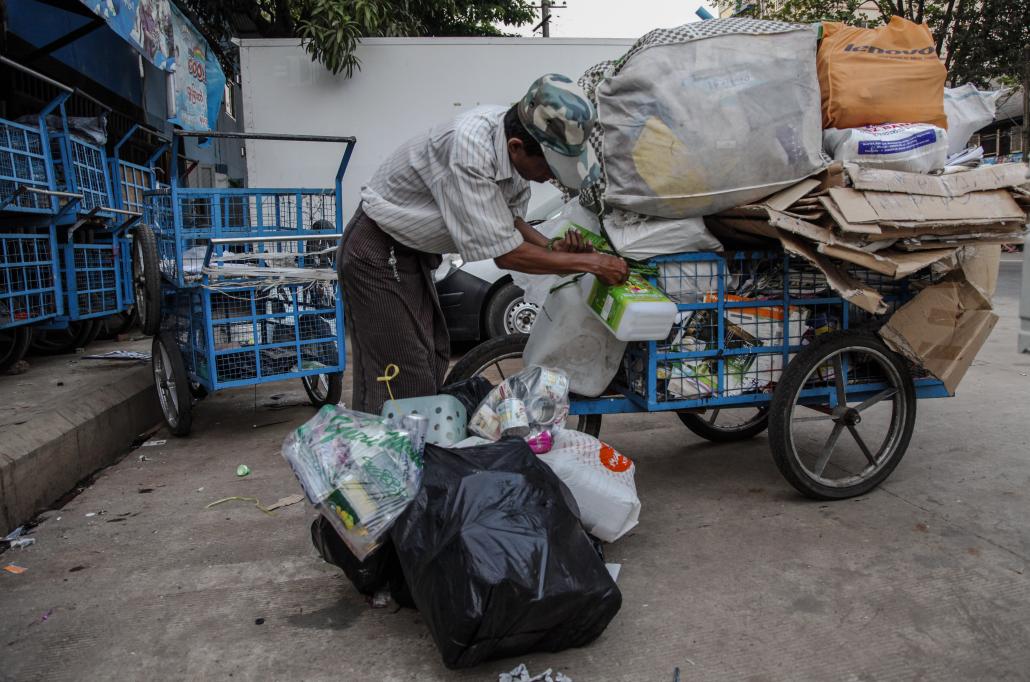 Recycling businesses must receive approval from surrounding households to operate. Local officials known as 10-household leaders, and ward administrators, often bar new businesses or threaten to close existing ones because they don't want the unsightly operations on their street.
Jeske fears that the fate of recycling in Myanmar will depend more on its image than on profitability. As incomes and living standards rise, Myanmar's well-honed recycling system will go into decline – because even though it is worthwhile it has a dirty image.
Jeske's report recommends public awareness campaigns with slogans such as, "We clean, help us!" and, "Without us your city will be buried in waste."
Jeske said that perhaps the greatest need is for the municipal authorities to support rather than tolerate the recycling industry through such steps as licensing freelance collectors, making it easier for shops to operate legitimately and offering sites where material can be stored. Public support would not only aid recyclers, but help clean up their image, he argued.
Yet when it comes to waste management, officials at the Yangon City Development Committee seem to have a chronic reluctance to work with the free market. One of Jeske's projects, Lan Tan ("Clean Street") sought to start a dialogue between the YCDC's Pollution Control and Cleansing Department and illegal freelance trash collectors.
"It was a complete failure," Jeske said. "The municipalities are completely stuck. They cannot accept the [private] collectors, and they cannot fill the needs."
The city will need a different approach if it is to help recycling flourish in Myanmar. In the meantime, at least for now, the private recycling system continues to hum with activity, quietly picking the streets clean.