A scrum of dedicated rugby enthusiasts introducing the sport to Myanmar children are tackling the challenge of raising funds … and explaining the offside rule.
By OLIVER SLOW | FRONTIER
ANY RUGBY fan who has tried to explain its rules to a newcomer to the sport might understand the exasperation this writer felt trying to teach the offside rule to a group of kids while drenched by pouring rain at a monastery on Yangon's northern outskirts.
They weren't listening. All they wanted to do was run around with the ball, slam into their mates as hard as they could and roll around in the mud. And who could blame them? It was the reason I fell in love with the sport in the first place.
Other basics of the game were introduced: you can only pass the ball backwards; you must place the ball on the ground when scoring instead of throwing it at your friend's head. There was a little resistance to these concepts at first as the kids ran around with huge smiles on their faces, but eventually their understanding grew.
The session was at the Nan Oo Monastery in Mayangone Township and was part of a program aimed at developing rugby in Myanmar. The program, tentatively called nagar ley dwe (Little Dragons), aims to introduce the sport throughout the country, as well as develop the life skills of some of its most disadvantaged children.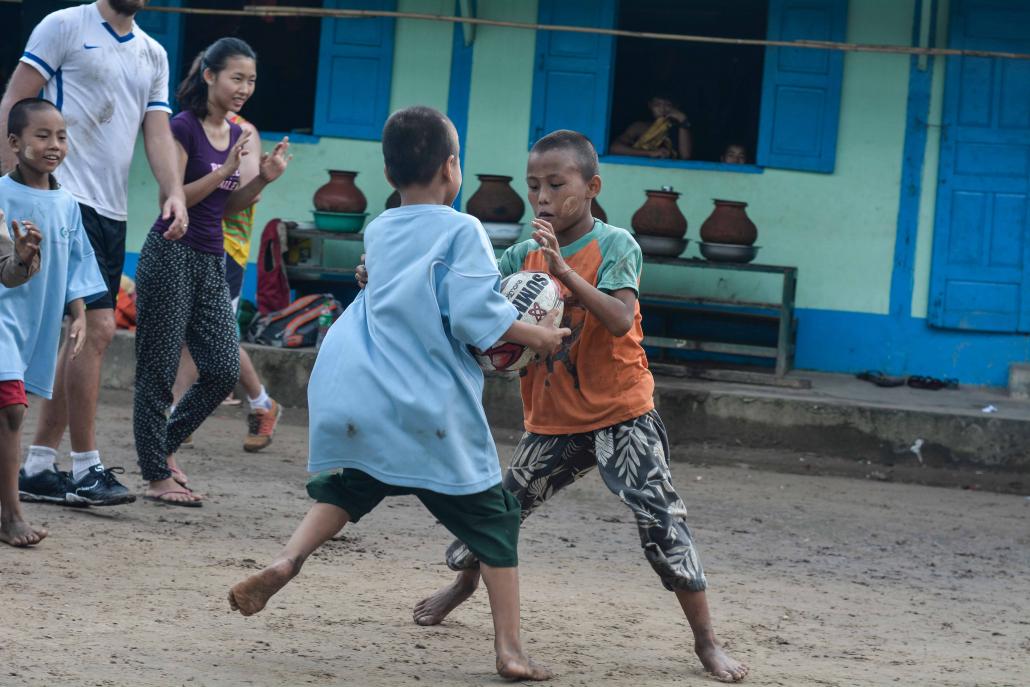 Rugby does not have an illustrious history in Myanmar, but there are some mentions in the history books.
Independent Burma's first Foreign Minister U Tin Tut lived for many years in the United Kingdom, where he played scrum half for Dulwich College and Queen's College, Cambridge, two institutions renowned for the quality of their rugby teams.
In Ghosts of Empire, Kwasi Kwarteng writes that in the 1920s, Tin Tut was invited to play for the British army in a match against the Rangoon Gymkhana Club, but only after the military could not find 15 "Europeans".
"During the game, everyone acknowledged that he was the best player," Kwarteng wrote. However, in an embarrassing incident of colonial racism, Tin Tut was refused use of the showers because they were reserved for Europeans.
Unlike association football, rugby did not catch on in independent Burma.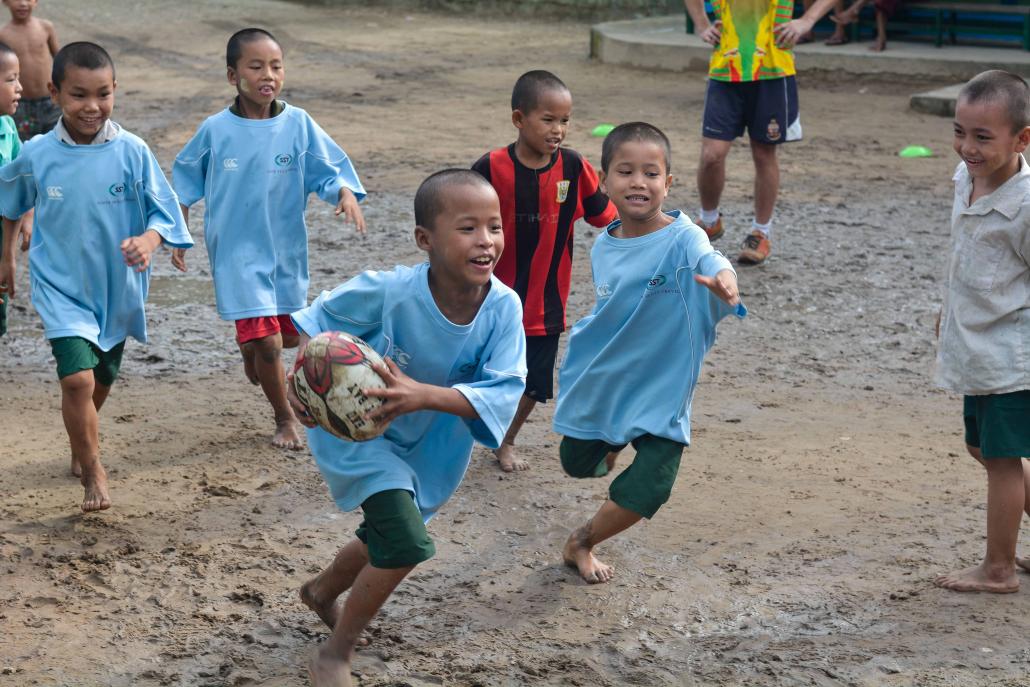 In 2013, the Yangon Dragons Rugby Club was formed, the first in decades. It was out of the Dragons that the Little Dragons program was created, aimed at introducing as many Myanmar people to the game as possible.
"The kids love it," said Mr Ben Mudd, who is leading the program with support from other passionate rugby fans. "They clearly enjoy running around and working together. We do fun drills and then games of touch rugby at the moment. We hope some of the people from the monasteries will get involved."
The program was launched by Mr William Ferguson, who was involved in the successful Shamas Rugby Foundation in Kenya, where rugby is one of the fastest-growing sports. Mudd took over after Ferguson left Myanmar earlier this year.
The short-term aims of the program include organising matches between the Nan Oo Monastery and Doh Kyaung Thar School in North Dagon Township, and expanding to nearby Thanlyin and Bago.
It also includes a project, tentatively titled bolone pay lite bar (Pass the Ball), which combines rugby coaching with the teaching of life skills, including fire safety, first aid and sexual health.
The program also aims to develop Myanmar coaches who can lead sessions independently. A few are already interested.
They include Ma Phoo Pwint Thinn, who had never heard of rugby until she was told about the Dragons by a friend.
"Will [Ferguson] was searching for a local person to help him and I became interested in the program," she told Frontier. "He was successful in developing rugby in Kenya and wanted to do the same thing here. Rugby is brand new in Myanmar and I want to help develop it."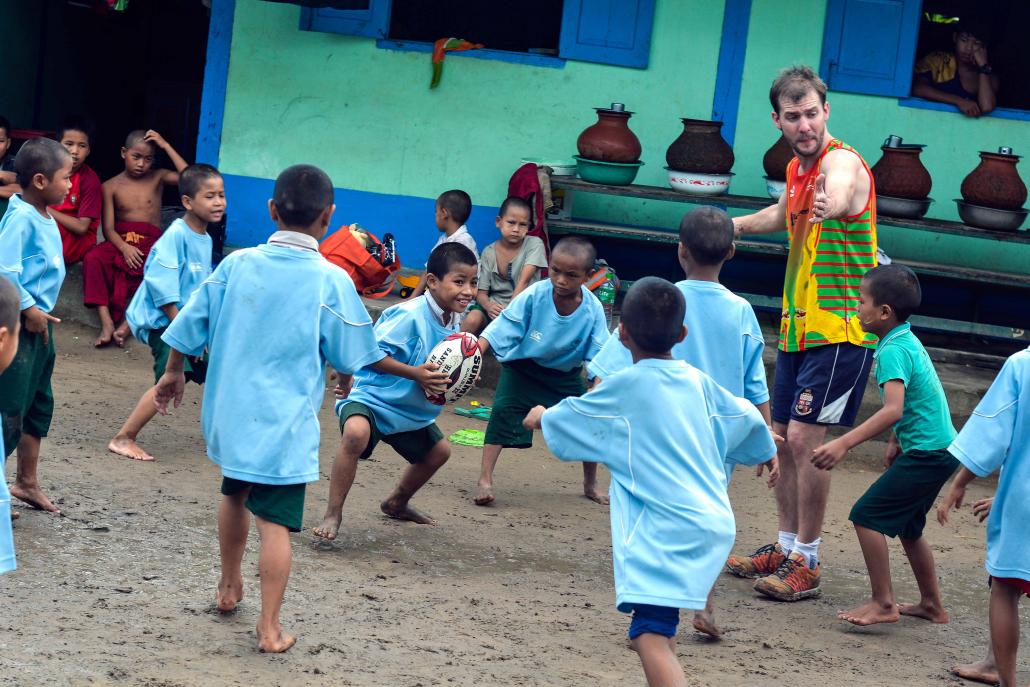 Phoo Pwint Thinn runs weekly coaching sessions alongside Mudd and other volunteers at Nan Oo and Doh Kyaung Thar. After this reporter was unable to explain the offside rule to the kids at Nan Oo, she was able to get the point across with absolute clarity within minutes. Clearly, she's a natural.
Ms Caroline Rhoads, who is a volunteer on the program, said she was inspired to become involved because of the important role rugby has played in her life.
"We wanted to introduce rugby to youth in Myanmar to build their knowledge of teamwork, collaboration and problem solving in a fun and equal environment," she told Frontier. "This is a new sport for all players, allowing all of them to start on the same level and develop their skills together, no matter what age or gender."
The program is also about providing sports classes for many children who do not have them available at school and "grow rugby from the ground up and teach life skills to some of the poorer kids, many who can't afford tuition fees," said Mudd.
But, of course, challenges remain and one is a lack of funding. The group has set up a fundraising page that it hopes will generate enough funds to enable the coaches to work full-time on developing the program.
Another challenge is public space. A 2014 report found that Yangon has 0.37 square metres of park space for each head of population, among the lowest in a world study.
"Myanmar is such a blank canvas in so many aspects, so we just decided to go with it," said Mudd. "I love rugby and working with young people and this program has snowballed into something bigger than rugby, but I do believe it's still relevant and useful for the kids."