Gaw Yin Gyi Island is less than seven hours from Yangon, but has only been discovered by travellers over the past two years as locals wage a campaign against a planned coal power plant and deep sea port.
By KYAW PHONE KYAW | FRONTIER
THE MYEIK Archipelago is famous for its wild, uninhabited islands and beaches. For city-dwellers, though, they can seem as distant and unreachable as a foreign land.
For those seeking a beautiful, pristine beach without the long-haul travel – and on a minimal budget to boot – an alternative has emerged in Ayeyarwady Region.
No doubt you already know of Chaungtha and Ngwe Saung beaches in Pathein Township. About five hours' drive from Yangon, they have been popular for decades as weekend getaways.
But just 50 kilometres south of Ngwe Saung, a largely untouched area known as Gaw Yin Gyi Island is receiving a small but growing number of visitors.
Also known as Ngayokekaung – a small town nearby – the beaches here can be reached from Yangon in just six-and-a-half hours by private car. Take the road to Pathein and continue on toward Ngwe Saung, before taking the left-side turnoff to Maw Tin.
After 70 kilometres, a new road branches to the right, over a low mountain range. The start of it is tarred, but it soon turns to dirt and dust. Thankfully, it's only a 20-km trip and you're in Ngayokekaung, from where Gaw Yin Gyi is just a hop, skip and a jump.
Of course you can get to Gaw Yin Gyi by bus, too. There are two options: take the bus from Yangon to Pathein and transfer to one bound for Ngayokekaung, or take a direct service to Gaw Yin Gyi.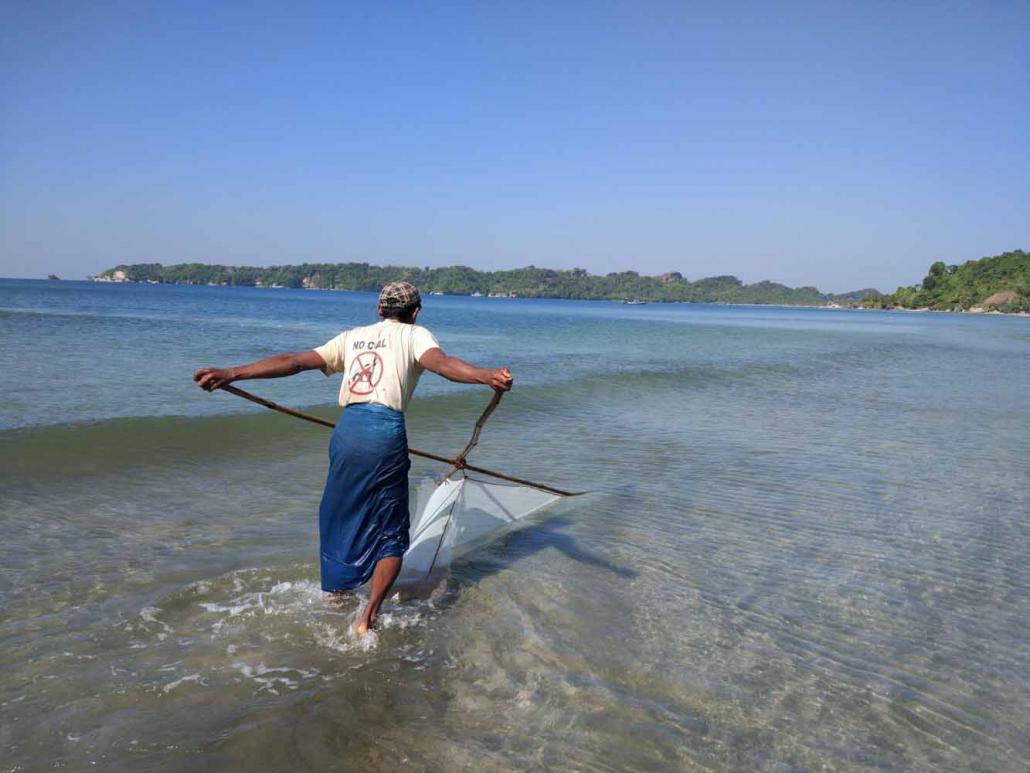 These direct buses leave every evening, at 6pm, from Dagon Ayar Highway Bus Station in Hlaing Tharyar Township. They're not as nice as those that ply the Yangon-Mandalay Expressway, but they get the job done. The eight-hour trip costs K10,000, and requires two five-minute motorbike rides and one short ferry crossing, which cost around K500 each.
The beauty of Gaw Yin Gyi is that you can do it on the super cheap, if that's your thing. If you have a tent, you can just pitch it on the sand. A small hut can be rented at a beachfront coconut plantation for K3,000 a night (just remember to bring blankets or a sleeping bag, and plenty of insect repellant). Those who like a solid roof over their head can go for one of the half-a-dozen hotels or guesthouses, which range in price from K10,000 to K80,000.
If you don't want to rough it, it's important to book accommodation before the start of your trip. In fact, I wouldn't recommend going their during holidays – Thingyan, Christmas/New Year, full moon days and the like – because there are too many people for the very, very limited tourism infrastructure.
Either way, don't expect luxury. There's no electricity in the area, for example; the hotels all rely on generators for power.
Like accommodation, the food options are limited. There are a handful of local restaurants; so local, in fact, they don't even have a signboard. Some visitors opt to bring their own gas stove and food to cook. At least purified water is easy to buy locally.
Foreigners are still few and far between. Locals told me of one Spanish couple who visited; they were famous for ordering six plates of fried watercress during their stay, as they couldn't find anything else that they wanted to eat.
Enough of the logistical issues, though – what does Gaw Yin Gyi have to offer? The "island" is actually a tall, rocky outcrop at the end of an isthmus that's barely 500 metres wide, and has beautiful beaches on both sides. From the top of Gaw Yin Gyi, you get spectacular views not only of the coastline but also back toward the mainland.
There are lots of other small hills in the area that can easily be hiked and are perfect for watching the sun set over the Bay of Bengal. Just don't expect to enjoy it with decent whisky or cocktails: The cheap whisky is awful and the beer is not refrigerated. Instead, you can find plenty of toddy wine, the cloudy fermented juice of the toddy palm. But if you feel like the sunset won't be complete without a gin and tonic, you better bring the ingredients yourself in an icebox (make sure to bring your own ice, too).
It's also interesting to wander the villages in the area. Because visitors have only started coming to Gaw Yin Gyi in the past two years, most locals have not given up their traditional livelihood to enter the tourist trade.
For many, the workday begins and ends on the beach, throwing a net into the shallows to catch small shrimp. More adventurous visitors can negotiate to go along with the fishermen when they head out at night to catch squid with the help of rigs of lights.
During the cool season, the water is full of juvenile shrimp. When you head into the shallows, you can feel them swishing around your feet – a strangely pleasant feeling. Local fishermen catch them and make a paste used in traditional Myanmar food. Shrimp paste is one of the famous products from this region; it's considered the best in the country, as it's made by hand without any chemicals.
Although it has barely been "found", Gaw Yin Gyi could soon be paradise lost. Under the former government, Indian company Tata proposed building a coal power plant at Ngayokekaung, very close to the beach.
This was in fact how it was discovered. When reporters from Yangon went to Gaw Yin Gyi cover the dispute between the developer and area residents, they found to their surprise that it was home to beautiful beaches. This has helped to popularise it in recent years.
The coal plant appears to be on hold, or possibly dead in the water. The National League for Democracy government has said it plans to scrap all of the coal plants proposed by its predecessor. (But you can still see traces of the project in the "No Coal" T-shirts worn by many of the fishermen.)
The government has, however, said it wants to proceed with plans to develop a deep-sea port at Ngayokekaung. That would surely also have implications for Gaw Yin Gyi's potential as a tourism destination.
Residents believe tourism offers them a brighter future than industrial development. They welcome travellers because they know that their campaign will gain strength if people from Myanmar's cities also recognise the area's beauty and tourism potential.
Even so, it's unclear who would benefit from a tourism boom. People say that much of the land on the beach has been bought by outsiders from Yangon, including some tycoons close to the former government.
This phenomenon has been seen at other beaches, where locals have had land confiscated with little compensation and seen their access to the beach blocked by hotels.
At Ngapali and Ngwe Saung, local developers brazenly take sand from the beach for construction projects, including hotels, despite sand mining being illegal in these areas. Many residents in these areas feel like they have missed out on the benefits of tourism, but suffer the negative consequences.
Gaw Yin Gyi and its white-sand beaches represent a test for the NLD government and Minister for Hotels and Tourism U Ohn Maung. Can they manage this potentially valuable tourist destination for the long-term benefit of all?
While these questions are still being answered, you'd better grab your chance, like I did in December. It's anyone's guess how long Gaw Yin Gyi will remain a largely undiscovered ocean paradise.