Volunteer networks and cross-border ethnic and family ties have ensured a refuge for thousands who've fled overland to India's Mizoram state, but some long to return to Myanmar to rejoin the anti-coup struggle.
By EMILY FISHBEIN and NU NU LUSAN | FRONTIER
In late March, Emmanuel fled Yangon for Kalay, his hometown in western Sagaing Region at the foot of the Chin hills. He had received a warning from neighbours in the commercial capital that he was a risk of imminent arrest for participating in protests against the February 1 military coup.
But in Kalay, he received a similar warning.
"It wasn't safe to return to Yangon, or to remain in Kalay," said Emmanuel, 26, for whom Frontier is using a pseudonym to protect his identity.
After an overnight stay in Kalay, Emmanuel and a sister, who had also taken part in protests, squeezed into a minivan. When its dozen passengers disembarked at the Indian border nearly eleven hours later, in the middle of the night, they saw a line of Indian border guard forces in the distance.
Hiding in the courtyard of a nearby home, they held their breath as dogs barked, until finally the guards disappeared.
"We had to carry our bags across a river. The air was very cold. It was a terrifying experience because it was not my country and there are many things I didn't know," Emmanuel said. "All I knew was that when we crossed the river, we had reached India."
That river was the Tiau River, a shallow waterway that forms part of the 1,600 kilometre border between Myanmar and India. After wading through it, Emmanuel and his fellow travellers boarded another van, in which they travelled for more than seven hours.
"None of us were documented, so we had to travel by country backroads. It was very rough and there were checkpoints. Our helpers had to pay so we could pass through them," he said.
The total cost of Emmanuel's journey to safety was K135,000 (US$87); K80,000 for the bus from Yangon to Kalay, K30,000 for the minivan to the Indian border, and K25,000 for the trip to his final destination, Aizawl, the capital of the north-eastern Indian state of Mizoram.
Exodus
Emmanuel, who has family in Aizawl, is among a growing number of ethnic Chin people with roots in Sagaing Region and Chin State who have fled to Mizoram, one of four Indian states that border Myanmar, along with Arunachal Pradesh, Nagaland and Manipur.
There is a lack of consensus over a common identity for the people whose ancestral lands straddle this section of the India-Myanmar border, but many identify as Zo, Laimi, Mizo, Kuki or Zomi, among numerous ethnic identities that some collectively call Chin. Since the coup, a cross-border ethnic affinity and family links have fostered hospitality among the host community in Mizoram and in the state government, even as the central government in New Delhi has opposed the influx.
But in addition to people like Emmanuel who have relatives who can host them in Mizoram, others making the cross-border trip lack any family connections in India. These include hundreds of public sector workers who've fled arrest for deserting their posts and joining the Civil Disobedience Movement, a broad effort to prevent the junta from being able to govern and also starve it of revenue. Volunteer groups have sprung up in Mizoram to provide these dissidents with shelter, food and protection.
Salai Ngapang, a pseudonym for the leader of one volunteer group in Aizawl, told Frontier that the vast majority of defecting civil servants are police officers, with smaller numbers of firefighters, teachers and doctors. Mizoram state government officials said in mid-March that the state was harbouring at least 383 CDM participants, of whom 98 percent claimed to be from the police and fire service.
The total number of people who have fled Myanmar for India since the military seized power on February 1 remains unknown, but Salai Ngapang estimated that at least 3,800 people have so far entered Mizoram. He believes that another 2,000 have crossed the border but were prevented from travelling further inland by a COVID-19 lockdown.
The exodus from Kalay increased sharply after April 7, when junta forces killed eleven people while breaking up a protest camp in the town, said Soesandartu, the pseudonym for an activist in Kalay. Ahead of these killings, the Kalay Civil Army, a civil defence force largely armed with hunting rifles and homemade weapons, had guarded the protest camp for 10 days, and had successfully negotiated a prisoner exchange of seven police officers for nine civilians. A protest leader told Frontier following the fall of the protest camp that police and soldiers were searching for remaining Kalay Civil Army members, but that the civil army planned to continue its resistance.
Soesandartu said Kalay's streets reverberated with gunfire most nights leading up to her own departure in late April. Five or six vans had been travelling from Kalay to the border each day, compared with one of two before the April 7 crackdown, she said, while others were fleeing on motorbikes or in rented cars.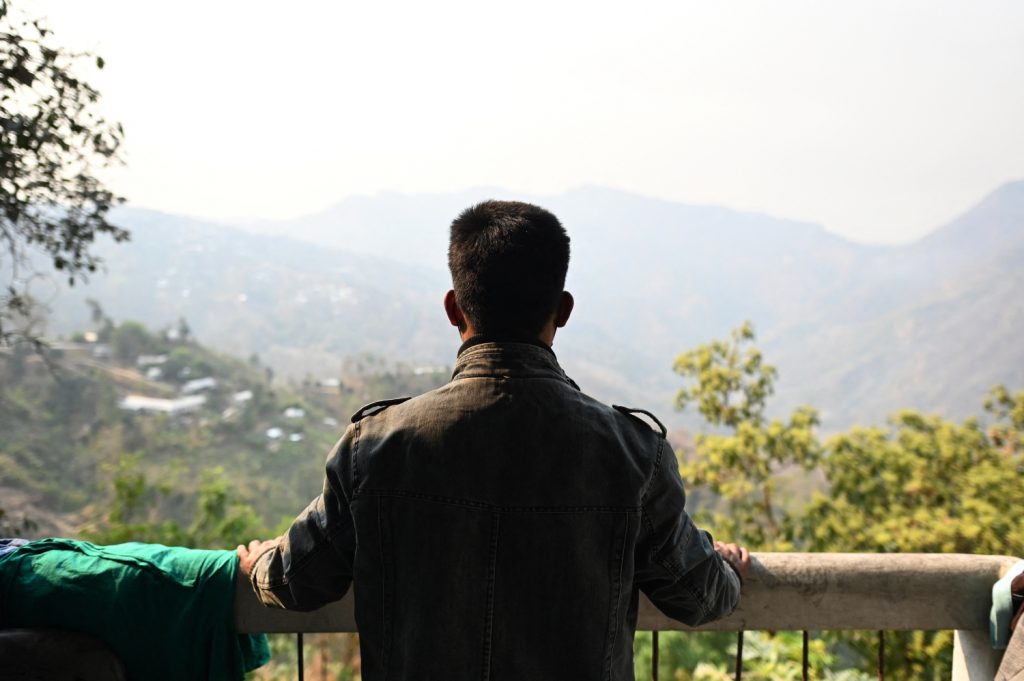 Pangs of regret
Despite the danger they would be in if they re-entered Myanmar, Soesandartu, Emmanuel and a CDM supporter from the Chin State capital Hakha, who recently sought refuge in Mizoram, say they intend to return soon to continue resisting military rule.
Emmanuel, a fashion designer and model, said he misses protesting in Yangon's Sanchaung Township, where he had lived, and where protests against military rule were among the most vociferous in the city before being crushed by brute force. He joined on February 9, nearly at their inception.
"Some days, I thought I would stay home, but by the afternoon, I felt guilty – like I wasn't doing my duty," he said. "I ended up protesting every day. It was exhausting but I felt content that I was doing my part."
In March, junta forces raided his apartment, but neighbours had given an advance warning, enabling him and a sister who had also joined the protests to flee to a friend's house while their other sister stayed home. He continued protesting until a neighbour warned that junta forces had video footage of him leading a crowd in protest chants. Emmanuel worried that his other sister could be targeted in reprisals for his activism. Entrusting his dog to his brother, Emmanuel and his two sisters boarded a bus to Kalay.
When they arrived, nothing was as Emmanuel remembered. Most businesses in the town were closed, and young people were launching guerilla attacks on junta forces from alleyways. A rumour circulated that returnees from Yangon were being targeted for arrest. Emmanuel's ward administrator suggested that he and the sister who had joined protests should leave as soon as possible for India.
The neighbourhood in Aizawl where their relatives are hosting them houses many other new arrivals from Myanmar. "There aren't many Chin people who don't have relatives in Mizoram," said Emmanuel. "Almost every house [now] has guests."
Idle amid a local coronavirus lockdown and uncomfortable about having to rely on relatives, he feels pangs of regret when messaging members of his Sanchaung protest group. "Many of my friends ask, 'Are you running because you're scared?'" he said. "I am already here, so I just have to bear it."
He heard he could get a job in Aizawl rolling cigarettes for the equivalent of K7,800 a day, but he's already preparing to rejoin the resistance to military rule.
"I feel like I made the wrong decision to come here," Emmanuel said. "If I were in Myanmar, even though I wouldn't be safe, I'd be happy because I could protest every day. When I protest, I feel like I've taken my full responsibility as a citizen."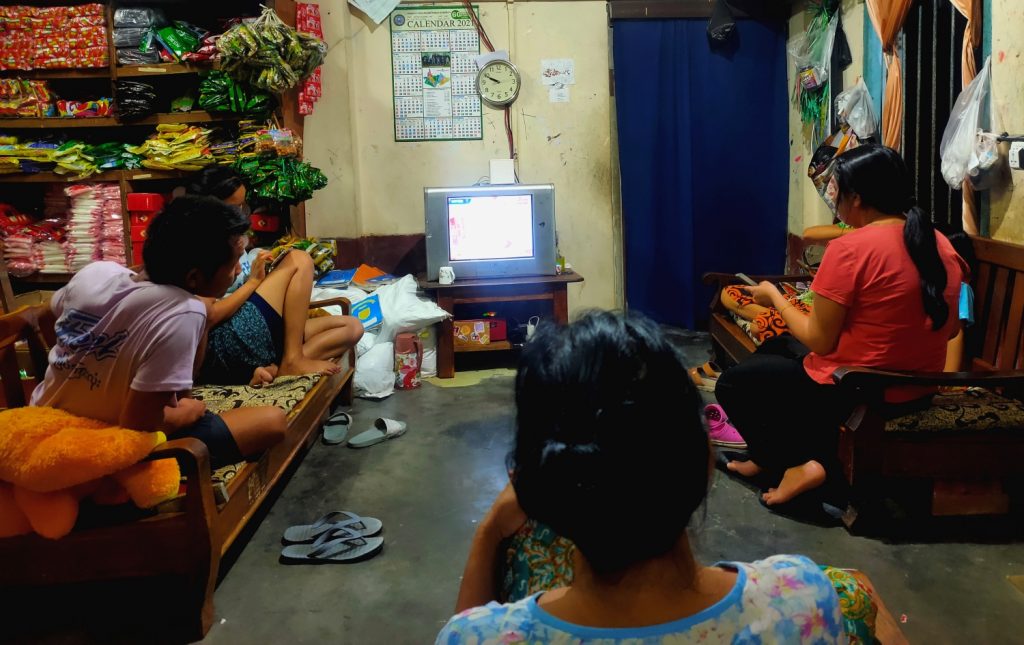 An uneasy exile
Khar Te, a Chin medical doctor from Hakha, also fled to India on a day's notice. He had planned to start a master's degree on a scholarship overseas in July, but those plans are now in doubt. In February, he helped initiate the CDM in the Chin State capital, where he said more than 90pc of government staff ultimately participated. He was also part of a network of volunteers that helps CDM participants, and especially members of the Myanmar Police Force, cross into India.
Khar Te said he helped nearly 200 people, including more than 160 police officers, flee to Mizoram, but he narrowly escaped arrest for this work in early March. After some police deserters he had assisted were arrested before making it to the border, junta forces raided his home the next day. On their arrival, his mother ushered him out the back door and police mistakenly arrested his friend. By the time they released the friend, Khar Te was long gone.
It usually takes less than four hours to travel by motorbike from Hakha to the Indian border, but Khar Te's backroads journey took 11 hours. After crossing the border, he rented a car and drove to Aizawl, where he is staying with family members and relying on their support as well as financial assistance from relatives in other countries.
Despite being undocumented in India, Khar Te told Frontier he feels fairly secure in Mizoram. "[The local people] know we are from Myanmar and appreciate the situation … they are quite supportive and welcoming; they allow us to stay," he said.
He is continuing to fundraise for the CDM but is anxious about the future. Days after he fled, the junta issued a warrant for his arrest, ruling out his chances of returning to Myanmar to apply for an overseas study visa.
"Being accepted into the university was a dream come true. Now I am stuck here and spending too much time worrying about whether I will be able to travel there. It's very stressful," he said.
Khar Te said he is now having second thoughts about continuing his education, even if it were possible to obtain a visa to travel abroad. He and some friends have discussed assembling a medical team to respond if full-scale armed conflict breaks out in Chin State. "If I get a chance to go to university, what will happen if there is a civil war [in Chin State]? I don't want to feel guilty about the decision I've made," he said.
Soesandartu, the activist in Kalay, also feels uneasy about her decision to flee. She had vowed to remain in Kalay as long as she could, but left when she came to the junta's attention in late April.
"I had decided to stay in Myanmar until they [tried to] arrest me at my house," she told Frontier the day before she fled to the border, after noticing junta forces lingering near her house and taking photos. "If I'd gone to jail, I wouldn't be able to fight them."
Travelling with her two-year-old son, a bag of rice, milk tea powder and gifts for relatives who live in Mizoram, she said goodbye to her husband and took a bus to the border.
Several days after arriving, she moved from her relatives' house to a large compound about 80km from Aizawl that a local charity group had rented for recent arrivals from Myanmar.
Soesandartu said she felt "uneasy" about no longer being able to participate in the uprising against military rule and planned to return home within a month.
"I don't like to stay far from home when people [there] are suffering," she said.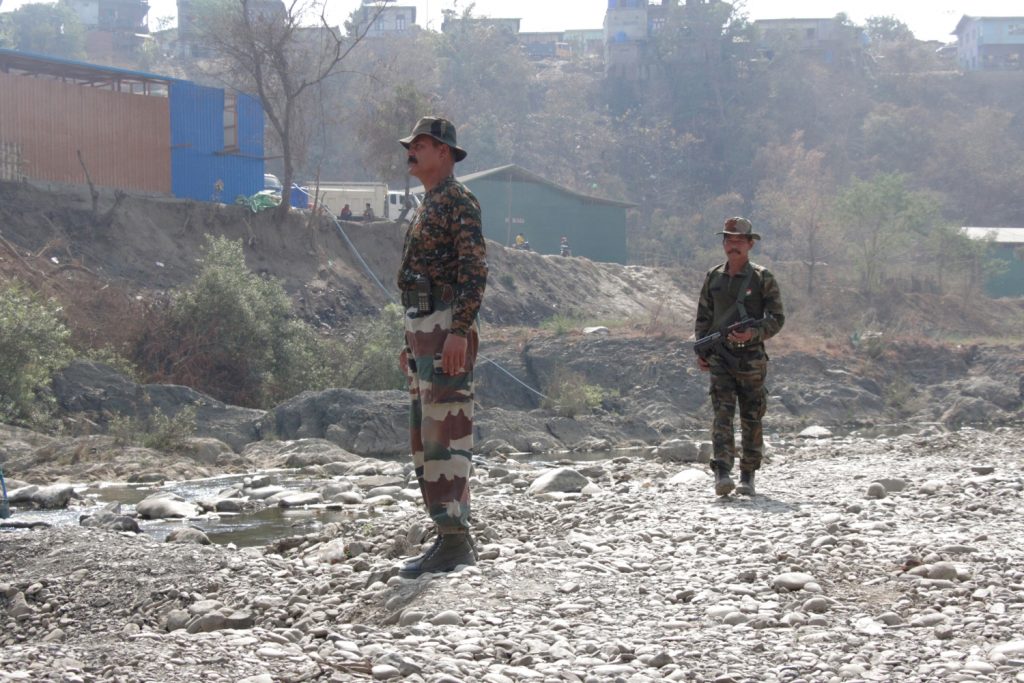 'Our Mizo brethren'
Many of the volunteers helping those who've fled to Mizoram are, like Salai Ngapang, Chin who grew up on the Myanmar side of the border. Salai Ngapang, who left Chin State for Mizoram 20 years ago, says he began collecting donations from Chin in Mizoram and abroad in early March; in collaboration with churches, student groups and non-government organisations, the volunteer group he started has assisted nearly 200 CDM participants and their families so far. The group has arranged three houses for them and also provides food, medicine and a weekly cash allowance of between INR8,000 and INR10,000 (about K170,000 to K210,000) to each family.
Salai Ngapang said most of the people he's supporting intend to return home when it is safe. In the meantime, the group plans to find them better accommodation and day jobs.
The hospitality of Mizoram residents contrasts sharply with the reaction of the Hindu-nationalist central government in New Delhi. On February 25, India's home affairs ministry instructed the Assam Rifles, a paramilitary force that guards the border, and the authorities in the four states bordering Myanmar to "stay alert and take appropriate action to prevent a possible influx" of undocumented arrivals from Myanmar.
The ministry reiterated its message in a letter on March 10. The letter also reminded state authorities and border security forces that India is not party to the 1951 United Nations Refugee Convention or its 1967 protocol, meaning that state governments do not have the power to grant refugee status to any foreigner. The ministry also referred to directives issued in 2017 and 2018 that called for law enforcement and intelligence agencies to identify undocumented people and quickly deport them.
The Mizoram state government has pushed back. On February 27, two days after receiving the home ministry directive, it issued Standard Operating Procedures that required humanitarian aid to be provided to arrivals in imminent danger. However, it revoked the SOPs on the orders of the central government on March 6, The Indian Express reported.
On March 18, the Mizoram chief minister, Zoramthanga, who has just one name, said in a letter to Prime Minister Narendra Modi that India "cannot turn a blind eye" to the crisis in Myanmar. He described the Chin communities bordering Mizoram as "our Mizo brethren with whom we have been having close contacts throughout all these years even before India became independent".
Meanwhile, some Mizoram people have protested in solidarity with the new arrivals. On March 23, the Zo Reunification Organization, a civil society group, held a sit-in demonstration in Aizawl to oppose the home ministry's March 10 letter calling for the expulsion of undocumented arrivals.
Salai Ngapang said his volunteer group had received a friendly response from both the state government and the host community.
"We approached the state government and got approval from them, so we are [helping the refugees] openly and freely," he said, adding, "The host community has warmly welcomed the CDM participants and donated clothes for those who fled suddenly. They have empathy for them and they are angry about the military coup."