The nascent coffee sector has been lauded for weaning smallholder farmers off opium planting, but in Shan State two donor-backed projects have been fighting bitterly over farmers.
By FLORIAN GUCKELSBERGER | FRONTIER
IT LOOKS like a fairly standard development project photo op: United States ambassador Mr Scot Marciel, pushing a coffee seedling into the ground. The May 2018 image shows the diplomat, dressed in leather shoes and a white shirt, kneeling on the distinctive pinkish-red soil of Shan State, surrounded by curious-looking farmers, one of whom is capturing the moment with a smartphone camera.
Fifteen "likes" and only one comment: there's little immediate reaction when the photo is shared on the embassy's Facebook page. Yet to some it represents an escalation in a dispute between the United Nations and the US over illicit drugs, coffee and the best means of providing smallholders with a long term, bankable alternative to opium cultivation.
Myanmar is the second-largest producer of opium globally, after Afghanistan. Although Myanmar produces significantly less than at its 1990s peak, when the Golden Triangle region was the global centre of illicit drug production, the UN still estimates that 520 tonnes of opium was produced in 2018. The production and sale of opium generates billions of dollars in profits each year.
Little of it though ends up with the estimated 70,000 smallholder farmers in remote and inaccessible areas of the country who make their living from the latex obtained from the plant. The average income of a household in a poppy-growing village in southern Shan is less than US$3,000 a year, which is just enough to make ends meet. At the same time, there is a high degree of risk involved: police officers conduct regular campaigns to destroy poppy fields and farmers are occasionally prosecuted.
Many opium farmers have few alternatives, due to conflict and insecurity, lack of infrastructure, and the terrain and climactic conditions. But on the slopes of mountainous Shan State, you can cultivate surprisingly high-quality coffee. Such is the quality that its sale could generate income similar to that of opium cultivation, exciting development agencies that see it as a viable alternative crop.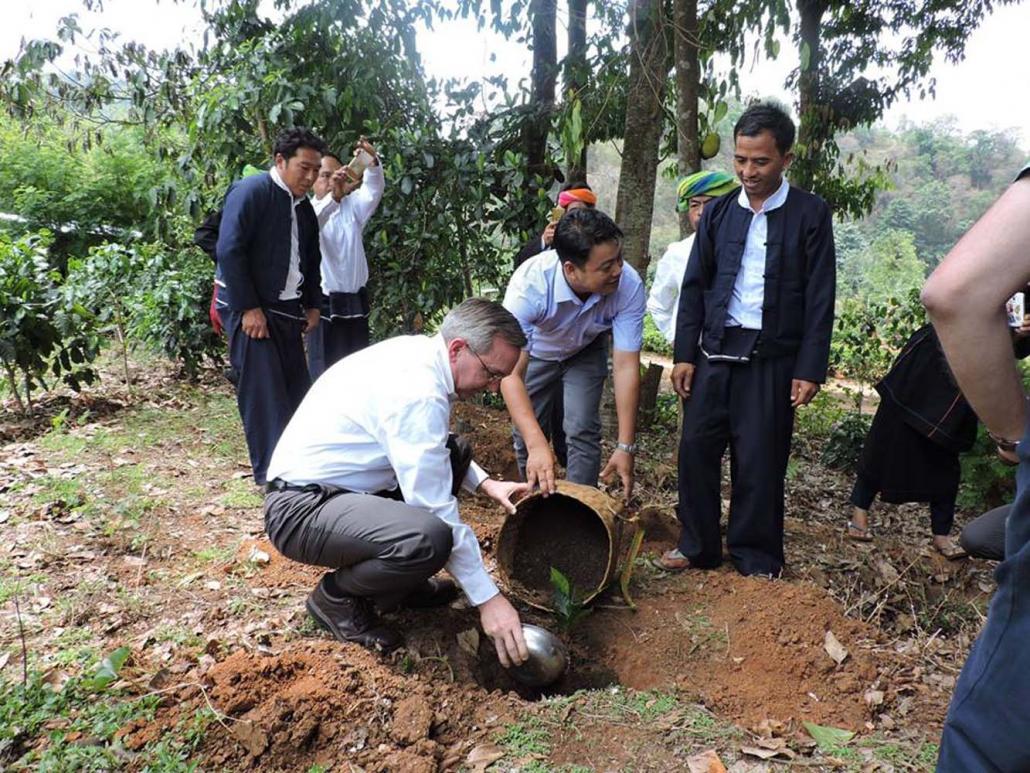 This is what brought Marciel to Shan: the planting was staged in aid of a US Agency for International Development-financed project that is supporting coffee production in the region. It sounds like a positive development, but not everyone is happy.
"Like a conquistador ramming the Spanish flag into the soil of South America." That's how Mr Jaime Eduardo Perez Mayorga describes the photo of the kneeling ambassador. The Colombian sits with rolled up sleeves at his desk, the sweat on his forehead making his short, black hair shine. Mayorga works for UNODC, the United Nations Office on Drugs and Crime. What bothers him is that the place where the ambassador planted the coffee tree, in Hopong Township within the Pa-O Self-Administered Zone, is in the middle of his project area. With support from German and Finnish taxpayers, UNODC has been working there for 10 years.
Together with his colleagues, Mayorga fights against the cultivation of opium poppy and, just like the Americans, focuses mostly on coffee. "There are 30 million farmers in this country, so why do they have to bring their ambassador to us?" asks Mayorga. It's late and most staff have already left the UNODC office in the Shan State capital Taunggyi, but Mayorga wants to talk.
He recalls how the coffee project started off so promisingly and then all of a sudden farmers began deserting him. "Before they had coffee, no one cared about the farmers. And suddenly the Americans turn up like the Messiah." Mayorga is sure that his farmers are being lured away. The fact that the US ambassador planted a coffee tree in the UN project area a short time later is no coincidence to him: "They have a strategic plan for this area!"
Ms Anne-Claire Degail laughs briefly when asked about Mayorga's accusations, but then apologises and gets serious. Degail is a manager for the American non-profit organisation Winrock International, which implements the project financed by USAID. "For the UN, we are pirates," says Degail, referring to the accusation that Winrock has wooed farmers away. She believes that coffee can actually get farmers away from opium poppies – just not the way the UNODC does it.
This is because the UN agency encourages farmers to produce for the mass market. For smallholders this coffee simply does not make enough money, even when sold for significantly more than the international price. Degail, on the other hand, focuses on specialty coffee: carefully cultivated and processed beans that achieve high ratings from the jurors at professional tastings and attract a much higher price. According to Degail, the farmers are not being "poached". They just prefer to work with Winrock because they can earn more money.
The fight has a history. Since 2009, UNODC has been experimenting with alternative sources of income for opium farmers in Myanmar. At first it bet on potatoes, but that didn't work. Without trucks and asphalt roads, farmers couldn't transport the heavy sacks from their remote fields to a market. Realising that coffee could generate a significantly higher price relative to the weight of the product, and was therefore suitable for cultivation in poorly developed areas, UNODC switched in 2014.
Winrock has been working in Shan since 2014, under a five-year project that provides expertise and market linkages to smallholder farmers growing coffee, tea, ginger and other products so they can increase their productivity and profits. Its coffee activities were initially further to the west in Ywangan Township, in the Danu Self-Administered Zone near the border with Mandalay Region. At the beginning there was a friendly exchange between the managers of the two projects.
However, tensions began to rise when six farmers got onto a bus in February 2017 and drove west from the UN project area to where Winrock was working. Mayorga of UNODC describes them as defectors; Degail says they were simply smart, and wanted to learn how they could earn more from their crop. The farmers told Frontier that they turned their backs on the UN project on their own initiative. Mayorga doesn't believe that. He's convinced they were poached.
According to two sources, UNODC responded to this development by submitting a complaint to its US counterparts. UNODC country manager Mr Troels Vester insists there was no official complaint, but a spokesperson from the US embassy in Yangon confirmed that in November 2017 the embassy "heard from UNODC about concerns related to working with farmers in the same area of Shan State".  Subsequently, USAID and UNODC began holding regular coordination meetings in early 2018.
Mr Matt Curtis, a USAID agricultural development officer based in Yangon, said these had become necessary because the coordination "on the ground between implementing partners wasn't enough and needed to be raised up to an institutional level". It was at one of these meetings that Vester raised his displeasure about the ambassador's unannounced visit in May 2018. "They [USAID] said we apologise and I said apology accepted. It was not a complaint."
If coffee is now a political issue in Yangon, you wouldn't know it at Khun Ye Hlaing's plantation near the village of Bant Sawk in Hopong Township. Sealed roads and the electrical grid have not yet arrived in this area of northeastern Myanmar. The vegetation is dense and protects the opium poppy plantations from prying eyes, while the soft clay soil deters the heavy police and military vehicles. Even Khun Ye Hlaing's motorcycle succumbs: the final stretch to his farm can only be completed on foot. Khun Ye Hlaing leads, a small group of coffee farmers trailing behind. At the end of a narrow path he stops and reaches for a branch full of coffee cherries. He thinks he has his future in his hands.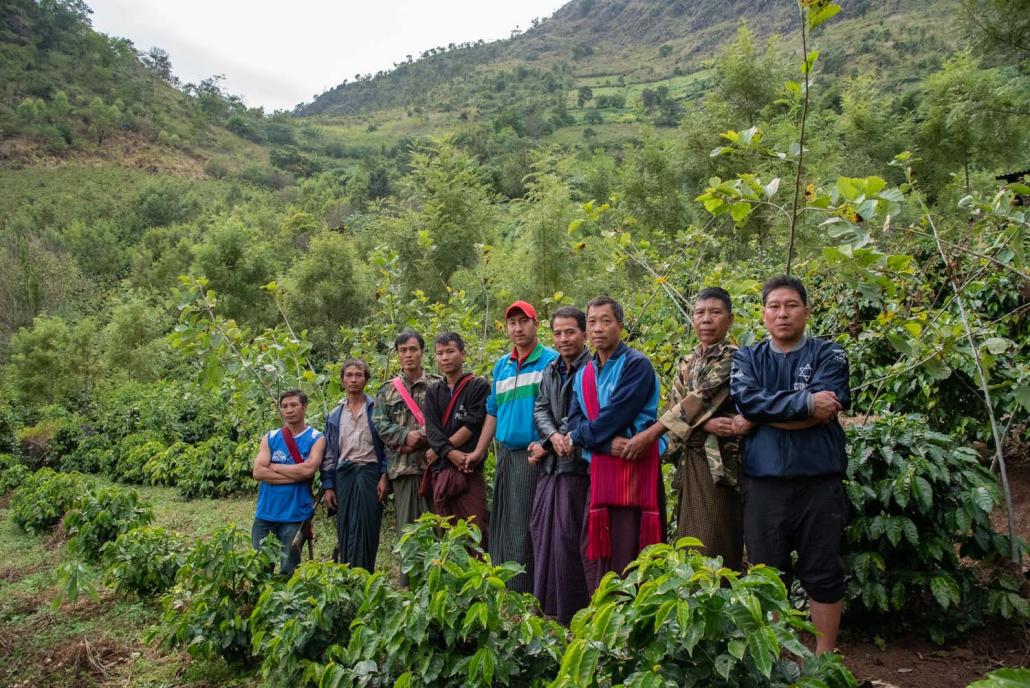 "In the beginning we sold our coffee to Green Gold," says Khun Ye Hlaing. "But the price was just too low." Green Gold is the cooperative initiated by UNODC and supported by the Swiss government that today includes around 950 Myanmar smallholders. With assistance from the UN, Green Gold signed a five-year agreement with the French importer Malongo at the end of 2017, and in October last year the first container filled with coffee bags was sent to Europe. On March 22, UNODC and Malongo launched "Shan Mountain Coffee" in Paris, with a VIP tasting attended by parliament president Mr Richard Ferrand. The brand is now available at Malongo stores in Paris and Nice.
But some of the smallholder farmers feel badly treated by UNODC. Sai Maung Lwan, a former board member of the Green Gold Cooperative, was one of several who complained to Frontier that they were informed too late of the price negotiated with Malongo. He said they were brought to the capital Nay Pyi Taw to sign the agreement, but the purchase price was only announced in the bus on the way home from the ceremony (both Mayorga and Vester insist this is incorrect).
Khun Ye Hlaing is now a director of Indigo Mountain, a farmer-managed company established with support from Winrock that sells its members' coffee at significantly higher prices than Green Gold. The price difference is so great that more than 50 Green Gold farmers have already switched, Khun Ye Hlaing says.
For Degail, the Winrock manager, it's a simple calculation. Indigo Mountain's sales price to European coffee importers such as the Dutch company This Side Up is between 2.90 and 3.75 euros a pound ($7.25 and $9.35 a kilogram). The agreement between Green Gold and the French buyer Malongo currently guarantees 1.50 euros for the same amount. "The UNODC always claims that price is not the deciding factor. But to be honest, that's exactly the case," says Degail.
But leaving Green Gold is not such an easy decision, some farmers feel. Ma Nann Pan Phyu, 38, is from Long Hay village in Hopong, where there are members of both Green Gold and Indigo Mountain. She began growing coffee on about three acres with UNODC support in 2014 but continued to grow opium until 2017, when she harvested more than 600 kilograms of coffee cherries. Her production rose 50 percent last year, but Nann Pan Phyu says it's still not enough to support her family and she has to grow other crops between the coffee trees.
Still, she stuck with the UN out of a combination of loyalty and fear of losing the other benefits the partnership brings, including free fertiliser and advance payments on her crop. The Indigo Mountain model, Nann Pan Phyu adds, is more suitable for wealthier households who can afford to take risks. "Honestly, I want to get a higher price for my coffee so I considered switching but in the end decided not to," she says.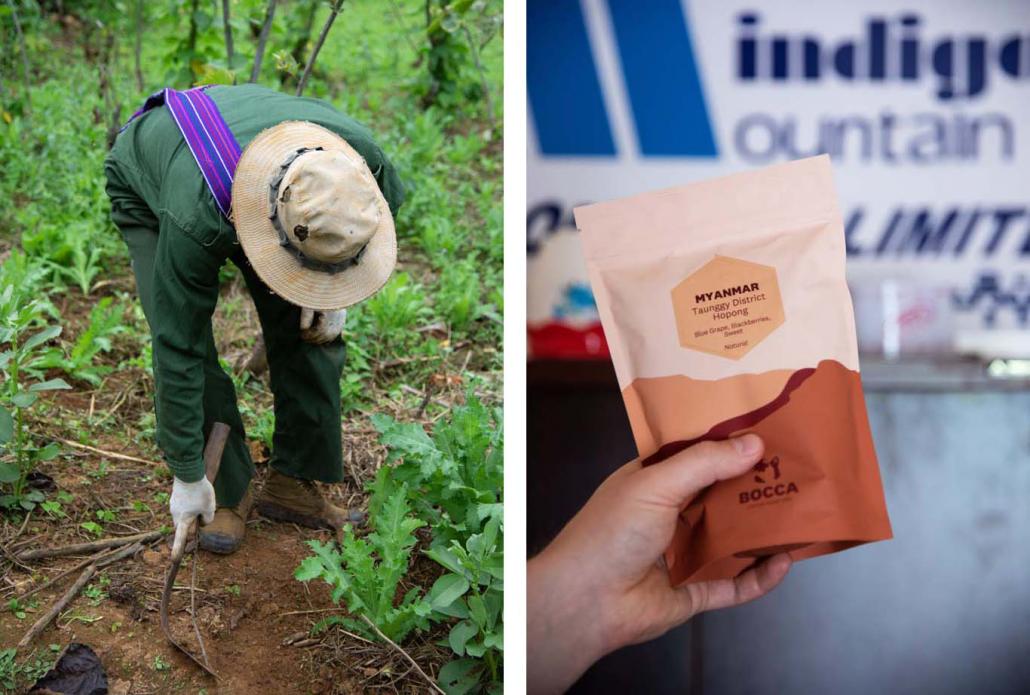 UNODC insists it is aware of the importance of coffee prices for the success of the project. Vester says the price agreed with Malongo is about 80 percent above the international price of coffee. While small quantities of specialty coffee might attract a further premium, he says it would be difficult to achieve these higher prices when selling larger quantities.
He argues that the deal agreed with Malongo makes coffee a viable alternative to opium cultivation in Shan State, where opium prices have been falling and buyers are increasingly paying farmers in "yaba", a pill form of methamphetamine common in Myanmar. Another advantage of coffee is that unlike opium, there's little risk that the police will destroy your crop. Mayorga thinks that Winrock's approach is flawed; the UN is committed to all farmers. "We're all about development; Winrock's all about business," he says.
But is that true? Those looking at Myanmar's coffee industry quickly come across entrepreneur U Ngwe Tun. In 2012 he founded the company Genius Coffee, which, like Indigo Mountain, focuses on the high end of the market. He does not share Mayorga's concerns that the market for premium coffee is not large enough for Myanmar farmers. "My problem is that I can't get enough coffee produced for my potential customers."
Ngwe Tun says his company buys from 17,000 smallholders and produced 250 tonnes of coffee last year – significantly more than Green Gold. Nevertheless, the UN is not interested in his expertise, he says. "Instead, they bring programmes from other countries," he says angrily. "They never knocked on our door and when we sent an e-mail, there was no answer."
To sort out the squabble, USAID, Winrock, UNODC and representatives of the German and Finnish embassies sat down on November 19, 2018 The conversation covered coffee prices, the farmers switching to Indigo Mountain and the question of whether Shan was big enough for two projects after all. The meeting was professional and courteous, several people present said, but it does not seem to have resolved the grievances that had accumulated over the previous 18 months. "There was some misunderstanding among the donors about some of the intentions," says Curtis from USAID. "So it was mainly information sharing and clarifying the approach that people were using and trying to come to an understanding and way forward." He adds that "a number of recommendations for coordination … were discussed but didn't ultimately result in anything changing".
The German donors to the UNODC project were represented by Ms Katharina Spiess from the German Federal Ministry for Economic Cooperation and Development, known by the German-language acronym BMZ. She declined to comment on the meeting or any aspect of the project. A spokesperson for the German embassy in Yangon referred Frontier's request for comment to the German Foreign Office, which in turn forwarded it back to BMZ.
Their reluctance to talk could have something to do with Mr Hans-Jochen Wiese. The German aid worker came to Myanmar in 2013, shortly after the attempt to establish potatoes as an alternative to opium poppies had failed. Several people told Frontier that it was Wiese who had suggested trying coffee. This makes sense: Wiese worked for three decades in Peru on behalf of UNODC and his recipe for fighting coca farming there was coffee, cocoa and palm oil. Why couldn't it also work for opium in Myanmar? Wiese got the job and became part of the team that established the first coffee plantations under the UNODC project in 2014.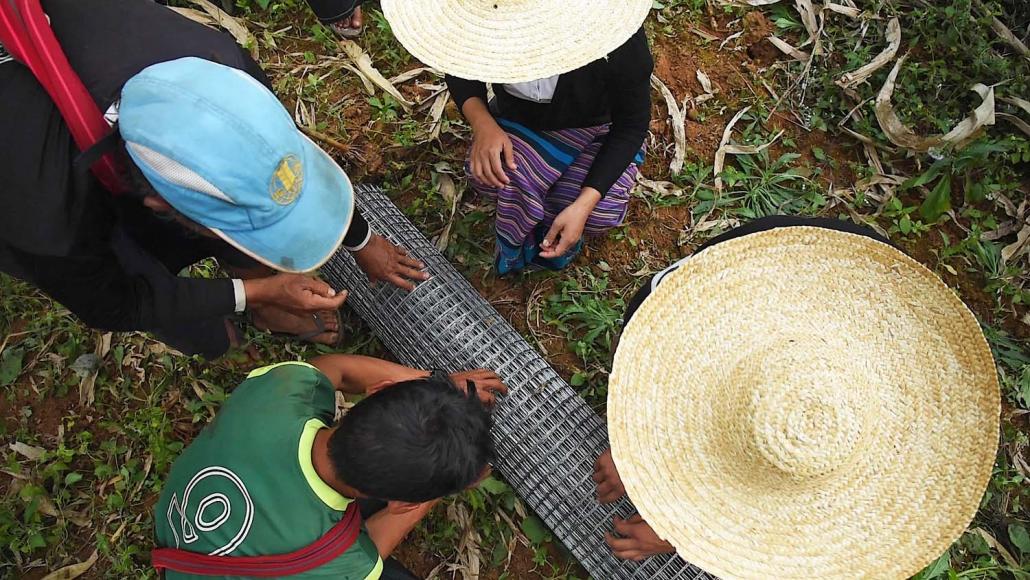 Then, on September 22, 2016, a German weekly newspaper, Die Zeit, published a report into Wiese's work in Peru. If the project was as successful as the UNODC claimed, how could it be that the country developed into the largest coca producer in the world during Wiese's time there? During their research, the journalists came across farmers who said they had been disempowered by Wiese.
They found that coca plants were still growing under UN-planted oil palm trees, and a factory built with UN funds to process the palm oil was being run by a former business partner of Colombian drug kingpin Pablo Escobar and yielding fabulous profits. The project in Myanmar had temporarily lost funding, so Wiese was out of contract, but a person familiar with the project said the revelations in Die Zeit were so damaging that the UN could never employ him again. Shortly afterwards, Wiese retired. He could not be reached for comment.
As in Peru, Wiese left behind a controversial legacy in Myanmar. "Development aid money is being squandered," sums up a person familiar with the UNODC project in Shan, who spoke on condition of anonymity. The person argues that Myanmar is too late for the mass market: "It is impossible for coffee farmers here to compete with countries like Brazil or Vietnam." Large quantities of coffee are produced there on huge plantations. In Shan, farmers who take part in the UNODC project have free shipments of fertiliser delivered right to their door. What happens when the donor funds stop?
Vester acknowledges that "dependence on external supplies" is a problem and says UNODC is addressing it by helping farmers to produce organic inputs that would replace the free deliveries. Meanwhile, the BMZ and German embassy in Myanmar appear to be standing by the project. In December, a few weeks after the discussion with the Americans, Berlin promised further millions in financial support, according to Vester.
Today, USAID and UNODC are projecting unity to the outside world and trying to play down any suggestion of conflict. Both point to the fact they are planning a joint field trip to Shan. Vester insists that the "implementation issues" have been "spun out of context", while Curtis says both UNODC and USAID have shown "good faith" in trying to resolve problems. "I think there's just a fundamental difference between an economic growth activity and a crop substitution activity," he says.
The farmers, too, are reluctant to complain publicly. But they express their views in other ways. Khun Ye Hlaing is back from the mountains and now sits in Indigo Mountain's headquarters in southern Hopong Township. Another half a dozen farmers from Green Gold have switched over. In the warehouse behind the group there are wire reels and bamboo canes. With Winrock's guidance, they will use them to build drying tables so they can sun-dry their coffee cherries. The result is a premium product that will attract a premium price.
"Like this," Khun Ye Hlaing says, "we can make the leap from opium to coffee." Another farmer chimes in. "Maybe the competition between Green Gold and Indigo Mountain is good after all," he says. "We can always sell to the one who offers us the best price."
– Additional reporting by Kyaw Ye Lynn and Thomas Kean
This article was written as part of the Goethe-Institut's Close-Up journalists' exchange programme. There's more information at www.goethe.de/nahaufnahme and at #goethecloseup.
TOP PHOTO: An opium field in southern Shan State. (Rajiv Raman | Frontier)