Online shopping is taking off in Myanmar but there's concern that consumers will become victims of unsafe products and false advertising unless the industry is regulated.
By SU MYAT MON | FRONTIER
A YANGON lawmaker has drawn attention to a lack of regulation over the emerging online shopping sector, with concern expressed about unsafe products, misleading advertising and tax avoidance.
The issue was raised by U Than Naing Oo (National League for Democracy, Pabedan-1) who said he was concerned about the safety of food, pharmaceuticals and cosmetics sold online.
Myanmar's internet boom following the liberalisation of the telecoms sector – which saw the price of a SIM card drop from US$1500 to $1.50 in four years – has led to an explosion of entrepreneurs establishing digital businesses. Growth in online marketplaces has been particularly strong, with many using Facebook to promote and sell products.
Lawmakers have a responsibility to ensure that online shopping is regulated to protect consumers from unsafe or inferior products, Than Naing Oo said, adding that another problem was false advertising.
"I'm not opposed to online shopping but it needs to be properly regulated for the sake of consumer protection," the lawmaker told Frontier.
He asked about the regulation of the industry in the regional hluttaw on October 11.
Yangon Region Minister for Planning and Finance U Myint Thaung replied that it was illegal to sell products online without permission. All retailers in the commercial capital, including those online, need to be licensed by the Yangon City Development Committee. If they are selling food, pharmaceuticals or cosmetics they also need approval from the Food and Drug Administration, he said.
The maximum penalty for breaching FDA regulations is a three-year prison term and a fine of K500,000, Myint Thaung said.
The minister said companies selling online also had to meet their tax obligations.
However, it seems that Myint Thaung may have been misinformed about the role of the YCDC.
"YCDC does not issue business licences for online shopping," U Hla Kyaing, deputy head of the Administration Department, told Frontier. "Even if they register their business with YCDC, we cannot issue them with a licence."
Business licences are only provided to brick and mortar shops, he said, adding that they must be able to produce a licence when requested by the authorities, who conduct spot checks around the city.
It's a confusing situation for those with online businesses in Yangon.
"We do not know what to do yet," said Ma Mee Mee, who sells a popular brand of noodles online.
Mee Mee told Frontier on October 17 that she had heard about the government warning online businesses to register with the YCDC but she did not know the process clearly.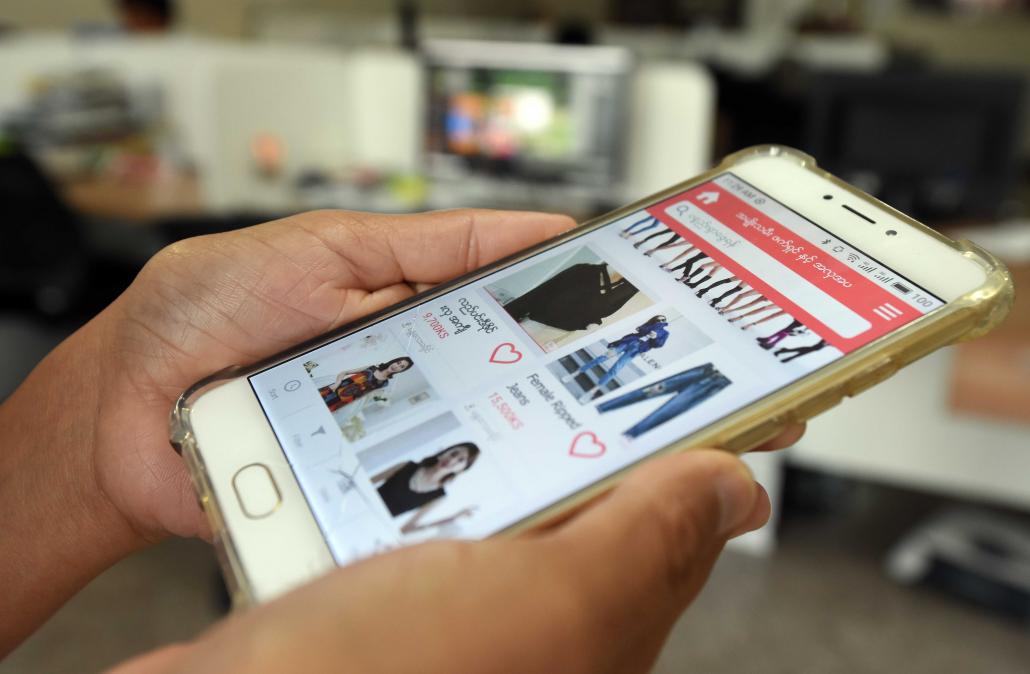 Than Naing Oo, the NLD parliamentarian, said it was essential that drugs and cosmetics sold online had FDA approval because inferior products posed a threat to people's health. Unsafe cosmetics could cause skin damage to the face, he said.
He acknowledged that some people were reluctant to seek approval from the FDA because of negative experiences dealing with public servants under junta rule, adding that the reason for closer monitoring was that they wanted the online marketplace to improve.
He added that higher standards in the online marketplace would not only help customers but also businesspeople, who could improve their standards in a move that would help them compete with other companies abroad, particularly those operating in Southeast Asia.
"It is not like they said, that we are trying to kill the businesses," he said, referring to some recent news reports.
He also encouraged online businesses to register with YCDC, because at K10,000 it isn't expensive, he said, and would ensure that they were operating within the law.
Than Naing Oo warned that the huge popularity of Facebook and the ease of creating a page to sell products online would have serious consequences unless the sector was regulated.
Complaints about online selling were growing, he said, adding that regulation would end confusion and bring certainty for businesses and protection and reassurance for consumers.
He urged online businesses dealing in food, pharmaceuticals and cosmetics to ensure their products had FDA approval "so they don't have to worry".
However, Than Naing Oo acknowledged that one of the challenges faced in ensuring online businesses adhere to the law is a lack of capacity, both among authorities and parliamentarians.
"Even if we ask questions [about this issue] every week, the government's ability to follow up on each case would be very slow," he told Frontier. "Even if we did, it would take a long time to make the situation smoother."