The confirmation of Myanmar's first COVID-19 cases sparked almost immediate panic buying of basic commodities in Yangon, despite warnings that gathering at crowded markets could increase the risk of infection.
By NANDA | FRONTIER
WHEN U Aung Min Lwin opened his rice trading shop, Sun and Moon, in Yangon's Sanchaung Township early on March 24, he knew it wasn't going to be just another ordinary day. Overnight the Ministry of Health and Sports had announced Myanmar's first two COVID-19 cases, and there had already been panic-buying at 24-hour stores.
At his usual opening time of 6am, there was a small crowd outside his shop. By 2pm, he had sold his entire stock to nervous customers of about 400 bags, each containing 49 kilograms of rice. On a typical day he might sell 40 bags, he said.
"It was like after Cyclone Nargis," said Aung Min Lwin, referring to the panic buying that followed a May 2008 cyclone which tore through the Ayeyarwady delta, leaving almost 140,000 people dead.
Ordinarily the high sales would have delighted Aung Min Lwin. But yesterday, it left him with a bad feeling. Despite the high demand, he was not tempted to raise his prices. A hand-written note on the gate to his store said, "The rice price has not been increased. It is the original price."
"We don't want make a profit out of other people's misery," Aung Min Lwin told Frontier.
At nearby Shan Lan Market on Baho Road, vendors and stalls were also inundated with shoppers. The market normally gets busy from about 7am, but at 5am there were already large crowds. Most were ignoring the usually popular fish vendors and instead flocking to the grocery stores for non-perishable goods, or to vendors for basics like garlic, onion and chilli.
Business was so brisk that vendors didn't even have time to respond to questions from customers, and shoppers seemed uninterested in asking around for the lowest price. Nobody seemed to care about following the guidance from the Ministry of Health and Sports that they keep at least a metre's distance from one another.
Asked if he was concerned about the risk of catching COVID-19 in such a crowded place, one vendor said, "We have no choice. What are we going to do – close our shop? We've got many mouths to feed. If we don't work, who will feed us?"
Rather than risk possible infection, some shoppers hired trishaw drivers like Ko Maung Naing to venture into the market to buy goods for them. "Most of the time we just have to buy oil and rice," the driver said, of the errands that he and his colleagues were running.
As he spoke, streams of people walked past him from the market, many struggling with heavy bags of goods. Some were stocking up precisely to avoid the crowds in the coming days and weeks. "I don't want to go anywhere with a lot of people, so I just bought everything that I needed in one go," one shopper told Frontier.
When supplies began to run low at Shan Lan Market, trucks arrived to deliver more stock. This then caused traffic chaos, which added to the sense of panic and prompted police to intervene in an attempt to restore order. But by 11am – well before the 5pm closing time – the crowds had already begun to subside.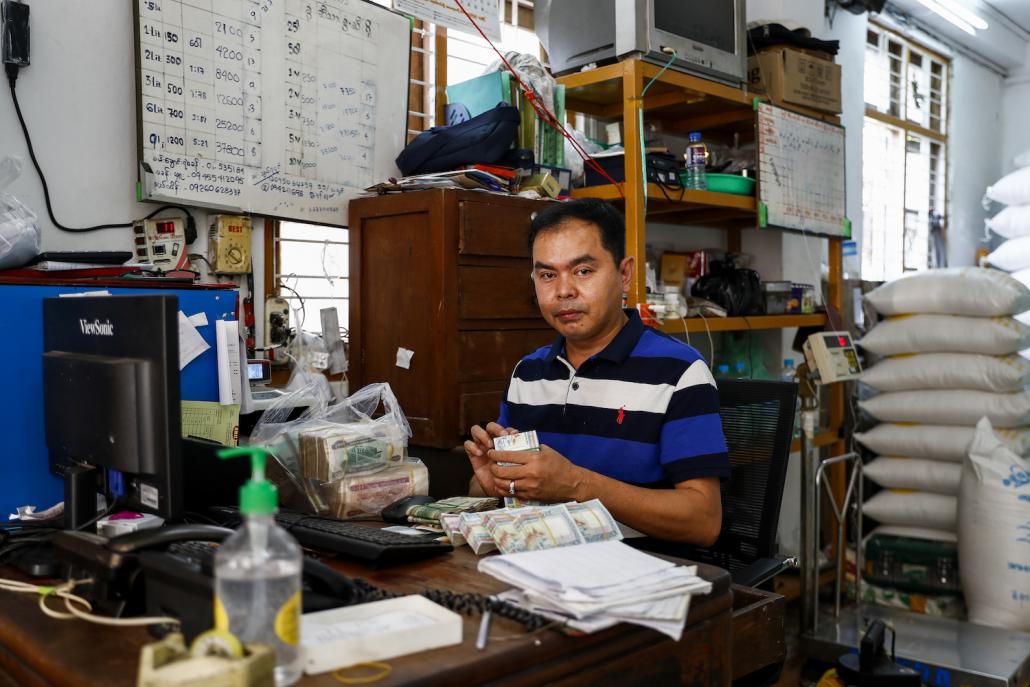 Outside one grocery store, a woman stacked dozens of empty trays. Each of them had held 42 eggs just a few hours earlier. "Come back this afternoon," she said.
It wasn't just markets that were hit. At nearby pharmacies, long lines of customers snaked out of the doors, with many trying to buy supplies of medicines for fear they would sell out.
This was not the first panic-buying that Yangon has seen as a result of the global COVID-19 pandemic. On the evening of March 12, shoppers flocked to supermarkets to stock up, after an audio file purporting to be of a government official admitting that Myanmar had recorded its first case of COVID-19 began circulating online (the government shortly afterward claimed the file was fake).
The earlier shopping spree quickly subsided and the following day government spokesman U Zaw Htay encouraged people to read only reputable news sources. He also said the government would identify and take action against those spreading rumours.
Three days later, State Counsellor Daw Aung San Suu Kyi also urged calm in a nationally televised speech, saying that "people are the key to prevent rumours and misinformation in the wake of the COVID-19. People are the key to avoid panic-buying and stockpiling the goods."
Her advice appeared to calm the situation, but the March 23 announcement of the first COVID-19 cases ­sparked an almost immediate rush to 24-hour stores, with customers loading up trolleys with essential goods.
A Frontier photojournalist who was at the "usually quiet" City Mart in Sanchaung's Myaynigone area said it had been "transformed into a war zone" by the rush of midnight shoppers.
Photos posted to Facebook showed rows of empty shelves. For some, this only added to the sense of panic, but others made fun of the shoppers, or expressed alarm at how people were ignoring advice to practice social distancing, expressing concern that the crowds who were out shopping could actually be spreading the virus.
"In other countries, there have been many examples of mass infections due to panic buying," Zaw Htay warned on his Facebook page yesterday.
Whether they were out buying rice and oil or lying in bed watching the disorder unfold on Facebook, for many March 23 was a sleepless night. The panic buying continued into the next morning at local markets across Yangon, particularly Bayintnaung wholesale market, although it wasn't universal. Some residents reported that local supermarkets and convenience stores were still well stocked and had no increase in customers.
The government and some business associations have sought to calm jangled nerves. The Myanmar Rice Federation assured the public in a statement on March 24 that there was more than enough rice in Myanmar to meet demand. The government has previously said it has rice in reserve and would halt exports if necessary.
Some businesses have also taken the initiative to calm the public. City Mart, the country's largest supermarket chain, issued a statement on the afternoon of March 24 reassuring customers that it had "enough stocks for your daily essential items and household groceries", and also said it was sanitising stores and monitoring the health of staff and customers. On March 25 the supermarket chain introduced per-customer limits on a range of products, including rice, cooking oil, and some pharmaceutical products.
But journalist and Myanmar Journalism Institute chair Zeya Thu urged the authorities to take stronger action to discourage hoarding. "The government and people with influence should intervene and say that there is no need to panic buy," he said.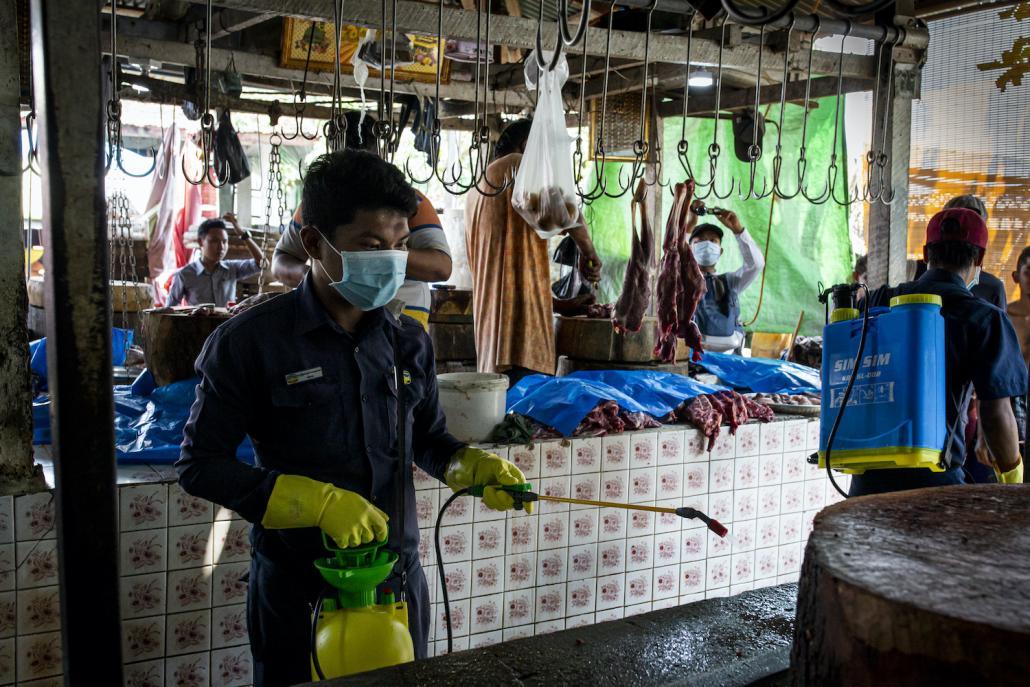 Myanmar is not the only country grappling with the problem. Around the world, images of empty supermarket shelves have become an increasingly common sight.
Student Ma Akari Bo said supermarkets in the United Kingdom, where she is studying on a scholarship, had been forced to introduce limits on the buying of pasta, UHT milk and toilet paper following panic buying in mid-March.
She added that panic buying only punished poorer families. "Rich people can afford to panic buy and hoard goods but low-income people can't do that," she said.
A group of Mandalay residents have responded to the crisis by forming a volunteer team called "Together, people don't need to go shopping", to help people including the sick and the elderly to get supplies, without having to brave the crowds.
The team started out with just two people, but soon gathered more volunteers, as news about the movement spread online. An offer to buy goods and deliver them for free received 15 requests over the course of a single day, said founder Ko Pyae Phyo Htet.
"There were some people panic buying in Mandalay," he said.
On the night of March 24, Aung San Suu Kyi again implored the public not to stockpile goods. "There is no likelihood that we will run out of stock. If you go into the crowd to buy these commodities, there is more likelihood that you will catch the disease," she said.
Responding to widespread rumours of an impending lockdown, she said the government has no plans to close down necessary public services or markets, but only one person from each household should go shopping, to reduce crowding.
"Fake news [is] floating around that enterprises, factories, workshops will be closed; and that entry and exit points to townships and villages will be closed. Please do not get panicked by such news," she said.
By the morning of March 25, markets and stores seemed to be returning to normal, although the number of shoppers was still relatively high. Pharmacies were still sold out of some products, but just about everyone else at Shan Lan Market had restocked, including Aung Min Lwin.
He said he thought Aung San Suu Kyi's speech had helped to calm nerves. He sold only 100 bags of rice today.
Asked what message he had for those concerned about shortages, he said: "Don't worry, there'll be enough to go around. Together we'll get through the pandemic."