The closure of dozens of illegal trade gates along the border with Thailand to prevent the spread of COVID-19 is causing shortages of everything from beer and energy drinks to detergent and cosmetics, highlighting the vast scale of informal trade with Thailand.
By NAW BETTY HAN and THOMAS KEAN | FRONTIER
For decades, billions of dollars of goods have crossed the Thai-Myanmar border through dozens of illegal trade gates in Kayin State's Myawaddy Township that are run by armed groups.
Each day, hundreds of trucks drive to the Thai side of the Thaung Yin (or Moei) River in Mae Sot, where their cargo is processed by Thai Customs, unloaded by hand onto small boats, ferried across the narrow stretch of water to Myawaddy and stored in warehouses for distribution throughout Myanmar. Most of this happens in broad daylight, and is legal on the Thai side and tacitly approved in Myanmar.
Through conflict, natural disaster and political instability, these "boat gates" have nearly always remained open, providing a steady stream of imported goods to markets around the country.
Not only do the gates provide a financial lifeline to the armed groups that control them, they enable businesses to skirt trade regulations – and Customs duties – on everything from fabric and liquor to cars and used refrigerators, costing the country hundreds of millions of dollars a year in lost tax revenue. Government officials acknowledge the gates are illegal, but insist they are powerless to close them.
But then came COVID-19. For the past two months the illegal gates have been closed, and cross-border trade has been limited to a single official crossing, the No 2 Thai-Myanmar Friendship Bridge. Although some traders have tried to switch to legal channels, many of the goods, such as liquor, that cross through the illegal gates cannot be imported legally. Trade has fallen from about US$10 million a day in February to as little as $3 million a day in April, according to the Myawaddy Chamber of Commerce. Stocks of imported goods have run out, while exports to Thailand have also been hit hard.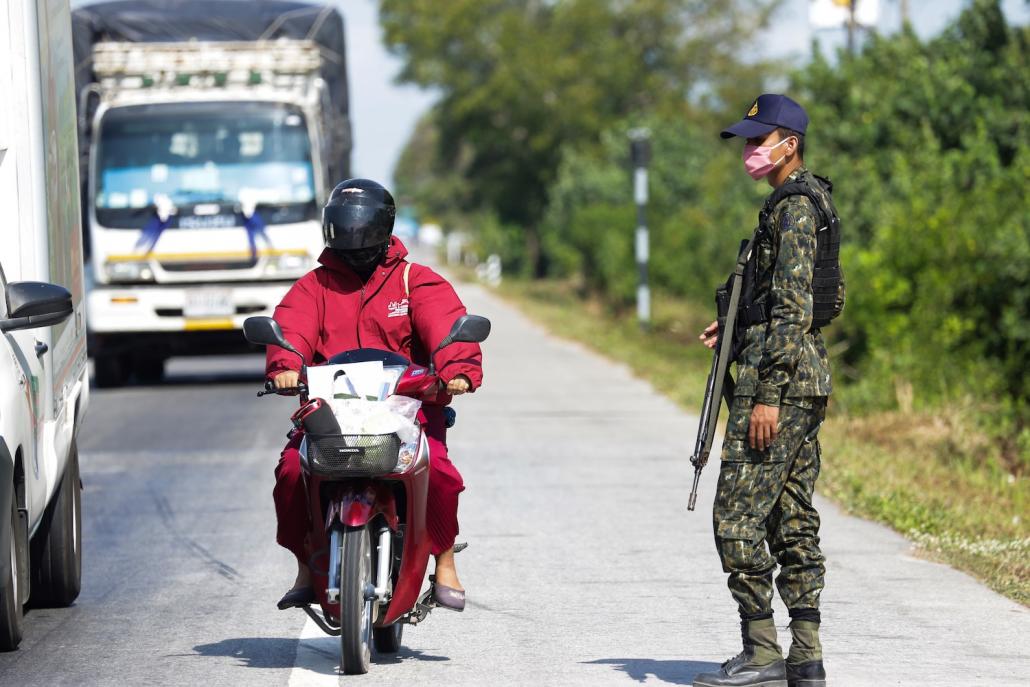 The border slams shut
The border began to close in the second half of March. The coronavirus was spreading rapidly in many countries and the World Health Organization had declared a global pandemic. Although Myanmar was yet to record a confirmed case of COVID-19, the number in Thailand was rising sharply. On March 20, the Thai government announced that it would shut the No 1 Thai-Myanmar Friendship Bridge between Mae Sot and Myawaddy the following day.
Then, on March 29, the Kayin State Border Guard Force, which originated in a breakaway faction of the Karen National Union called the Democratic Karen Buddhist Army, suddenly closed its 27 illegal trade gates and said it would take action against anyone that it found trying to cross the river. The KNU and Democratic Karen Benevolent Army – the latter formed by remnants of the Democratic Karen Buddhist Army who had refused to join the Border Guard Force – followed suit the next day, closing the seven gates under their control.
BGF spokesperson Major Naing Maung Zaw said the group took the decision because it had a responsibility to ensure the virus did not spread to Myanmar.
"The decision to shut down the boat gates has affected our income but we can't take any risk that could destroy the reputation of the BGF," he said. "If someone with coronavirus used our boat gate and it then spread, our force could be blamed."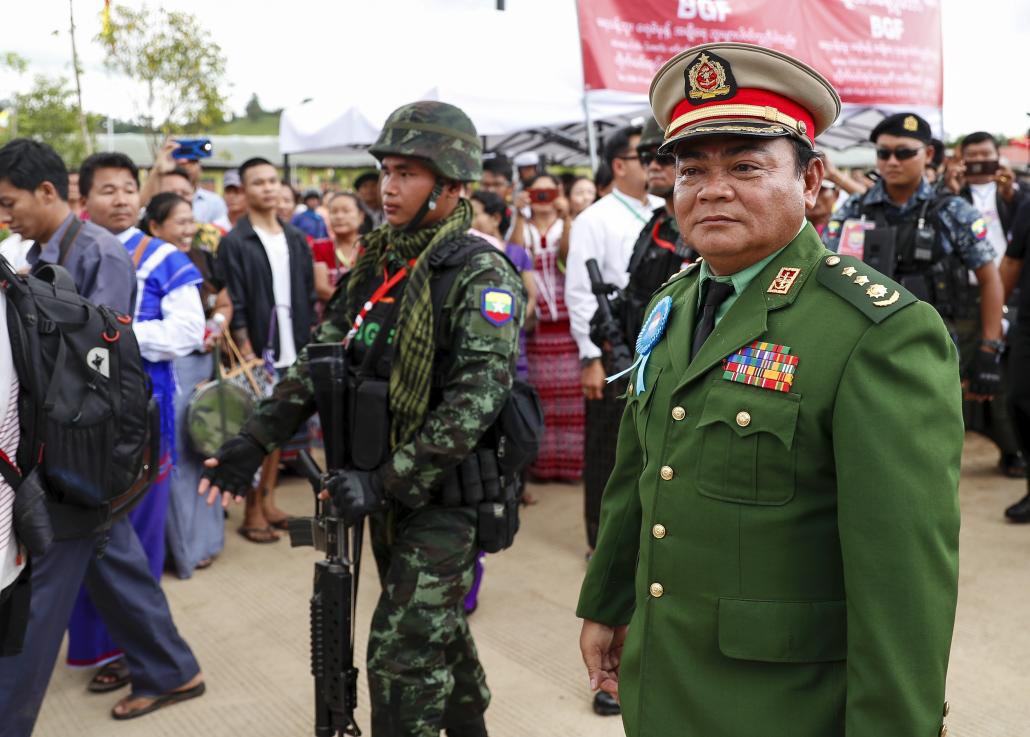 But he also revealed the Tatmadaw had pressured the BGF on March 28 to close its trade gates. "The next day, our leader, Colonel Saw Chit Thu, ordered the gates to close. He said he received a suggestion from the Tatmadaw to be careful of COVID-19 in our area," Naing Maung Zaw said. "The BGF is a branch of the Tatmadaw and, just like the Tatmadaw, we are ready to coordinate with the government and local people to protect the country from COVID-19."
The closure is not entirely unprecedented, according to traders in Myawaddy. In 2002 the border closed from May to October due to clashes between the Tatmadaw and Thai military, and again in July 2010 when the Tatmadaw was pressuring the DKBA to become a Border Guard Force. Although the bulk of the DKBA soon agreed to become the Kayin State BGF, some rebel DKBA brigades rejected the proposal and formed the Democratic Karen Benevolent Amy.
In November 2010 the new DKBA launched attacks on Myawaddy. "I remember the clashes between the DKBA and Tatmadaw very well, because they were very close to the town," said U Soe Nyunt, the administrator of No 4 ward in Myawaddy. "We had to leave our homes and stay in monasteries. All the illegal gates were shut for months because of the fighting."
The border was officially shut for more than a year, forcing traders to reroute most goods through other crossings. The difference now though is that bilateral trade through Myawaddy-Mae Sot is significantly higher than in 2010, when the Mae Sot Customs House estimated that the closure was costing US$3.2 million a day, or a little over $1 billion a year. As Myanmar has opened up its economy over the past decade, trade at that crossing has risen steadily and is now estimated at around $2.5 billion a year.
Trade is expected to grow strongly in the coming years, according to KResearch, an arm of Thailand's Kasikorn Bank, thanks to the opening of the No 2 Thai-Myanmar Friendship Bridge late last year and new trade facilitation agreements that enable authorised trucks to cross the border and deliver directly to locations in either country. Although its November 2019 forecast that Thai exports through Mae Sot would increase to 80 billion this year is unlikely to be reached because of the border shutdown, trade is expected to bounce back quickly once the threat of COVID-19 passes.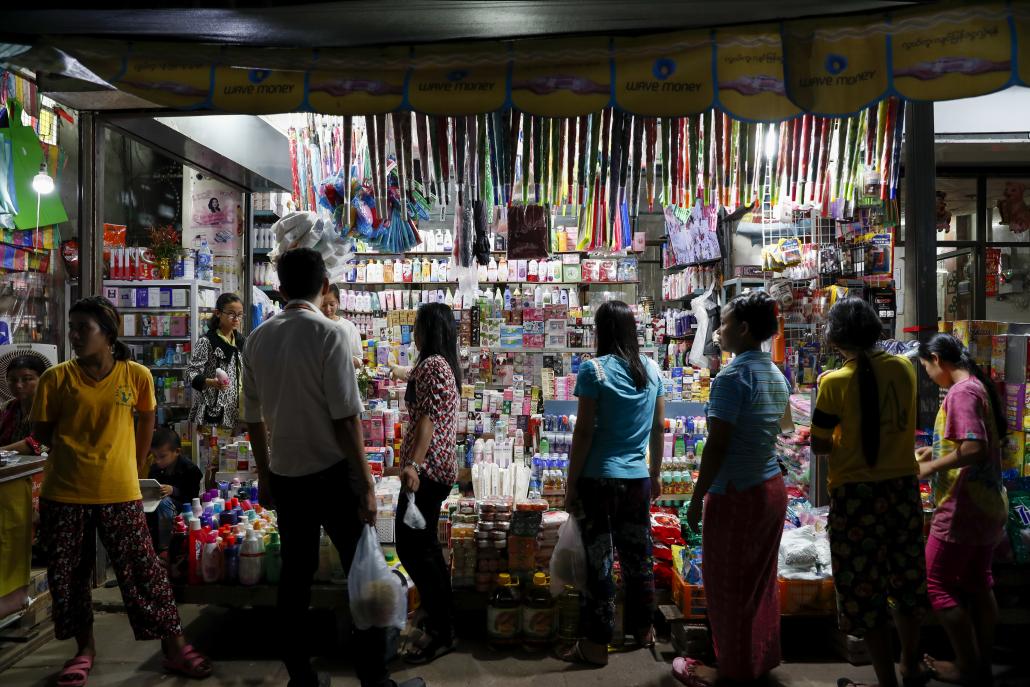 'Prices are already getting high'
Since the illegal gates shut at the end of March, trader U Aung Soe has watched his inventory – mostly energy drinks, like Shark and Red Bull, which he distributes to Mawlamyine in Mon State and Hpa-An and Kawkareik in Kayin State – slowly dwindle.
Speaking on May 25, he said he had only three days of stock left. "Since COVID-19 happened and the boat gates were closed, it has been difficult for me and the other traders to continue our business," said Aung Soe. "Prices are already getting high as the products are becoming difficult to find in the market."
Daw Thin Thin Myat, chair of the Myawaddy Border Trade Association, said traders had been stocking up on goods since the first COVID-19 cases were reported in Thailand in January. As a result, when trade was restricted in late March, they had about two months' supply in their warehouses. Now most of that has gone.
"At the moment the boat gates are closed and trading through official channels is also down because of COVID-19," she said. "Unless traders can get more stock soon there could be problems ­– the prices for some commodities will be unstable and might rise suddenly."
Many of the imported goods, particularly consumer items, are distributed in the border areas of Kayin and Mon states and Tanintharyi Region, where Thai products are popular.
Ma Zin Mar Thet, who runs a shop in Yadanar Myaing Market in the Mon State capital Mawlamyine, said that she has been unable to restock anything imported from Thailand since the first week of May.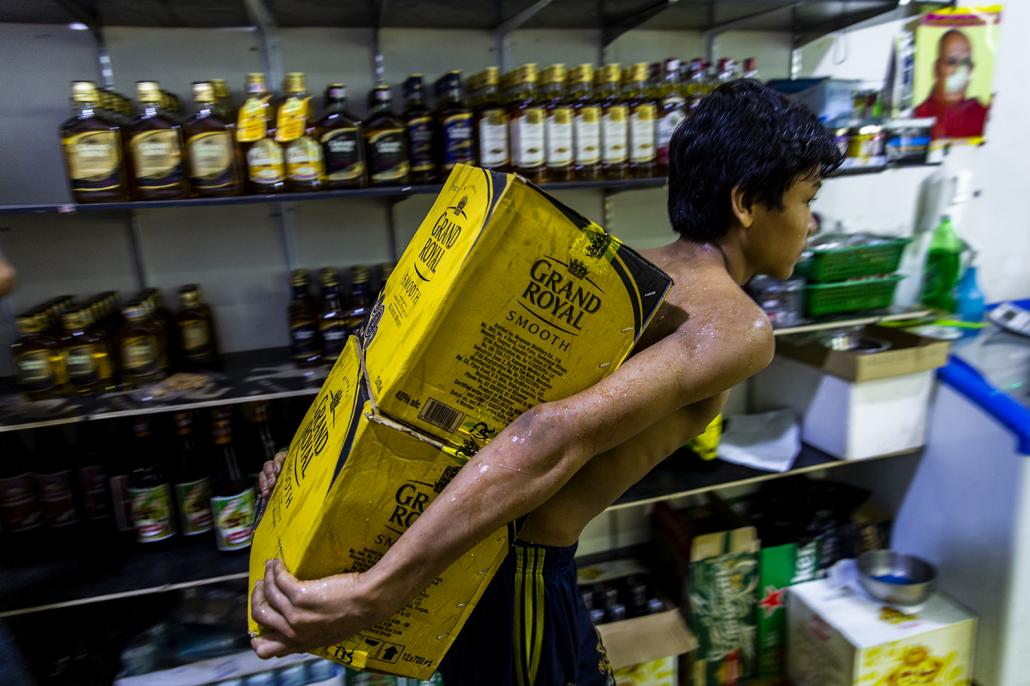 "It's now hard to get things like cosmetics, soft drinks and household goods such as detergent and soap," she said. "Other shops in the market are facing the same problem. Because we're out of stock of so many things our sales are down."
She said the government should allow the illegal gates to reopen to ensure consumers had access to essential products. "If they are worried about COVID-19, they can just allow trading – not let people go through the gates – and screen any workers for symptoms," she said. "Just completely closing the gates is not the right way – it creates trouble for people who rely on these goods."
The border closure has also badly affected businesses on the Thai side of the border. In early May, the head of the Tak Chamber of Commerce urged the Thai government to reopen both official and unofficial crossings in order to "save the local economy".
The effects are being felt in Yangon, too. "I've had to close my shop because trade has stopped in Myawaddy," said one shop owner who sells used refrigerators and air conditioners, as well as mobile phone accessories, all of which are brought through informal crossings. "I'll have to find another way to get them … I hope I can open my shop once the [border] lockdown ends."
U Htin Kyaw Aye, who owns a beverage shop in Yangon's Dawbon Township, said that since April he has been unable to order shipments of Thai-made energy drinks and beer, including Chang, Leo, Singha and M150, from Myawaddy.
"Thai-made products have a different taste to Myanmar-made products and they are also cheaper, which means we can make more profit," he said. "The traders I normally buy from said they hope they'll get more stock in June, but they're not sure when the gates will reopen."
A billion-dollar racket
Not all border trade has stopped, however. The closure has only affected the informal trade, known as the "low road"; official imports – the "high road" – continue to cross the No 2 Thai-Myanmar Friendship Bridge.
But trade data shows that the vast majority of trade at Myawaddy-Mae Sot goes through informal channels – that is, the 34 gates in Myawaddy Township controlled by ethnic armed groups.
Although Myanmar does not record trade through these illegal gates, Thailand counts imports and exports regardless of how they cross the border. In 2018 it reported bilateral trade of 80 billion baht ($2.5 billion) through Mae Sot, while Myanmar's Ministry of Commerce counted only $970 million through Myawaddy in 2018-19.
These figures suggest that around 60 percent of trade at Myawaddy-Mae Sot goes through the illegal gates that have now slammed shut.
Nearly all of it flows one way: into Myanmar. The exception is labour. Myanmar migrant workers, many of whom are undocumented, are an important feature of the Thai economy, and send back billions each year in remittances.
COVID-19 has also affected exports to Thailand through regular channels. Myawaddy Chamber of Commerce member U Sai Tun Wai said demand had dried up for Myanmar agricultural products, such as peanut, chilli and corn. He said this was because Thai traders were unable to cross the border to inspect products and negotiate with sellers.
"Before COVID-19, traders would pay for goods after crossing the border to check the quality. This was particularly the case when Myanmar was selling. Now the border is closed to foreigners, so Thai traders are unable to come," he said.
The decision to close all other official border crossings between Myanmar and Thailand, including Maw Taung, Kawthaung and Tachileik­, has boosted trade through the Myawaddy crossing, however.
Mr Thorstein Svendsen, the CEO of Nordic Group, which runs trucks direct from Yangon to Bangkok, said some businesses who normally use different crossings have had to re-route their goods through Myawaddy.
"We see that there is [proportionally] more going across the border at Myawaddy into Thailand since COVID-19," he said. "The official border crossing is working very well: it's smooth, everything is being processed properly."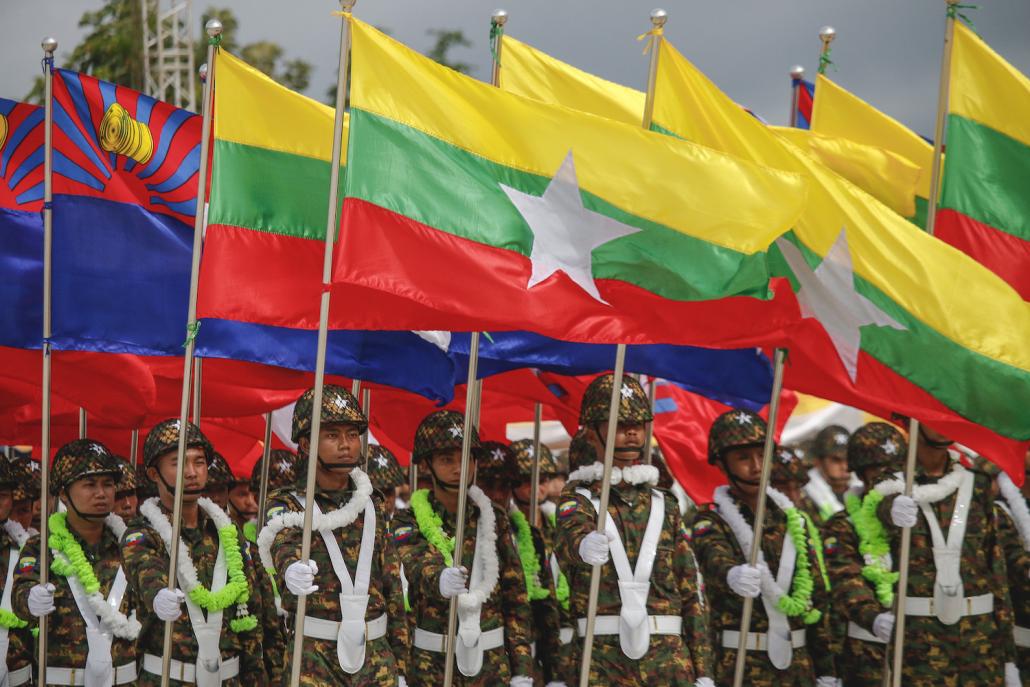 A temporary halt?
Even government officials seem to take it for granted that the illegal border gates will reopen once the threat of COVID-19 passes. None of the armed groups that run the gates are in active conflict with the government – both the KNU and DKBA have signed the Nationwide Ceasefire Agreement ­– and closing them without a way to replace the lost income could potentially spark renewed conflict and political instability. Closing the gates would also likely put the government on a collision course with powerful business interests that profit from or rely on illegal trade gates.
U Naing Soe, a spokesperson for the Customs Department's Export and Import Committee based in Myawaddy, said the gates were "very essential" for imports from Thailand, particularly for Mon and Kayin states and Tanintharyi Region.
"Even when trade through legal channels was slowing because of COVID-19, the illegal boat gates were running well," he said. "The problems started when the BGF announced that they would close their gates completely."
In an earlier interview, Naing Soe said customs officers were unable to control illegal trade through informal gates run by ethnic armed groups.
"We can't check the BGF boat trading gates along the Thaung Yin River; we can't control them," he said, adding that he had been threatened for trying to inspect the BGF gates.
Naing Soe said he expected the gates to reopen in the coming months, possibly as early as July.
"The illegal channel is essential for distributors of products to Kayin and Mon states and it generates a lot of income for the BGF and other ethnic armed groups, so I'm fairly sure it will reopen," he said. "The question is when."
Svendsen from logistics company Nordic said the shutdown of the illegal gates was at least an opportunity to encourage traders to use legal channels and create "proper and fair competition".
"A lot of companies that have been doing the wrong thing, using the informal crossings, have been affected [by the closure of the illegal gates]," he said. "They are trying to come clean now so they can use the legal channels … Instead of trying to hunt them down and slap them with a penalty, the government should be giving some kind of amnesty so those that have been trading illegally can move forward properly."
This will not work for products that cannot be legally imported, however, such as beer and gold. In that case, either stronger enforcement – for example, by targeting distributors or retailers – or regulatory changes would be needed to diminish informal trade.
The recent Ministry of Commerce decision to create a legal channel for liquor imports is an example of a policy change that could encourage businesses to follow the rules rather than smuggle through illegal trade gates. However, in the case of the new rules for liquor, there are doubts over how effective it will be in stemming illicit trade, because the high taxes on legal imports will likely make them uncompetitive.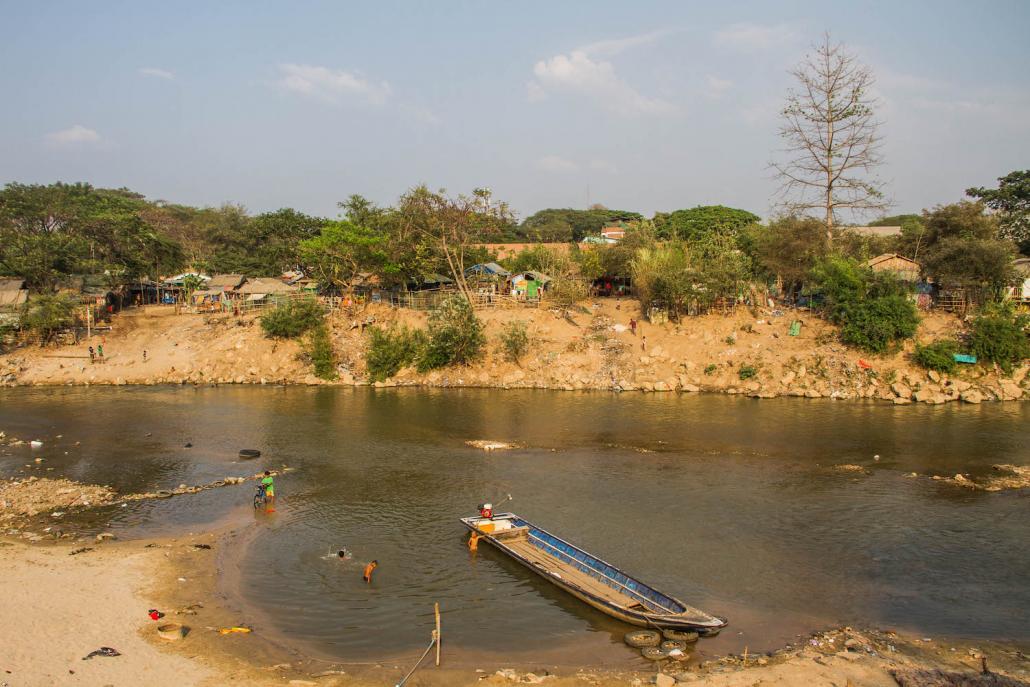 Desperate times
The price increases for commodities as a result of the closure of the boat gates have encouraged some to rediscover a long disused method of smuggling: by foot.
In the hot season from March to May, the Thaung Yin River dries to little more than a trickle in some places, making it possible to walk across. Enterprising individuals have taken to wading across the border, but this is not without risks.
Naing Maung Zaw from the BGF said the group was arresting anybody it found smuggling goods across the border on foot.
"When we find them crossing the river, we put them in our quarantine centre before handing them over to police," he said, adding that the BGF has two quarantine centres one close to Myawaddy town and one at the group's headquarters in Shwe Kokko, about 20 kilometres to the north.
The BGF isn't able to stop all of the smugglers though, he conceded. "We can only take responsibility for our boat gates. Most people who are carrying goods are migrants who temporarily stay in Mae Sot."
"I think they carry the Thai products individually and sell them to the local traders in Myawaddy," Naing Maung Zaw said.
U Naing Soe from the Custom Department said he was also aware that individuals were walking goods across the border but said this trade was too small to merit a crackdown. "The amount they can carry is very small," he said. "We have no plan to take action about it."
But for traders like Aung Soe, these wet-footed smugglers have been the only means of replenishing his stocks, and this comes with a price.
"I have to pay double the Thai price to buy them from the carriers," he said. "If the boat gates remain closed, this will be the only way to get products and I think the price might triple." – Additional reporting by Thomas Kean
This article was supported by The Asia Foundation and UK aid from the UK government via the X-Border Local Research Network. All views are those of Frontier.
TOP PHOTO: Workers on the Thai side of the Thaung Yin River prepare to unload the contents of a container truck onto a boat to send across to the Myanmar side. (Supplied | Frontier)