While conditions at Maubin Computer University have improved significantly since it opened more than a decade ago, staff and students still battle an irregular electricity supply, a broken generator and a lack of internet access.
By HEIN KO SOE | FRONTIER
THE SIGN at the entrance to the compound says "Computer University (Maubin)" and in the yard behind it is a two-storied wooden building that resembles a state school. In a teashop just outside the campus one recent morning, students were chatting over snacks.
The university, upgraded in January 2007 from a computer college that opened four years earlier, offers training in computer science and computer technology, and diplomas in computer science.
The institution in Maubin Township, about 100 kilometres west of Yangon, is one of three universities of computer science in Ayeyarwady Region.
Maubin residents say the university is incapable of producing qualified students because it does not have enough computers, and lacks regular electricity and internet access.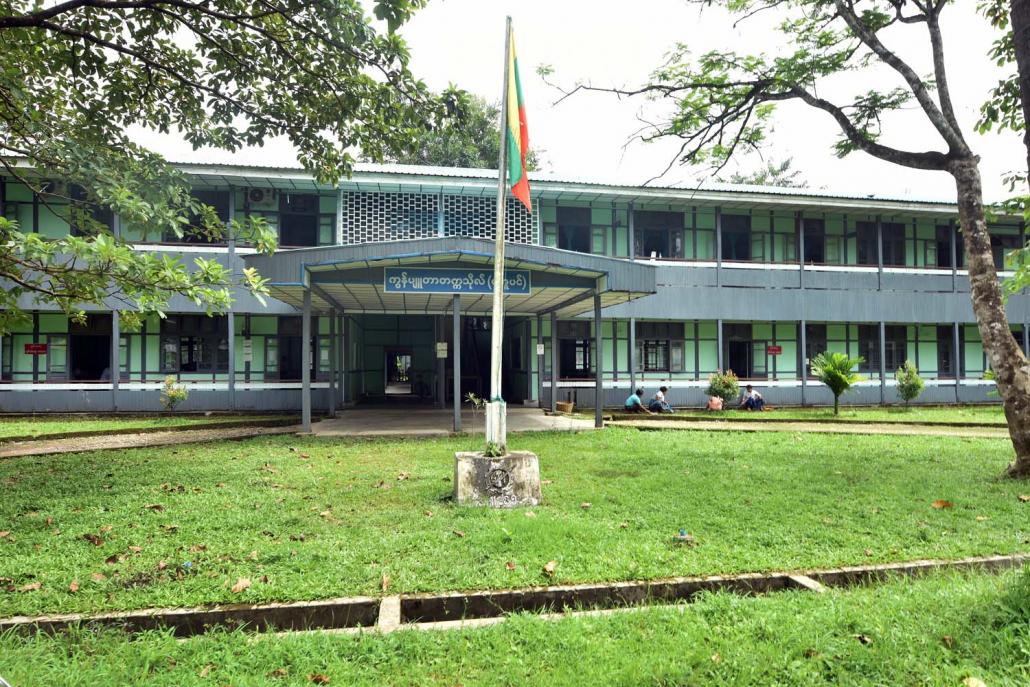 They include Ko Myo Myint Aung, who graduated from Maubin Computer University in 2011 with a Bachelor of Computer Sciences and then moved to Yangon, where he became a journalist.
"Most of the people who graduate from the computer university cannot find work in their discipline," said Myo Myint Aung, adding that he was not aware of any graduate finding a job in the IT sector immediately after completing their studies at Maubin.
When he was a student, the few computers that the university had were so old they barely worked. The electricity was also out most of the time, so he rarely used a computer during his three years of study. "We had to do calculations on paper and on the blackboard," Myo Myint Aung said.
More equipment has since been installed at Maubin Computer University, but most of its 200 computers for students are old. Twenty newer computers are used only by academic staff.
There have been other improvements, too. The computer studies degrees, which involve five years of study, now include a final year as an intern in the private sector. The internship program started last year, with 42 students working for local businesses.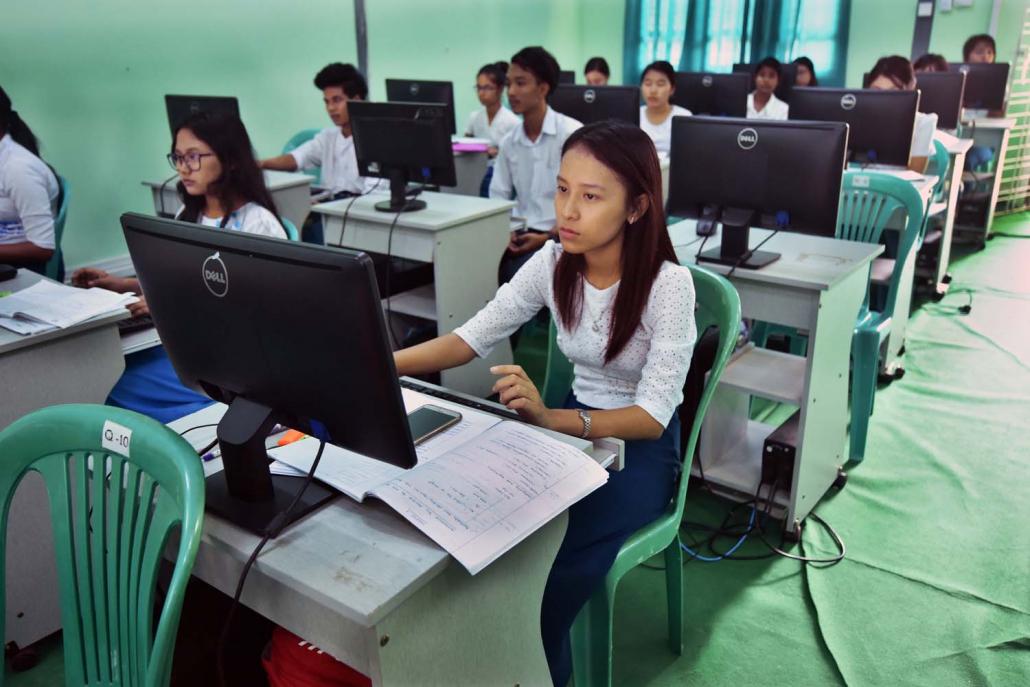 Because of poor local infrastructure, the electricity supply in Maubin Township often suffered from low voltage. The supply has improved significantly since July, though, when the Ministry of Electricity and Energy completed a new 230kV transmission line between Hlaing Tharyar and Kyaiklat Township, south of Maubin.
The lack of facilities seems to be dampening enrolment. Although the university can accept 120 students a year, only 90 applied for admission for the 2017-18 academic year, said Dr Khin Mya Mya Thet, professor of the Faculty of Computer Systems and Technology. Its total enrolment, across all streams and year levels, is 420.
An organisation chart for the university shows a total of 357 academic and administrative personnel, but it has only 87 employees, including 66 teaching staff.
Daw Win Mar, the head of the university's student affairs department, said the lack of staff was a problem because it meant teachers have to take on administrative and management duties.
"We want to see more teachers added to the university because it will improve teaching and student performance, and help to build the credibility of the university," she said.
Win Mar said another issue that frustrated teachers and students at Maubin Computer University was the lack of a generator.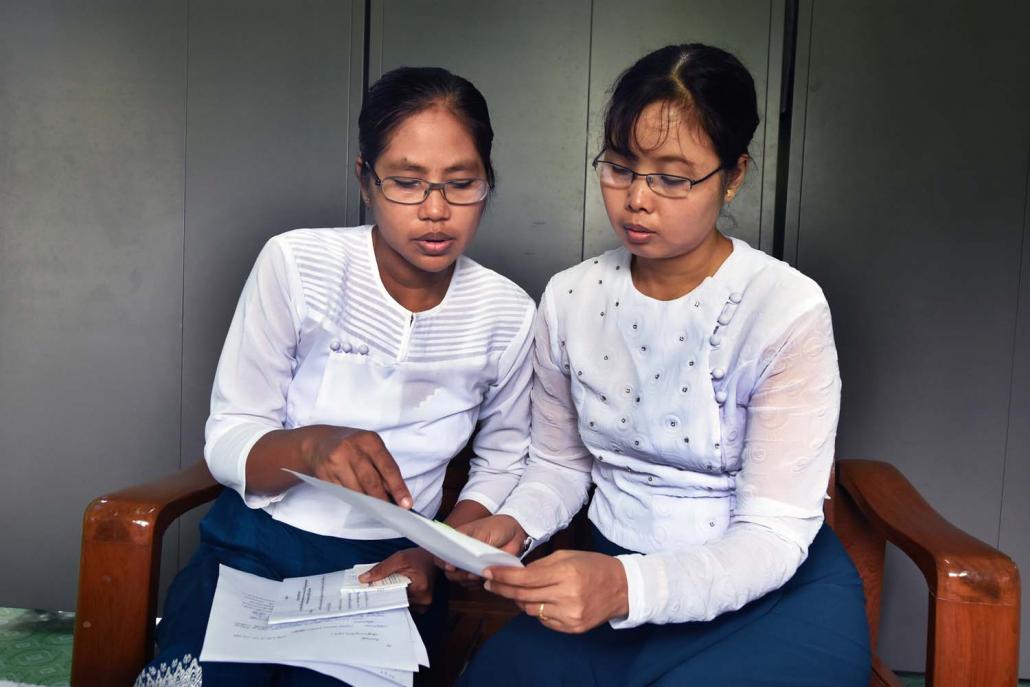 When Frontier visited the university, the generator – which when the electricity is out provides power for the five computer labs where students are required to spend 200 minutes a week – was not working.
"We have proposed to our department to buy a new 35kVA generator," said Khin Mya Mya Thet. "Without a generator, when the power goes out we have to stop our practical classes and substitute them for a lecture."
She added that the amount of fuel needed to run the generator often exceeded the allocated amount. When that happens the staff use the petrol ration for the institution's vehicles.
Internet access is also a problem. The university has a single 9 megabit per second connection that is shared between the 42 students who are studying programming. There's no free Wi-Fi at the school, even in the library, said Khin Mya Mya Thet.
"Students need internet access to learn but when I was a student there was no internet access at all," said Myo Myint Aung.
He expressed hope that the government will allocate more funds to universities offering courses in computer science and technology so that their students can study with modern equipment, better facilities – and in the case of Maubin Computer University, an uninterrupted power supply and internet access.
TOP PHOTO: The Maubin Computer University opened in 2003 and gained university status in 2007, but looks more like a state high school from the outside. (Steve Tickner | Frontier)