The arrest of three journalists in Shan State last week has brought fresh attention to one of the many outdated and archaic laws still on the books in Myanmar.
By OLIVER SLOW | FRONTIER
THE ARREST in late June of three journalists returning from a reporting trip to territory controlled by the Ta'ang National Liberation Army sent shockwaves through the country's media industry. There was concern that the arrests would not only make it harder for them to do their job, but also that the authorities in Myanmar were using archaic and outdated laws to arbitrarily arrest individuals. All this under a democratically elected government, no less. 
On June 26, Ko Lawi Weng, a senior reporter for The Irrawaddy, and DVB reporters Ko Aye Naing and Ko Pyae Bone Aung were arrested in northern Shan State while returning from an event to mark the International Day Against Drug Abuse and Illicit Trafficking. For several days, little information on their case was released; it was eventually reported that they were being transferred to Hsipaw Prison and would face charges under the Unlawful Associations Act.
Arbitrary arrests are nothing new in Myanmar. Nor, unfortunately, are they confined to the country's dark military past. Since the National League for Democracy came to power just over a year ago, arrests of this type continue unabated.
Much attention has of course focused on section 66(d) of the 2013 Telecommunications Law, which has been used to arrest dozens of citizens – including an increasing number of journalists – for online defamation.
But there are other laws on the books – many of them a hangover of the colonial past – that are being used to arrest citizens for acts that critics say are politically motivated.
For example, the Unlawful Associations Act, enacted in 1908, has been used numerous times against citizens since reforms began under former president U Thein Sein in 2011.
Before last week's arrests, one of the most high profile arrests under the act was that of interfaith activists U Zaw Zaw Latt and Daw Pwint Phyu Latt, who were sentenced to four years' imprisonment each – two under the Unlawful Associations Act and two under the Immigration Act – for participating in an interfaith peace trip to territory controlled by the Kachin Independence Army in July 2015.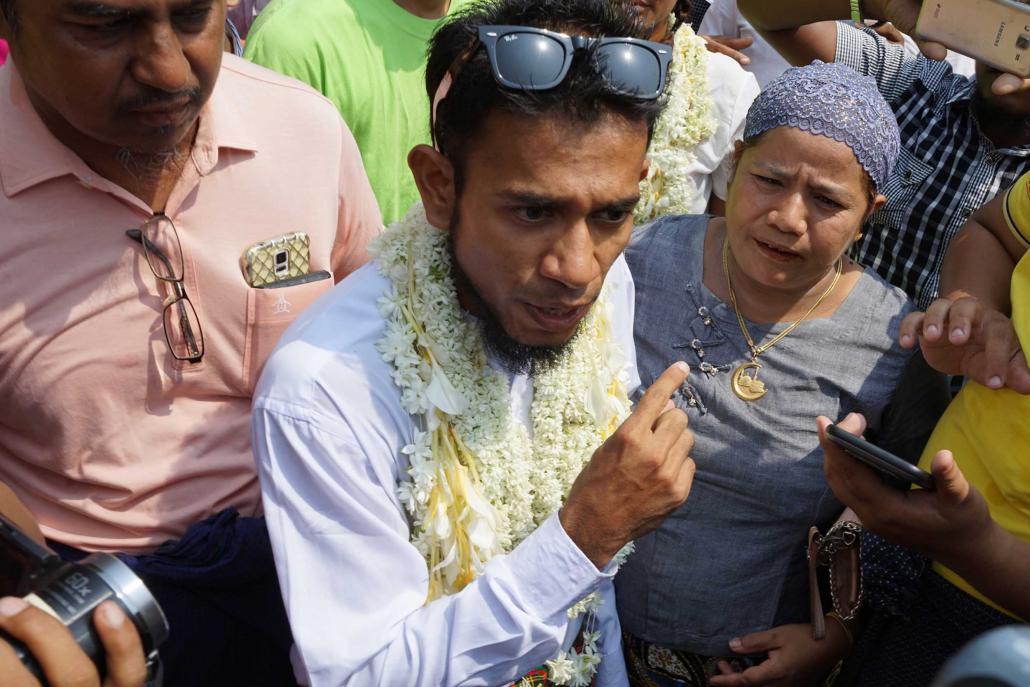 They were eventually released under a presidential amnesty in May to commemorate the start of the second 21st Century Panglong Union Peace Conference.
Another high profile arrest came in June 2012 in Kachin State when farmer Lahpai Gam was arrested and eventually sentenced to 21 years' imprisonment for a range of offences, including unlawfully associating with the KIA. His family allege he was subjected to torture during his detainment, including being forced to drink water mixed with fuel and to have sexual intercourse with another male prisoner.
'They are using this law elastically'
The law has mostly been used to undermine community support for armed groups that have been fighting government forces. Prosecutions under the law are designed to instil fear in communities to stop them from providing any assistance to non-state groups.
The arrests come at a time of heightened tensions between the Tatmadaw and several ethnic armed groups operating in the north of the country. The TNLA and KIA both have troops that are part of the so-called Northern Alliance, a coalition of four ethnic armed groups that have been fighting the Tatmadaw since November 2016.
They are also two of the seven groups that have aligned themselves with the United Wa State Army in a new negotiating bloc that rejects the government's much-vaunted Nationwide Ceasefire Agreement and calls for a new path to peace to be charted.
Some analysts have questioned whether the latest arrests are an attempt by the military to put more pressure on groups they are fighting to sign the NCA (when fighting broke out between the KIA and Tatmadaw near Tanai, Kachin State last month, military helicopters dropped leaflets over the township, warning villagers to leave or risk "being associated with the terrorist group the KIA").
Tar Jok Jar, vice chairman of the TNLA, told Frontier that the three reporters had entered their territory to report on the drug burning ceremony.
"I would say the military wants to stop information about ethnic armed groups being made public. I think they are using this law elastically," he said.
Ms Laura Haigh, Amnesty International's Myanmar researcher, said the law has long been used to make arbitrary arrests, especially in ethnic minority areas.
"It grants authorities sweeping powers to arrest people considered to be part of an 'unlawful association' – though it doesn't clearly define what an unlawful association is," she told Frontier by email. "The vagueness of the law means that in practice, it is very easy for authorities to use it in politically motivated case."
Hein Ko Soe contributed to this report. TOP PHOTO: