A free ambulance service staffed by dedicated volunteers is providing transport for some of Yangon's neediest people.
By KYAW PHONE KYAW | FRONTIER
One of the most respected philanthropic organisations in Yangon is the Free Funeral Services Society, which since 2001 has been helping the bereaved farewell loved ones regardless of social status or religious belief.
The FFSS is admired for its work with the dead. In Yangon's downtown Botahtaung Township, on the other hand, is an altruistic organisation that is earning praise for its work with the living.
Since January 1 last year, the volunteer-run Noble Heart group has been providing a free ambulance service for the needy.
Noble Heart, which also calls itself Myanmar Rescue, is based in two small offices in 63rd Street, where portraits of the Buddha and Jesus hang on the wall.
Noble Heart is non-religious, said one of its co-founders, former athlete U Min Aung Htwe, who also drives an ambulance, administers first aid and helps to run the office.
"We have Christian, Buddhist and Hindu members; anyone [can join] who can cooperate with us," he told Frontier.
Noble Heart's nine co-founders met through their work arranging the distribution of rice soup to patients at Yangon General Hospital, U Min Aung Htwe said. Their work at the hospital made them aware of the lack of emergency transport for the poor.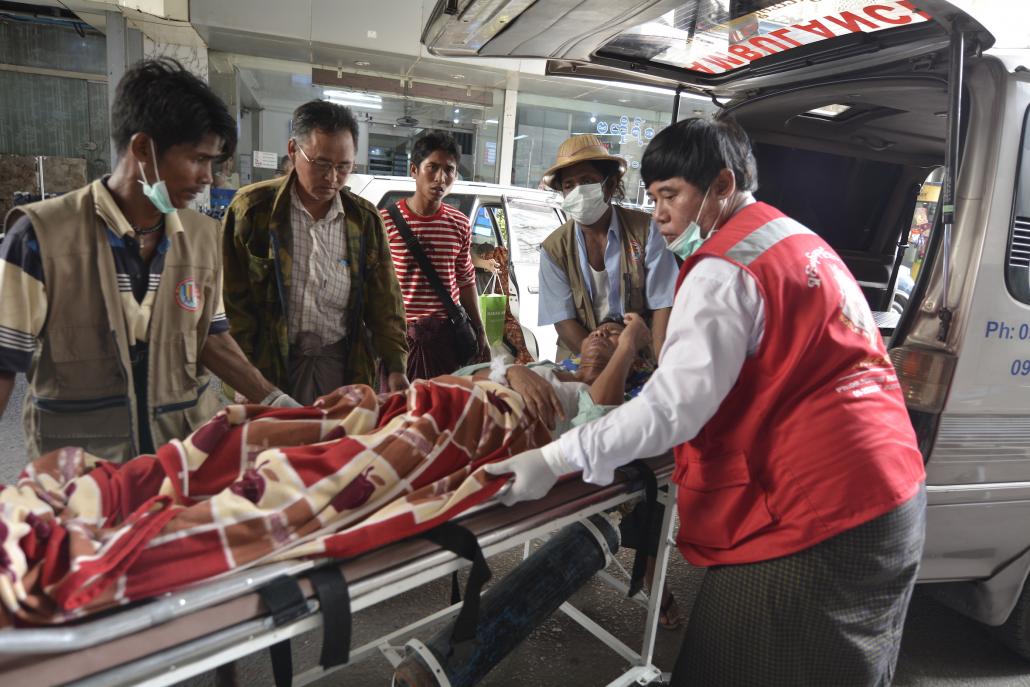 Some government hospitals do not have ambulances, and those that do charge about K20,000 a trip to transport patients. The ambulance services of privately-owned hospitals are too expensive for the needy.
There is no doubt that Noble Heart is meeting a need with its ambulances: since being established nearly 14 months ago it has transported more than 1,400 patients.
"Some days we rescue 17 people," said Daw Shwe Kyar, a Noble Heart co-founder who wanted to be a battlefield nurse when she was young.
Regardless of whether it's needed, the association always sends an ambulance when there's an emergency, such as a fire, she said, adding that Noble Heart never takes a holiday.
One of the busiest times of the year for the service is in April during the traditional new year water festival, Thingyan, which involves days of exuberant revelry.
Daw Shwe Kyar said Noble Heart had distributed pamphlets to traffic police, who usually call when there's a bad road accident.
From one ambulance, nine co-founders and a few volunteers, Noble Heart has grown to six ambulances and about 200 volunteers, 30 of whom are regulars who can devote four or five days a week to the service and undergo first aid training. About half of the volunteers are women.
U Min Aung Htwe said that as well as responding to emergencies, the ambulances were used to collect elderly or ill people who had been abandoned or were homeless, and transported outpatients who need to make regular hospital visits.
"We also rescue a lot of ill people who have been abandoned and people who have been so badly injured they are unable to admit themselves to hospital," Daw Phyu Phyu Win, 41, a regular volunteer, told Frontier.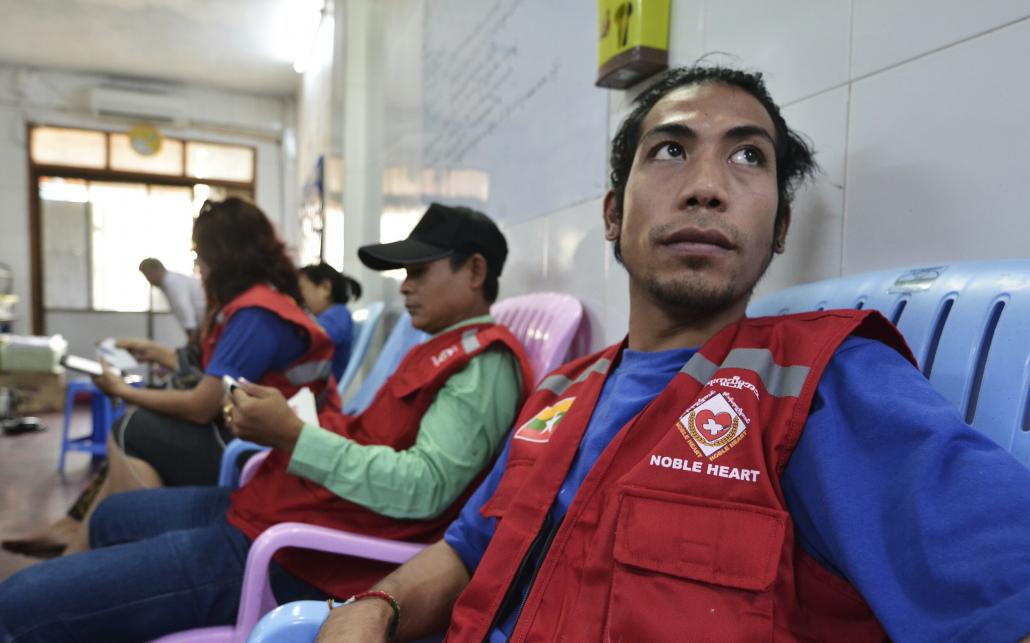 Noble Heart's good intentions are often frustrated when its ambulances arrive with a needy patient at a hospital's emergency department.
"Now, the hospitals don't want to accept the abandoned patients," said Daw Phyu Phyu Win. "We can rescue someone and send them to hospital but the doctors refuse to admit them," she said. "I'm not blaming the doctors because the hospitals often do not have enough staff to nurse people who have no known relatives."
Daw Phyu Phyu Win said Noble Heart was able to send abandoned people to hospital in the past and after being treated they would be sent to the Thabarwa Centre, a refuge for the frail and needy in Thanlyin Township that shelters more than 2,500 people.
"Now, the centre can't accept them because there is not enough space," she said.
Daw Shwe Kyar said Noble Heart now contacted the local authority about abandoned or badly injured people to ask if it could take responsibility for them before they were sent to hospital.
"Sometimes, people misunderstand and think we are a rescue centre for abandoned people and call us to take them away, but we only provide an ambulance service," she said.
One of the biggest challenges for the service is traffic jams, said Daw Phyu Phyu Win.
"Sometimes the rush hour traffic jams are so bad we have to divert calls for assistance to another association that provides a free ambulance service," said U Min Aung Htwe.
He said it costs about K2 million a month to run Noble Heart, which has a few main donors and often receives donations from people who read about its work on Facebook. Volunteers are not paid but are provided with lunch.
U Min Aung Htwe issued an appeal for more volunteers.
"We provide our service from 8am to 5pm each day in and around Yangon for a radius of 50 miles; it is not enough and we need more volunteers and I warmly invite young or older people to help us," he said.
Helping the needy is satisfying work, said Daw Phyu Phyu Win.
"If people understood just how deeply satisfying it is to help those less fortunate than themselves, we would have more than enough volunteers," she said.