As clashes continue and soldiers occupy their villages, displaced Karen refugees are unable to return home but are also unable to put down roots in Thailand, where they have received a frosty reception from authorities.
By FRONTIER
In Mae Sot, Thailand, a group of about a dozen volunteers gathered at 5am to cook 300 meals for Myanmar refugees scattered along the banks of the Moei River. When Frontier visited on February 6 of this year, the menu was eggs with tomato curry and fried fish paste.
Myanmar expatriates from the Overseas Irrawaddy Association packed the food into polystyrene boxes and by 11am, they were loaded into trucks for delivery.
Ko Phoe Thingyan, a secretary for OIA, explained that only two or three people are allowed to accompany each truck, all of which were searched by Thai security forces.
"I think that Thai authorities are afraid that the refugees will come back [into town] in the trucks carrying the food boxes," he said. "Thai soldiers carefully observe the people. We can't go with a lot of people."
A Frontier reporter was allowed to board one of the food delivery trucks for a first-hand view of how the food is distributed and the current living situation of the refugees. After half an hour of driving — and two Thai military checkpoints — the vehicle arrived at the first settlement.
Displaced civilians were living on the Myanmar side of the Moei, and had to wade back and forth across the river, braving a strong current and chest-high water levels in order to collect desperately needed food and bottles of water.
Saw Myo Myint, a 40-year-old refugee, said there are around 400 people living in the settlement where he's based and most are from Phulu Gyi and Phulu Lay villages and Lay Kay Kaw town.
"They have not been able to return home yet. We are alive because there are donors for food," he said.
Mae Sot is a border town connected to Myawaddy town in Kayin State by the Thai-Myanmar Friendship Bridge, and has long been home to many Myanmar migrant workers, formal and informal alike. The bridge is closed due to COVID-19, as are many other border gates. Many Myanmar migrants who used to cross the border back and forth regularly decided to remain on the Thai side throughout the pandemic so they could continue working. Some of them there are now supporting the influx of recent refugees.
Myo Myint fled Myawaddy's Lay Kay Kaw town in December 2021, when fighting broke out between the Karen National Liberation Army and the military. The clashes started after the military raided the village and arrested political dissidents who had taken shelter in KNLA territory. The KNLA's political wing, the Karen National Union, has been one of the ethnic armed groups most strongly opposed to last year's coup, when the military overthrew the newly elected government.
The KNU has openly cooperated with the National Unity Government, a parallel civilian government appointed by lawmakers elected in the 2020 polls the military refused to recognise. The KNLA has meanwhile trained and fought alongside members of the People's Defence Force, a loose network of anti-military armed groups formed after violent military crackdowns on peaceful protesters left hundreds dead. The junta has declared both the NUG and PDFs terrorist organisations.
Fighting between the junta on one side and the KNLA and PDFs on the other quickly spread throughout other parts of Kayin State, as the military turned to shelling and airstrikes. The KNU estimated that there were 310 clashes in December alone, displacing 50,000 civilians. At least 7,000 are living in various settlements along the Moei River, which forms part of the border between Myanmar and Thailand.
Despite the generosity of charity groups, many refugees say they spend their evenings fishing in a nearby creek because donors only have the capacity to deliver food once a day. Sometimes they receive donations of dry food like rice and vegetables and are able to cook for themselves.
Some 15 minutes away from the settlement where Myo Myint lives, the delivery truck stopped again. Volunteers packed up the remaining lunches and walked through the fields for another half an hour before reaching more refugee settlements, these ones on the Thai side of the Moei.
"Our village is not far from here. But I do not dare go back. I am afraid of landmines. Some houses are no longer standing due to heavy artillery fire," said Naw Se War, a resident of Phulu Lay village. ''I want to return home, but it is not possible to do so now."
The refugees, many of whom are hiding in the jungle along the river, are often warned by the Thai government to return to Myanmar. Most of the refugees are ethnic Karen and many do not speak Burmese or Thai, making it difficult for them to communicate with authorities.
Se War, who fled with her 8-year-old son and 4-year-old daughter, said she does not know when she will be able to return, and she worries about her children's future. There are more than 50 kids and many elderly people in the camp.
"There are cases where elderly people are dying because of the weather," she said, claiming an 85-year-old woman recently passed away. "The tents were not sufficient shelter and she died of a cold," Se War said.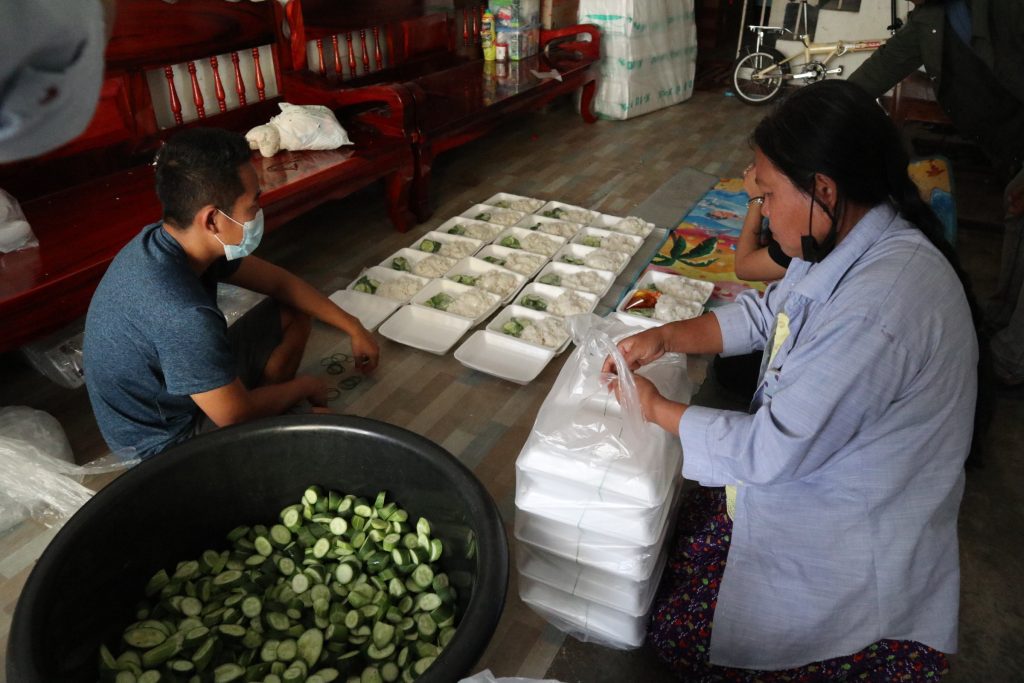 Fresh fighting
Saw Tin Aung and four of his family members are living in the Kaing Taw forest near Mae Sot, where they first fled after military airstrikes forced them from their home in Lay Kay Kaw in December. When the initial conflict died down in mid-February of this year, they returned home, but renewed fighting in March and April prompted a second evacuation.
"After the KNU informed the people not to use the roads in Dooplaya District, the fighting escalated," Tin Aung told Frontier over the phone, using to the Karen term for Kawkareik District.
On March 26, the KNU advised civilians to avoid the Kawkareik-Myawaddy road and the Myawaddy-Wawlay road, anticipating renewed fighting as the military moved into the area. The Kawkareik-Myawaddy road, also known as the Asia Highway, is a key cross-border trade route between Thailand and Burma.
U Myint Soe, a truck driver who uses the road to transport goods, said that in the past, the KNU similarly banned the use of the road when fighting was imminent.
"Even more than 10 years ago, if the KNU was going to fight with the military, it would announce not to use the road in the same way. If there is a war, I think the trade route will be difficult and there will be a lot of refugees," Myint Soe explained.
Soon after the warning was issued, a truck driver was reportedly shot and killed on the highway during clashes between the military and KNLA. In another incident, one passenger vehicle and two trucks were reportedly torched.
The number of refugees along the Thai border increased from around 5,000 to over 7,000 after the most recent clashes in March and April, and the need for food and shelter is particularly pressing as more people are living in makeshift shelters along the river, rather than in formal refugee camps.
KNU spokesperson Saw Taw Nee told Frontier this week that the number of displaced civilians "increases every day" as there has been fighting almost daily since March.
"We knew we would face this situation if we stand against the military coup," he said, calling it a "humanitarian crisis".
Taw Nee said the true number of displaced civilians is difficult to calculate, as many return to their homes when fighting subsides, only to sometimes flee again days later.
Of the roughly 1,000 refugees living in the settlement where Tin Aung is based, about half tried to return home during the lull in fighting in February, before being forced to flee again in March and April. The other half have been there since December 2021.
Tin Aung said that a more formal refugee camp was established at Mae Ko Kin near Mae Sot during the first evacuation in December 2021, but the Thai authorities closed the camp when many people returned home. After the second round of evacuations, refugees were forced to live in makeshift settlements of plastic tents along the river, where many remain today.
"The main problem at the Mae Ko Kin refugee camp, both then and now, is the need for toilets and the fact that the roofs will not be able to withstand the rain," said Tin Aung. The situation will likely worsen with rainy season on the horizon, which typically runs from June to October.
Saw Ye Hein Aung of the Lay Kay Kaw Family Group, which provides assistance to refugees, said some of those fleeing the conflict are political dissidents who were taking shelter in KNU territory. Some are civil servants participating in a mass strike known as the Civil Disobedience Movement, while others are activists or PDF fighters.
"CDMs and others came to fight the military council, but they had no weapons. It is unfortunate that they too have become refugees because they could not fight back against the military council," he said. Ye Hein Aung added that the new wave of political dissidents are "unaccustomed" to civil war in comparison to Karen civilians who have long been subjected to military violence.
Ye Hein Aung said he believes that the NUG needs to do more to support resistance members turned refugees.
"Most of them are depressed because the NUG forgets about them," Ye Hein Aung said. The NUG's ministry for humanitarian affairs did not respond to requests for comment about how it was supporting dissidents or displaced civilians in Kayin State.
Taw Nee said the KNU is trying to work with civil society partners to support the displaced, but added that meaningful progress is dependent on international assistance. He acknowledged that some Western countries and international aid organisations were supporting civil society and cross-border aid programmes but appealed for more support. He said the KNU has called on Western countries to help establish humanitarian corridors and no-fly zones but received "no response".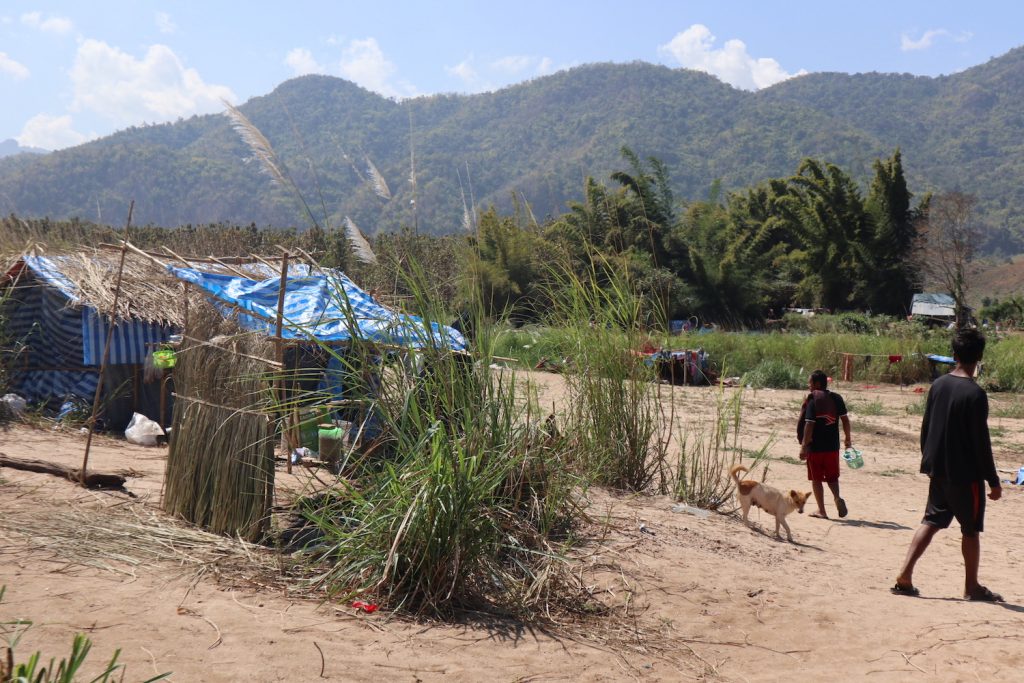 No way home
Naw Htoo Htoo, programme director for the Karen Human Rights Group, said soldiers continue to occupy many civilian areas, including Lay Kay Kaw, making it impossible for refugees and internally displaced people (IDPs) to return home.
"We found out that [soldiers] are still stationed in many areas, including Lay Kay Kaw, and are still involved in human rights abuses, such as forced arrests of locals and forced labour. Locals are reluctant to return home due to arbitrary arrests," Htoo Htoo said.
She said that the displaced still need assistance and they do not have access to basic food and health services. "The evacuees are not getting enough support now," she said, accusing the military of intentionally blocking access to relief supplies. Htoo Htoo called for more cross-border aid from international organisations to circumvent the military's blockades.
Ko Zaw, a philanthropist based in Myawaddy Township, also said the military blocked his attempts to deliver goods to refugees along the riverbanks and confiscated his relief supplies. Instead, he is now focusing on helping IDPs within Myanmar, like those taking shelter at a monastery in Myawaddy.
"Some live with close relatives, while others set up temporary tents on the banks of the river. The temporary camp at Kyauk Lone Gyi monastery in Myawaddy was crowded… The monk helped them with his donations, which is not being supported by the military council," said Ko Zaw.
He said there are now 250 people at the monastery, which has forced the monk to stop accepting new IDPs. Unable to support them all by himself, the monk now also relies on charity workers like Ko Zaw for additional food and clothing donations.
Many of the refugees live in a constant state of flux, fleeing back and forth across the river into Thailand depending on the situation of the day.
"If the fighting gets too close, they cross the river to the Thai side. If the fighting calms down, they cross back," said Ye Hein Aung from the Lay Kay Kaw Family Group.
One refugee, who was displaced from Lay Kay Kaw, told Frontier that the Thai government is perpetually trying to force them back into Myanmar territory, but they would rather deal with that than face the risks of remaining in Myanmar.
"There is no proper support on the Myanmar side," he said. "We do not trust the [junta], so we crossed over. We do not dare to follow their unsystematic management and we are sure clashes will happen again."