In common with popular destinations around the world, Bagan has been hit hard by the economic effects of the pandemic and many there who rely on tourists for a living have had to adapt to survive.
Words & photos by NYEIN SU WAI KYAW SOE | FRONTIER
Cries of "morning glory and other vegetables!" punctuate the quiet sunny morning in Bagan's Myinkaba village. Listening to Daw Hnin Hnin Hlaing sell her wares, you wouldn't know she was unaccustomed to the role of vegetable seller.
But Hnin Hnin Hlaing only became a vendor three months ago, after the family lacquerware business was forced to shut down following a huge decline in domestic and foreign visitors to Bagan because of the COVID-19 pandemic.
After selling vegetables in the morning, she also hawks a Myanmar traditional pancake-like snack called mont pyar tha lat in the afternoon.
In the Bagan Archaeological Zone, which was added to the list of UNESCO World Heritage sites in July last year, roads are quiet, pagodas are empty of pilgrims and tourists, and residents are suffering. The desperation caused by financial distress has been cited as a likely reason for a recent string of burglaries at temples.
The lacquerware business that Hnin Hnin Hlaing ran until March with her husband, U Aung Htoo, has been in the family for 25 years, and the couple have been passing on their skills to three daughters.
Hnin Hnin Hlaing and her husband are making about K5,000 a day, much less than their daily earnings from the lacquerware business. The vegetables they sell are grown at her mother's village of Bone Lone, on the other side of the Ayeyarwady River from Bagan.
"This year is like we have been cursed or something. No rain, no visitors and no income," Hnin Hnin Hlaing told Frontier on June 23.
"I never thought I'd become a vendor during the scorching weather of the hottest time of the year," she said. "But selling something for money is better than sitting home and worrying about the situation … Working temporarily as a vendor is enough to cover the daily costs for my family."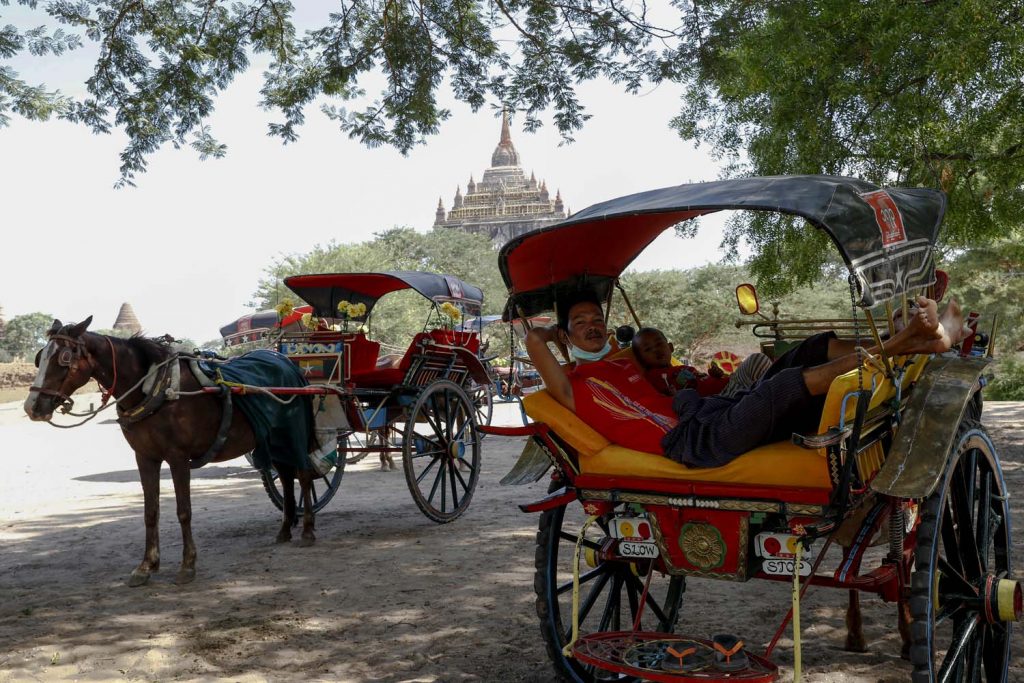 Ceremonial fans to facemasks
Myinkaba village has long been famous for its lacquerware but the cottage industry has been devastated by the impact of COVID-19 on one of the country's most popular tourist destinations.
One of the best-known workshop outlets is Bagan House Lacquerware at New Bagan, which has met the zero-tourist challenge by making extra efforts to retain its 50 workers and, indirectly, contributing to the campaign against COVID-19.
Bagan House has introduced rotating shifts, cut salaries in half and trained its workers to sew face masks featuring traditional floral designs that are sold on Facebook. To ease the impact of the pay cut it is also giving each worker half a bag of rice and bottle of oil each month.
"I could have laid off my workers but when everything is back to normal I don't want to start hiring new people again," said Daw Maw Maw Aung, the owner of Bagan House.
"As a strategy for surviving the downturn I started making cloth masks, as well as creating lacquerware products aimed at Myanmar customers and discounting every item in the showroom by 40 percent so my workers can have a daily wage."
"I don't want to make a profit now," she said. "This is the best time to buy lacquerware in Bagan."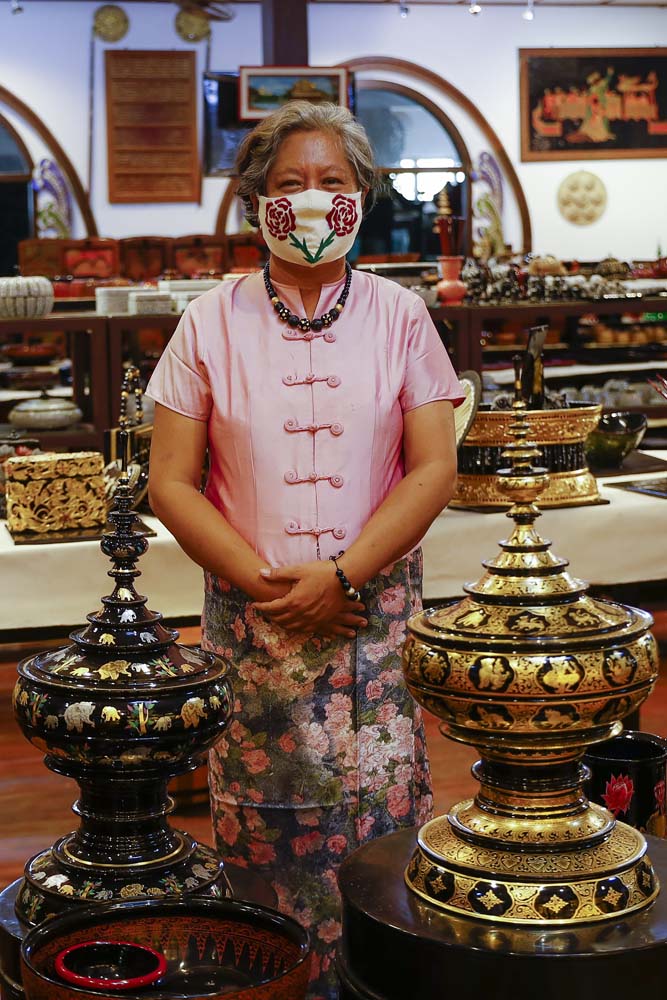 Maw Maw Aung said the inspiration for producing face masks came from State Counsellor Daw Aung San Suu Kyi, who demonstrated how to sew them on social media in May.
"I sell the masks for K3,500 each. I know it's a bit expensive but creating the floral designs and making the masks by hand is time-consuming. It can take a female worker a day and a half to make one mask," said Maw Maw Aung, who added she was planning to launch a range of cheaper masks.
Maw Maw Aung said the products developed for domestic tourists include lacquerware purses and lacquerware ceremonial fans for monks.
"I've never faced a challenge like this and because COVID-19 is a global pandemic," she said. "I'm not getting orders from China and Japan, which is why I am focusing on the domestic market."
One of the workers who has made the switch to sewing masks is Ma Thandar, 36, who joined Bagan House nine years ago and usually paints detailed designs on lacquerware.
"I was earning K5,500 a day before COVID-19 and now I am earning K3,500 a day, but it's better than being laid off," she said.
Lacquerware industry sources at Bagan said some young workers who lost their jobs at other businesses have had to forage for edible plants in forests to supplement family diets.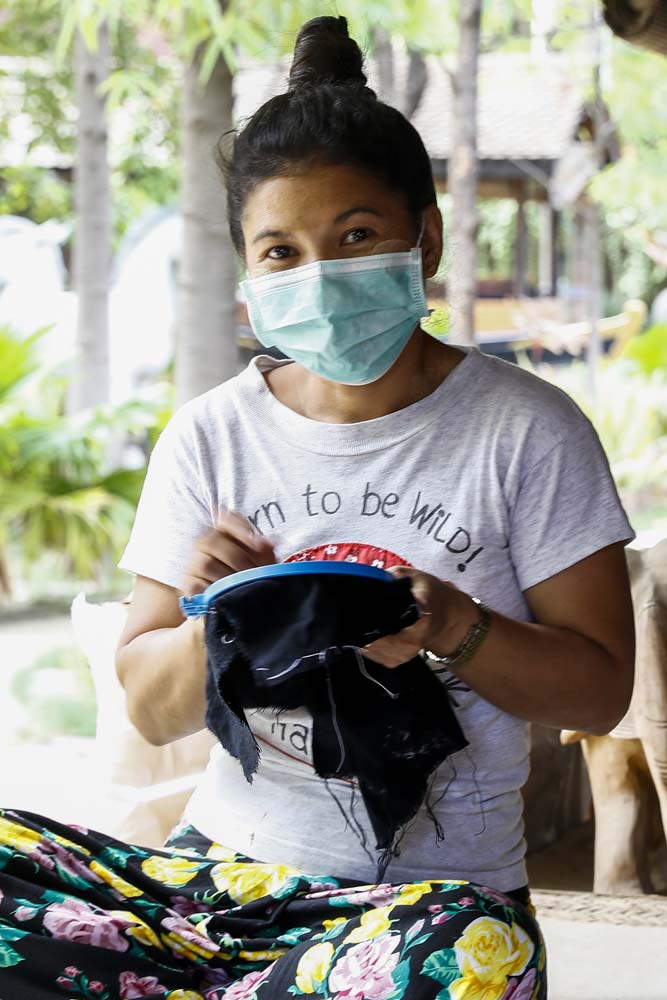 Carriage rides reined in
Many visitors to Bagan seize the opportunity to romantically tour the temples and shops in a horse-drawn carriage. The owners of the 240 horse-drawn carriages at Bagan, who charge visitors K14,000 for every two hours, are also hurting because of the visitor slump.
U Tin Aung Moe, 47, secretary of the Bagan coachmen's group, who has been driving a horse-drawn carriage to make a living for 24 years, stopped work in March and has had to sell one of his two horses to make ends meet.
"If tote-tote [tuk tuk] drivers stop, it's ok for them. They don't have to take care of a tote-tote. It's just an engine," he said.
"But if our business stops, our horses still need to be fed. Fodder for a horse costs K4,000 a day, whether it is working or not."
Tin Moe Aung said he had considered changing his livelihood but had abandoned the idea because "it's so risky to start a new business".
Tin Moe Aung said his was just one of many businesses at Bagan that relied on tourists. "If tourism stops, we stop," he said.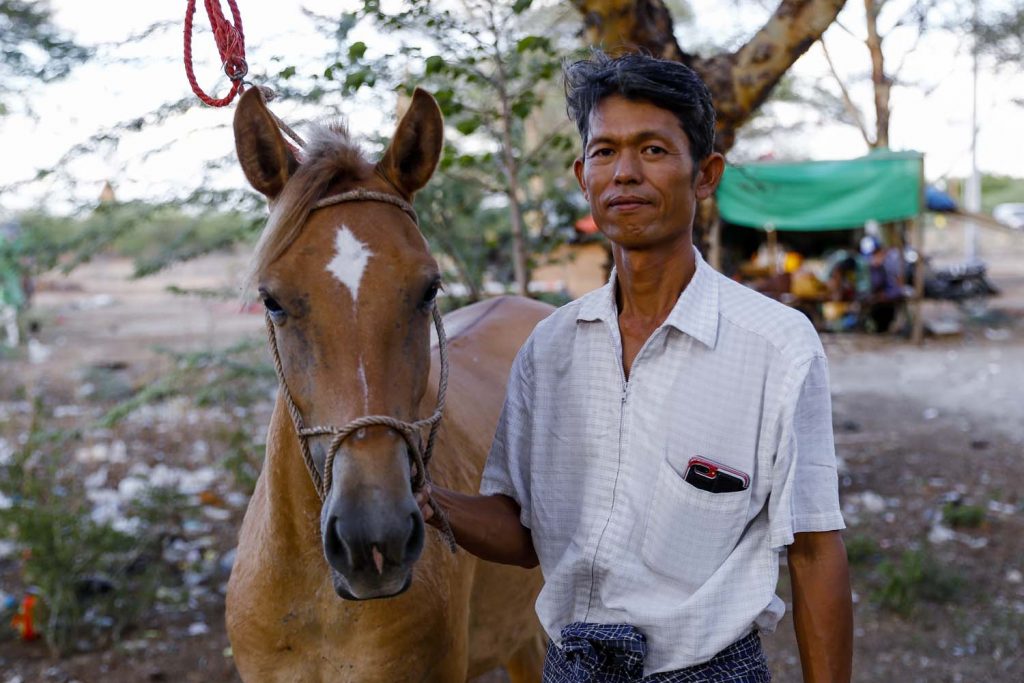 Re-opening
A security guard at the iconic Dhammayangyi temple told Frontier on June 21 that most visitors in recent weeks had come from nearby towns in Mandalay and Magway regions, such as Kyaukpadaung and Pakokku. However, more people were beginning to arrive from further afield.
The travel restrictions and quarantine measures that stopped or put off visitors from elsewhere in the country have mostly been lifted, and the many residents of Bagan who depend on the visitor economy are pinning their hopes on a government plan to re-boot the tourism industry in phases, starting with Myanmar travellers and then extending to tourists from elsewhere in Southeast Asia.
International commercial flights are banned until at least the end of July, and people who are somehow able to enter the country still have to quarantine for 21 days at a government facility or hotel.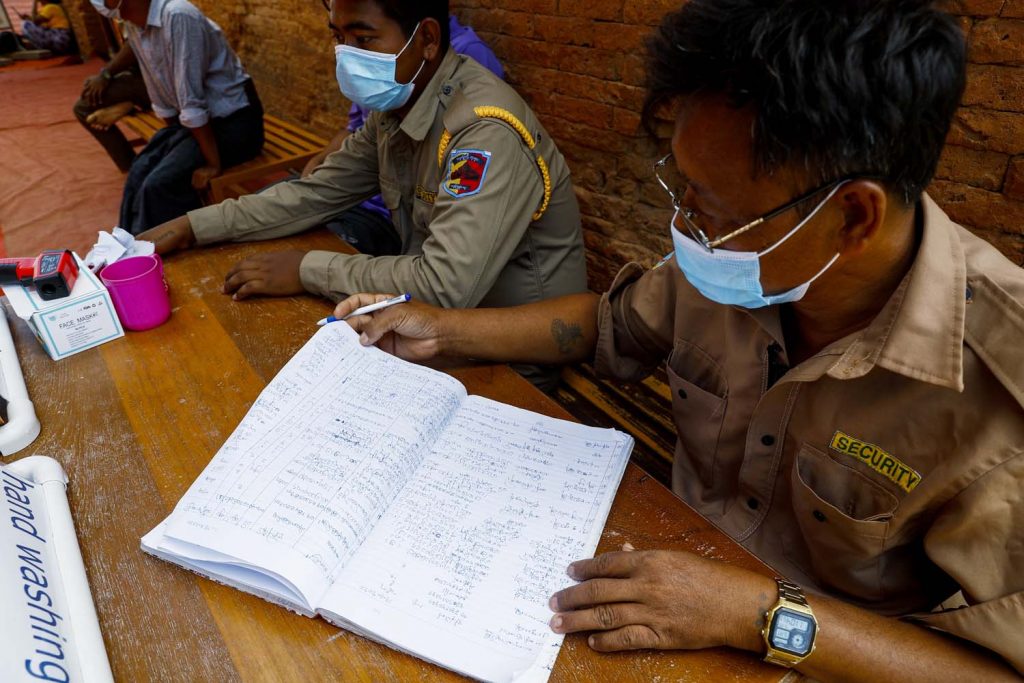 To prepare for the resumption of tourism, 19 of the most famous pagodas at Bagan opened in mid-June with the approval of the Mandalay Region COVID-19 prevention committee and the health ministry. The ministry has also given approval to 21 hotels at Bagan to re-open after they were checked to ensure compliance with COVID-19 guidelines.
"First, we start with domestic tourists," said U Win Aung, deputy director of the Department of Hotels and Tourism at Bagan. "They will need to follow health guidelines, such as having temperature checks and providing contact information before they enter pagodas and social distancing once they are inside."
The tourism ministry will then "slowly seek visitors from neighbouring countries, such as Thailand, Vietnam and Cambodia, which have not been badly affected by COVID-19", he said.
"This approach for accepting foreign visitors will promote tourism at Bagan."