By HEIN THAR | FRONTIER
YANGON — In an unexpected move, the National League for Democracy has called for the adoption of a new national flag among the 114 amendments it has proposed to the military-drafted 2008 Constitution.
The NLD is among four parties that called for a new national flag in submissions to the Pyidaungsu Hluttaw's Constitutional Amendment Committee.
Separate proposals for a new flag were also made by the Shan Nationalities League for Democracy, the Chin State-based Zomi Congress for Democracy, and the National Unity Party.
The proposals to change the flag were among more than 3,700 submissions to the 45-member committee, which began its task in February and submitted a report on its work to the Union Parliament on July 15.
The NLD had never previously revealed that it sought to change the flag as part of its bid for constitutional reform.
Section 437(a) of the constitution features an illustration of the national flag adopted by the former military regime on October 21, 2010, two weeks before the country's first general election in 20 years.
The flag proposed by the NLD has a red field with a blue canton featuring a big five-pointed star that represents the Union, surrounded by 14 smaller stars representing the states and regions.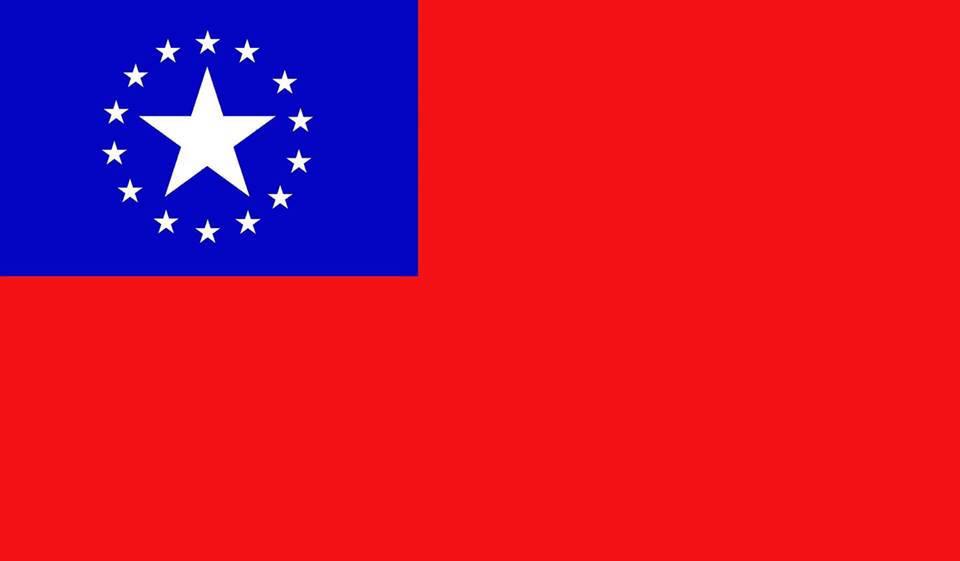 It is similar in design to the flag adopted at independence in 1948, which was replaced in 1974 to mark the proclamation by General Ne Win of the Socialist Republic of the Union of Burma.
"We have displayed the design we prefer, but that does not mean it should be accepted because all members of parliament need firstly to discuss the suggestions for constitutional amendments and then draft the necessary legislation, and that will take a lot of time," said upper house MP U Aung Kyi Nyunt (NLD, Magway-4) a member of the Constitution Amendment Committee.
NLD spokesperson Dr Myo Nyunt said the party's leader, State Counsellor Daw Aung San Suu Kyi, had not played a direct role in the move to change the flag, which was wanted by the party.
Myo Nyunt said the flag adopted by the military government in 2010 did not have the full support of the people, which was why the NLD had proposed the change.
He gave an assurance that any move to change the flag would respect the "people's perceptions".
Political analyst U Maung Maung Soe echoed his comments.
"The national flag represents the whole nation, and should not be chosen without the agreement of all people from every region and state. It should also represent what the country is," he said.