Yangon's newest art gallery opened by showcasing the work of a man that some regard as the father of contemporary art in Myanmar.
By STEVE TICKNER | FRONTIER
CLOSE TO Sule Pagoda in downtown Yangon, the city's newest art space has opened in a colonial building of spacious rooms with high ceilings and an abundance of natural light that make it an ideal venue for a gallery.
Kalasa Art Space was opened on September 28 by Ma Su Htwe Aung, 28, who has worked in the Yangon art scene for six years, and her husband, U Htoo Aung Kyaw, 42, who's been in the city's art world for more than 20 years. The couple wanted to provide a venue where established and emerging artists could exhibit and mingle.
"I wanted an art space that could not only showcase Burmese art to the world, but also provide a pillar for Burmese artistic society, which has been in some disarray," she told Frontier.
The gallery, which reflects Su Htwe Aung's extensive knowledge of the country's evolving art scene, also includes a small library.
The "Kalasa" in the gallery's name, derived from the Sanskrit word Shikhara meaning "mountain top", refers to a spire-like architectural feature that crowns ancient religious structures such as the 12th-century Ananda Temple in Bagan and can signify success and prosperity.
One of the most formative, and lingering, influences on Myanmar artists has been the suppression of freedom of expression under decades of authoritarian military rule between 1962 and 2011, for which many risked imprisonment. Because of censorship, it is often necessary to look more deeply into the creations of artists working at this time to see reflections of what they endured.
It was in this stifling artistic environment that the gallery's first guest artist, U Aung Myint, 73, developed.
Aung Myint, whom some regard as the father of Myanmar contemporary art, was born in 1946, on the cusp of Burma's independence from British colonial rule. In his long career, he has worked in a number of mediums, including oils, acrylics, ceramics, sculpture and performing arts.
Aung Myint became interested in art as a boy.
"When I was young, every Friday there was an art teacher I would visit at the Baptist school; he was my first influence at the beginning," he told Frontier.
As a teenager in the busy Ayeyarwady Delta river port of Pathein, Aung Myint also came under the influence of an uncle-in-law who had trained as an architect and artist under British rule and had encouraged his young relative.
Aung Myint continued to develop as a self-taught artist while studying for a BA in psychology at the University of Rangoon and rose to become one of the country's most celebrated artists.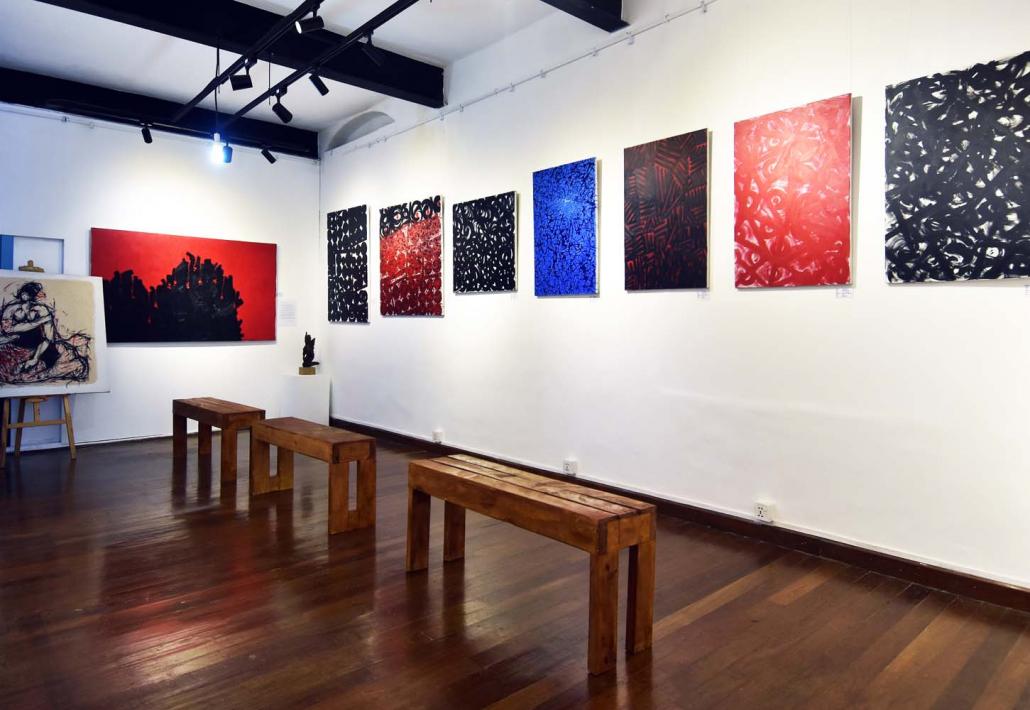 His first solo exhibition was in 1960 in Rangoon. Since then he has held 16 solo exhibitions in Myanmar, Germany, the United States, Japan and elsewhere in Asia. His works also feature in several private collections around the world and are displayed in some well-known overseas galleries such as the Fukuoka Art Museum in Japan, National Gallery Singapore and the Guggenheim Museum in New York.
"In 1970, I moved to [more] abstract art forms, influenced by the work of such artists as Pablo Picasso," said Aung Myint. "The artist Paul Klee in particular, was my favourite artist at that time, and still is," he said, referring to the Swiss painter who died in 1940, and whose work straddled Surrealism, Abstract Expressionism and Cubism.
His more recent work, displayed at the Kalasa gallery in the exhibition that ended last month, still bears influences from the Abstract Expressionist and Surrealist movements. It includes a series of freehand drawings called "Mother and child", which Aung Myint began in about 2002.
Aung Myint has a studio and gallery at his home near Inya Lake in Yangon. "Because of my age, I don't run the gallery much anymore," he said.
"Mostly I work in acrylics, but also with oil colour media, too, and I like to work in ceramics sometimes for my small sculptures."
During military rule, he sometimes travelled to Germany where he had a brother, and the trips provided opportunities to visit galleries in Europe.
Aung Myint said it was "particularly difficult" to obtain permission to travel abroad when Myanmar was under military rule.
He has an interest in politics but acknowledged that "in previous times it was a very dangerous subject".
Aung Myint has two daughters and a son, and two granddaughters and a grandson. His youngest granddaughter is interested in art and is studying computer-based animation and another granddaughter, who is also artistically inclined, is studying architecture in Australia and also enjoys designing jewellery.
Kalasa Art Space is on the first floor at 131, 34th Street, Kyauktada Township, opposite the well-known 999 Shan noodle shop. The gallery is open each day from 9am to 8pm. For information on future exhibitions, check the Facebook page Kalasa Art Space.