By KYAW YE LINN  | FRONTIER
A long-stalled Yangon "new city" development project is moving forward again, with a development company involving Mr Serge Pun and former Singaporean foreign minister Mr George Yeo set to relaunch the project later this month.
Yangon Chief Minister U Phyo Min Thein will deliver opening remarks at the March 31 launch of New Yangon Development Company Limited, which was incorporated under the Special Companies Act to develop New Yangon City.
Pun, the chief executive officer, will give a presentation on the project while Yeo, who is described as an independent director, will deliver a speech. The company will be chaired by Daw Nilar Kyaw, the Yangon Region's minister for electricity, industry, transport and communications.
Phase one of the new city will see 20,000 acres west of downtown Yangon transformed "into an urban industrial district", the company said in an invitation to the launch.
"The vision of New Yangon City is to be a safe, smart and clean city that will serve as an example of efficiency, integrity and accountability," the invitation said.
A media liaison for New Yangon Development declined to comment further.
The Yangon Region government flagged its new plans for the site in July 2017, when it told a special session of the regional assembly that it had scrapped the results of a tender conducted by the previous government. Instead, New Yangon Development would be formed "to assist in the realization of the new city project and the Yangon Region Government will handle full management of the project", Nilar Kyaw told MPs.
The minister reportedly said that the investments would be sought from the World Bank, International Monetary Fund, International Finance Corporation and other foreign sources.
At the time, Daw Sandar Min (NLD, Seikgyikhanaungto-1) complained that lawmakers had not been given enough information by the regional government. She said the government should seek parliamentary approval if it made substantial changes to the plan for the new city, such as changing the development vehicle.
Contacted last week, Sandar Min – who heads the regional parliament's Finance, Planning and Economic Committee – said she was still waiting for more details.
"The regional government has yet to submit [its plan] to the parliament. We don't know much about the project," she told Frontier on March 23. "The regional parliament has not approved the project yet."
Compensation deadline
On the ground though there are signs the project is moving forward. Landowners in the project area have around a week to decide whether to accept cash or land as compensation for compulsory acquisition.
A March 5 regional government announcement gave them until April 6 to choose between a one-time payout of K10 million an acre or land in the new city project. If the latter, they will receive 20 percent of what was acquired from them – so if 10 acres was acquired, they will get 2 acres.
"Most farmers prefer to get 20 percent of land in the project area," said Ko Ne Win Shein, the administrator of Kalartan Thone Eain village tract in Twante Township.
He said farmers and other landowners have proposed to get land in three sites, totaling 3,357 acres, within the larger project area.
"The government said they generally agree with the villagers' proposal," he said on March 20.
U Khin Nwe, who owns about 30 acres, said all farmers in his village of Tamatakaw had opted for land compensation.
"No one is taking compensation in cash," he said. "We can make more money selling the land compensation when the project starts or finishes."
He said 0.20 acres of urban land could be subdivided into three plots of 2,400 square feet each and sold for a total of K30 million.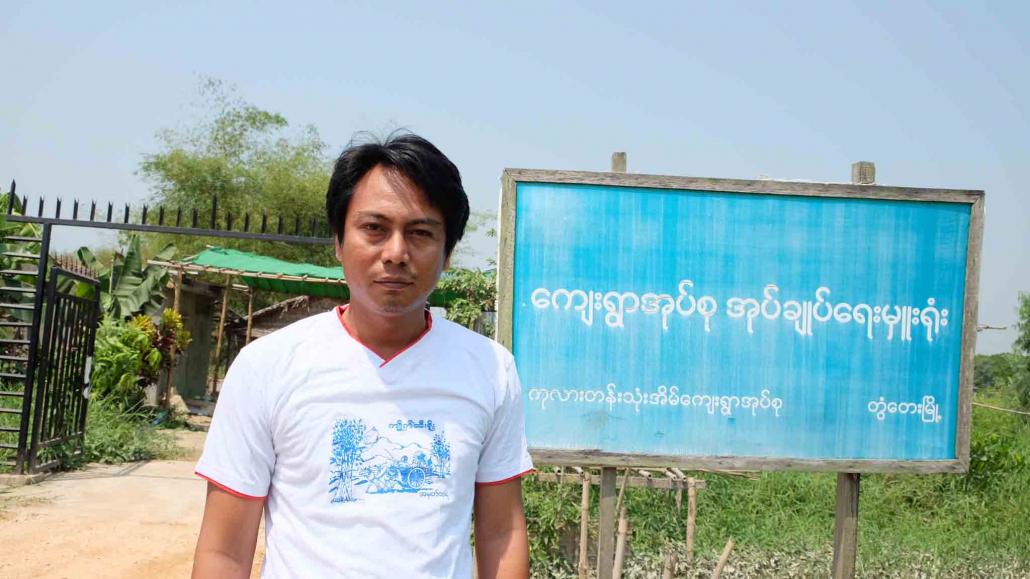 U Hlaing Myint, a hundred-household head at Tamatakaw village, said no "real farmers" oppose the project because the compensation is fairer than when former Yangon Region chief minister U Myint Swe tried to implement the project. Then the government offered an apartment and a plot measuring 2400 square feat for every acre acquired, he said.
He said farming was "not a good business anymore" so most farmers wanted to sell their land. He estimated that 3,000 acres of land was now in the hand of non-residents.
"So if someone opposes the project, he is not a real farmer or they don't understand the life of a farmer," Hlaing Myint said.
Hlaing Myint said government officials told farmers earlier in March that said those who don't make a decision will automatically receive cash compensation.
Both Ne Win Shein and Hlaing Myint said most landowners had already made a decision but it had been difficult to contact investors who rented land to tenant farmers.
"For example, a woman named Daw Thidar San bought about 25 acres here. But we know nothing about her, including how to contact her," Hlaing Myint said.  "The rest are not locals, but those who purchased farmland just before the project announcement in 2014 … We are trying to reach them."
The current market price is around K12 million to K15 million an acre, said Ko Myint Naing Kyaw, an independent real estate agent in Twante.
Prices had fallen a long way since the project was announced in 2014, when they hit K80 million an acre. "Many people bought farmlands in hope of making a profit once the project started," he told Frontier on March 21. "Now they are not losing, but just not get the profit they had expected."
Controversial past
In August 2014, Myint Swe announced plans to develop a US$8 billion, 30,000-acre new city on farmland west of Yangon.
He controversially awarded the project to a little-known firm, Myanmar Saytanar Myothit Public Company, but was forced to back down due to public anger.
The project was later put out to tender, and in January 2016 three companies were chosen to implement a smaller version of the new city project, spread over almost 12,000 acres.
In April 2016, the new National League for Democracy-controlled Yangon Region government asked developers to submit new plans for the project. When Nilar Kyaw spoke to parliament last July, she confirmed that the contract with the previous developers had been abolished, according to state media.
TOP PHOTO: Fenced-off fields in Twante Township beside the Hlaing Tharyar-Dala Road with signs that read "No squatters". (Kyaw Ye Lynn | Frontier)