The eagerly-awaited release of the National League for Democracy's candidates' list contained few surprises, but as in 2015 there's been controversy over who was nominated or rejected.
By EI EI TOE LWIN | FRONTIER
There was huge public interest when the National League for Democracy became the first of the big political parties to release its candidates' list for the November 8 election.
Public attention was so heavily focused on the NLD's choice of candidates that the release of the list and its circulation on social media was regarded by some as the party's unofficial campaign launch. There was criticism, too, mainly over the exclusion of outspoken MPs who had dared to question the party's decisions or policies, and the replacement by newcomers of lawmakers who had earned the respect of constituents.
The NLD has listed candidates for 1,143 of the 1,171 seats in contention for the Union as well as state and regional parliaments, an increase from the 1,123 who stood in 2015. The initial announcement on July 23 included a smaller number, with NLD deputy chair Dr Zaw Myint Maung explaining that the party was not fielding candidates in 40 constituencies in Shan and Rakhine states, including those where voting may not go ahead because of insecurity.
He said the party also had difficulty finding qualified candidates in Rakhine, where NLD members have been threatened and abducted by the Arakan Army. However, on August 7, Zaw Myint Maung said that 12 candidates had been added for races in Rakhine, meaning the party will vie in all constituencies in the state.
The Union Election Commission has said it will announce the official campaigning period, which usually runs for 60 days prior to election day, after it has finished screening candidates for eligibility to contest the polls on August 17.
The NLD made few changes to its line-up. Most of the candidates, 80 percent, are incumbent MPs or ministers and the rest are new faces. That 20 percent are women is an improvement on the 2015 roster, which was only 13pc female, but many were hoping for a more inclusive list.
Party chair Daw Aung San Suu Kyi, President U Win Myint and Vice President U Henry Van Thio are among the party's top leaders seeking re-election, along with U Win Myat Aye, minister of social welfare, relief and resettlement, U Thant Zin Maung, minister of transport and communications and U Ohn Win, minister of natural resources and environmental conservation.
The NLD made headlines for selecting Muslim candidates, which it had excluded in 2015, allegedly to avoid criticism from Buddhist extremists. The two Muslim candidates, both former political prisoners, are Daw Win Mya Mya, a veteran party member who will contest the Pyithu Hluttaw constituency of Sintgaing in Mandalay Region, and Ko Sithu Maung, who took part in the monk-led protests in 2007 known as the Saffron Revolution and is vying for the Pyithu Hluttaw seat of Pabedan in Yangon.
Most state and regional chief ministers are seeking re-election, although Yangon Region Chief Minister U Phyo Min Thein was not included on the candidates' list for what Zaw Mying Maung said was his "health condition". It is widely understood in Myanmar that "health condition" can be a euphemism for describing why a person was removed from a position.
Phyo Min Thein has been a frequent target of criticism by Yangon residents over his murky dealings with businesspeople and there was a failed attempt by the opposition Union Solidarity and Development Party, other parties and non-elected military MPs in the regional assembly to have him impeached.
Party sources say Phyo Min Thein was reproached by Aung San Suu Kyi for having attended a Buddhist ceremony in Yangon in May at which COVID-19 social distancing regulations were ignored. Phyo Min Thein is conspicuous by his absence in an image of central executive committee members taken at the opening of an NLD branch office in Nay Pyi Taw on July 5.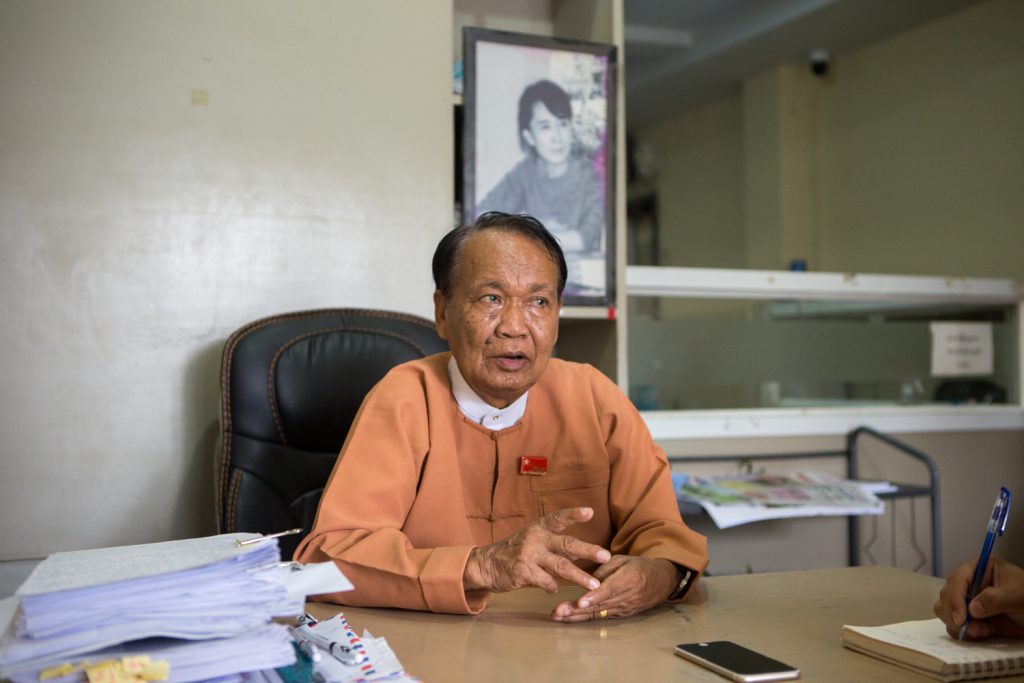 The NLD laid waste to the Tanintharyi Region Hluttaw, excluding 19 of its 21 MPs in the assembly from pre-selection, including the speaker, U Khin Maung Aye, who was the first choice of his township pre-selection committee. A dark shadow was cast over the Tanintharyi government when the former NLD chief minister, Daw Lei Lei Maw, was convicted of corruption in May and sentenced to 30 years' imprisonment.
However, many of the incumbent MPs or ministers who have been excluded as candidates have not made Phyo Min Thein-style gaffes or disgraced themselves through official misconduct, but are known instead for refusing to toe the party line. Among them is Amyotha Hluttaw MP U Win Htut Zaw (Sagaing-5), who criticised the arrest in 2018 of protesting students under the peaceful assembly law and tried twice to seek the revocation of the notorious 66d defamation clause in the Telecommunications Law, which has been used to punish criticism of authorities, only to have his proposals rejected by the party.
Others include Pyithu Hluttaw MP U Aung Hlaing Win (Mingaladon), who has criticised the government on Facebook and been vocal in parliament; Sagaing Region MP Dr Thein Naing (Salingyi-1), who has raised questions over the Letpadaung copper mine; and Yangon Region MP Daw Sandar Min (Seikgyikanaungto-1), who as chair of the Yangon assembly's Finance, Planning and Economy Committee accused the regional government of misusing public funds, and who was asked to withdraw her candidacy by party officials.
When party chair Aung San Suu Kyi released a 23-minute video announcing the candidates on July 23 she emphasised that they were chosen because of their "loyalty and experience".
"The road that the NLD has taken is very rough. It is long, unending. The harshness is not over. That is why we place so much emphasis on endurance and loyalty," she said in the video.
Ahead of the 2015 election, the NLD required its candidates to sign an agreement to follow the party's leadership and policies, but some had broken their word, she said.
The NLD came under fire in June for including so-called town elders on the township committees that nominate election candidates for each constituency. Opposition parties claimed that in reality these "elders" were just more elderly party members, and that by presenting them as respected community "elders" the NLD was misleading voters. But though these township committees made first and second preferences, these could be overruled by the NLD's central executive committee – as happened in several instances.
Five key central executive committee members – Aung San Suu Kyi, Win Myint, Zaw Myint Maung, Kayin State Chief Minister Nang Khin Htwe Myint and Magway Region Chief Minister Dr Aung Moe Nyo – checked the nominations and made the final decisions.
Several of these decisions have been unpopular with local NLD supporters, allegedly because the decisions favoured MPs who had performed poorly, or favoured newcomers at the expense of popular incumbents.
The residents of more than 20 villages in Bago Region's Paungde Township launched a petition opposing the nomination of U Zaw Win, chairman of the NLD's township committee, to contest Paungde-1 in the regional assembly. Those behind the petition support incumbent MP U Ye Linn Naing, who was believed to be the first choice of the township committee and is popular with residents for contributing to local development.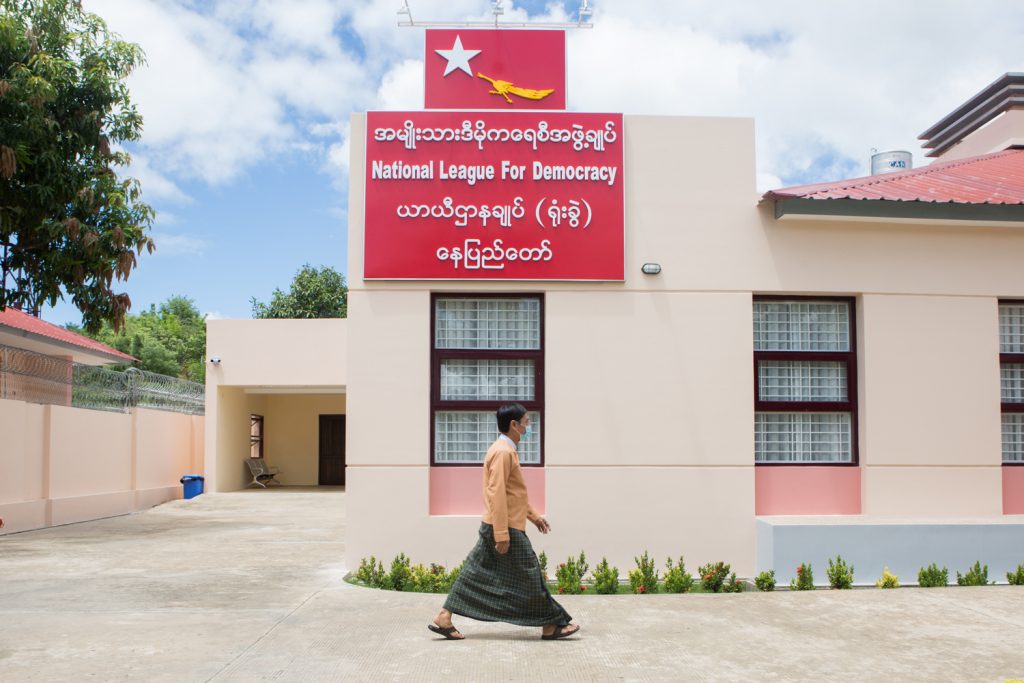 NLD supporters in Shan State's Lawksawk Township oppose the party leaders' decision to ignore their wishes and instead nominate Dr Johnny and U Maung Maung Sein to contest the state assembly seats of Lawksawk-1 and Lawksawk-2, which are held by the USDP.
"I have never heard of them or seen their faces and I know nothing about them," said U Khun Maung Soe, chair of the NLD's township farmers' affairs committee, who travelled with other township residents to Nay Pyi Taw, almost 300 kilometres away, on July 27 to deliver a letter of complaint to the NLD office in the capital.
"We want the leaders to change the candidates because we want our party to win the election; that's why we came here," Khun Maung Soe told reporters in Nay Pyi Taw.
Yangon-based political analyst U Yan Myo Thein said he despairs at the NLD candidates' list and the attitude taken by party leaders to the selection process.
"I'm really disappointed that outspoken MPs in parliament were excluded from running again," Yan Myo Thein told Frontier. "Some MPs who were very active in parliamentary discussions and raised questions about government projects and budget matters were not selected." He said he was worried at the prospect of an "inactive" parliament that would fail to provide a "check and balance" to the executive.
Yan Myo Thein said loyalty was important for any party but the NLD should not exclude those who had asked tough questions about or criticised decisions made by the government.
"Party members must be loyal, but when they become MPs they must also be loyal to their constituents and represent them," he said. "[Working] for the people should not be treated as treason to the party," he said.
Yan Myo Thein speculated that a refusal to replace certain candidates, especially incumbent MPs perceived to have done little for their constituents, might result in low voter turnout, which would make results hard to predict.
"My research shows that the candidates chosen by the NLD could hurt the party's chances in the election," he said. "I wonder if Daw Aung San Suu Kyi is receiving accurate and reliable information from the ground."
NLD spokesperson Monywa Aung Shin told Frontier on July 31 that the party "will have to change some people on the list because people have submitted complaints that include very strong evidence," including about possible financial and social misconduct.
By the August 7 deadline for registering candidates with the election commission, NLD central executive committee member Dr Myo Nyunt said the party had made 12 replacements but would not reveal who they were or what constituencies were affected.
Aung Shin said the party was not worried by the criticisms of the candidates' list. "We have had complaints about candidates in every election, but the complaints disappeared during the campaign period and the people voted for the party," the NLD spokesperson said.
"It will be the same this year."