To mark World Rabies Day on September 28, Myanmar unveiled a national action plan to counter an insidious, preventable disease that is 100 percent fatal.
By EVA HIRSCHI | FRONTIER
THE NET envelops the street dog before it can even blink. A volunteer grabs the animal and holds it firmly as another administers a rabies vaccination. They move quickly to put a collar on the dog so they can identify which animals have been vaccinated.
It's a familiar scenario for Dr Amir Khalil, a veterinarian with the international animal welfare organisation Four Paws, which was founded in Austria in 1988.
It's a hot March day – 40 degrees Celsius – in central Myanmar's Lewe Township, and not a cloud to be seen. Khalil, the director of project development with Four Paws, and his team are on an ambitious mission: a pilot project to vaccinate 50,000 dogs in more than 500 villages.
Prevention is the best defence against rabies and the Four Paws project is supporting the government in the fight against the infectious, viral disease, which affects mammals and is spread to humans by bites or scratches, usually via saliva.
"This disease is 100 percent fatal yet 100 percent preventable," said Khalil. A slow, painful death is inevitable unless treatment is given within hours of being bitten or scratched by an infected animal.
Although rabies can be transmitted to humans by any mammal, dogs are the main hosts and the cause of 99 percent of all cases. Vaccinating street dogs is one of the most effective ways of preventing the spread of the disease.
Data compiled by the Livestock Breeding and Veterinary Department and the World Health Organization shows that nearly 62,000 people were bitten by dogs in Myanmar in 2017, and around 1,000 people are reported to die from rabies each year. Yangon General Hospital reported 17,910 dog bite cases in 2017 and 20 deaths from rabies.
This number may seem low "but this is only the tip of the iceberg," according to Dr Maw Maw Oo, a professor of emergency medicine at Yangon's University of Medicine 1.
A problem with tackling the disease is that not all cases are reported, especially in rural areas, Maw Maw Oo told Frontier.
"The symptoms appear late, weeks or sometimes even months after the bite, when the wound has already healed. Therefore, people often don't relate their symptoms to the dog bite," he said. Once symptoms develop, death can occur within two to 10 days.
Action plan
The WHO's Delhi-based Southeast Asia regional office says Myanmar has the second highest incidence of reported human rabies cases in the region after India, which records around 20,000 deaths a year.
A 2017 study by researchers from the Ministry of Health and Sports, Yangon University and two Australian universities found that rabies kills more people in Myanmar than malaria.
The study, which acknowledged the success of the National Malaria Control Programme in combating that disease, said Myanmar lacked "a comparable programme to coordinate the multifaceted approach that is necessary to control rabies".
The study found that although the government had invested heavily in post-exposure treatment to reduce the risk of infection, "there should also be an emphasis on other, more cost-effective strategies, particularly mass canine vaccination, which has been an essential component of successful rabies elimination programmes in other countries".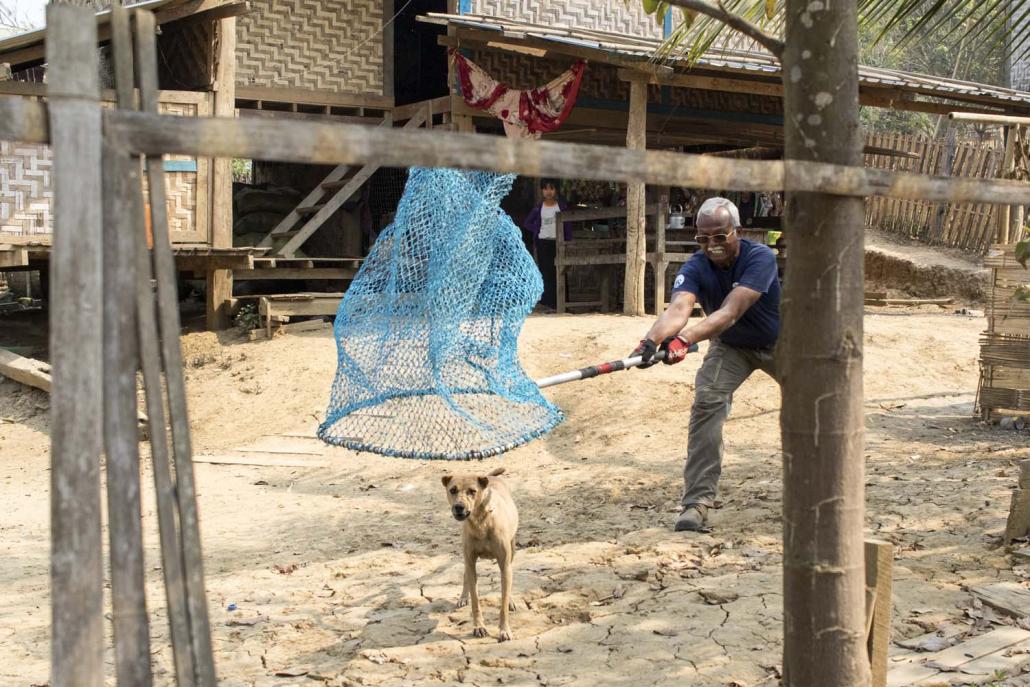 The first mass vaccination campaign was launched in 2015 but had to be discontinued after the NGO involved ran out of funding. To mark World Rabies Day on September 28, the government outlined the new action plan involving partner organisations, such as the WHO and Four Paws.
The action plan aims to vaccinate a million dogs over the next three years, with the government to immunise half and Four Paws to assist with the rest.
"Our goal is to become a rabies-free country by 2030," said Dr Min Thein Maw, director of the Veterinary Medicine and Disease Control Division at the Livestock, Breeding and Veterinary Department.
He acknowledged the importance of the support the government is receiving from the WHO and Four Paws.
"We don't have enough money to fund this on our own," he said.
Four Paws is also contributing international specialists and equipment for catching, tagging and data collection. The University of Veterinary Science, the World Organisation for Animal Health and civil society group Mingalar Myanmar are also involved in the campaign.
A team of about 100 people has been created to vaccinate dogs in Nay Pyi Taw Union Territory as well as Yangon, Mandalay and Bago regions and Rakhine State.
Pilot project
As a pilot project, Four Paws vaccinated more than 59,000 dogs and cats, in 516 villages in Lewe – part of Nay Pyi Taw Union Territory – in March and Nyaung-U Township in Mandalay Region in May.
"Our aim was to show the government that it is possible to fight against rabies, and that it is important to increase the existing efforts," said Ms Marina Ivanova, who is leading the Four Paws project in Myanmar. "We started in the areas with the highest number of reported cases of rabies and where previous organisations had started to vaccinate. It was a lot of hard work."
The team's daily routine involved rising at 6am, meeting the head of a village to explain their mission and spreading out in smaller groups to ask villagers to provide their dogs and cats for vaccination. The international members of the team have become proficient in at least one sentence in Burmese: "Do you have a dog or a cat at home?"
The campaign also involves catching and vaccinating stray dogs, using either nets or blow pipes that shoot tranquilising darts. Ivanova said the Four Paws team only encountered positive reactions from residents.
"We got a lot of support from the villagers, especially the kids," Ivanova told Frontier with a laugh. "The youngsters did a great job in helping to point out hidden dogs and cats or even catching them for us.
"The people appreciate what we do. Many of them had had their dogs vaccinated the last two years already, so they automatically came to us to bring their animal. This is a very good sign as it shows they already learned what the campaign is about," Ivanova said.
The project also helps to educate villagers about rabies.
"There are many misconceptions about the disease," Ivanova said. "Some people think rabies is only spread in the hot months and that it is the heat that would make the dogs aggressive," she said.
The project also includes training to show villagers how to perform vaccinations.
Khalil said that vaccinating the dogs achieves the dual objective of ensuring they are protected from rabies while also helping to rid communities of the fear of the disease.
"We should not separate the welfare of animals from the welfare of humans," he said. "They are both interlinked."
TOP PHOTO: A puppy is vaccinated in Lewe Township in March under a Four Paws pilot project. (Supplied)