Some of the nation's tycoons have shrugged off concerns about the future of their business empires under a National League for Democracy government. 
By KYAW PHONE KYAW | FRONTIER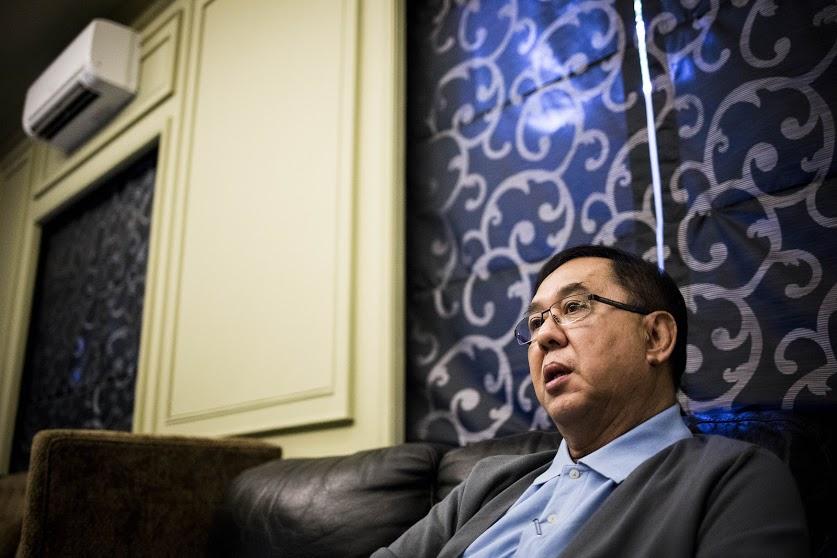 Construction industry tycoon U Khin Shwe keeps a leopard and a bear as pets in the compound of his Zaykabar Group of Companies office on Yangon's outskirts. The compound is a short drive from the 21-hole golf course owned by his company.
His office, decorated with many portraits of himself but none of his family, was the venue for an interview with Frontier about the future of the Zaykabar Group under a National League for Democracy government.
U Khin Shwe was angry about comments made in the Yangon regional assembly by anti-corruption campaigner Daw Nyo Nyo Thin over a concession granted to his company for land in the city's Kandawgyi Park. The comments by the independent MP followed a report tabled by the Auditor General on December 1 that said the regional government had suffered losses of up to K1.05 billion (about US$814,000) a year from the concession.
"She shouted in the parliament that taxpayers' money was being lost; it was unprofessional," U Khin Shwe said.
Controversy over land is nothing new to the property tycoon, who has been a target of protests by farmers because of property seizures. "I did not seize any land, it was obtained legally," he said.
U Khin Shwe is on the United States targeted sanctions list over his role in hiring a lobby group tasked with improving the image of the military government. "It was ordered by U Khin Nyunt," he said, referring to the junta's prime minister and Military Intelligence chief until his ouster in a purge in 2004.
A member of the Union Solidarity and Development Party, U Khin Shwe was elected to the Amyotha Hluttaw for a Yangon constituency in 2010, but was defeated by a candidate from the NLD in the November 8 election. His daughter is married to a son of outgoing house Speaker, Thura U Shwe Mann.
U Khin Shwe said that if the US lifted sanctions "US cronies will come to the country; they are also cronies". He said American companies that invested in Myanmar would have to cooperate with tycoons such as himself because of their business experience and property holdings. "They have no choice," he said.
U Khin Shwe said he did not need to rebrand his reputation because it "will rise automatically over time".
The Upper House MP said he became acquainted with Daw Aung San Suu Kyi after she was elected to parliament in 2012. "I won't get any favours from her because she is not like that," he said, adding that while he had no problem with the NLD he did have objections to the media because it was labelling him and others as "the cronies".
Frontier also sought an opinion about the future role of cronies from U Chit Khine, who chairs the Eden Group of Companies and Myanmar Apex Bank (MAB), heads the Myanmar Rice Federation and owns the Hilton and Thingaha hotels in Nay Pyi Taw.
The interview took place on December 20 at one of the restaurants owned by U Chit Khine, the Fuji café, next to the United States embassy.
"We have to change our mindset," said U Chit Khine, who added that he was not worried about the future. Businesspeople such as himself would continue to have opportunities after the change of government even though they will not get any "special chances," he said.
U Chit Khine was the chairman of the Insein Township branch of the NLD in 1989 and 1990.  NLD central executive committee member U Win Htein told Frontier that U Chit Khine had anonymously donated 1,000 bags of rice to the party for distribution in Rakhine State during the flood crisis earlier this year.
One of his investments, Myanmar Agribusiness Public Company (MAPCO), is among the first six companies to be listed on the newly-opened Yangon Stock Exchange. U Chit Khine told Frontier he planned to eventually list the Myanmar Apex Bank and some of his subsidiaries on the YSX.
If the US lifts sanctions on Myanmar, its investors will not be able to neglect "local knowledge," he said, adding that he is in talks with Starbucks about a joint venture and plans to build more Hilton hotels in Mandalay, Inle Lake and Bagan.
U Chit Khine estimated that cronies and military-owned enterprises controlled "about 30 percent" of the economy.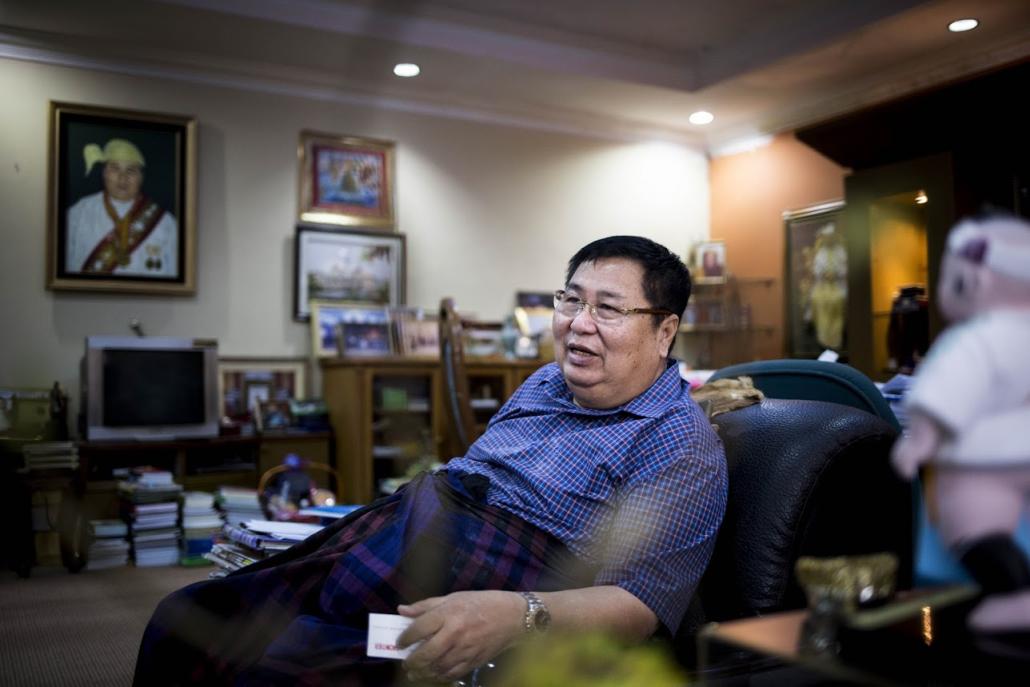 U Win Htein has predicted that many new businesspeople will emerge during the term of the next government. The NLD does not want the country to have a handful of rich people, he said.
"The tycoons say they are the only ones who can be successful at business but there are so many talented people and we want all of them to do well," U Win Htein said.
He acknowledged that tycoons such as U Chit Khine, U Zaw Zaw, U Tay Za and U Zaw Win Shein had given donations to the NLD and said they could be "useful" for the country.
"If they pay their taxes, they will benefit the country," he said.
One of the big questions about the relationship between an NLD government and the tycoons is their ownership of all the domestic banks. A criticism of the banking system is that only the wealthy have the collateral needed to borrow money, which widens the gap between the rich and poor. The bankers, who are involved in businesses such as hotels and tourism, transportation, construction, trade, mining and agriculture, prefer to lend to themselves rather than to other people.
U Win Htein said there was a plan for an NLD government to suggest to foreign investors that they build ties with emerging companies rather than the tycoons.
Meanwhile, there has been criticism on social media about the relationship between some tycoons and the NLD.
One image that attracted attention was of a training session for NLD MPs-elect that was partly sponsored by U Tay Za.
One Facebook user expressed regret that "the cronies" had not apologised to the people.
"The NLD might be prepared to forgive them, but we are not, yet," the post said.