A junta decision to allow palm oil imports in the early 1990s dealt a big setback to the domestic edible oil sector, which continues to struggle in a competitive market and needs more government support, industry leaders say.
By KYAW LIN HTOON | FRONTIER
MYANMAR WAS self-sufficient in edible oils about two decades ago but the market for locally produced peanut, sesame and sunflower oils changed dramatically after the junta began importing palm oil in the early 1990s.
Palm oil quickly came to dominate the market because it was cheap and widely available.
Successive governments made no attempt to vary oil imports according to domestic edible oil production. In the early 1990s, monthly palm oil imports averaged 7,000 tonnes and have since grown to about 70,000 tonnes.
The imports have hit the domestic edible oil industry hard. One of the unexpected consequences of the decline in production has been a shortage of peanut meal, a by-product of milling, which was used as livestock feed. The shortage means farmers increasingly need to rely on imported livestock feed.
"After Myanmar began importing palm oil, the edible oil market was completely disrupted," said U Khin Soe, chairman of the Myanmar Edible Oil Millers' Association. "Farmers of peanuts, sesame and sunflower also lost, and another obvious thing was the need for more foreign currency [to pay for imports]."
Khin Soe criticised successive governments for never adopting a policy on edible oil production, and for taking the attitude that imports were an easy solution to the shortages.
"They had no plan to boost yields of edible oil crops and to promote the sector," he said.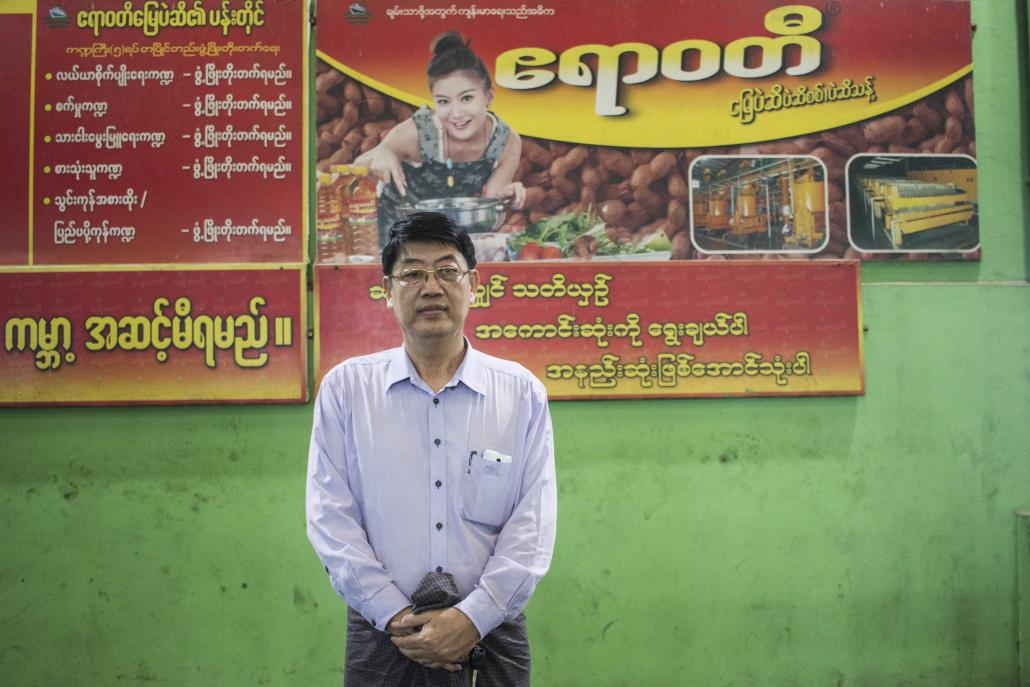 Edible oil imports total about 800,000 tonnes a year, most of which is palm oil, and 500,000 tonnes of livestock feed is imported annually.
Figures provided by United Nations Food and Agriculture Organization show that the production of edible oils rose sharply in the decade from 2001 but the growth rate has since eased.
In 2001, Myanmar produced 129,000 tonnes of peanut oil, rising to more than 250,000 tonnes in 2011. From 2012 to 2017 production averaged 270,000 tonnes a year. Likewise, production of peanut meal reached 157,000 tonnes in 2001, and almost doubled to 300,000 tonnes in 2011.
Also known as groundnuts, peanuts are an important part of the diet in Myanmar and feature in some of the country's most popular dishes. Roasted and ground peanuts are added to salads made from blanched spinach, pennywort leaves and tomatoes. Peanuts are also sprinkled on noodle dishes and added to soups. The nuts are also eaten toasted and served as a snack.
Peanut oil is preferred for cooking curries and it is said in Myanmar that the oilier the curry, the better. As a general rule, it is considered good manners to serve guests curries that are oilier than usual.
As imports of palm oil from Malaysia and Indonesia increased, the product's relatively cheap price made it more popular than home-grown oils.
Oilseed crops account for about 16 percent, or about three million hectares (7.4 million acres) of the cultivated land in Myanmar, and are the third most important crop after rice and other cereals, and beans and pulses, show figures from the Department of Agricultural Research, under the Ministry of Agriculture, Livestock and Irrigation. Peanuts are grown on about 700,000ha (about 1.7 million acres).
Ko Aung San Oo, 32, has learned the hard way about competition in the edible oil sector since he left his job at a Mandalay hotel in 2016 and went into business producing peanut oil.
Aung San Oo decided to make genuine peanut oil using traditional methods. He sourced the peanuts in Mandalay Region, a leading producer of peanuts, extracted the oil at home on a small, traditional mill and distributed the finished product himself.
"Because of the situation in the market, my business is hurting. I have to drive cars for tourists to supplement my income because I cannot yet rely on my peanut oil business," he told Frontier.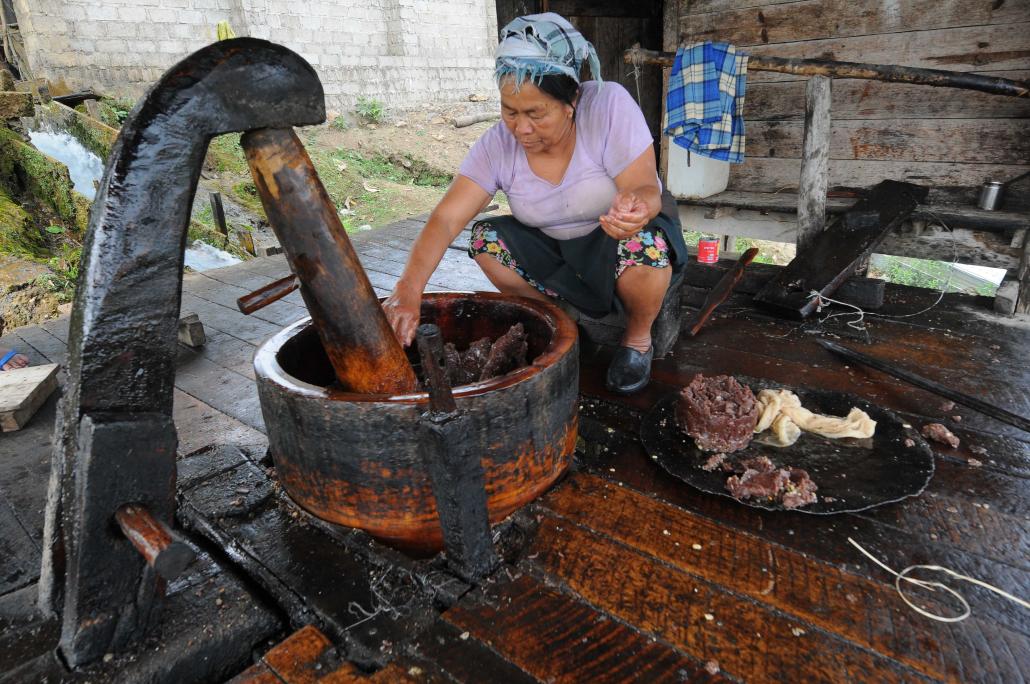 Aung San Oo said the cost of producing genuine peanut oil was at least K5,500 a viss, the Myanmar equivalent of 1.6kg or 3.6 pounds. About 2.5 viss of seeds is needed to make a viss of oil, and the seeds cost K2,300 a viss. To turn a profit, millers have to rely on sales of a by-product, the milled seeds used in livestock feed, which sell for about K1,050 a viss.
Aung San Oo is not giving up on his business but says it is difficult to compete in the market because many products are cheaper, due to sub-standard or imitation ingredients.
"If a bottle of peanut oil is on sale for less than K5,500 a viss it cannot be genuine peanut oil," he said.
Yangon Region Chief Minister U Phyo Min Thein has been calling for investment in the edible oil sector to boost production and reduce reliance on imports.
"Our local businessmen need to get more involved in the cooking oil business, from growing the crops which produce the oil to marketing our home-produced cooking oil brands," Phyo Min Thein said at an event in November marking the 25th anniversary of the Myanmar Edible Oil Dealers' Association.
MEODA chair U Myint Kyi said many millers and dealers needed to change their attitude on adhering to production standards.
"Those with established brands do not dare to breach the rules and ethics, but many of those running small or medium mills or dealerships without specific brands are still mixing oils without being transparent about their production practices," Myint Kyi said.
Khin Soe, chair of the MEOMA, which has about 3,000 members, urged millers to raise standards and obtain certificates of approval from the country's Food and Drug Administration.
"I also want the government to stop regarding this sector as only one output and to instead treat it as a 'one input, four outputs' sector," Khin Soe said. The other three benefits to increasing production were providing livestock feed, creating jobs and encouraging spending on local products rather than exports.
MEODA and MEOMA have been providing support to farmers to farmers affected by India's unexpected decision last August to impose import quotas on beans and pulses. India had been a leading importer of Myanmar beans and pulses and the quotas decision forced many growers to instead grow peanuts, but the different skills required have made the shift challenging.
One of the key regulators for the sector's development is the FDA, under the Ministry of Health and Sports. Businesspeople and consumer groups agree that the FDA's efficiency could be greatly improved with more resources and a bigger budget.
In its report for 2017, Myanmar Consumers' Union said it had received a complaint from a consumer about tainted cooking oil in 2016 and had submitted samples to the FDA that had taken more than a year to test.
"The government should provide more staff, facilities and capacity for the FDA," Dr Maung Maung, the founder of MCU, told Frontier. "The government should also allow the establishment of third-party laboratories," which are also known as reference labs, he said.