Dire economic circumstances are forcing an increasing number of school-aged children to work to support their families, leaving them vulnerable to exploitation in risky environments.
By FRONTIER
When 17-year-old Ma Thawdar Lin's* father lost his job at a shoe-making shop in October of last year, responsibility fell on her shoulders to support the family, which is drowning in debt. Her elder sister is disabled and her younger brother is only six years old, so it was up to Thawdar Lin to take a job at a garment factory in Yangon's South Okkalapa Township, where she has been working for over nine months now.
"At work, I'm scolded and bullied by my supervisor every day. I must put up with it for my family. Even though I'm unhappy, I don't dare complain to anyone because I'm afraid I'll lose my job," she told Frontier in November.
When she started in March, she was paid only K60,000 per month, although four months later her salary was up to K100,000 – still significantly below the adult employees' starting salary of K250,000.
K100,000 is under US$50 at the official exchange rate.
"I give all of my salary to my mother on payday so she can pay back the money she borrowed during COVID-19. I don't have a penny left," she said.
While 17-year-olds are legally allowed to work in factories, there are strict regulations, all of which seem to be in violation in Thawdar Lin's case. She has no formal employment contract, and no approval to work from a medical doctor. Most egregiously, she is given the same work as adult employees, including operating potentially dangerous machinery, while being paid significantly less.
Like many other children in Myanmar, Thawdar Lin stopped going to school when education facilities closed at the beginning of the COVID-19 pandemic, and never returned.
In an alarming report by the UN Child Rights Committee, released in June, the group warned that child labour will likely continue to rise in Myanmar, with 7.8 million children out of school and at least 250,000 internally displaced by conflict.
Labour activists in Myanmar told Frontier that the number of child employees has increased since the February 2021 military coup, which plunged the country into a political crisis, derailed the economy, and sparked widespread conflict.
"It is true that there is an increase in child labour at this time. I see child employees in factories," said a member of the Solidarity Trade Union of Myanmar, who asked to remain anonymous for safety reasons.
The economic collapse has been marked by rising commodity prices and a depreciating kyat.
"If unemployment and commodity prices continue to rise, the number of child labourers will also continue to increase," said U Thurein Aung, Director of Action Labour Rights.
In 14-year-old Thura Aung's family, three children are working, in addition to their father and one adult sibling. He dropped out of Grade 7 four years ago and has been working for nearly three years. Like many of Myanmar's poorest, his family's situation deteriorated during COVID-19, when his parents also borrowed money to get by.
These days, he collects rubbish for five hours on the streets of South Okkalapa, making about K5,000 per day, which he gives to his mother.
"It's quite tiring for me to do this work," Thura Aung told Frontier, adding that it was necessary to support his family.
His father works at an umbrella repair shop in the local market, while his 24-year-old and 16-year-old brothers work as waiters at a restaurant in the same township. His 10-year-old sister, meanwhile, sells flowers at traffic lights and bus stops in Thingangyun Township.
"I can't say for sure how long I will do this job. I have decided to continue with it until I find a new job that earns more money," he told Frontier.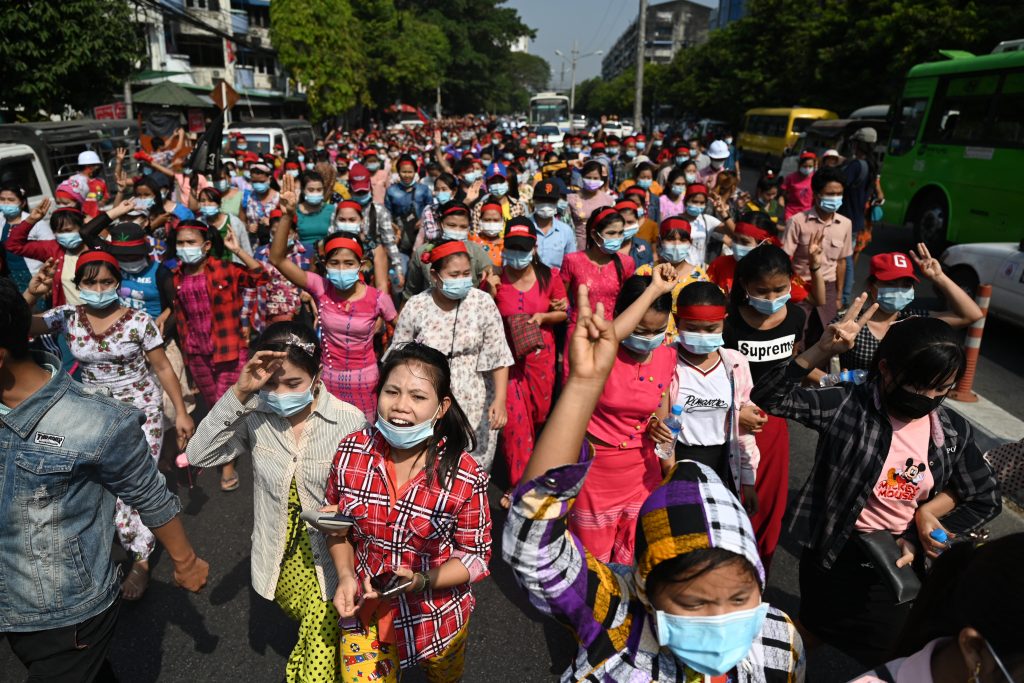 Vulnerabilities to child labour
Myanmar is not alone in seeing a rise in child labour. A global report by ILO in 2021 estimated there are at least 160 million children working worldwide – an increase of 8.4 million over the last four years – the first time child labour rates have grown in the past 20 years. The organisation attributes this to the impact of COVID-19.
In Myanmar, ILO said as of June 14, nearly one in 10 children between the ages of five and 17 are engaged in child labour. The compounding impact of theCOVID-19 pandemic and the coup and subsequent armed conflict, led to the estimated loss of 1.6 million jobs in Myanmar in 2021. This put many families in a similar position to Thawdar Lin's, where they needed to turn to a child to make ends meet.
"In the current context in Myanmar, a number of factors push children into child labour including declining household income through job losses or reduced working hours, rising poverty, conflict, displacement and insecurity, lengthy school closures, and the lack of social protection," the International Labour Organization's liaison office in Myanmar told Frontier.
Another ILO report indicated that child labour is 77 percent higher in countries affected by armed conflict, while the incidence of hazardous work is 50pc higher.
Research group Ballard Brief said in March of this year that child labour in Myanmar mainly occurs in the agriculture sector, making up 58.3pc of the total child workforce. This is followed by the service industry at 24.2pc and the industrial sector with 17.5pc.
"The number of child employees working in the service sector, such as tea shop and restaurant workers, is probably higher than the numbers working in factories," agreed the STUM activist, but they added that those working in factories "suffer heavier work burdens".
Factory workers are more typically asked to prove their age than a tea shop worker, but the activist said some use fake IDs. Ballard Brief said about 600,000 child labourers work in hazardous environments with long hours, dangerous equipment, repetitive motions, and other risks.
In Myanmar, the minimum working age is 14, as set out in the 2019 Child Rights Law, but there are different rules for different age groups. Nobody under 18 is allowed to operate heavy machinery, and 14 and 15-year-olds are limited to working only four hours per day.
Thurein Aung said because of the bleak and desperate economic situation, employees can "do whatever they want".
In 2022, the World Bank estimated that 40pc of Myanmar's population lived below the national poverty line, wiping out more than a decade of economic progress.
"There are many people who want to work, but jobs are rare," Thurein Aung said, which gives business owners leverage to take advantage of people.
Exploited youth
In the most extreme cases, employers will try to withhold entire salaries from their younger employees, like Ma Aye Myat Mon*. In September of this year, STUM said it received a complaint from the 17-year-old seamstress at the Thu Kha Aung garment factory in the Shwepyithar Industrial Zone in Yangon, claiming she wasn't paid her salary for August and September.
"We are working for the survival of our families," Aye Myat Mon told Frontier.
The STUM member said the organisation not only helped Aye Myat Mon get her back pay, but also recovered salaries for 14 other child workers who had been too scared to complain.
"Many child workers do not come to us even though we will help them. They are afraid of losing their jobs," said the STUM member, who added that the company faced no repercussions for withholding pay.
Frontier contacted 15 other child workers in tea shops, restaurants and businesses across six Yangon townships in October, but all refused to comment for fear of losing their jobs. The Factories and General Labour Laws Inspection Department (FGLLID) under the junta's labour ministry did not respond to requests for comment.
Soe Win, deputy leader of the military junta, also serves as chairman of its committee to eradicate child labour. During a speech in Nay Pyi Taw in October, he referenced a 15-year plan to combat child labour, which was launched in 2019, before the coup.
"Only the physical and mental development of children can shape the future of the State well," he said.
But many activists argue that military rule has exacerbated the child labour crisis, first sparked by the COVID-19 crisis.
"In the current context as a result of the pandemic and the military takeover, the child labour issues have become more complex," the ILO liaison office said.
Thurein Aung said the coup has had a direct impact on child labour, partially because military crackdowns on civil society have left fewer organisations in a position where they can monitor children's rights.
"Child labour can only be eliminated if the causes of child labour are solved," he said.
Thawdar Lin, the 17-year-old garment factory worker in South Okkalapa, said she still dreams of returning to her studies and becoming an engineer.
"When I see my friends going to school, I feel left out. But right now, my family's livelihood is more important than my ambitions," she said between tears.
*denotes the use of a pseudonym upon request for safety reasons
A previous version of this article incorrectly attributed comments from the ILO liaison office to former liaison officer Ms Hong-Trang Perret-Nguyen, who no longer works at ILO. Frontier apologises for the misunderstanding.