More than two months after they were introduced, residents and officials in Yangon are increasingly ignoring stay-at-home orders, yet the government insists infection rates need to fall before they can be rolled back.
By AUNG PHAY KYI SOE and THOMAS KEAN | FRONTIER
For the past decade, Ko Tin Maung Oo and his seven family members have earned a tidy living making traditional rubber and velvet slippers from their home in Yangon's South Okkalapa Township for a nearby shop. They typically produced about 90 pairs a day, banking a profit of K50,000.
These days they're lucky to make 90 pairs a week. The economic impact of COVID-19 has sent demand for many non-food items plummeting, and Tin Maung Oo has instead been forced to take work as a delivery driver. Some of his family have had to get jobs in garment factories to cover their living expenses.
To Tin Maung Oo, it seems his slipper-making business will only pick up again once Myanmar can get COVID-19 under control and normal economic activity can resume. But the country is in the grip of a "second wave" that has plateaued at around 1,300 cases a day, despite strict government prevention measures under which rule-breakers can be punished with a prison term of up to three years.
Strict, that is, on paper.
Tin Maung Oo is angry at the open flouting of the stay-at-home rules – particularly in Yangon, which accounts for around 60 percent of all new cases – and wants to see the government enforce them properly in order to get new cases down so businesses can reopen safely.
"The infection rate is only going to go down if we take action against people who break the rules," Tin Maung Oo told Frontier. "The government can let businesses reopen if it also takes action against people who don't follow the rules. The situation won't get any worse than now."
Like Tin Maung Oo, many officials and public health experts in Myanmar insist the problem is simple: people aren't following the rules. As a result, case numbers aren't going down to a point where restrictions can be lifted.
Dr Khin Khin Gyi, director for emerging infectious diseases at the Central Epidemiology Unit, said four to six weeks of stay-at-home orders should have been enough to cause a decline in infection rates.
"If the public abides by and strictly follows the stay-at-home orders, the COVID-19 infection rate will decrease," she said.
Dr Than Sein, head of the People's Health Foundation, an NGO that works closely with the Ministry of Health and Sports, said he saw little alternative to maintaining existing stay-at-home orders.
"As long as we don't have a vaccine or treatment for COVID-19, the government will maintain stay-at-home orders and other health directives. There's no alternative to stay-at-home orders," he said.
Public health experts argue that enforcement of the orders, and rules that limit gatherings to 30 people and make masks mandatory, needs to be stepped up if the country is to make any progress in preventing the spread of the virus.
"The main thing is that the township-level COVID committees have to control their townships. The health ministry can't do it," said Dr Aung Tun, a retired director from the Ministry of Health and Sports. "Effective implementation and enforcement are needed – education alone won't be enough to get people to obey orders and directives."
But how realistic is it to enforce the rules?
Pandemic fatigue
As cases began to spiral out of control in August and September, the government introduced stay-at-home orders across Rakhine State and Yangon Region, covering close to 10 million people. Restrictions were later imposed in some townships in other states and regions following smaller-scale outbreaks.
As the name suggests, the stay-at-home orders require residents to stay indoors at all times, except in a few limited circumstances. One person from a household is allowed out to buy essential groceries or pharmaceuticals, and all workplaces were closed (since mid-October employees of approved factories and offices have been allowed to return to work).
Although some bristle at the suggestion that Yangon is in "lockdown" – a term widely used in many other countries – the difference is largely semantic. With no exceptions for exercise, continued restrictions on employment and businesses, and tight limits on gatherings, Yangon's stay-at-home orders are among the strictest in the world.
Beyond stay-at-home orders, schools have been closed nationally, states and regions have put in place domestic travel restrictions and the country remains closed to international commercial flights. As a result, Myanmar is near the top of Oxford University's Government Response Stringency Index.
These prevention measures stopped a runaway outbreak from developing – albeit at significant economic and social cost – but they haven't been able to bring the virus under control.
Myanmar's COVID-19 response seems to be at an inflection point. It now has the third-highest number of cases and deaths in ASEAN, with 89,486 and 1,918, respectively. The virus has been detected in more than 200 townships across all states and regions and, despite harsh restrictions in disease epicentres, case numbers do not seem to be declining.
It's clear that after more than two months of stay-at-home orders, Yangon residents – and businesses – are no longer paying as much attention to what the government says.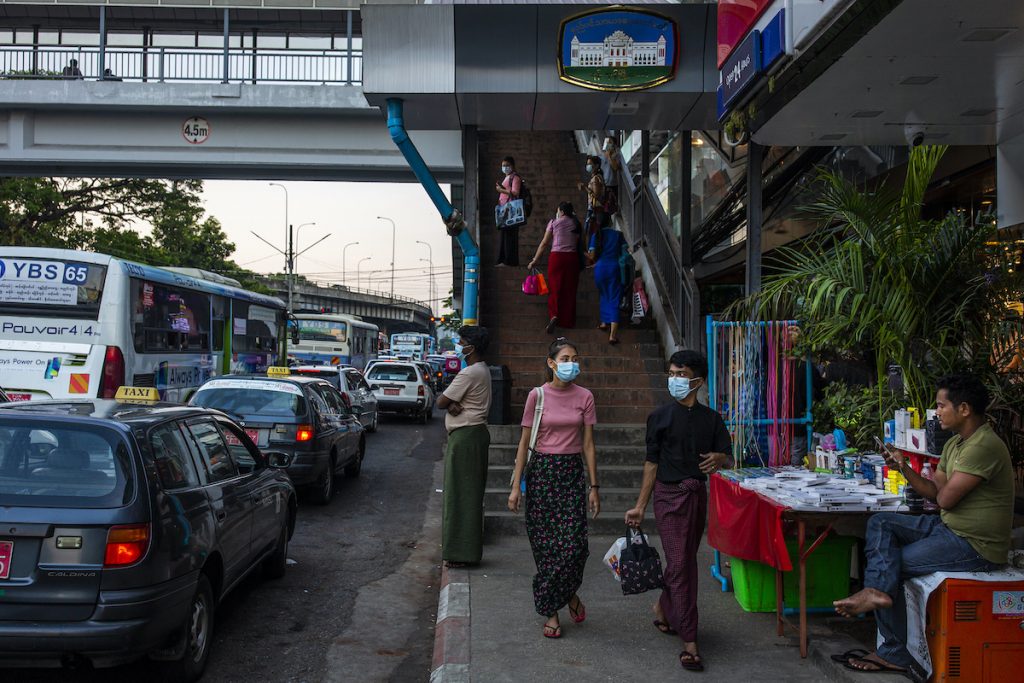 Stores selling everything from clothes and shoes to books and electronics have all reopened. Vendors and other informal workers are travelling across the city to earn money to support their families. Residents are out exercising, and some restaurants and bars have even quietly begun accepting guests. In the evenings, the banks of Inya Lake in central Yangon and other recreation spaces are crowded with hundreds of people sitting, walking and playing games. Most wear masks and practise social distancing to the extent possible.
Local officials are turning a blind eye partly out of economic necessity: the closure of businesses has had a devastating impact on both the formal and informal sectors, and government assistance to date has been limited. But it's also due to the difficulty of forcing people to stay inside their homes indefinitely.
Township administrators leading COVID-19 response efforts in North Okkalapa and Mingaladon townships – which have the highest and second-highest number of cases in the country, respectively – said enforcing the stay-at-home orders was impossible.
"We've closed all restaurants, KTV and nightclubs in the township but we can't stop vendors from going outside – how would they survive?" said U Zaw Lin, the administrator of Mingaladon. "If we take legal action against them, it will just make their lives harder. That's the challenge for us."
Although many factories in Mingaladon's industrial areas have been allowed to reopen, ensuring social distancing was difficult, he added. "You can't socially distance on the ferries that take the workers to their factories, and it's impossible for them to stay six feet apart while entering and exiting work."
Both administrators said they had levied small fines of K200 against hundreds of people for not wearing a mask in public, but there had not been any cases in either township under the Natural Diseases Management Law or the Prevention and Control of Communicable Diseases Law.
"If we took action with the Natural Disease Management Law against everyone who didn't follow the orders, we'd run out of space in the prisons very quickly," said U Tin Zaw, the administrator of North Okkalapa.
He said he had no choice but to focus on education rather than punishment. "If they don't listen the first time, we'll tell them again. If they don't listen after 50 times, we'll say it 100 times – we have to let them know gradually," he said.
International experts say such tight restrictions are difficult to maintain for an extended period.
"For most countries, eight to 10 weeks is the maximum that citizens really can generally tolerate," said Dr Jeremy Lim, an associate professor at the National University of Singapore's school of public health. "There is pandemic fatigue. Every country's economy has taken a real beating and citizens are tired, they are worried about their economic survival, so it is very understandable.
"If we look at the countries that have been more successful in responding to COVID-19, it's those that have balanced the economics as well as the public health measures – the ones that have essentially made it easier or less painful for citizens to do the right thing."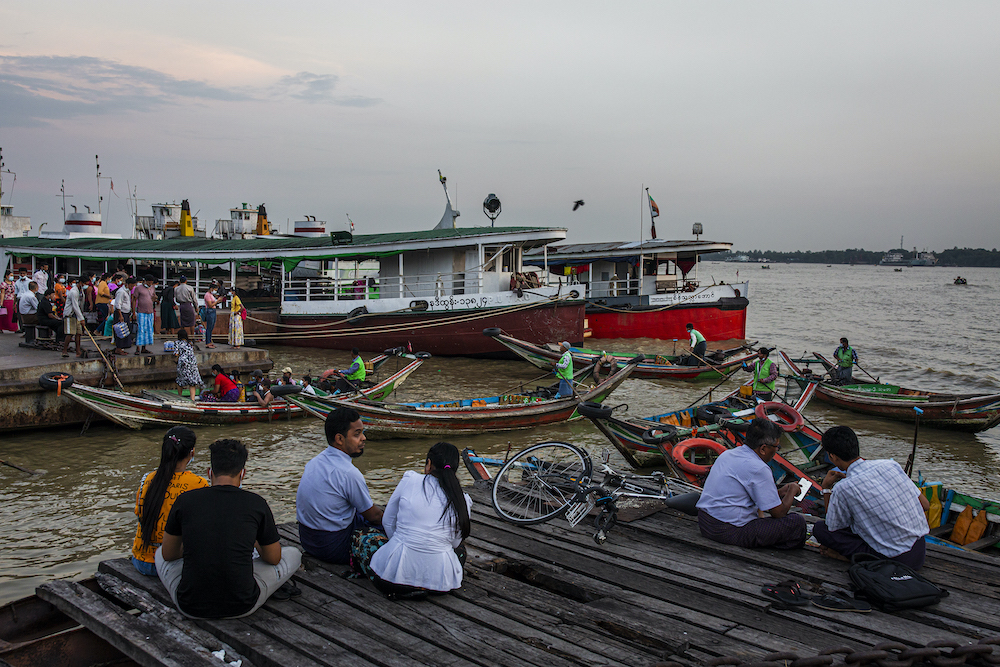 Time for a policy shift?
Like many governments, Myanmar's COVID-19 response has evolved based on rapidly changing circumstances largely outside of its control. It has also been hamstrung more than most by a lack of human and financial resources.
As a result, its "containment measures" are less a single coherent framework than a collection of national, regional and local orders, some of which undermine or even conflict with each other.
"I call it 'de facto policy', because it's a mix of orders that are often contradictory," observed one person involved in the pandemic response, who asked not to be named because of the sensitivity of the situation.
Adding to the confusion is a lack of clarity over what some of the measures, such as the stay-at-home orders, are intended to achieve. The government has not lifted restrictions on any township placed under stay-at-home orders during the second wave, and has not set clear criteria for doing so. It says only that the aim is to "prevent further spread of the disease".
Pressed for a criteria, Ministry of Health and Sports spokesperson Dr Than Naing Soe said the World Health Organization had recommended that authorities only lift restrictions once the case positive rate – the proportion of tests carried out that return a positive result – remains below 5pc for more than two weeks. The ministry does not release data by state and region, but the national case positive rate has fluctuated mainly between 7pc and 10pc since the middle of October. "But we can't consider only one criteria," Than Naing Soe added. "We also need to consider the economy and people's livelihoods. We consider all angles."
Lim from the National University of Singapore said stay-at-home measures or lockdowns are not intended to stop the pandemic completely; instead, they are to buy time for public health agencies to mobilise additional resources, such as treatment, testing and quarantine capacity.
"Generally speaking, if a country can't mobilise those resources during a 10-week lockdown then extending it for another 10 weeks is probably not going to be very effective," he said.
This also reflects WHO advice, with special envoy Dr David Nabarro saying in October that "we do not advocate lockdowns as the primary means of control of this virus".
"We're saying we really do have to learn how to coexist with this virus in a way that doesn't require constant closing down of economies, but at the same time in a way that is not associated with high levels of suffering and death," Nabarro said.
Although quick to emphasise the importance of public compliance and enforcement, Myanmar-based public health experts were evasive when asked to comment on the efficacy of the government's approach, and what could be done to improve it.
Their reluctance to comment seems to be out of concern it could be interpreted as criticism of Daw Aung San Suu Kyi, who leads the government's response as head of the National-Level Central Committee on Prevention, Control and Treatment of COVID-19.
The government seems aware though that after months of restrictions, some kind of shake up is needed. It has already flagged plans to allow domestic flights to resume, and for some restaurants, teashops and retail stores to reopen outside of areas under stay-at-home orders if they meet health ministry standards.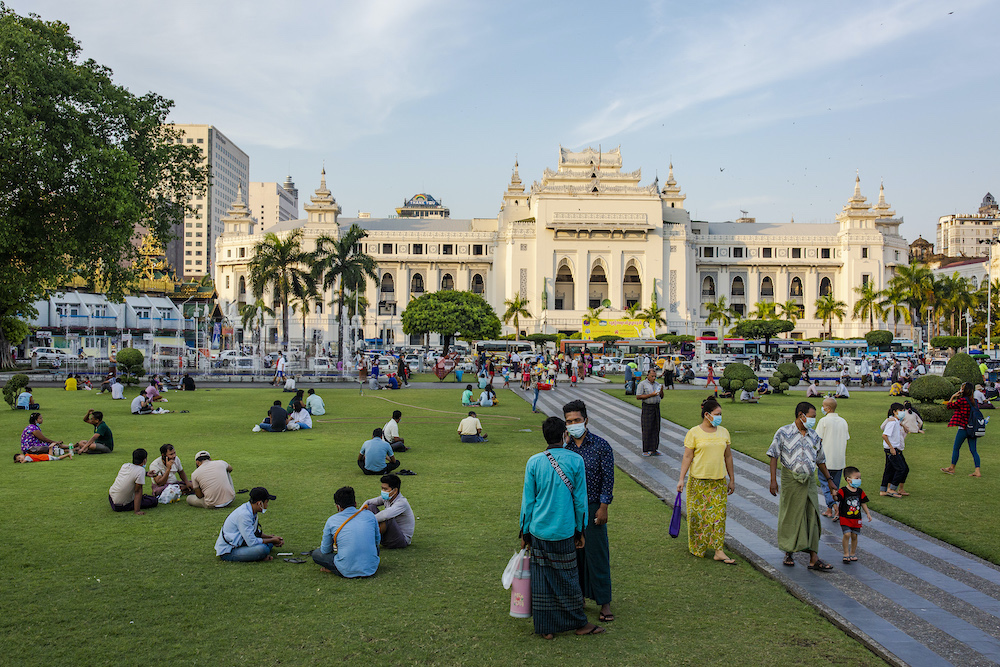 On November 20, State Counsellor Daw Aung San Suu Kyi said the government was looking to take a more "flexible" approach, with restrictions to be relaxed in areas where the infection rate has decreased and expanded in areas where there were still high numbers of cases.
Three days later, she again said the government was "working hard to relax the restrictions … because we wish to relieve the stress being experienced by the people. Another thing is for businesses to resume operations again."
But the government also continues to emphasise the importance of its strict stay-at-home measures. On November 19, it released a statement urging citizens to "stay home" from November 21 to December 5 to control the spread of COVID-19.
Khin Khin Gyi said the notice was put out because of concern that COVID-19 could rise further during the upcoming Christmas and New Year celebrations. "Everybody should follow the orders to reduce the COVID-19 infection in the country," she said.
This warning did not stop thousands of people from gathering in public areas to mark the full moon of Tazaungdaing on November 29, or at Yangon University the same evening ahead of celebrations to mark the university's centenary.
Rather than stricter enforcement of stay-at-home orders, the health ministry seems to be focusing on preventing infection in crowded places in Yangon, and encouraging people to adopt safe behaviours generally when they do go outside.
Dr Tun Myint, deputy director-general of the Yangon Region Public Health and Medical Services Department, was quoted in state media on November 22 as saying that health officials want to ensure that people at markets, shopping malls, highway bus stations, jetties and airports wear face masks and face shields. "Both vendors and buyers have to wear them, and we will provide for them if they are not wearing any," he said, adding that the ministry has stockpiled 1 million face masks and 100,000 face shields for the project.
"We can't put a stop to COVID by only giving medical treatments in hospitals. This is where public health services and action plans have to be increased. They need to be carried out on the frontlines, and so we have drawn up a campaign for social activities in the region," he said.
Another initiative is the "family heroes" community campaign, which encourages people to ensure their family members follow COVID-19 prevention advice, such as social distancing and mask wearing.
Dr Frank Smithuis, an associate professor at Oxford University who has been working in Myanmar since 1994, said governments all over the world have grappled with how best to respond to COVID-19, but the challenges are particularly acute in low and middle-income countries like Myanmar.
"There is not one perfect policy for all circumstances and for everybody," said Smithuis, who is also director of the NGO Medical Action Myanmar. "The [Myanmar government's] policies have been quite successful to limit the number of COVID-19 cases. But the socio-economic situation is dire for many, in particular for people dependent on daily wages. Without financial reserves they cannot feed their families. To stimulate the economy and employment, the government might want to choose to further relax restrictions.
"This has to be combined with proper implementation of basic infection control measures, prompt testing of suspected cases, followed by contact tracing and isolation. It's been shown these are effective for avoiding larger outbreaks," he said. "It appears that the Myanmar government is aiming for this strategy, within the limitations of available resources."
But one source involved in the response who asked for anonymity said a lack of data meant it was hard to know how to move forward.
"The overall problem is the lack of evidence to support any decision," the person said. Although testing capacity has increased significantly since early October thanks to the roll out of antigen rapid test kits, there's still not enough testing being carried out – including seroprevalence surveys of the community that would reveal what proportion of people have COVID-19 antibodies, and therefore have previously been infected. "We don't know what the circulation of the virus is in the community," the source said.
Reopening for real
But the longer the government waits to reopen the economy, the greater the cost – to the government, to businesses and to families, some of whom have been without income for months. The health benefits of continuing with the current suite of restrictions, on the other hand, are uncertain, given the lack of compliance and inability to enforce many of the rules.
The World Bank says the economic impact of the current COVID-19 outbreak has been far more severe than the first wave earlier in the year, with its September survey of 500 firms revealing that around 83pc of firms reported negative impacts, an increase from 75pc in August.
At a household level, one survey by the International Food Policy Research Institute found that 62pc of respondents were below the poverty line in September and October, a near four-fold increase on the 16pc reported in January. The impact was more pronounced in urban areas due in part to harsh restrictions, with income-based poverty in Yangon rising from 7pc in January to 59pc in September-October. In urban areas, the proportion of respondents who had no income was around five times higher in September-October than in January. Many cut back on spending to get by, the survey of 2,000 households found, while better-off households also dipped into savings and poorer households took out loans.
The government has taken some steps to ameliorate the economic impact of stay-at-home orders in Yangon, including allowing workplaces that meet "grade A" standards to reopen from October 12. It has also recently distributed cash payments to needy households – K40,000 in areas under stay-at-home orders and K20,000 in other parts of the country – although there have been widespread complaints about the programme, and these payments are far below what urban households need to subsist.
Businesses say the government needs to move faster to reopen the economy to avoid an economic catastrophe, and should not strengthen stay-at-home orders despite a post-election rise in cases.
U Khin Maung Oo, general secretary of the Hlaing Tharyar Industrial Zone, a major garment export hub in outer western Yangon, said the enforced shutdown in September and October had resulted in many foreign buyers cancelling orders and shifting them to other countries.
"If the government issues more lockdown and stay-at-home orders, foreign buyers will no longer trust us," he said. "They'll cancel their orders and won't come back. It could devastate our industry."
Khin Maung Oo agreed that enforcement of health ministry rules was important, but suggested Myanmar needed a strategy that better balanced economic costs and health imperatives.
U Thet Tin Win, managing director of Power Eleven, a public company that operates several bus lines in Yangon, agreed that closing businesses was "not a solution for grassroots people".
Thet Tin Win said that the three lines he oversees previously served around 110,000 passengers a day, but this fell to as little as 5,000. Things have since picked up a bit – he estimates there are now about 30,000 passengers a day – but many operators have stopped running buses because they can't cover maintenance costs.
"If the government keeps going like this, we'll have to be more worried about starvation than COVID-19," he said. "In Yangon, you can only buy food if you have money, and you only have money if you have a job. People urgently need to get back to work – but in a safe way," he said.
"I think it's possible. We see about 90pc of our passengers are wearing masks and following the advice of the health ministry."
For Tin Maung Oo, the months-long wait for COVID-19 to be brought under control so he can resume his business has been painful. He's pessimistic that the government will make any progress. "We can't say when the infection rate will decrease, when COVID-19 will be under control … infection rates are still rising. Who knows? Tomorrow it could be us on the list of new COVID-19 patients," he said. "Government officials should analyse whether their restrictions have been successful or not – they don't seem to have any idea about the real situation on the ground."